Click To Go Back To The Main www.GlenStephens.com Stamps Homepage


Welcome! You are visitor
to www.GlenStephens.com




Glen Stephens
Monthly "Stamp News" Market Tipster Column


September 2007

| | | |
| --- | --- | --- |
| | | |
---

Dealer sells stamp for a million dollars.

According to the August 13 "Linn's Stamp News" he did anyway. The dealer is a member of stampboards.com - Jay Parrino from Kansas.

Apparently he sold it to someone in the entertainment business for $US1,000,000. It was a MUH USA 1918 24c "Inverted Jenny" airmail.


In this case the numerical grade of 80 is not important (not a high grade at all) .. being MUH original gum is what was the selling point I deduced.

Scott catalogue for a MUH single is $US375,000 in VF grade (80) which this is, so the buyer appears to have paid about triple Scott.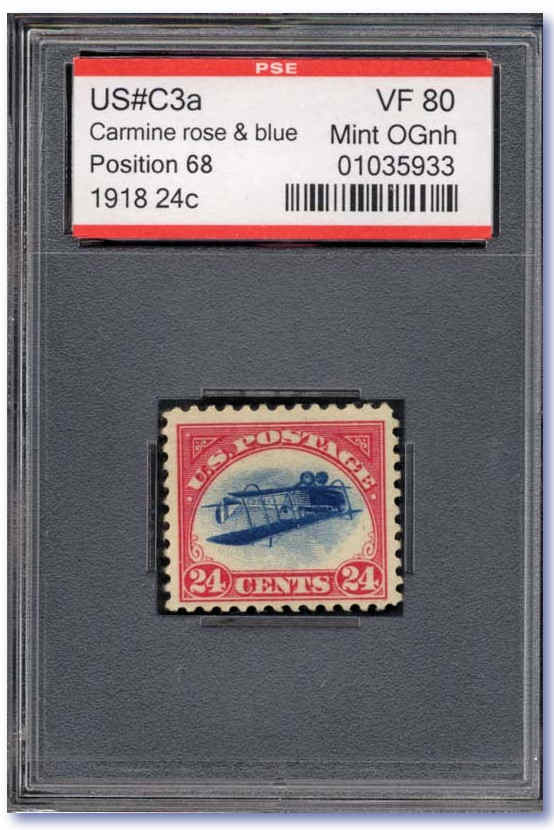 The Million Dollar 24c Jenny



I understand this is THE highest price paid for any USA stamp, at any time – just beating the figure obtained at auction for the famous 1868 1c "Z Grill." (Although the owner of that paid $US2.97million for the block 4 he swapped that for!)

The "Z Grill" sold at auction in 1998 for $US935,000, and like the British Guiana 1c, and the Swedish "Tre Skilling Yellow" would all get MUCH more than $1 million each if sold today.

This "Inverted Jenny" just sold was number 68 in the one sheet of 100 discovered. This stamp is not especially "rare" – just famous.

Bill Gross who I wrote about last month still owns 4 mint blocks of 4 of the 6 known "Inverted Jenny" blocks, even after his block 4 "trade" for the "Z grill."

When I attended "Pacific 97" in San Francisco I took a photo (and published it locally) of dealer Harry Hagendorf holding up one of three BLOCKS of 4 of this stamp on his stand for sale!

Another dealer had 2 copies, and a European dealer displayed yet another block of 4.

Eighteen examples on sale in one place does NOT make it "rare" by any definition. Scarce - yes, famous - yes, but many stamps are known with only 1 or 2 copies existing. THEY are "Rare".

But it is all VERY good publicity for stamps in general.
ebay dodgy stamp sellers
One invaluable service that stampboards.com offers is a sounding board for the many dodgy sellers that inhabit eBay.

There are sadly a good number of folks who knowingly offer material that is not what it is alleged to be. Even when advised it is fake.

The majority of sellers on eBay are honest, but the ones who are not certainly deserve the very bad press they get.

Stampboards.com highlighted this recently when a seller called "danagirl*" offered something worded exactly as below as lot 260128285634

***BEAUTIFUL ROSS SMITH VIGNETTE??IS IT A COPY?? NOT SURE, IT IS MUH=$$$+(**L@@K**ONLY 576 MADE OF THE ORIGINAL,VERY SCARCE ITEM IF REAL)***

This crude unwatermarked reprint is a free giveaway type item from "Stamp News" to new subscribers. It has a retail value of a dollar or so.

Members of stampboards contacted this danagirl* seller well before the sale ended - advising it was a common reprint, and suggested he/she added that info to the auction write-up so as to inform bidders. Seller did nothing.

Some clueless buyer using the handle "vto3gold" bid this rubbish up to $152.50. And then left positive eBay feedback to the seller!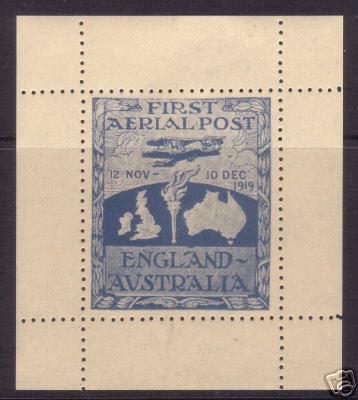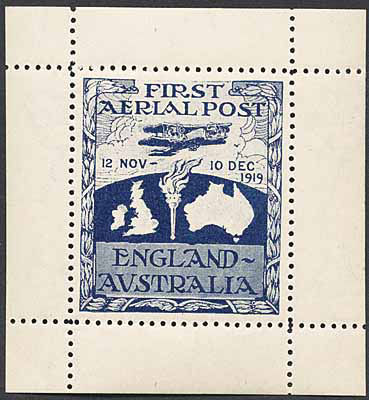 Fake and Genuine

I am not sure how many times I have typed this in my "Stamp News" articles over the decades - but here we go again.

The 1920 Ross Smith vignette if genuine is watermarked – with the well known "2nd Watermark" Wide Crown over A – appearing numerous times on each sheetlet. They are crisply printed, and are in a distinctive deep steel blue.

Stampboards.com has a number of threads listing up all sorts of fakes and cons and woefully described Australian material offered on eBay.

Often some very well known eBay sellers are featured in these lists, and regular eBay buyers are well advised to glance over the listings there – you may get a surprise!
Superb Banknote Book
I was privileged to be invited to the launch of a very interesting book recently.

It was held at the very historic The Mint in Macquarie Street Sydney. One of the oldest surviving buildings from the First Fleet days. It was built as the "Rum Hospital".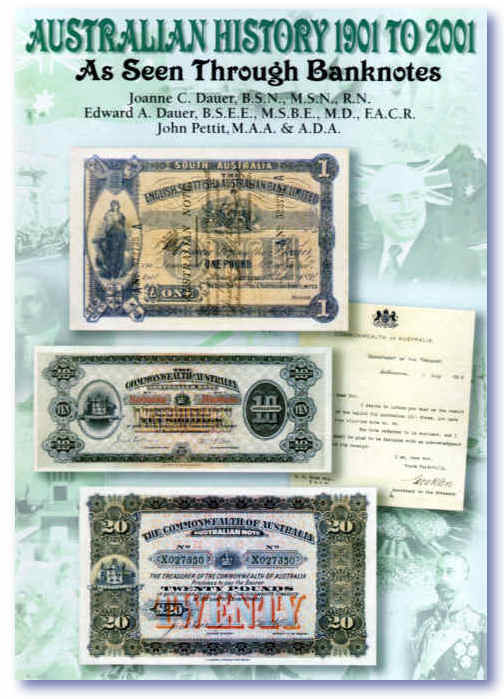 A CENTURY OF NOTES

The launch was a most lavish affair that I know cost very many $10,000s to stage.

Ian Macfarlane, ex Governor of the Reserve Bank (1996-2006) made the main speech - and wrote the book foreword.

The book has a surprising amount of Australian stamp content, hence the mention of it here. Dozens and dozens of stamp photos are in here.

Melbourne stamp dealers Richard and Andy Juzwin flew up for the launch. Kevin Duffy, 3 times ex President of ASDA/APTA was there, as he retains a keen interest in banknotes - as indeed do many stamp collectors and dealers.

I owned, published and edited the successful "Australian Coin and Banknote Magazine" ("CAB") for a time, and was always surprised how many of my clients had subscriptions.

There is a surprisingly large "cross-over", as banknotes - like stamps BOTH appeal to many of the same collectors due to their superb engraving.

Dauer has a very valuable Australian stamp collection, strong in Kangaroos for instance.

The book is titled "Australian History 1901 to 2001 - As Seen Through Banknotes". It is a lavish tome that was clearly the "baby' of wealthy American medico Edward Dauer and his wife Joanne, from Florida.
A MASSIVE TOME


A huge work, 100s of pages thick, on heavy gloss paper, in a heavy duty slipcase. The book weighs in at 3½ kilos - or 6 pounds for our American readers. The ULTIMATE coffee table book!

It is very broadly, a history book of Australia. And events that were not depicted on banknotes - such as the opening of the Sydney Harbour Bridge and the Vietnam War, are extensively covered by stamp photos.

A full mint sheet in the case of the Harbour Bridge issue, and a Registered cover with a block of the 5/-!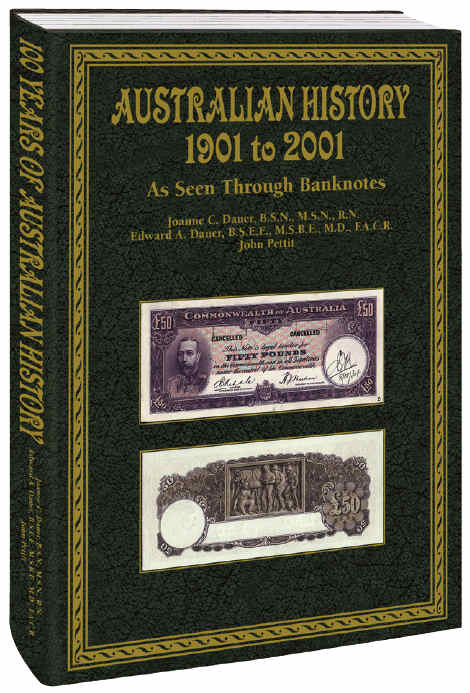 Weighs 6 pounds
A large number of banknotes are illustrated that were never issued, including different £1,000 values. The book had the full support of the Reserve Bank in respect to archive access etc.

It is the first time many of these photos have been published together.
A "ROYAL" MESS


| | | |
| --- | --- | --- |
| | The one article I loved most was the set of "Royal" banknotes that staunch monarchist Sir Robert Menzies was determined our decimal currency would be named in 1966. | |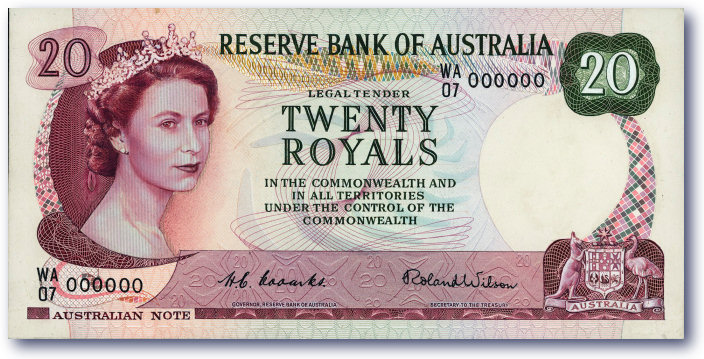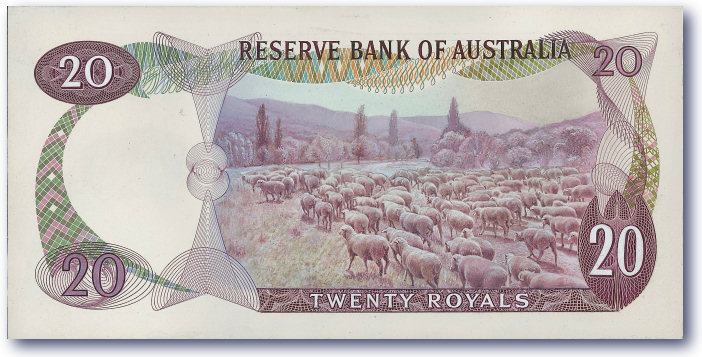 A Royally *DUMB* name for a currency!

Thanks goodness the Cabinet and/or common sense apparently over-ruled him! The full set of printed and prepared "Royal" notes are illustrated in the book.

We got THAT close to this silly name being inflicted on us. Finished notes were even prepared. Imagine paying 5 "royals" for a beer!

My thanks to the Reserve Bank Australia for supplying me these photos above – I do not believe they have ever been published in any magazine before.
The book has a strong section on the pre 1901 banknotes.

Along the way, some of the more obscure and intriguing note issues of Australia post 1901 are outlined, such as the fascinating Hay Internment Camp WW2 issues, the WW1 Rabaul military issues, and the notes issued on Fanning Island Plantations etc.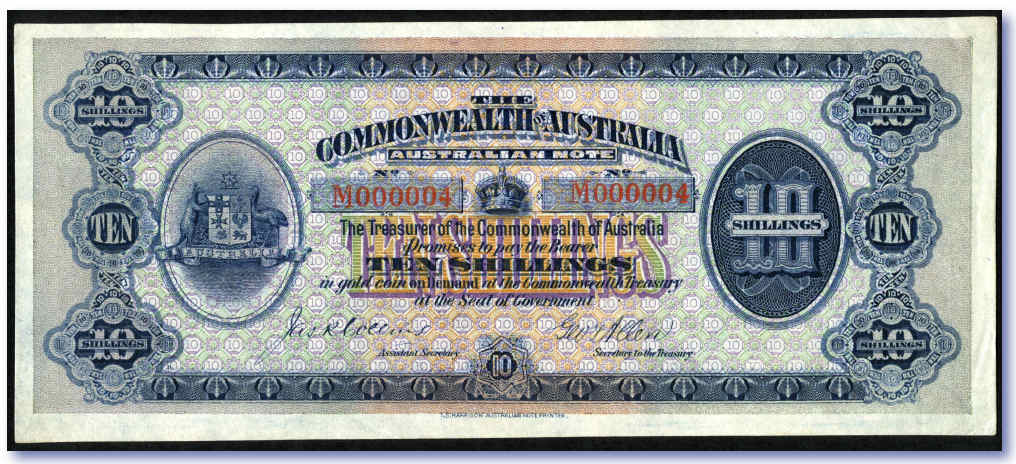 $600,000 Banknote "1"

I personally love the Australian banknotes issued in the 1913-1930s era. illustrated nearby is "Number 1" in any banknote catalogue for Australia.


The 1913 Collins/Allen 10/- issue. This is serial number 4, which was presented to the Prime Minister Andrew Fisher along with number 5. It was first offered to the market in 1976 by pubic auction in London.

John Pettit Rare Banknotes sold that pair recently for $A1.2 million. (Serial number 1 of this same design sold in January 2000 for $A1 million.).

The book is expensive at $A250 plus post, but has sold well even before release date. One interstate banknote dealer ordered 1000 shipped direct to him from the USA - many will be given to his clients as goodwill gifts.

A large accountancy firm has ordered a quantity off John Pettit as Christmas gifts for good clients.

It is that kind of book! For those readers unlikely to receive one via those paths, I stock them as does John Pettit.

The production of the book is a decade long passion of the Dauers and John Pettit. They had an art designer working on it for ages – who even flew out from Florida for the launch with the Dauers.

The quality of the colour images is just superb.

Retail supplies are expected to arrive from the USA around the time this magazine is printed. A perfect Father's Day gift to hint at!
The popular new stamp bulletin board stampboards.com had a very interesting discussion this week about the stamps of Bhutan that were actually vinyl 33 rpm records.

I must confess I had never heard of or seen these strange items before. An American member was seeking information about these items.

A NSW member Ken Pullen not only came up with a photo of the set of 7 different coloured record stamps, but he also showed the new issue sheet that related to them!

Photos of both sides of that April 1973 new issue bulletin are posted up on stampboards.com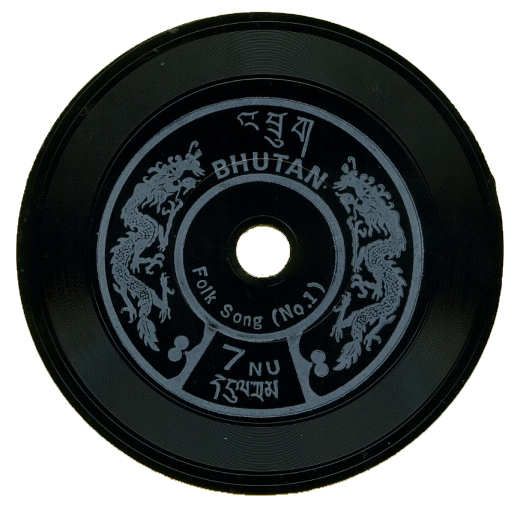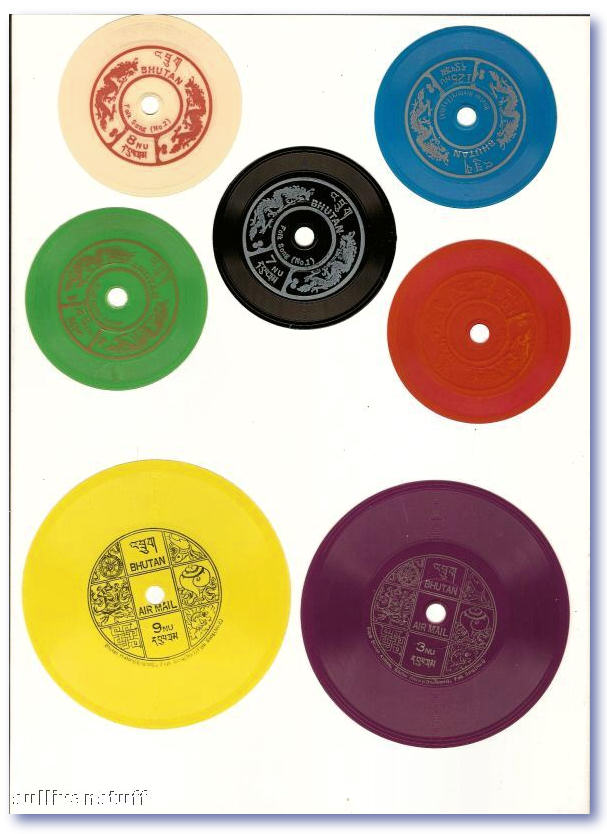 It outlines that the issue price of the set of 7 was $US4. First day covers were 25c extra!

They were stated to be the world's first stamp set that played music. I do not doubt it.

I found it fascinating. Ken says he has played the records on a phonograph and they certainly do work.

One stamp has the national anthem of Bhutan on it. Others had national folk songs etc.

Ken tells me he purchased his set in 1990 for just $A25.
Here is the amazing thing – in the current 2007 Scott catalogue the set of 7 is a valued at a whopping $US346 mint or used.

And if you think that is absurd, the stampboards website points out a set recently sold on eBay for $US402.50.

That is more than a mint 5/- Sydney Harbour Bridge stamp. That eBay auction attracted 24 bids starting at $34.99.

I learn something new about stamps every day – I had never seen this set before, much less knew it worth more than a mint 5/- Harbour Bridge!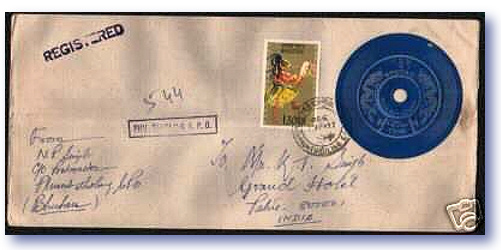 I noticed a single stamp on Registered cover to India offered for sale on eBay as I typed this for $US199.00 – lot 140071334431 – that is around the price of a used 5/- Bridge!

I saw a news piece that Bhutan will issue the world's first CD Rom stamps in 2008 – so maybe order a few of these and tuck them away if you like a gamble.









Get my regular market update emails FREE. Stamp gossip, price trends, record sale prices, and many one-time stamp specials, wholesale bargains, and exciting offers and breaking philatelic news. A mini stamp magazine in every email! "KNOWLEDGE IS POWER". The ONE stamp list you MUST be on, to keep in touch with the rapidly changing world market. One client made $65,000 profit in a few months after following my specific advice. Sign up securely and quickly by clicking HERE to access my automated data base. And wiser still ADD your home AND work email, if I only have one right now. Add a stamp friend's email address if you wish. One short click and you are subscribed to probably the most read email list in the stamp world!


Instant Currency Conversion


FREE! Just click here... see exactly what my lots cost in your currency.




If you would like to be notified of updates to this website, Click HERE. If have any questions,
or comments regarding my site, please email me at glen@glenstephens.com
| | |
| --- | --- |
| | Search all my 300+ web pages! Simply type in what you are looking for. "Penny Black", "Latvia", "Imprints", "Morocco", "Fungi" "Year Books", etc! Using quotes ( " ) is more accurate for multi word searches - i.e. "Australian FDC" gives FAR more specific matches than simply Australian FDC if used with no quotes. Search is NOT case sensitive. Tip - keep the search word singular - "Machin" yields far more matches than "Machins" etc. |


I am a Dealer Member in Good Standing Of:

Full Time Stamp Dealer in Australia for over 25 years.
Life Member - American Stamp Dealers' Association. (New York)
Also Member of: Philatelic Traders' Society. (London) ANDA. (Melbourne) American Philatelic Society, etc
GLEN $TEPHEN$
Full Time Stamp Dealer in Australia for over 25 years.
Life Member - American Stamp Dealers' Association. (New York)
Also Member - Philatelic Traders' Society. (London) ANDA. (Melbourne) American Philatelic Society, etc

ALL Postage + Insurance is extra. Visa/BankCard/MasterCard/Diners/Amex all OK, even for "Lay-Bys"! All lots offered are subject to my usual Conditions of Sale, copy upon request BIGGEST STAMP BUYER: Post me ANYTHING via Registered Mail for my same-day cheque. Avoid the GENERALLY 40% Auction " Commissions" (15% + 17½ + GST, etc.) AND their five-month delays! Read for details.
"Lothlórien4 The Tor Walk, CASTLECRAG (Sydney), N.S.W. 2068
Phone: (02) 9958-1333 Fax: (02) 9958-1444 (Both 25 Hours, 7 Days!)
E-Mail: glen@glenstephens.com
Web Sites: www.glenstephens.com www.glenstephens.net or www.australianstamps.net

Sign up AUTOMATICALLY to my world renowned bi-weekly stamp gossip mailing list!
Click here to see MANY 1000s of stamp lots for sale at low $A Nett prices
Click here for all you need to know re SELLING your stamps for SPOT CASH
Click here for the current Monthly "Internet Only" special offers - CHEAP!
to read all my recent International stamp magazine articles.
Click here to get back to the main www.GlenStephens.com Homepage
Click here to ORDER on-line ANY items from ANY of my dozens of lists
Click for all info on Conditions Of Sale, Payments, Shipping, Returns &c
Click here for the complete library of my very unusual world travels!
How to PAY me. I accept EVERYTHING - even blankets and axes and beads!
Australia Post Annual YEAR BOOKS - massive stock - '27% off' discount offer today!
Visit my new page on RARITIES - Roos & other expensive photo items.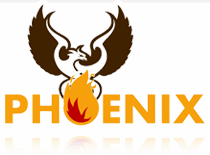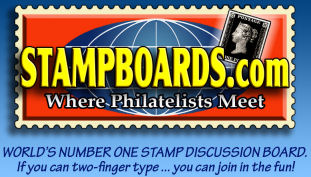 Instant Currency Conversion


FREE! Just click here...


E-mail me at glen@glenstephens.com -
Every credit card shown is accepted WITHOUT fee.
Earn Frequent Flier points while buying at bargain prices!
ALL prices are in weak Ozzie Dollars. I charge NO nasty, nasty
"Buyer's Commission" on stamps like nearly every "Auction" does.