Click To Go Back To The Main www.GlenStephens.com Stamps Homepage


Welcome! You are visitor
to www.GlenStephens.com




Glen Stephens
Monthly "Stamp News" Market Tipster Column


September 2008

---



"Olympex" Beijing 2008 A Smash



I received a report on this show from David Maiden as this column was being typed mid August.

The games related show was called – "Olympex - Olympic Expo Beijing 2008."

David was Group Manager Philatelic, for Australia Post from 1991 to 2002, and Special Olympic Advisor to the Greek Post Office from 2003-04, and is a Member of the Australian Philatelic Order.

More importantly he was the real mastermind behind the super successful "Australia 99" in Melbourne, and so knows a thing or three about large International stamp gatherings!

Maiden also oversaw the issue of world's first "instant" stamps – for the 2000 Olympics Gold Medal winners. And was right behind this Beijing Exhibition.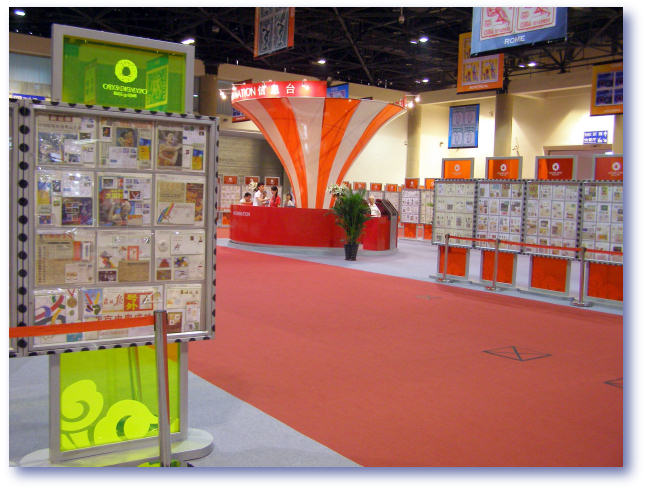 Part of "Olympex 2008"
I write this piece, as it is most encouraging to see that the emerging stamp market of China seems to be VERY much alive and well and vibrant!

Many folks wonder aloud if stamps have a future. Well if "just" a million Chinese get interested in stamps, philately is in VERY safe hands going forward.
First hand report:
Maiden told me mid August: "There are 34 booths in Hall 7 and every booth is three deep with customers, and most have queues 10 to 15 metres long, waiting to buy. Everywhere I look there is a frenzy of activity.

"The air is electric and I can hardly hear myself think as booth holders and their wonderful volunteer staff literally run back and forth from counter to stock shelf to serve the sea of customers.

"The Opening Day (Friday afternoon) was very good in terms of attendance, and Day Two (Saturday) was excellent, but today has been truly outstanding. It seems like everyone in Beijing who is not at a sporting event is here

"Official figures are not available yet, but a straw poll I have taken amongst experienced booth holders suggests we have had at least 40,000 people through in two and half days already.

"Despite the frenzy of activity, the organisation and order is excellent, thanks to the volunteer guides ( 1000 of them ) and to the overwhelming friendliness of the Beijingers, who are celebrating a special time for their city and nation.

"Never in my most optimistic dreams could I have imagined how successful it would be. China Post and the IOC have pulled out all stops to make this Expo an absolute show stopper. It is the best conducted and best attended I have ever seen.

"It is not just the large crowds and the level of sales, it's the entire organisation and operation of the Expo that is so impressing everyone.

"Time is now 4pm, and I have had to interrupt writing this several times during the day to go and assist Max Stern, and the Greek Post Office tear stamps to keep up with the incessant demand.

"Max has 5 people in his booth working flat out, and the Greeks have 9 staff, and crowds of 3 and 4 deep continue to surround the booth" David Maiden concluded.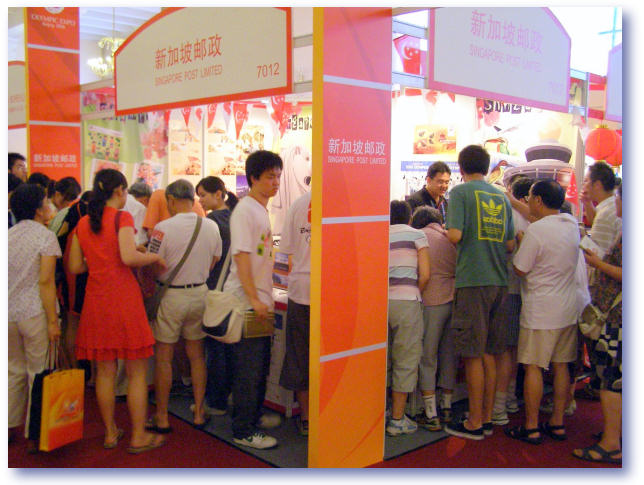 Non-stop crowds

This is indeed great news for stamp that the world's most populous country is getting so excited abut the hobby.

I phoned Sam Seigel, Managing Director of Max Stern and Company in mid August, to ask what feedback he had received.

Sam has worked in the business for decades, and said all the reports he'd heard back from China were incredibly positive.

"Max has needed to increase our sales staff there in Beijing from 5 staff, to eleven - and even that is not coping with the lines" Seigel told me.

Seigel continued - "Max has been attending stamp shows worldwide over the past 70 years or so, and told me this has been the biggest and best run show he has ever been involved in."

That is indeed some endorsement!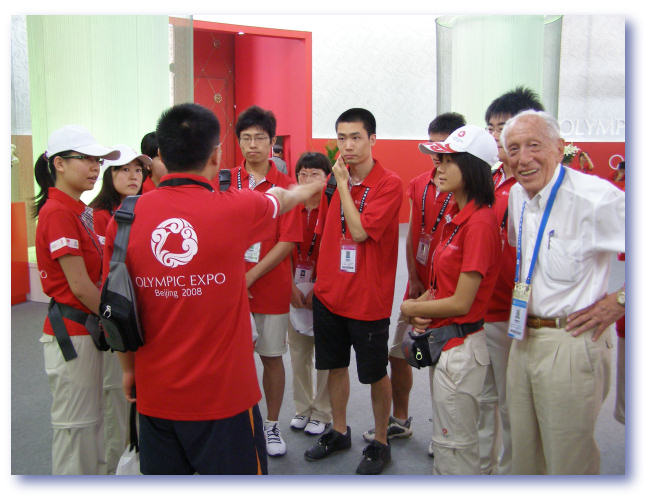 Max with army of staff
Where Max gets the energy from I truly do not know. He is 87 years old, and I understand is the oldest registered soccer player in Australia.

"Max still trains twice a week, plays each Sunday, and is an active Committee member of his beloved Maccabi Soccer Club" Sam told me.
Well "it never rains but it pours" as the old saying goes.

Not just ONE previously unknown First Watermark Kangaroo was recently auctioned with a "kiss print" – but TWO.

Premier Postal auctions in Melbourne invoiced a 1913 2/- Brown "kiss print" late July for $A18,150 to a local collector – around 3 times the $6,500 estimate.

I wrote a feature piece on this stamp in my July 2008 column.

To re-cap - Melbourne dealer Kevin Morgan bought some Kangaroos off Richard Juzwin, took a few better items out of it for his auction as separate lots, and sold off the balance.

One of the better items taken aside was a group of 8 x perforated large "OS" 1913 Kangaroos. It went to auction at 21st Century Auctions on November 30, 2007, and attracted no bidders.

Melbourne dealer David Wood was glancing through the unsold lots, and bought this card of Kangaroos for stock at a nominal sum.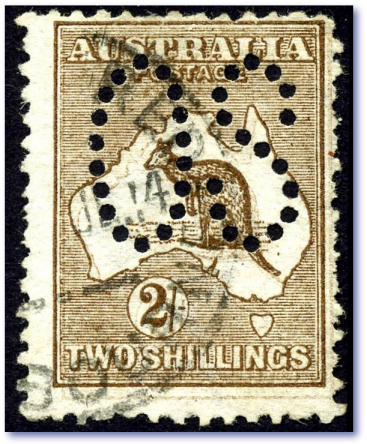 Double Vision
On closer inspection, Wood noticed the 2/- value appeared to have a doubled frame line at base. A closer look revealed more design doubling.

Further research has confirmed that this is in fact only the third copy of this variety to be discovered. All three "OS" copies show a similar example of the "double print" and all are postmarked in Melbourne during July 1914.

The ACSC catalogue makes a note that this is probably a "kiss print" rather than a true double print.

In fact all the other "double prints" in the Kangaroo issues are thought to be actually kiss prints. (A "kiss print" occurs when paper "flaps" onto the printing plate twice - usually caused by the paper not sitting flat.)

The 2/- stamp recently received a 2008 RPSV Certificate, stating it was a genuine copy of ACSC 35c "Double Print".

Even the astounding $7¼ million Arthur Gray Kangaroo collection did not contain this error. One of the few SG listed Kangaroo errors he was missing – possibly the only one.

Premier owner David Wood told me after the auction: "we had two very determined local bidders for this error, and we were pleased with the final price."
Second Error Appears
| | | |
| --- | --- | --- |
| | A few weeks later on August 11th, Charles Leski in Melbourne auctioned a 10/- Kangaroo, also in the 1913 First Watermark. It was described as a "Double Print" and had no certificate. | |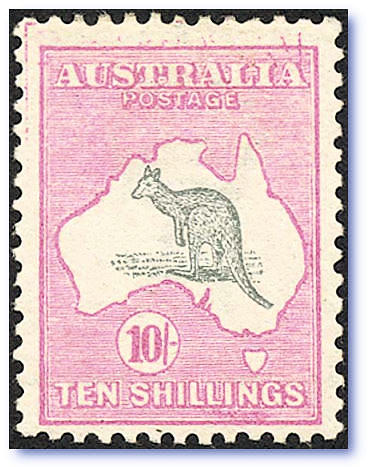 Sold for $A29,125

The ACSC makes no mention of any kiss prints being recorded on this stamp. It was invoiced for $A29,125 - also to a local Australian buyer.

The sale received quite a deal of general media coverage - print, radio and TV, which is great for stamps. Charles Leski was quoted on an ABC national television piece as saying the vendor bought in an album of stamps for sale, and this item was noticed among it.

Both stamps being auctioned also attracted a good deal of discussion on stampboards.com

One member there pointed out the Leski copy had been auctioned as a "double print" at a US auction in May 2008 for just $US2,800 plus commission, so the Leski invoice price was near 10 times that figure – a massive gain for someone in a couple of months.

Stampboards member Simon Dunkerley commented in the same discussion he'd purchased a very similar, and nearly as pronounced error on this 1913 10/- Roo at a Melbourne Auction in February 2008, for $A1,050 plus commission, and sold it on for a modest mark up.
USA Highest Value

Here's a trivia question many will not be able to answer unless you have cheated, and looked at the nearby illustration.

Question - what is the highest denomination postage stamp issued by the USA in their 161 year stamp issuing history?

The answer is $16.50, and that stamp was only issued on June 20. It was a stamp depicting Hoover Dam, designed by Carl T. Hermann of Carlsbad, California.

Named after President Herbert Hoover, the Hoover Dam is a US national historic landmark. The stamp artwork, by Dan Cosgrove, Chicago, Illinois, depicts a view looking upstream. Nevada is on the left, and Arizona is on the right.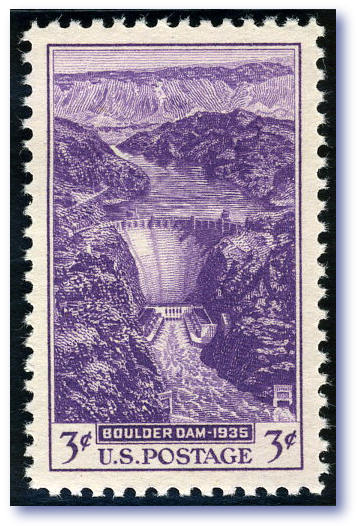 The first version

Hoover Dam, also often known as Boulder Dam, is a concrete arch-gravity dam in the Black Canyon of the Colorado River, on the border between the USA states of Arizona and Nevada.

When completed in 1935, it was both the world's largest electric power producing facility, and the world's largest concrete structure. There is enough concrete in the dam to pave a two-lane highway from San Francisco to New York.

The dam, located 30 miles (48 km) southeast of Las Vegas, is named after Herbert Hoover, who played an instrumental role in its construction, first as Secretary of Commerce, and then later as President of the United States.

Construction began in 1931 and was completed in 1935, more than two years ahead of schedule.

There were 112 deaths associated with the construction of the dam. The first concrete was placed into the dam on June 6, 1933.

Since no structure of the magnitude of the Hoover Dam had been constructed, many of the procedures used in construction of the dam were untried, and pure theory.
The Naming Shuffle
The dam, originally planned for a location in Boulder Canyon, was relocated to Black Canyon for better impoundment, but was still known as the Boulder Dam project.

At the official beginning of the project on September 17, 1930, President Hoover's Secretary of the Interior announced that the new dam on the Colorado River would be named "Hoover Dam" to honour the then President of the United States.

A Congressional Act of February 14, 1931, made the name "Hoover Dam" official.

When Franklin Delano Roosevelt took office on March 4, 1933, he moved quickly to re-name the dam honouring the candidate he had just defeated. Roosevelt arranged an edict to this effect in May 1933 re-stating the "Boulder Dam" nomenclature.

This did not happen immediately, but over the following several years all references to "Hoover" Dam in official sources, as well as tourist and other promotional materials, vanished in favour of "Boulder" Dam.

Indeed, soon after this, in 1935 the 3c violet stamp shown nearby was issued showing the "new" name, and 73,610,650 copies were sold.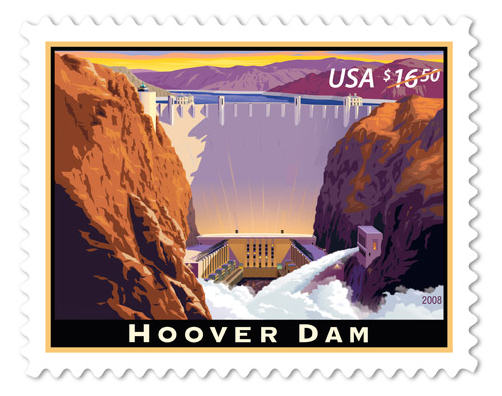 Highest Face Value Ever
Roosevelt died in 1945. On March 4, 1947 California Republican Congressman Jack Anderson submitted House Resolution 140 to "restore" the name Hoover Dam. Anderson's resolution passed the House on March 6. A companion resolution passed the Senate on April 23, 1947.

On April 30, 1947, President Harry S. Truman signed Public Law 43 which read: "Resolved … that the name of Hoover Dam is hereby restored. Any law, regulation, document, or record of the United States in which such dam is designated or referred to under the name of Boulder Dam shall be held to refer to such dam under and by the name of Hoover Dam."

These stamps will be VERY desirable when lightly cancelled. Whenever I have goods being mailed to me from the USA I plead with the sender to use one or several of these top values.

The lifespan of it will typically be short, and re-sale value high on nice used copies. I think it is an especially ugly stamp, but that will not affect its long term value!
Dropping The Ball

If you think you have seen EVERY type of stamp issued - think again!

I've seen chocolate stamps, perfumed stamps, stamps that when placed in soil grow plants from embedded seeds. Bhutan stamps that play music on a gramophone, 3D stamps, hologram stamps, stamps made variously from cloth, leather, cork, foil, rubber and other plastics. Tin foil stamps, and even the pure gold plated Pope stamps issued by Australia Post earlier this year.

Austria took all this one step further in May with a stamp that is an actual film clip!

I saw this stamp raised by member "tservies" on stampboards.com in his popular on-line blog, or you can click this link for the discussion on it. http://www.tinyurl.com/6ccues

The stamp shows three different perspectives of the winning soccer goal scored by Andreas "Andi" Herzog for Austria in 1997.

This goal provided a sense of strong national pride for Austria, as their team defeated Sweden 1-0 in route to their 1998 World Cup appearance.

The Austria postal administration has immortalized this television broadcast clip on a postage stamp issued May 2008 issued to mark the Union of European Football Associations 2008 series – "Euro 08".
Moving image

By using advances in existing technology, Austria Post managed to put the moving image of this goal being scored onto a postage stamp.

Whilst the initial technology to do so has been around over 60 years, and has even been applied to stamps before, this is the first time that such a detailed moving image has been put onto a stamp.

The technology used is called lenticular printing. This printing method relies on a special lens, called a lenticular lens, to produce its magic. First, a total of 48 snapshots, or frames, of the original television broadcast were printed in a way so that tiny strips of the original images were alternated (interlaced).

When a lenticular lens is attached to this interlaced image, it allows only one set of the 48 image strips to be seen from each viewing angle. By subtly changing the viewing angle, different images are displayed; if the angle is moved steadily, the image appears to move.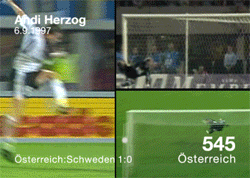 A Film Clip Stamp

Lenticular printing is not new. Many readers can remember getting little square inserts out of breakfast cereal boxes as kids that would change image when viewed from different angles.

Even some simple 2-dimensional dolls and similar products had eyes that would blink based on the viewing angle. All of these were early forms of the lenticular printing process.
Modern Technology
Those early lenticular images were somewhat crude, and the motion produced was very jerky. The technology at that time permitted only a few images interlaced together, usually 2 or 3, and because of this, each image had to show a great range of motion.

The human eye requires 16-24 images per second in order for it to be considered smooth movement.

This Austrian stamp is by far the most complex lenticular image ever to appear on stamps. Other countries, such as Finland, Ireland, and Switzerland have produced lenticular images in the recent past, but those images are not nearly as involved as the Austrian stamps.

The stamp is valid for postage, although I think it doubtful that many people would use the stamp to mail something. Most will prefer to hoard the stamp as an interesting keepsake.

Also, the stamp is of a very high face value 5.45 Euros, so it would not be used for letter mail, but for packages, overseas mail or expedited or Registered services etc.

The stamp is very large. It measures 6.5cm (2.6 inches) wide by 4.7cm (1.9 inches) tall. With its size, denomination, and the novelty of moving images, it is sure to stand out in any stamp collection.

The stamp can be purchased from Austrian Post's online shop at face value 5.45 Euros, or from all leading new issue dealers.
Second Time Lucky

Soccer is not always kind to PO's. Austria bombed out badly earlier in 2008 when they issued a soccer ball stamp - that did not stick to mail!

Red-faced officials at the Austrian post office had to withdraw thousands of expensive "Euro 08" postage stamps, made of the same rubbery material as the official Adidas Euro football - because they do not stick.

The round stamp which cost 3.75 Euros, was made to look like the official ball of this year's football tournament, the new Adidas "Europass."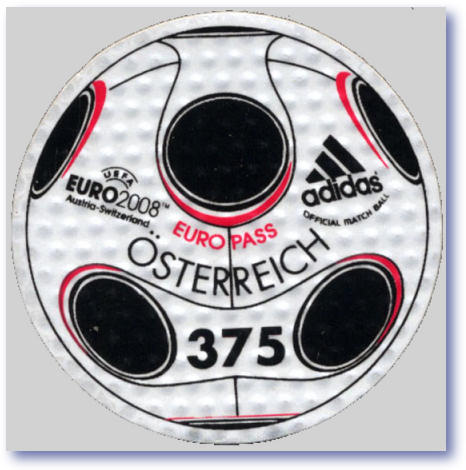 Did not STICK!
The stamps had been available for nearly two weeks, however despite costing nearly twenty times the price of a normal stamp to make, large numbers were withdrawn and had to be replaced, because they simply refused to stick to envelopes!

Some 490,000 of the special stamps were printed, and could have been purchased in Austria for €3.75 from all post office branches and online.

The 69cm diameter ball has been shrunk to just 36mm, and the stamp is made of the exact same material as the UEFA European Championship ball – a synthetic mixed with polyurethane.

"The Europass stamp is our most sophisticated stamp in terms of typography and fabric," said Erich Haas, the head of philately at the Austrian Post Office, prior to the issue date .. and prior to learning they did not STICK!










Get my regular market update emails FREE. Stamp gossip, price trends, record sale prices, and many one-time stamp specials, wholesale bargains, and exciting offers and breaking philatelic news. A mini stamp magazine in every email! "KNOWLEDGE IS POWER". The ONE stamp list you MUST be on, to keep in touch with the rapidly changing world market. One client made $65,000 profit in a few months after following my specific advice. Sign up securely and quickly by clicking HERE to access my automated data base. And wiser still ADD your home AND work email, if I only have one right now. Add a stamp friend's email address if you wish. One short click and you are subscribed to probably the most read email list in the stamp world!


Instant Currency Conversion


FREE! Just click here...




If you would like to be notified of updates to this website, Click HERE. If have any questions,
or comments regarding my site, please email me at glen@glenstephens.com
| | |
| --- | --- |
| | Search all my 300+ web pages! Simply type in what you are looking for. "Penny Black", "Latvia", "Imprints", "Morocco", "Fungi" "Year Books", etc! Using quotes ( " ) is more accurf used with no quotes. Search is NOT case sensitive. Tip - keep the search word singular - "Machin" yields far more matches than "Machins" etc. |


I am a Dealer Member in Good Standing Of:

Full Time Stamp Dealer in Australia for over 25 years.
Life Member - American Stamp Dealers' Association. (New York)
Also Member of: Philatelic Traders' Society. (London) ANDA. (Melbourne) American Philatelic Society, etc
GLEN $TEPHEN$
Full Time Stamp Dealer in Australia for over 25 years.
Life Member - American Stamp Dealers' Association. (New York)
Also Member - Philatelic Traders' Society. (London) ANDA. (Melbourne) American Philatelic Society, etc

ALL Postage + Insurance is extra. Visa/BankCard/MasterCard/Diners/Amex all OK, even for "Lay-Bys"! All lots offered are subject to my usual Conditions of Sale, copy upon request BIGGEST STAMP BUYER: Post me ANYTHING via Registered Mail for my same-day cheque. Avoid the GENERALLY 40% Auction " Commissions" (15% + 17½ + GST, etc.) AND their five-month delays! Read for details.
"Lothlórien4 The Tor Walk, CASTLECRAG (Sydney), N.S.W. 2068
Phone: (02) 9958-1333 Fax: (02) 9958-1444 (Both 25 Hours, 7 Days!)
E-Mail: glen@glenstephens.com
Web Sites: www.glenstephens.com www.glenstephens.net or www.australianstamps.net