The power of Papua continues to shine. This very popular collecting area just goes from strength to strength.

Prestige Auctions had a nice offering in July 28 in Melbourne when the 'Peter Troy' collection was sold for $A834,008.

The Deluxe hard-back catalogue was without doubt the finest ever sale catalogue produced in Australia, at any time. A credit to Prestige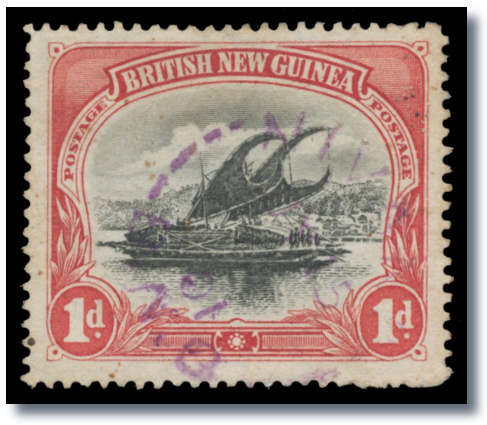 A $2,760 cancel
They key stamp pieces as expected did very well, as they contained many rarities, but to me the results that surprised most were the prices for some of the postmarks.

The very common 1d Lakatoi stamp illustrated nearby has a light and barely readable violet cancel of "Nivani" – stated to be dated 'JY 25, 1901', but I can't be sure of that date, as it is very faint.

It is regarded as a rare cancel type, and was invoiced for $A2,760 on a $A500 estimate. I personally would only give it a 3 out 10 score as to strike clarity and readabillity, but clearly others disagreed!

Most collectors and dealers (me included!) would likely leave this and the 2 others shown nearby on the album or stockbook page, as they simply do not look remarkable to most eyes.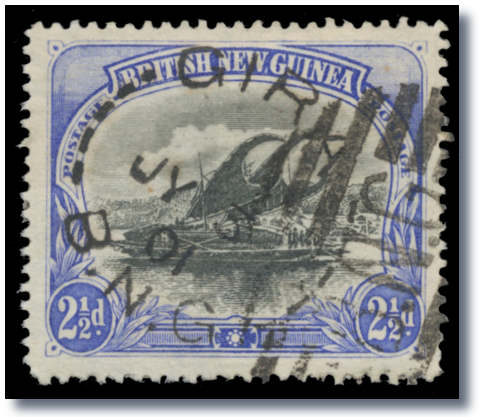 BOGA means BUCKS!

Likewise the nearby "GIRA" cancel on a normal 2½d blue, also with a barred 'BNG' cancel believed applied in Boga ... that sold for even more money – and with postage cost, was invoiced for a tad more than $A3,000.

The common ½d Green Lakatoi, with a rather blurry "KIMUSI" cancel sold for over $A1,000 - on a $100 estimate etc
A 4 figure cancel.
The issued Papua stamps held many surprises too. The 6d "Small Papua" SG 70 illustrated nearby, was invoiced at $A18,400 – despite an SG value of "only" £5000 – nearly double the full catalogue, for a clearly rare stamp.

It last changed hands for $A9,520 in 2003, so has near doubled in 6 years. Papua has been a good horse to back!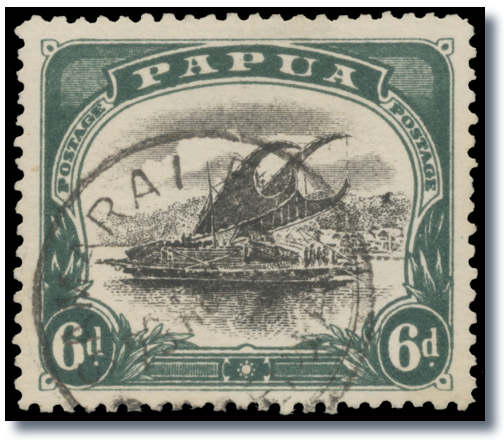 Big price of $A18,400
New Guinea, NWPI and Papua all continue to do well in the marketplace. I've written for 30 years that key NWPI stamps have been absurdly under-priced by the trade.

I recently sold the quite superbly fresh block of 6 illustrated nearby, showing 2 x "ABC" setting vertical strips of 3, for about what a single MUH stamp with the "NWPI" scratched off would bring!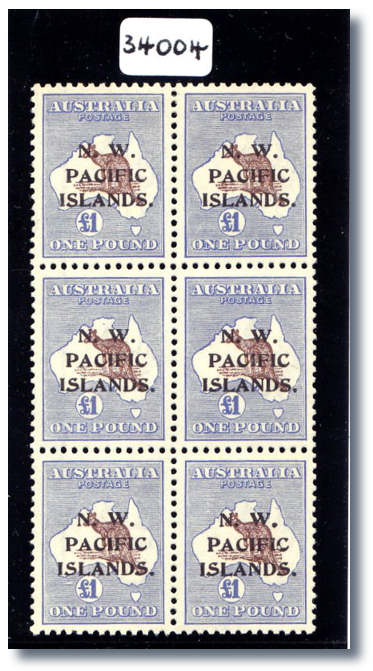 Wildly under-priced even today

The numbers issued of this overprint were just a very tiny FRACTION of the Australian basic stamp, as we know. £6 was an absolute fortune back then.

Common sense would say this piece should retail for several times what I sold it for, and I very much suspect the buyer of it will do VERY nicely with it down the track, as he is buying while prices are still quite heavily under-valued, compared to true scarcity.

My advice – see nice NWPI, and buy it at today's levels ... simple as that

Melbourne "Stampshow 2009"
The "BIG" event of the Australian stamp calendar of 2009 was the 4 day event held in Melbourne July 23/26.

Held at the Rod Laver Tennis Centre in the CBD, it was quite well attended in lovely weather, seeing it was mid Winter then.

I was there for the 4 days as the organisers had kindly offered a table to stampboards.com, which was manned by a roster of volunteers for the duration.

We signed up many new members, and more important were able to meet scores of members at the activities and dinners and meetings etc that we planned.

On Friday night we had a well attended Member Dinner in the city that was a great 'get to know you' evening.

On the Saturday, we made the 1 hour train expedition out to Croydon in the lower Dandenongs.

First destination was the "Mindbogglers" shop of stampboards legend "MrBoggler" – who is the Life President of the GOMC ("Grumpy Old Men's Club") – a secret group that has collectors begging to be approved as members!

So a large contingent of stampboard members gathered outside Max Stern's city shop, and headed out to Croydon.

Due to the wonder of computers we had a "Live From Stampshow" discussion going on for the duration – and afterwards – complete with heaps of colour photos as they were taken, see – www.eshaong.notlong.com
"Stamp News" Barbecue

After a pleasant interlude at MrBoggler's, a fleet of vehicles were arranged to transport us all to the huge new "Stamp News" warehouse premises at nearby Boronia.

Editor Kevin Morgan laid on a lavish Barbecue for about two dozen guests, and gave a tour of the 2 level operation, and a very pleasant afternoon was had by all.

Saturday night was the Palmares Award Dinner, at the rather astonishing, olde-worlde and VERY private "Savage Club" in the CBD.

Well lubricated by the free flowing Chardonnay, I bid several $1000s on buying "Number 1" items from the show fund raiser Auction.

Main surprise of "Stampshow 2009" was that Australia Post allowed 200 completely IMPERF current Prestige booklets, to be sold by the organisers, numbered 1-200.

All of these were numbered in Gold by the PO, and I secured 20 of them, for collectors of the unusual, if anyone is interested.

On Sunday stampboards.com had an official 90 minute meeting in the Prahran Room, which was also very well attended.

My thanks to the organisers and committee of the show for their endless help and co-operation, and to our many volunteers manning the stand.

A great show, and my surveys of the dealers were they all had a better than budgeted show.

Sadly space constraints mean many photos I took cannot be shown here - but dozens more are found at - www.eshaong.notlong.com

Experienced Melbourne dealer Peter Strich summed it up and said: "I've seen lots of skeletons from the closet here."

When asked that that meant, Peter said he'd seem clients he'd not heard or set eyes on for a decade during the show!

That is VERY good for stamps.

APTA President Michael Eastick shocked at size of cheque due to Paul Fletcher of Millennium!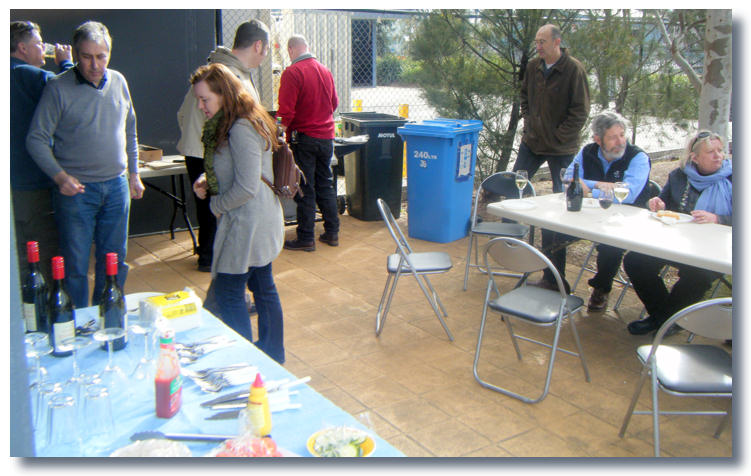 Part of the crowd at Kevin Morgan's (second from left) lavish BBQ at new Boronia Headquarters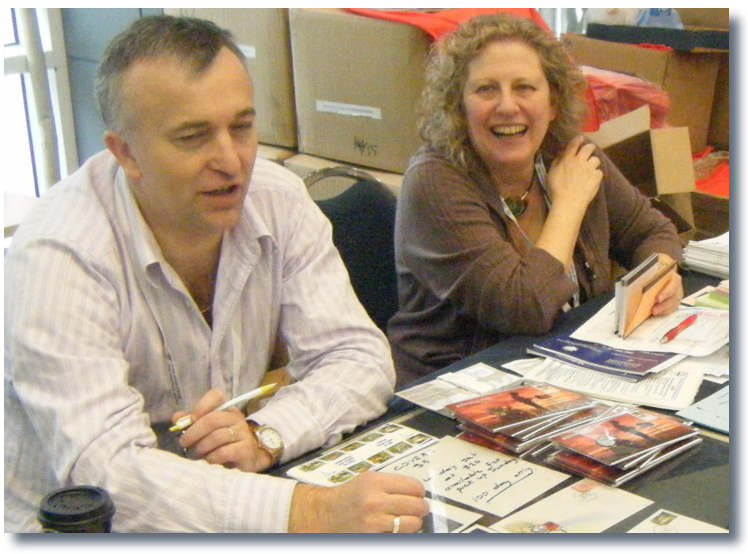 Show President Stephanie Bromser, and Treasurer Frank Pauer, hard at work selling souvenirs.

Two new members signing up for stampboards.com, with Margo and Barbara supervising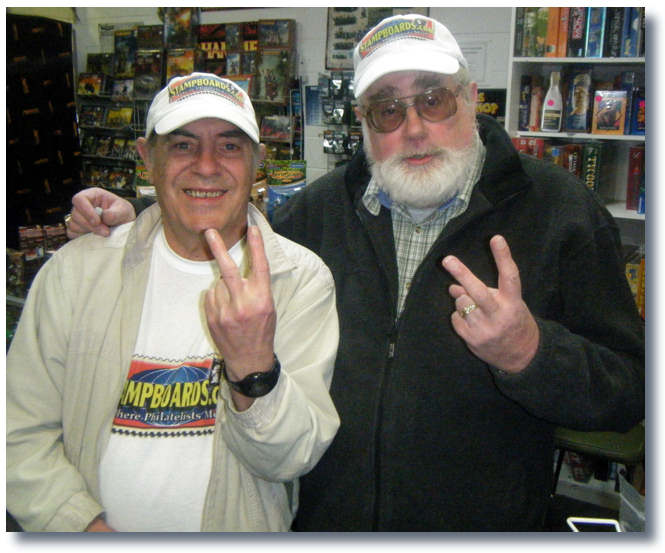 Moderator "fromdownunder" and "MrBoggler" at his shop, giving Glen a mystery Celtic good luck sign!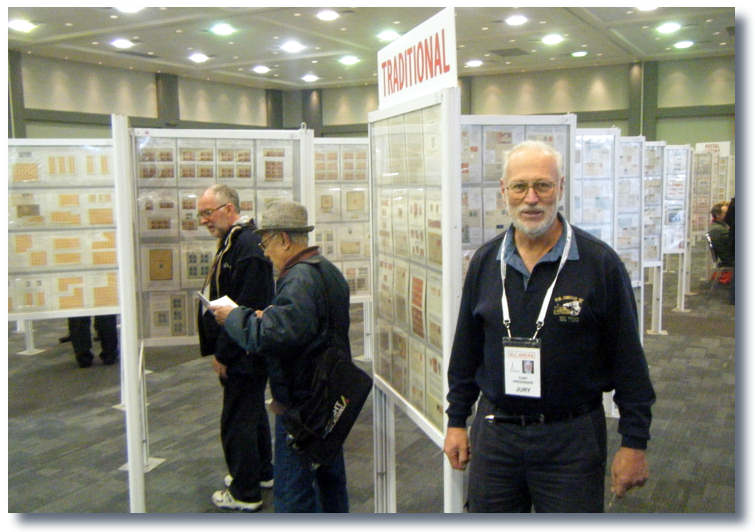 Floor manager Tony Presgrave in front of his huge challenge - to get all Frames assembled correctly









Get my regular market update emails FREE. Stamp gossip, price trends, record sale prices, and many one-time stamp specials, wholesale bargains, and exciting offers and breaking philatelic news. A mini stamp magazine in every email! "KNOWLEDGE IS POWER". The ONE stamp list you MUST be on, to keep in touch with the rapidly changing world market. One client made $65,000 profit in a few months after following my specific advice. Sign up securely and quickly by clicking HERE to access my automated data base. And wiser still ADD your home AND work email, if I only have one right now. Add a stamp friend's email address if you wish. One short click and you are subscribed to probably the most read email list in the stamp world!


Instant Currency Conversion


FREE! Just click here...




If you would like to be notified of updates to this website, Click HERE. If have any questions,
or comments regarding my site, please email me at glen@glenstephens.com
| | |
| --- | --- |
| | Search all my 300+ web pages! Simply type in what you are looking for. "Penny Black", "Latvia", "Imprints", "Morocco", "Fungi" "Year Books", etc! Using quotes ( " ) is more accurf used with no quotes. Search is NOT case sensitive. Tip - keep the search word singular - "Machin" yields far more matches than "Machins" etc. |


I am a Dealer Member in Good Standing Of:

Full Time Stamp Dealer in Australia for over 25 years.
Life Member - American Stamp Dealers' Association. (New York)
Also Member of: Philatelic Traders' Society. (London) ANDA. (Melbourne) American Philatelic Society, etc
GLEN $TEPHEN$
Full Time Stamp Dealer in Australia for over 25 years.
Life Member - American Stamp Dealers' Association. (New York)
Also Member - Philatelic Traders' Society. (London) ANDA. (Melbourne) American Philatelic Society, etc

ALL Postage + Insurance is extra. Visa/BankCard/MasterCard/Diners/Amex all OK, even for "Lay-Bys"! All lots offered are subject to my usual Conditions of Sale, copy upon request BIGGEST STAMP BUYER: Post me ANYTHING via Registered Mail for my same-day cheque. Avoid the GENERALLY 40% Auction " Commissions" (15% + 17½ + GST, etc.) AND their five-month delays! Read for details.
"Lothlórien4 The Tor Walk, CASTLECRAG (Sydney), N.S.W. 2068
Phone: (02) 9958-1333 Fax: (02) 9958-1444 (Both 25 Hours, 7 Days!)
E-Mail: glen@glenstephens.com
Web Sites: www.glenstephens.com www.glenstephens.net or www.australianstamps.net