Click To Go Back To The Main www.GlenStephens.com Stamps Homepage

Welcome! You are visitor
to www.GlenStephens.com


September 2016


---
Vale Martyn Greive, A-One Stamps
I report with much sadness, the recent passing of Martyn Greive, who many readers will have dealt with via his 50 year old business of A-One Stamps in Sydney. His speciality was Australian covers, and earlier FDC, and commemorative cancels in particular.

Martyn passed away peacefully in mid-July, aged 90. I'd been over to his amazing Darling Point panoramic home not long before, to share a drink or three for his 90th birthday, and to talk stamps, and he was in very good spirts then.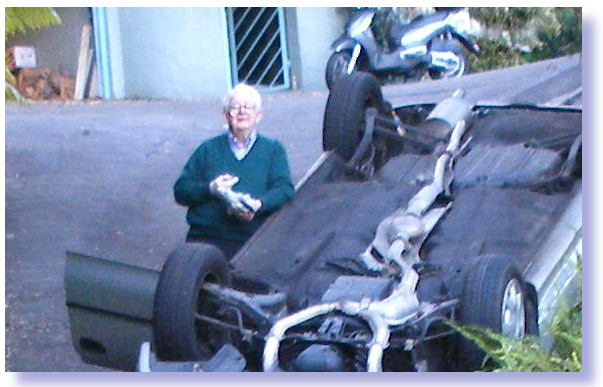 A smiling Martyn Greive.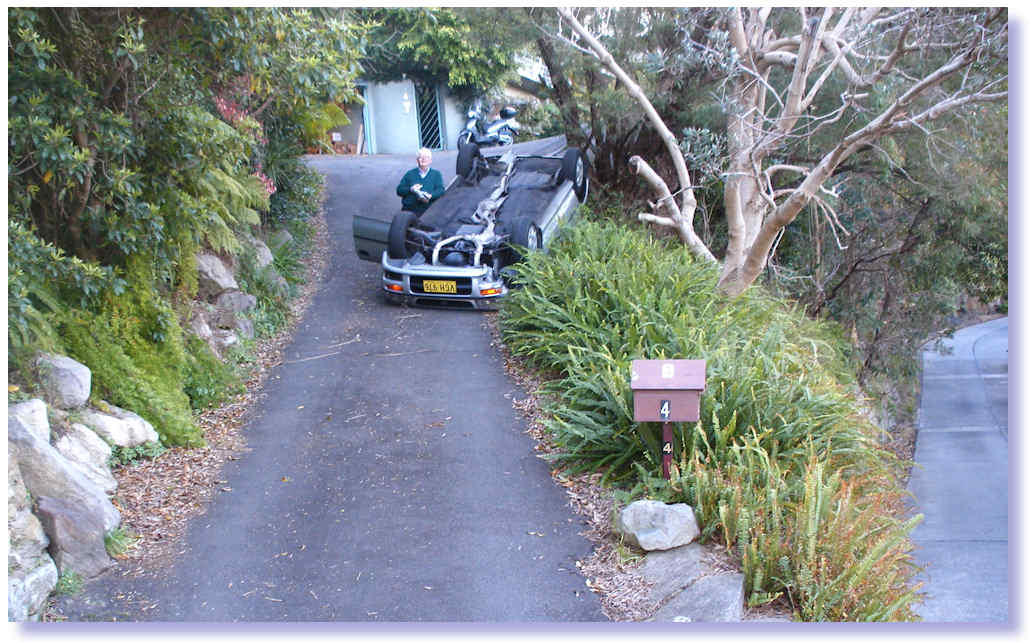 One story Martyn "dined out on", and delighted in re-telling, was when he wrote off his car after collecting stamps off me a few years back. My 3 levels of stamp mess is basically built on the side of a steep harbourside cliff. Lots of stairs.

Martyn dropped by to do some business, and drove down my driveway on his way home, as he had done 100 times before. He somehow managed to roll his car onto its roof and side, with him trapped inside. I was watching him drive off at 10kph waving goodbye, and it was like a scene from some bad movie unfolding.
Trapped Inside car.
His nice car was a total and complete write off. Both sides, front, bonnet, and roof, and most glass. Marty was fine, suffering just a few cuts and lacerations from climbing out all over the glass from the smashed driver's window and windscreen, whilst trapped upside down for 10 minutes.

Very lucky the car stopped exactly where it did. There is a straight 10' drop onto a concrete road, right to the side it stopped at. No fences or barriers. Had it slid a foot further, I'd have needed to phone emergency services, and not a tow truck and his son, to come take him home.

Pretty terrifying stuff for any 85 year old, and in typical stoic style, when he emerged more or less unscathed, Marty said: "well I won't be driving THAT anywhere now, so no harm in a small Scotch to steady my nerves, I think!"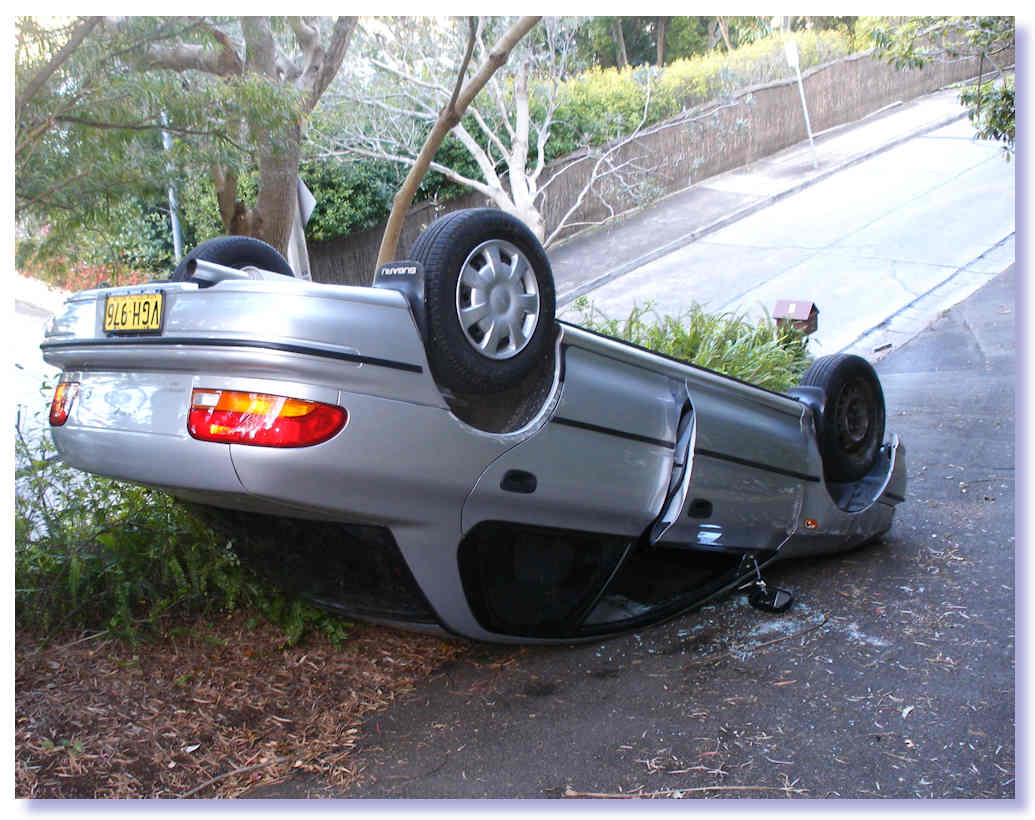 A very lucky escape.
I've known and dealt with Marty for about 40 years, and he was a real "old-school" gentleman. I asked him once why he chose the trading name "A-One Stamps" and he replied: "because I got to be the very first dealer listed the Yellow Pages each year that way!"

Martyn was a WW2 veteran, and had a Castlereagh Street Sydney retail shop for some time. That was later bought by Kevin Duffy as I recall, who then sold it to Robert Kennedy. He was State Secretary of the Stamp Dealer body ASDA/APTA here, and was well known and liked in the trade.

His father Louis was a Day #1 Anzac Cove Gallipoli veteran, where he was highly decorated for Bravery, rescuing wounded comrades whilst under withering Turkish fire. He was later on in WWI captured by the Germans, and spent time in a German Concentration camp.

Survived by wife Ann, their 3 children, and the grandchildren, Martyn Greive will be greatly missed by all who knew him or dealt with him, locally and overseas. Rest In Peace.
Stamp Dealers have great longevity.
Martyn was active in dealing right to the very end, and it really shows a huge strength of this hobby - collectors and dealers can engage in it actively, even when well into their 90s. Few if any other hobbies or interests allow that, if you think on it.

Legendary Sydney dealer Ken Baker was still interested well after he passed the age of 100. Ken hosted several dealers to a family dinner for his "Queen's Telegram" party, and regaled all there with stories of his life in stamps. Ken passed earlier this year, just days before his 104th Birthday.

For whatever reason, longevity seems to be a side benefit of stamp dealing. Max Stern AM, passed away earlier this year, just days short of his 95th Birthday. To the surprise of no-one, Max had been active all that day in his Melbourne shops on the day he passed.

I recall being told legendary Wesley Arcade Sydney dealer, (Max) M.C.Cohen, was found by staff at his city shop desk, and had passed away peacefully whilst writing advertising copy for his regular page ad in "Stamp News". I'd like to think we'd all want to go out like that - doing what we love.

Martyn Greive lived in the affluent eastern suburbs of Sydney, and bought some pretty amazing things over his time as a dealer. At one point he lived in a mansion in Bellevue Hill with his next door neighbour being multi billionaire Kerry Packer. Some great stamps passed through his hands.
Smorgasbord of Kangaroos.
| | | |
| --- | --- | --- |
| | I recall him once showing me a tatty looking brown paper parcel piece with no less than ELEVEN x £1 grey Third watermark Kangaroos on it, including a block of 6, and also THREE x £2 Small Multiple watermark Kangaroos. | |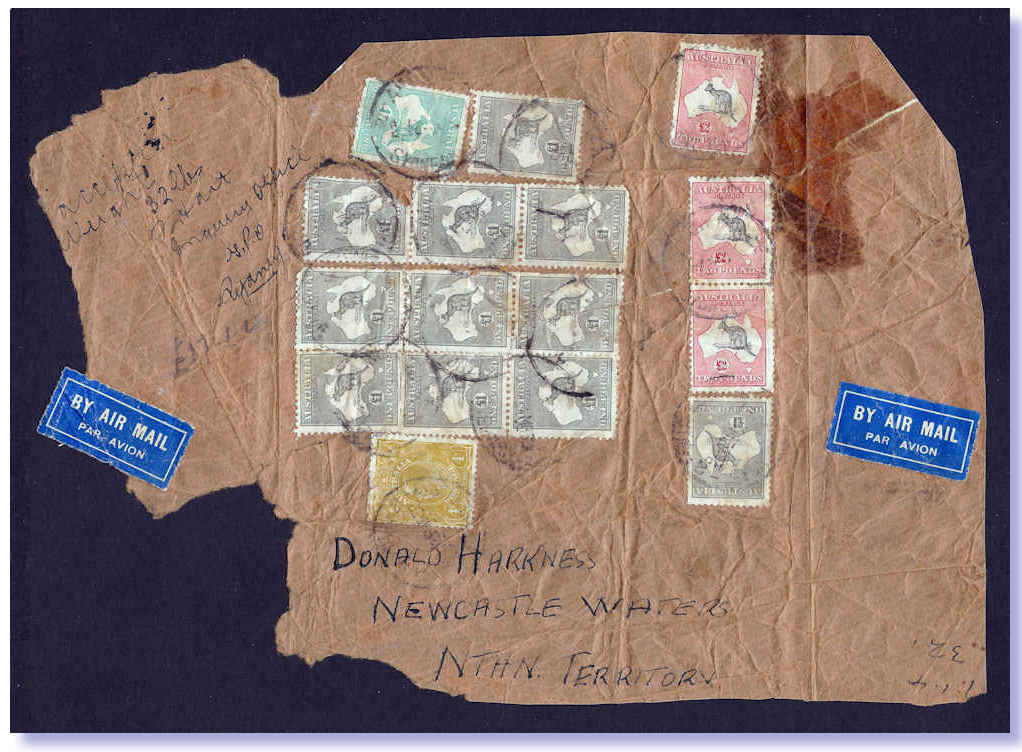 The Roo piece as discovered.
It was a new discovery Martyn had literally found that week in a box of junky material someone in the Eastern Suburbs had bought over. From the estate of a man who threw nothing out - even parcel wrappers. Domestic franking yet cost was a massive £17/1/4d.

Remarkably this piece was literally lining the bottom of the estate carton! Just flying flat, with albums and stockbooks and tins stuffed on top. This £17, back in the height of the Great Depression was an absolute fortune - more on that later.

This piece was used in 1933 from Sydney to Newcastle Waters, Northern Territory, on an urgent 32 lbs car parts air shipment. It was to UK car rally driver Donald Harkness - an ex RAF WWI fighter ace, who has taken to racing rally cars in the Depression era.

Martyn showed it to client Arthur Gray, who offered him $1,000 for it, stating the piece and stamps were "totally and completely stuffed". Arthur was not keen on covers or parcel labels etc, and his $A7.15 million Roo collection was of course near bereft of that material.

Martyn Greive declined that not very generous offer, and ran it to Auction at Prestige Melbourne soon afterwards, where an Adelaide collector very astutely bought it for a few $1,000, as he recognised the great significance of it.
Used Block 6 x £1 Roos Unique
OK, it is tatty and creased, and could well have (and should have) borne a block of 8 x £2 Small Multiple if the clerk had that many in his stamp drawer. Indeed delightfully, it might have had a block of 9 x £2, if it were overpaid just a tad! The block of 6 of the £1 is 100% unique postally used.

That collector kindly gave me the precise posting rating details on it, working and deciphering those from the helpful postal clerk pen notes scrawled at outer edge of the tatty parcel piece shown nearby, and the rate is very interesting.

The second owner told me the endorsement: "Accept'd Weight 32lbs" suggests the item did not fit on a PO scale. It may have been on odd shape car part like an axle being shipped etc, which for rally driving in outback Australia unsealed roads, seems VERY likely!

He kindly worked out how this massive rate was computed, as follows - 32lbs (14.55 Kg) exceeded the limit for the Parcel Post, so it was charged at letter rate, which was calculated in 1 ounce increments. 32 lbs = 512 ounces x 2d per ounce = 1024d = £4/5/4d.

The airmail fee was an additional 3d per ½oz. i.e. an extra 512 ounces at 3d per ½oz = 3,072d = £12/16/0d. Total postage paid £17/1/4d. At this time the gross weekly wage of any working male who HAD a job, was around £4 a week so this parcel was over a MONTH'S wages. Rather like a $4,000 domestic parcel today.
Serbian Lawyers Briefed!
| | | |
| --- | --- | --- |
| | Rod Perry bet me his house one night, that no such huge figure domestic Kangaroo franking could possibly exist, and my "No Fee, No Pay" Serbian lawyers are busily working on it, as I always thought a spacious home in the Daintree would be rather nice! | |


After the Plastic Surgery.

Rod later decided it did exist, and the auction buyer swapped it with him, for a nice 1919 Ross Smith personal cover to Adelaide that Rod Perry owned, and both were very happy. Each obtaining something of great interest to them - the perfect deal all around.

He had the piece restored substantially, adding corners and pieces of stamps, and other repairs, and removing the bad cellotape stains, and heavily pressing and re-backing it all etc. It is the largest Roo franking known, and will always be a talking point, despite the repairs.

"WIN-WIN" all round - all 3 sellers were pleased with their deal, as Martyn Grieve found it free, lining a box of junk stamps. The Adelaide chap now has a unique Ross Smith piece he loves, and Rod had the restored piece listed on ebay for $A155,000 "Buy It Now" when I looked a few months back, and he may well have sold it now.

So it has come a VERY long way, since Martyn Greive found it unloved 10 or 15 years ago, lining the base of a carton of junky Estate material! Marty always greatly enjoyed re-telling that unusual story, and following its later history, and it is a nice memento to close this on. R.I.P. old friend.

GOLD In Rio!

| | | |
| --- | --- | --- |
| | Australia Post continued in the 2016 Olympics in Rio Brazil, its traditional issue of stamp sheetlets of 10 x $1 stamps for when each Olympic Gold Medal was issued. They globally pioneered this "instant stamp" technique in Sydney 2000. | |


Australia Rio Gold Medal stamps

A very popular campaign, and an idea some other countries around the world have followed. The Japan ones are pretty. New Zealand started issuing sheets of $1 stamps this year for ANY kind of medal colour - Gold, Silver or Bronze. Australian collectors can breathe a sigh of relief AP did not take that path!

The Rio Olympic Games are in full swing as this column was submitted to the printer, so I do not have the exact number of Gold stamps we had issued. We were up to six Gold as I type, and our tally was eight Gold in London 2012, with 35 medals in total.

Bring on the Per Capita Count!

I'd love to see a Gold Medal chart showing PER CAPITA medal results in a separate column at right. China and the USA etc would not look so hot then. Jamaica and Cuba etc would dwarf them!

The next day Gold Medal stamps accompanied the "Road to Rio" $1 special issue stamp, released on 2 August 2016, "translating the spirit of the host city through vivid colour, rippling ribbons, and athletic figures" according to Australia Post.


Very pretty $1 Rio Stamp

Australia Post had special Gold Medal postmarkers made for 14 locations across the country. Covers submitted will be cancelled for ONE MONTH from date of issue of the stamps, so all reading this still have time to submit or lodge covers for a "First Day" cancel.

The eight Post Offices available in NSW, Queensland and South Australia to have been issued with these cancels are shown on the photo nearby and the Australia Post website has the others listed.


Be QUICK for these cancels.




Australia Post will as usual be offering the full set of Gold Medal sheetlets of 10 in a special album when the Games are completed. The full sets from the last 2 Olympics in particular are hard to get, and have proven to have been good buys.

A great Olympics, and as someone lucky to work from home saw more of it than many. Those swims of Michael Phelps were just mind-boggling, and the Usain Bolt performances on the track to win the 100 metres in 3 consecutive Olympics, was a privilege for us all to see.

Cricket Cancel Craziness.

The cancel nearby sold at auction mid-July to intense bidding for £2,850 - or then about $A5,000. Why? Because it is worded "Cricket Ground - Sheffield - JY 4 : 02". The stamp had no Certificate, but was certainly 100% genuine I'd suggest.

A stamp otherwise worth possibly ten bucks on a VERY good day! ALL these CRICKET GROUND cancel stamps were all in fact stolen property from the Post Office, being from the GB Telegraphic Offices CDS's used at Cricket Grounds.


A $5,000 Cricket Cancel!




These stamps were affixed to telegram forms, mainly used by newspaper reporters to send back regular match updates to their papers. Remember no phones, or texts, or emails back then! And, as we know, none should have escaped Royal Mail shredders at that time etc.

Those few copies seen, are on higher face value stamps of 6d and above, as used on Telegrams, and perhaps the postal clerks thought it was a chance to surreptitiously obtain these high value stamps, and onsell quietly to the nearest stamp dealer?

All of these cancels STOLEN.

Anyway, the few that do trade in the marketplace get amazing 4 figure sums. I recently added one to stock, that had a clear RPSL Certificate. At $A1,500 it sold fast, as many others have sold for over treble that, and it proves that "cricket on stamps" is a red hot topical.

The GB 1/- KEVII stamp illustrated nearby, is an example of the type of cancel you might well discover offered for peanuts in a club circuit book, or old album etc, and overlook it as a $10 stamp, not a $5,000 one!

It was offered on ebay by a UK dealer with zero description, and the cruddy and fuzzy photo shown nearby, for which I apologise re the poor quality of - it is ebay after all. Despite lack of any detail, or Certificate, and starting at 99p, it sold for £2,850 after 20 bids.

World's Priciest BIRD stamp?

| | | |
| --- | --- | --- |
| | A stampboards.com member asked this month what was the world's scarcest BIRD related stamp, and the query attracted a great deal of input and suggestions, many of them I'd never thought about - more here - tinyurl.com/BirdBucks | |



A $326,000 Bird Block.

My suggestion was, the Australian piece that was invoiced for $A326,000 by Phoenix Auctions in Melbourne for the 1928 Kookaburra Imperforate miniature-sheet ex Stuart Hardy, auctioned by them in November 2012.

It was bought by long-lived Sydney dealer Ken Baker mentioned above, for £105 in 1961, Lot 518. It not been on the market for 44 years since Hardy purchased it in 1968, from the Ameer of Bahawalpur's Collection in London.

"No money in stamps"?

| | | |
| --- | --- | --- |
| | Baker paid only £105 at that SG auction - his invoice is nearby. Can an accountant work out what annual % increase one gets starting with £105 ($A210) and ending up with ~$A326,000? Who said there is: "no money in stamps"?! | |


From $210 to $326,000.

1961 was only 5 years before we went to decimal currency. I just did some research - the median suburban house in Sydney cost was literally £3,940 then = $A7,880, as the country was in a credit squeeze. Check the facts yourself!

In 2012 when this was sold, the average Sydney house price was a little under $A600,000. Or 75 times the 1961 average price. This stamp went up 1,552 times. So very roughly, this stamp had performed more than 20 times better than even Sydney Real Estate.

As I reported in detail last year - a good used, 3 margin, Western Australia, 1854 4d Blue Swan "Inverted Frame" stamp just sold for around $A250,000. The stamp sold for £122,400 at the Spink Lord Vestey sale of May 19 2015 - around $A250,000. More than DOUBLE their top estimate of £50,000-£60,000.

My checking reveals that was a world record price for ANY single stamp from Australasia, from 1850 to the present day. Pretty amazing, and it was then WAY over the then full Gibbons catalogue of £90,000 for SG #3h.



"Inverted Frame" sold for $A250,000.

| | | |
| --- | --- | --- |
| | This famous stamp I understand was secured via phone bid by retired Hong Kong physician, Dr Arthur Woo, adding this example to his absolute fistful of these stamps. He now owns near all the few examples of this classic "Bird" rarity not in Institutions and Museums etc. | |

Dr Woo owns a fistful.

Dr. Woo's tally, along with many other examples now, includes the "forged" example sold in 1980s by Christies in the "Isleham" collection for £31,000. Some opinion now seems to lean to it NOT being forged. And the damaged strip of 3 x 4d used stamps, showing part of an "Inverted Frame" on one!

But as the stampboards discussion shows us clearly, NEITHER of these 2 gems takes the prize for the world's PRICIEST stamp depicting a Bird. The left field contender is from the USA of all places! The American 1869 30¢ Eagle, Shield and Flags, inverted centre, in mint condition.


Bird stamp sells for $A900,000.

In October 2013, Robert A. Siegel Auction Galleries in New York invoiced this stamp shown nearly for $US690,000, or somewhat higher than $A900,000. Higher still if you lived if the tri-state area due to state tax laws - or in the UK, Canada or NZ or Australia etc where Federal GST/VAT would also be levied upon arrival!

I had never thought of it as a "Bird" stamp, but yes it must be, and at well over $A900,000 invoice, it must surely take the prize of the world's most expensive Bird stamp. The stamp only has a trace of gum, but it does look pretty I'll grant you that!



Get my regular market update emails FREE. Stamp gossip, price trends, record sale prices, and many one-time stamp specials, wholesale bargains, and exciting offers and breaking philatelic news. A mini stamp magazine in every email! "KNOWLEDGE IS POWER". The ONE stamp list you MUST be on, to keep in touch with the rapidly changing world market. One client made $65,000 profit in a few months after following my specific advice. Sign up securely and quickly by clicking HERE to access my automated data base. And wiser still ADD your home AND work email, if I only have one right now. Add a stamp friend's email address if you wish. One short click and you are subscribed to probably the most read email list in the stamp world!






If you would like to be notified of updates to this website,

Click HERE. If have any questions,
or comments regarding my site, please email me at glen@glenstephens.com




| | |
| --- | --- |
| | Search all my 300+ web pages! Simply type in what you are looking for. "Penny Black", "Latvia", "Imprints", "Morocco", "Fungi" "Year Books", etc! Using quotes ( " ) is more accurf used with no quotes. Search is NOT case sensitive. Tip - keep the search word singular - "Machin" yields far more matches than "Machins" etc. |


I am a Dealer Member in Good Standing Of:

Full Time Stamp Dealer in Australia for over 35+ years.

Life Member - American Stamp Dealers' Association. (New York)
Also Member of: Philatelic Traders' Society. (London)

GLEN $TEPHEN$

Full Time Stamp Dealer in Australia for 35+ years.

Life Member - American Stamp Dealers' Association. (ASDA - New York) Also Member - Philatelic Traders' Society

(PTS London) and many other philatelic bodies.

ALL Postage + Insurance is extra. Visa/BankCard/MasterCard/Amex all OK, at NO fee, even for "Lay-Bys"! All lots offered are subject to my usual

Conditions of Sale

, copy upon request .

Sydney's

BIGGEST STAMP BUYER

: Post me ANYTHING via Registered Mail for my same-day cheque. Avoid copping the Now normal 45% Auction "Commissions" (15% Buyer + 20% Seller + GST, etc) AND their five-month delays!

Read HERE for details.

"Lothlórien", 4 The Tor Walk, CASTLECRAG (Sydney), N.S.W. 2068

Australia





Phone 7 Days:

(02) 9958-1333

PO Box 4007, Castlecrag. NSW. 2068




E-Mail:

glen@glenstephens.com

The Number #1 Web Sites:

and www.stampboards.com