1. Aust pre-war MUH hoard 1927-65: 2 copies of most on a stack Hagners. Many better sets here - inc. pre-war commems. Odd spot but most fine. (100s) $A125
2. Aust 1992/93 PO FDC: All different. FACE value is over $90! Bargain at - $A50
3. Ecuador Antarctic Covers x 15: Early 90s era. Masses of handstamps – often on BOTH sides – up to 13 fascinating ones per cover! Some are signed. $A60
4. Aust Decimal coll 1968-86 on 7 Seas pgs in Maroon springback. Mostly used incl the good early sets, but some mint noticed inc 1972 Xmas etc. $A55
5. Three 'Seven Seas' Hingeless Aust. Decimal albums 1966 - end 1982: Grandpa did them for the kids and then died. Quite good cond. All diff colours. The books and pages alone cost $420! Quite well filled with MUH. The FACE value of which is $330 alone. Some of course is FAR better than face. Also some used where he had not secured mint sets yet, on his pension and all these are uncounted. $A300
FIXED LOW NETT PRICES
NO Nasty 15% "Buyer's Commission" !
6. GB Beatrix Potter £6 Prestige Booklet x 10: DX15 £240 = $A600 $A200
7. Aust 1913-66 on leaves: Roos to both 2/-, inc 4d + 5d. 6d 1914 Kooka, then fairly compl. Inc 7/6d Nav, AAT Pre-Dec set. Many in horrid cond! Value tho at: $A65
8. Aust. Reg'd Labels: Large s/bk Aberdeen to Yealering ex Estate (100s) $A70
9. Aland Complete Mint collection 1984-2004: In a $100 Davo hingeless Album in hard slipcase. Michel Cat €474 = $A750. Incredibly popular country. $A350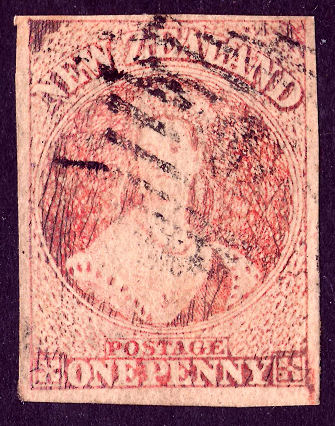 10. NZ 1858 1d Dull Orange: VFU 4 great margins. SG 8 £600=$A1500. $A200
11. Massive Carton collectors used Aust + World hoard. Seems like has mostly Aust. But a lot of other areas seen. Absolutely crammed into a massive carton and sorted into jam-packed containers. Not all junk, saw high value Aust last 30 years on a quick look and a lot of postal U blocks &c which are VERY hard to locate - $A100
12. PNG used hoard: In German S/book and many 100s mostly heavily duplicated ex missionary to about 2000. Never seen such large qty this era. (Many 100s) $A100
13. Aust Pre-Dec coll M+U 1913-65: On set 7/Seas HL pgs. (ret $130) $A115
14. IRELAND meaty coll 1922 to 1964 Wolfe; On stack musty pages – untouched 40 yrs. Often heavily duplic, ex Estate. Mint KGV o/ps to 1/-, heaps 1922 designs unchecked (inc 13 x 2½d) Many 1948 Airs (SG £150) v.good 1950s, inc 14 sets 1958 Nun (£112) 6 sets 1960 Europa (£132) 61 Air x 5 (£34) Many 100s. $A300
For a mouth watering selection of GEM single items, rare pieces, wholesale lots, and superb collections at low nett prices, check my famous RARITY page HERE. Every lot with huge sharp colour photos, and they sell FAST ... so bookmark that site TODAY!
15. Heavy Carton: Seven stockbooks ex estate. M+U world + old 1914 SG "Strand" album plus bags of odds and sods - mixed cond. Even saw a 1920 SG catalogue! $A85
16. Australia and AAT FDC's coll 1977-1987: Nice range of over 200 different FDC, all official PO unaddressed. A few spots, but soaked off as FU SG Cat as used will be £400 or so. (=$A1,000) FACE value alone is $A225. Cheap at - $A125
17. Norfolk 1980s FDC: Clean PO unaddr 2 of ea. FACE is $76½. 50 FDC $A50
18. Aust Pre Decimal MUH in large red stockbook: MUH from 1913 1d Engraved. Noted 6d K/Smith (2) 1936 SA, and 37 Sesqui sets. Huge strength in 1950s/60s large MUH blocks. Saw things like 2/3d White Wattles (14) + other Flowers, 2/- Oly block 12, 1963 Bird 9d (42) 2/-(12) 2/6d (27) 2/5d (17 – inc nice cream paper block 6) 2/3d commems inc Perth (27) Cable (22) etc. 1966 set 19 to 5/- CTO full gum ex PO pack (cat$120 alone) and good early Decimals in MUH blocks &c $A225
19. Christmas Is mint coll 1958-mid 80s in brown Seven /Seas album: Also a range of used modern material after that to 2000. V. cheap from Estate $A100
20. Belgium Album: Large impressive old "PHILAC" printed album 1849-1950 in good cond. Contains only a very basic collection – perfect book to expand with. $A65
21. Norfolk + PNG early MUH Decimals on large sheets: Norfolk inc 1967, 70 + 1974 Defins. PNG inc 1968 Shells + heaps commems. Some toning. $A55
22. Germany 1880 - 1949 coll: On 110 page "Stender" Danish printed album in heavy old matching binder. Cat 848€ =$A1,350. Must be worth just 10% Cat? $A135
23. Australia Kiloware - about 6 kilos: Some commems, some higher values, some torn, some on double paper. Exactly as received from a charity source. $A75
24. Aust mid-1970s era Plate vars/Retouches on SG 'Senator' leaves; Many listed retouches and flaws etc in MUH positional blocks up to 16 stamps. $A65
25. Aust + AAT FDC's 1980-1986: Nice run. FACE alone is $213. SG as USED would be c£350=$A875 if soaked off as FU!. Condition mostly OK. A steal at: $A100
26. Norfolk Is Coll 1947-1987: Near complete, in as new '7/Seas' hingeless album (Ret $158 – pricelist attached!) All fresh Mint or CTO from the Bureau . $A175
27. 1980s small Pacific nations FDC: Lovely clean bundle all diff official PO unaddr. FDC. FACE value alone $197 - 107 FDC. FDC has a set of 4 or M/S on most. Tuvalu, kiribati, Tokelau, Fiji, Solomons, Pitcairn. "Impossible" items to source as A.P. never sold these countries and will cost you many $$s each if you go looking. $A150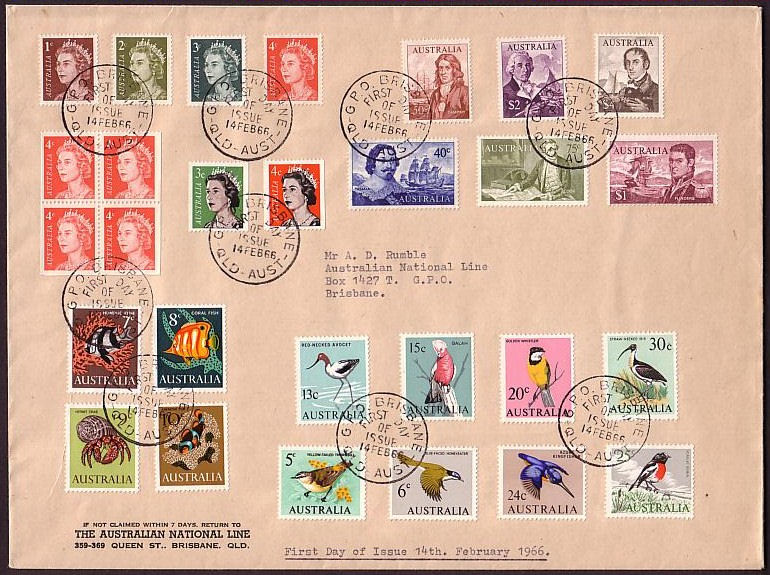 28. Aust 1966 Decimal set on superb FDC: Magic looking item as you can see, and lovely condition for 41 yo! Incs 4¢ booklet pane of 4, and both coils! $A90
29. World M+U in 4xbrand new 'Lighthouse' black pg s/bks (ret $120) Lots of stamps here, and the odd useful things sighted on a very quick glance. $A85
30. Australia + AAT FDC coll 1959-1965: In black FDC album. 62 different, all pictorial, values to 5/-. Nearly all neat typed addressed to same person. Quite a few are the rare PO "Logo" and "Shield" design types – retail $20-$25 each usually. Cat as basic types is $683 in ASC. An attractive 100% original lot, untouched by me. $A275
31. Australia Newspaper Wrapper(9) & Aerogram (84) coll 1950-1990: In 2 volumes. ASC Cat $813. Nice clean lot and very seldom offered. All mint $A200
32. Australia Letter-Cards/Postcards/Registered Envelopes: All mint.in blue cover album. All mint. Correct ASC catalogue value is $790. Cheap at - $A225
33. Big carton of 11 volumes M+U world with lots 19th century seen: Ex Estate. One book filled 1981 Diana Wedding MUH. (Toning) A MUH Guernsey coll. Aust 1981 Year Book. Boxes of handy used Useful Aust colour Cats. (1000s) $A145
34. Aust + AAT huge used Hoard 1930-2005: Nearly arranged in 10 x large as new top quality German Stockbooks (Ret $300). Must be 10,000 here! Lots useful blocks etc. A very good dealer or re-sale lot. Very heavy carton crammed full. $A175
35. AAT 1966 Defin set 11 + 1983 Strip 5 all VFU on parcel piece. Really unusual being postally used - $A40
36. SAMOA MUH Decimal coll: In Deluxe Lighthouse leather black page S/Bk (Ret $60) 1967 Bird set (£48) to end 1996. looks complete, or darn near, inc M/Sheets + exhib o/ps. 1988 Birds Defin set to $20. The 1990s commems are generally SG cat about £6 (=$A15) a set, and readily sell for $A10 - $15 a SET. Huge retail here. $A250
37. Aust - 3 large dark blue "Premier" springback albums 1913-1975: M+U hoard with often hi duplication including MUH blocks. Some tone (1000s) $A120
38. GB 1924 Wembley + 1948 S/Wedd. All w/centred MLH: SG £65 $A50
39. Aust. Aerophilatelic history: Eustis AAMC 1st Edit. (1937) + 1941 update + Alec Rosenblum "Aust Air Mails" (1931:ASM handbook no #1) All VERY rare (3) $A55
40. Very Earlies on stockcards; Ceylon 1857 decent imperfs, SG 2B/3/3B Cat £345 =$A860. Qld 1879 6d unused SG 143 (£90 = $A240) plus USA oldies etc. $A80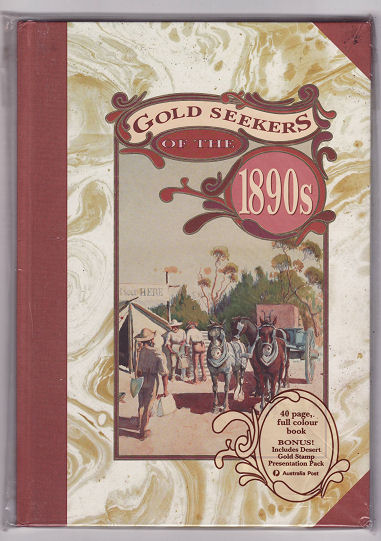 41. Australia Post Special Deluxe collector albums: 12 diff inc "The Home Front", "Stage & Screen", "Links" etc. Cost $12 ea ex PO ($A144). A carton full. $A70
42. GB MUH Coll 1975-80: On stock pages. Full sets. face val £26=$A65. $A55
43. GB Superb FDC cover lot 1997-2000; 72 covers – all diff, many are the very EXPENSIVE Benham "Millennium Coll" series. Numbered limited eds. FACE of stamps alone is £125 = $A312, so orig. cost must have been DOUBLE that. $A200
44. David Feldman May 2002 Aust States deluxe color Cat: Dale Forster States postal history, and Trevor Davis Grand Prix NSW. Post (still affixed) was $A56! $A50
45. Jersey 1981-1996 covers to Sydney: Lovely lot mostly 9x6" many with full commem sets etc. Values to various £2, and to £5 (SG £9 as FU!) Unusual lot. $A75
46. Aust States 7/Seas 'Senior' album (no longer made) Quite clean cond with the usual basic M+U range from all the states:with even a £1 value seen! $A115
47. The Ultimate Lady Diana/Charles 1981 Wedding Coll: Thick blue album MUH – all the B/Cwth country stamps + MS you can imagine + glitzy French African stuff + North Korea issues even! All look MUH and needs re-housing. $A120
48. Superb 1977 QE2 Silver Jubilee FDC Coll: Huge silver album with 52 x special B/Cwth FDC's A-Z, all with full sets 1977 S/Jub. Cost $100s. V.F cond. $A75
49. 1985 Queen Mother 80th Birthday Crown Agent coll MUH; Sets+MS in the special blue album. Lots of £1 vals. HK MS absent – very easily sourced. $A70
50. 1986 Royal Wedding Fergie/Andrew FDC coll: Classy + expensive USA "Fleetwood" coll. 34 diff, in the large nice blue special USA album. Cat $100s. $A70
51. 1986 The Queen's 60th Birthday FDC: Superb FDC album also in classy Fleetwood USA blue album identical to the nice lot above. (51 Diff) Cost $100s. $A95
52. Aust "PERF OS" Roos on pages: Large OS inc 4d,5d,6d. Small perfins to 10/- incl. 9d ACSC 27j var. Very deep shade 1/- (nice!) etc. Mixed cond.(29) $A135
53. Collection of VERY small Pacific Island recent USED: Many are CTO ex Bureaus. Tuvalu, Kiribati, Solomons, Aitutaki, Penrhryn, Samoa, Cook Is, New Caledonia, Niue, Vanuatu etc. IMPOSSIBLE to duplicate. Saw just a few low face Cook Is which alone Cat as used £29=$A73. FACE $329, inc some Officials. $A250
54. AAT/Cocos/Christmas Is Colls; In Ivory 7/Seas album. 99% complete from 1st sets to mid 80s inc key sets. Nearly all mint/MUH ex Estate. Retail ~$500. $A200
55. Aust FDC and PSE's: From clean unaddr 1970 Cook set to mid 1990s. $A45
56. SA & Qld in 2 'Lighthouse S/Books: SA from 1855 6d Imperf. Stacks "OS" o/ps – incl. "Half Penny" on 1d green x 3 (Cat $120) 7 x "P" Departmentals. Qld M+U inc 1860 6d M ($1200 2 x 6d Reg'd, 10x 2/6d Red inc OS. Some Aust inc 1941 2d purple coil pair (SG185a £42). Mixed cond but I looked at this for 5 mins only. $A150
57. GB 1880 1d Venetian Red x 35! On ancient page. Poor to fine. £350. $A50
58. Large Viking Carton of JUNK: Large stack world M+U on album pages and in albums. Even Aust Post annual albums for 1981/82/83 (Cost $75 ex PO) $A70
59. Aust FDC coll 1946-70 in large red FDC album: (Album retail $40) Nice clean looking lot. Near all neat typed or unaddr. Nearly all are pictorial types. $A125
60. AAT 1966 Defins in PO Packs – English AND Japanese language! Both fully sealed ex PO. Stamps moved around a bit as per usual. Retail $200. $A70
61. GB Machin Heads: Nearly sorted by type to £5 in German 'Prinz' stockbook. Also the large Machin design stamps to £5 and a VFU £10 Britannia small cds. $A50
62. Huge early 1920's Yvert & Tellier World Album: In quite reasonable condition. With usual overall shotgun attempt at fulfillment, worth expanding on! $A65
63. Set '7/Seas' Pre-Dec Aust H/less leaves: Clean cond (Ret $130) with a sparse clean MUH coll 1913-65 with some useful stamps - to $30 retail each . $A110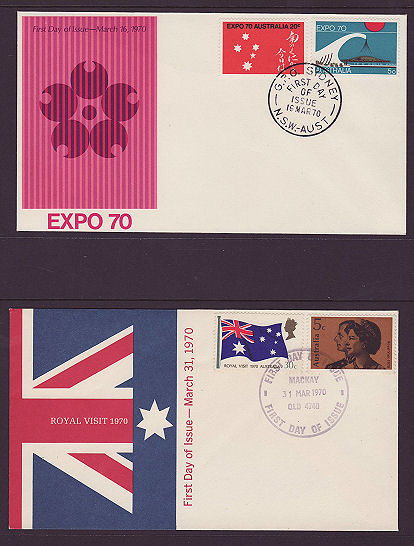 64. Aust 1970 First 2 Official PO FDC CHEAP: 1970 Expo and Royal Visit. Both are superb PO unaddressed. Cat Nos #1 and #2. ASC Cat $270. Rare. $A115
65. M + U Aust & AAT in as new $30 burgundy 'Lighthouse' stockbook: (retail $30) Noted 14 sets ea Whales+ Yachting, AAT pre-dec sets x 3 mint &c. $A50
66. Aust PO Unaddressed FDCs 1970s and 80s. Toning on many, but many fine. Cheap to soak off as "VFU" sets as cat on those in SG would be about £400 = $A1000 as USED stamps! Totally unpicked - all the good sets and scarce ones here ex Estate. FACE of stamps is $283, so PO cost was way over $300. To clear : $A100
67. South and Central America ancient coll: Nice untouched original lot from imperfs to 1910, on set really ancient Schaubek pages. Noted some handy Brazil "Snake Eyes" etc. Correct SG Cat well over £420 = $A1000+. Seldom offered locally. $A250
68. Indonesia 1998-2001 Mint: Sheets, sets, MS, se-tenants, overprints. $A60
69. Aust 1970-1984 specialised MUH coll with all issues represented: In Hawid mounts on SG leaves in maroon binder. Nice lot. Masses of paper/perf and gum variations + some printing vars. Lots of blocks and lots expensive stamps dup like 8 x 1972 Xmas 35¢ + 72 Munich &c 2 x Cook "Anpex" Ms &c. Face $288! $A350
70. World used in big S/Book: Lots GB inc Seahorse set (£190=$A475) Useful late 1940s German area mixed cond (1000s) As purchased ex Estate this week - $A60
71. Aust Used Coll: 1913-1980 in a large brown "Premier" loose-leaf album. $A70
72. PNG Decimal coll 1973-2002: Fresh MUH collection on SG album pages. In complete sets. Surely the v.prettiest stamp sets around? SG £208 = $A520. $A145
73. Australia 1971 Xmas blocks 7 x TEN! Cost owner $1200 in 1980. $A175
74. Denmark fresh mint coll 1913-1991 in stockbook: Inc some booklets etc. mostly MUH. Correct Michel noted on ea page is 1278€ = $A2,050. 20%. $A400
75. Ireland Mint Coll 1997 to 2005: Inc Defins to £10. SG £169=$A421. $A175
76. GB early covers and entires: With 2d blues from 1859 and 1860. Also 12 covers with 1d reds - various and 1d lilac. (14) Some useful items here for only - $A60
77. Aust used in new black $30 German S/book: 1966-2000s: A lovely range inc good It'l Post issues. Duplicates of some. 1000's. Superb buying at $A120

78. N.Rhodesia 1938 KGVI hi-vals set 6: 1/- - 20/- v.fresh MVLH. £104 $A90
79. Norfolk Island Mint Decimal coll 1966-2005: Mint on SG leaves. Nice fresh lot inc 1974 M/sheet + other useful etc. SG £314=$A785. Estate bargain - $A175
80. Aust MUH mid 1970s to late 80s - $51 under face: FV = $271. $A215
81. NAMIBIA (S.W.Africa) MUH COLL: On a thick clean set "Davo" hingeless pages for 1990-end 2004. (which retail empty for $A235 – list inside true!) nice clean coll – largely complete inc M/S + full defins. Beautiful thematics and almost NEVER offered for sale. Ret. will be very many $100s. Buy at around alb. pages cost! $A250
82. Hong Kong MUH hoard 1978 – 2001: Face val. $HK832 = $A200. $A150
83. China 1982-2005 Coll: On 70 pages in brand new black SG springback. (Ret $100) All fresh mint with a ton of M/sheets. SG Cat £340=$A850. Popular era. $A300
84. New Caledonia FDC 1982-4: 44 diff, SG £78=$195 as USED stamps - $A80
85. Jersey Coll 1970 to 2005 Fresh M on leaves: Full sets, MS, Sheetlets, + strips. VERY strong from 1997-2004 where near all cat val of £254 is= $A632. $A200
86. CYPRUS KGV hi-vals script CA: 1P, 2P + 2½P, in normal + chalky MVLH + others + KEVII 1P (SG 52 £21 M) + some U KEVII inc SG 53,68. (£20½) etc. $A50
87. PNG 1990s Booklets. SB6a/7a x 6 each, SB 8/9/10/11: Lovely run of the current series bklts which are surprisingly scarce. SG Cat £192=$A480. $A135
88. "Great Art Stamps Of The World" The massive and Deluxe Franklin Mint album with 108 diff special recess engraved FDC. Each FDI large Art stamps from various countries, with detailed write-ups on reverse. Superb lot. Cost $450. $A150
89. N.Z. QE2 '7/Seas' Hingeless album: 1953 to 1980 (Ret $180 - true!) Huge number of pages due to all the M/Sht! Basic coll inside. Suit new album buyer. $A90
90. Aust Coll. 1913-45 on 7/Seas pages: Roos to 2/- Brown, KGV heads, o/p "OS" inc 6d Roos and 4d KGV etc. Mixed condition ex estate. Real cheapie at - $A55
91. Indo China to France 1931 commercial Airmail covers: 7 diff. Hanoi and Saigon origins. Lovely range frankings. Outward Airmail is RARE this era. $A75
92. Aust Early Decimal FDC's 1966 to 1970: R.Visit.Expo/Grasslands/Cook. All cacheted, neat typed addressed to same person. (42 diff) incl. Booklet issues and scarce 20c and 25 commems etc. Mostly fine. All on Cumberland FDC pages. $A65
93. Cook Island and Aitutaki FDC – 1970's unaddressed hoard - $A50
94. Brown stockbook MUH Pacifics: Lots corner blocks. Fiji, Samoa, Kiribati, Norfolk, Nauru, Pitcairn Is, Solomons (to $10) Tuvalu Cook Is &c. Quite fresh. $A100
95. Aust FDC 1970 to 1982 in $40 "Lighthouse" album: Incs scarce ones like $10 Ptg, 72 Beef, 73 Nat Dev, & 74 Paintings &c. ACSC Cat $687. (110) $A200
96. 12 x Malayan States 1949 UPU used sets Complete: SG £97. $A70
97. Aust 1914-66 Dealer Stock: In green L/house S/bk. Noted 1914 6d Kooka(3) 34 Vic (x15 sets) 35 S/Jub (x5) 36 SA (x7) £2Arms (2) 38 Robes x 3 sets. Lots 2/- commems. 63 Navs inc £1 x 6. Postal U blocks many issues. Mixed condition - $A300
98. Christmas Is fresh MUH coll 1958-2000: On Hagners in brown binder. Owner has missed some years from 1989, but more modern looks complete - $A300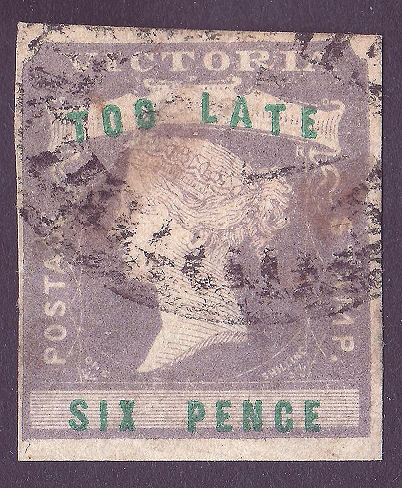 99. Victoria 1854 6d "Too Late": Attractive 4 margin, unusually light pie-crust cancel. Possible thin or grease spot under an old hinge. SG #33 £180 = $A450. $A90
100. PNG Annual PO Packs 1979-86: (Less 1980) Retail $142. (7) $A80
101. PNG Annual Packs 1991/2/3/4: Lots of stamps in each. ASC $173. $A95
102. Aust. P/Stationary: KGV L/cards x 2, 1 x nice 1d with view "Submarine A.E.1" – now sunk" KG6 x 5 M, + 3 x M PSE's KG6. 6 x KGVI mint Aero range. Mixed. $A70
103. NZ Healths complete coll 1929 to 1978: Inc a few M/S like 1971. Nearly all mint cond, mostly clean and fine inc the key 1931 "Smiling Boy" set mint. $A185
104. Aust 1927-1965 *MUH* coll – 2 of most: On stack Hagners. Many better sets here x 2 – inc pre-war commems. Odd spot but most fine and high retail. $A125
105. Aust Decimal "Specimens": In a Blue "Lighthouse" stockbook. Nice clean MUH coll, incl some blocks of 4. FACE is $A202. You won't see these again - $A135
106. Hong Kong M+U coll on old leaves: QV (to 96¢) Cat £486 = $A1215. From SG#2. SG #20 (poor) and SG 19w inverted Wmk (fault) Handy KGV to 50¢ inc some "CHINA" o/ps. KGVI Defins to $10 from both 1¢ brown. KGVI Cat £160. $A200
107. GB Q.Vic "Gov't Parcels" o/ps: SG 064/65/67/68/69/71. All used. I've actually seen far worse copies! SG Cat £610=$A1,520. (6) Under 10% SG cat. - $A150
108. AAT Base Cancelled FDC: 1971 Treaty + 1972 Cook. Superb sets of PO unaddressed covers from each of the 4 bases.(8) SG 19/22. Retail about $100. $A65
109. $2 & $5 Gardens in MUH corner blocks 4 or 6 - Face $258. $A200
110. Belgium Congo/Ruanda Urundi/Burundi/Rwanda: M+U coll 1880s to 1960's on clean set Minkus pages (scarce themselves!) Nice spread all eras. Some slight mixed condition but I see 1 lot of this era every decade! Mi 225€=$365. $A150
111. World Banknotes: South Africa 1958 10/-, NZ + Aust £1 (VF) Aust KG6 10/-, GB Armed Forces to £5 (unc) Lots Jap Occupat. inc well circ. 1898 Russia etc. $A65
112. Australia Pre-Decimal Banknotes; 10/- QE x 12, 10/- KGVI x 3, £1 QE x 1, £5 QE x 2 (in pretty decent condition) £5 KGVI x 2 . All are circulated. (20) $A200
113. G.B. Commemoratives Hoard: A lovely clean used hoard in a $30 red Lighthouse S/book. From 1971 Ulster to end 2002. Lightly duplicated. Lots of top values - 63,64,65,68p values - cat £1½ ea =$6.25 each. About 1400 stamps. $A135
114. Aust 1924 2/- KGV booklet: ACSC SB26b $750 with 5 stamps remaining. SG26B £500 = $A1250. A rare booklet indeed. Near 10% of Gibbons at only $A150
FIXED LOW NETT PRICES
NO Nasty 15% "Buyer's Commission" !
115. GB Prestige Booklets: Includes the VERY scarce Gold Australia Stamp Exhib O/P's on Mint, Rail and Christian booklets. SG Cat as normals £188 = $A470. (9 Diff) $A125
116. GB earlies on stockcard: QV to 5/-, KEVII to 2/6d (2) KGV t0 10/-. 6 x imperf 1d reds. Then SG 70,73 (OK) 84,90,127,196,260,408,410,416,452. SG Cat is £2,455 minimum = $A6,137. Poor to fine ex estate at just 3½% Cat to clear! $A215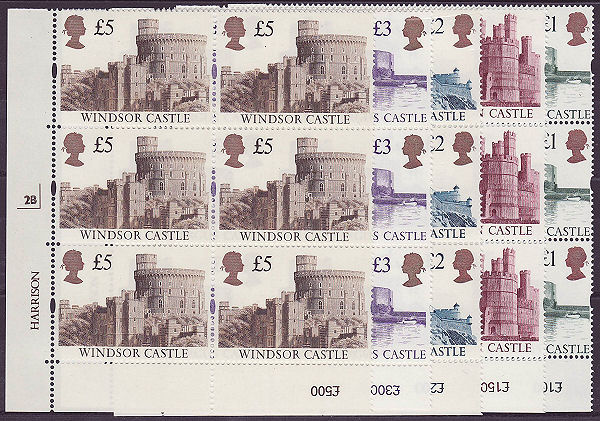 117. G.B. 1992-95 Harrison Castles set 5 in matched Plate and Imprint Blocks 6: Rare set, corner blocks – replaced suddenly – the £3 is a key QE2 issue as it was withdrawn without notice after a short time. SG 1611/14 £288 =$A720 as 6 MUH sets – plus a considerable premium for plate blocks. $A325
118. 1970 Capt Cook Aust PO packs x SIX! Clean un-opened v.scarce $A70
119. OLYMPICS: Large coll on 72 as new Hagners (Ret $115 alone!) From 1956 to recent inc covers, packs, sheetlets &c. Lots of MUH face from Kosher countries. Cost $900. Noted Greek Drug cheat Sampanis, and Nigeria freak perf blocks etc... $A175
120. Scarce modern PNG Booklets 1993/4: Bird Paradise x 7 sets 4 (SG SB6a/7a = £161) Then SB 8/9/10/11 x one each. SG Cat £215 =$A537. (32) $A150
121 G.B. 1948 Olympics set of 4 on attractive FDC: Typed addressed to Victoria and Registered with applicable backstamps. SG £45 = $A112. Scarce. $A40
122. AAT "SILK" Covers: Superb lot of 40 diff 1977-1995. Lots base cancels and cachets – even pilot signed AAT flight covers. Cost $200-$300 owner stated. $A100
123. Australia 1971 7¢ Purple QE2 Fresh w/c MUH sheet 100: Most of plate number "14" at top. The Plate numbers on 4c are common, but not the 7c. $A40
124. Essential Early Aust. Handbooks: "Kangaroos" + 1914 1d KGV (Major Dormer Legge). KGV 11d (Dix/Rowntree)KGV 1½d (Ward) ½d Roo (Hansen et al) Rosenblum Cat (1936) The large hard bound "Aust Postage Stamps" (Collas) + the SUPERB set 6 Collas edited APO handbooks. (16) All quite Superb references. $A70
125. Tasmania 1899 DLR Pictorial set 8: All except 5d Hobart corner CTO cancels apparently from MP Presentation set. Key vals all VFU. SG £50++. (8) $A45
126. Norway M+U coll 1942-82: On thick stack SG leaves inc 1958/59 defin set 24, 1969/70 to 20Kr, Officials - looks virtually comp. Fresh. Odd small blemish. $A175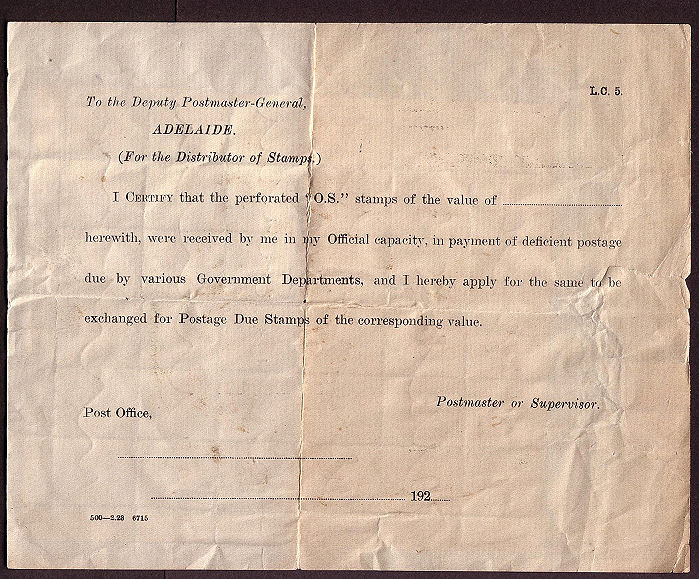 127. Aust 1922 2d Postage Due part sheet of 36 on piece: With portion Harrison Imp. Affixed to back 1928 PMG card (Adelaide) verifying PM had affixed "OS" stamps to pay for underpaid GOVERNMENT postage! MS cancels. SG D94. $A100