1. Br. Solomon 1959/60 booklets: Set 4 – matched LH stapled SG SB1-4 £190. $A200. 4/- + 11/- (Cat £70) either LH or RH
stapled - $A75. Also 11/- + £1 pair (SG £115)RH stapled set $A110. VERY seldom seen issues in good condition.
2. Canada 1911 20¢ Olive, KGV Admiral: Superb centred unused: SG 213. $A40
3. Nauru 1924/48 'Ship' set 14 quite SUPERB choice Mint: Best set you'll ever find. Fresh bight MVLH or MUH. Order this one
today! $A195
4. 1,000 + Aust circular date stamps on COVERS – circa 1991: Amazing lot of commercial covers to Doubleday. Small neat
3½x5½" size. Selected for clear cds. Amazingly a large % are WA/SA/NT/Tas! Carton full. + 300 cancels on piece. $A200
5. 1980 British + French New Hebrides booklets: SB1+SB2 x 2 ea Mint (4) $A40

6. Belgium 1933 Anti-TB Fund set of 7 fresh unused: A key set, and a most attractive well centred group SG 646/52. Miche
366-72 €650=$A1000+ $A150
7. Aust. 1937 5d+9d Animals p13½ fresh imprint blocks 4 (8) $A40
8. 1966 4¢ Red QE2 Booklet panes set 6 different slogans: Fresh MUH. $A150
9. G.B. MUH GUTTER PAIRS: 1970s + 80s. Full sets commems, all MUH. The FACE value alone is £41=$100. The owner paid
£100 for these in UK! $A100
10. 1961 5/- Cattle x well centred corner block 8 MUH: SG 327. Ret $144. $A100
11. St. Helena 1903 KEVII 8d, 1/- + 2/-: Clean VFU SG 58-60 £157 $A110
12. NEPAL – M+U coll in binder from 1899 Imperf to 1980s: Some crude early "sewing machine perfs." About 400 different
stamps. Mostly used $A80
13. Falkland KG6 1938/50 set 18: V.fresh MVLH/UH SG146/163 £400 $A275
14. $20 Painting on parcel piece: Block of 3+ $2/$5/$10 Gardens all VFU on a neat parcel piece, light attractive Fairfield cancels
'6 Jun 1991" $78.50 FV. $A50

16. SPAIN 1950 Postage Stamp Cent. set 8 Imperfs:
Superb 4 margin set, very fresh and virtually MUH. Michel 975/82 800€

SG £639
= $A1,575.
$A675

17. Old UK Cinderellas:
1908 Franco-Br.Exhib(4) Huge 1911 'Fest Europe' set, 1911 Coron. Bi-Col set 5, 1911 Scottish Exhib
Glasgow. All M on old page
$A50
18.
Aust. QE2 Pre-Decimal CTO set 20 full gum:
From the rare pre-dec Specimen pack. (I sold the Navs for $650!) Cat as CTO
in ACSC at
$5 to $15
ea.
$A115
19.
Aust. 1996 Decimal set 18 to 50¢ CTO full gum ex the Specimen pack.
$A45
21.
Germany 1935 Trains (4) Costumes(10):
Fresh unused cat £77
$A50
23.
Aust. Registered Label "Missing Black":
Along with a normal.
$A50
24.
HUNGARY MINT MINI SHEETS 1934 Listz to 1980:
Nice collection of better M/S just arrived. What do you need? Let me
have your want list to quote on
26.
Aust. Decimal FDC Coll 1966-1990 in large $50 Album:
Clean lot, neatly all unaddressed. 150 FDC,
f
ace $215 so PO cost
was near $300. Gift!
$A135
27. 1932 5/- Bridge Fresh Unused $175!: Thinned on back at base resulting couple short/absent perfs. Cheap spacefiller of this
rare stamp on EVERY want list! $A175

28.
Bulgaria 1886 Imperf Postage Dues MUH set 3 - huge margins:
Rough "rauhes" paper. SG D50/52. Michel 4x/5x/6bx €1380
=
$A2250
. Cat value is for HINGED! The 2 key values are expertised. Rare set at about quarter cat
$A600

30.
Falkland Island 1878 1d Claret:
Nice fresh mint copy of this highly sought stamp. SG #1,
cat £550 = $A1525.
Estate bargain
at QUARTER CAT!
$A375
31. Hong Kong 1960s Commems FDC 1962 Cent – 1969 N.Year: 8 x diff typed add incl. ICY, UNESCO, 67 NY &c. SG Cat as
USED stamps is £60! $A80
32. Rhodesia 'Double Heads' perf 15 Used group: SG 150 (perf 14) plus SG 170, 70a, 71b, 173, 176, 177. (7) Quite nice used
lot. SG Cat £300. $A150

35.
Papua N.G. 1995 "21t" on 90t Bird Of Paradise the 'Emergency Overprint' – "Small t"- sheet hoard:
Found this when
tidying up. Bought face 9 yrs back ex Mt. Hagen PO. Sheets 50, ea with Leigh Mardon Imprint on each corner of the sheet. SG
#756 Cat £2 ea ($A5+) 1 sheet
$50
or for 5 sheets:
$175

Lot36
NSW 1852 6d Brown Laureate:

VFU, no thins/toning/faults, on medium white wove paper. Crisp, and beautifully struck RARE '92' cancel of Richmond River (Top Rarity Rated "RRRR".) Stamp has a very sharp, crisp early proof-like impression. Four margins, close to large – with top frameline of the adjoining stamp visible underneath, showing just how tiny the spacing is on these issues. The stamp is in the dark colour, but a lightened off scan is attached alongside to show that all margins are in fact clear, and to show the cancel better, and design detail to help plate it. Hard to improve upon example - a really choice stamp with a brilliant full strike of the very rarest of NSW postmarks to go with it. ASC $1,500. SG #72 £900=$A2250. $A650

37.
"Olympics 1984"
Special Deluxe Fleetwood (USA) Album:
With 36 diff USA FDC (inc all the blocks 4) + 20 diff Yugoslavia
Winter Oly FDCs. Cost $100s.
$A70
38.
Aust. 1946 KGVI Food Parcel Label 5/10d Indigo:
Intense colour Superbly fresh MUH - far larger margins than usual. ASC
PL#2.
$A90
39.
GB Year Albums 1985-88 (4):
As New cond. SG Cat £245. Bargain!
$A150
40. 300 x 'Hagner' Sheets: >From Estate. All sizes for #1 to #8. Some are brand new, some virtually so, some well used. Ret
. $1.40 each ($420) Under HALF retail! $A200
41. Cocos Is. 1963 Defins in Imprint blocks 4: Fresh MUH. (24) SG#1-6. $A150
42. 1986 QE 60th B/Day FDC set: Fancy Franklin Mint album with full set 54 unaddr classy FDC. Face values to £1. Cost original
buyer $300. A steal at: $A80
43. Canada Year 2000 Year Book: Superb in heavy slipcase. Cost more than: $A45
44. World Registered Covers: >From 1938 Indo China to India - through to 1990. Written up in 3 volumes. Wide range of origins.
Many Hi-Vals. V. Unusual lot $A125
45. PNG 1980 Arts Festival: Ten x MUH sheets 50 se-tenant 20c vals. SG 384a. These literally cost $A143 ex PNG Post Office
as New Issues. $A80
46. Aust 1958 NoWmk Postage Dues: 3d + 6d w/c fresh M blocks4(8) $A40
47. 1996 AFL Football Booklets set 16 in the PO Folder/Album: All 16 teams in special APO A4 size folder/album. FACE is
$72! Few exist. Ea $A80, or 2 for $A150
48. TONGA 1895 2½d King George – Mint Block of 4: SG #33 £80. $A65
50. KGV 1/4d Pale Blue Rare Small Multi Perf 14: Fresh unused. SG #93. $A100
51. Roo 1913 4d Orange Mint pair: Horizontal pair. One MVLH. The other MUH. Centred high and a little aged. SG #6. Melbourne
retail is $475. Cheap $A90
52. France 1922 War Orphans Top Value: 1F+ 5F FU. SG #395 £140. $A95
53. 1911 Aust 1d Official P/Card special Coronation Anniv Issue: Depicting young KEVII in Military outfit. ASC PC#4 $95 fine
M condition in sepia shade $A70

55. 1927 1½d Canberra With 'Broken A' flaw: In a fresh MUH block 4. #132g. $A50
56. 'SYDNEY VIEWS' Journal: 1983-1997 nearly comp run this superb States Study Circle reference. Also a run "The Courier"
(Tas) from issue #1. A carton full. $A65
57.
MALDIVES 1966 Shell Defin set 15 Fresh MUH:
SG
174/188
£60
$65
58. Australia + AAT Decimals coll MUH in 3 x '7/Seas' H/Less albums, 1966-2000 Insane priced: The 3 albums + pages
retail $500+ alone! MUH coll looks 100% complete to early 90s – patchy thereafter. AAT coll. inc rare 1966 set. The FACE of
the stamps alone must be about this price! Estate special at - $A600
59. South West Africa 1929 2d Official Error Block 4: FU on part Reg'd cover, both languages 'Missing Stop' errors in pair with
normal. SG 011c £90++ as U! $A65
60. GB 1948 2½d S/Wedding x 5 FDCs: Incl. Eire, Moora W.Aust + Mauritius! $A40
61. GB 1918 KGV Seahorse on air mail parcel front to Sydney: "Via Karachi". Along with 3d KGV. SG #414 – the stamp cat
USED is £70 =$A170. $A65
63. 1934 9d Macarthur: Neat well centered good fresh MUH block 4 $175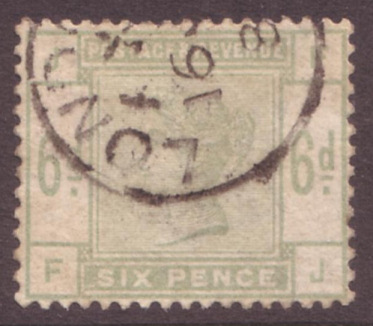 64.
GB 1884 6d Green:
Attractive U copy the lightest cancel you'll ever see on small packet use stamp, and usually smeared with
black blob! SG194 £225(+100%?)
$A90

66. 1928 Kookaburra mini sheet used on piece w.neat 1932 reg'd cancel. $A175
67. 1913 3d Roo Scarce Die 2 Fresh Mint: SG #5ea. Melb. ret $325 $A165
68. Seychelles 1938/49 KGVI COMPLETE set 25 Fresh MLH - Near ¼ Gibbons!: SG 135/149 SG £425 = $A1125. Cheap
estate buy allows me to offer for only $A300
69. GB 1939 KGVI DarkBlue regummed 'MUH': Light cnr crease SG478 £225 $A85
70. Aust. '7 Seas' Album 1913-1985: (Expensive) Strongest in clean MUH Decimals from 1966. The FACE of these Decimals
alone is about $A150... $A175
71.
INDIA - 1949 15 Rupee top value lightly used BLOCK 4:
SG #324 £80
$A55
72. Jugoslavia 1948 Danube Conf Set 4 on superb unaddr FDC: Each stamp superb Beograd special cds. Michel 548/551
€150. Pristine. $A100
73. 1949 5/- Arms THIN paper: Fresh MUH marg blk 4. ACSC $140 $A90
75. N.Z. 1963 2½d and 3/- 'Official': Both on a clean FDC to Australia. Scarce $A45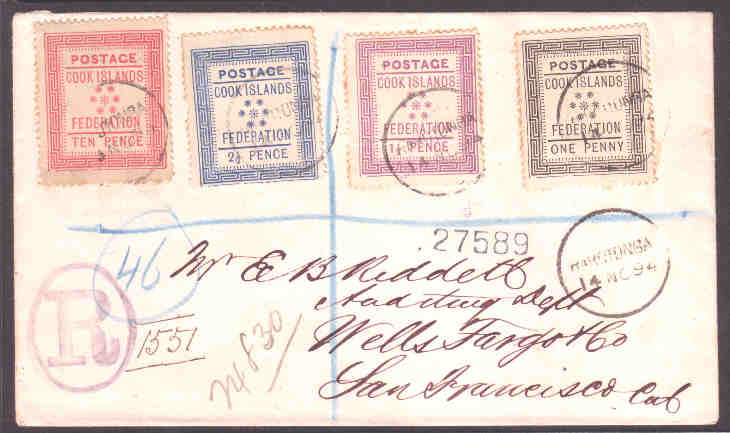 76 Cook Is. 1894 'WELLS FARGO' Reg'd Cover to USA: Wonderful eye appeal' cover to Wells Fargo & Co San Francisco. Complete 1892 set 4. Registered No #1551. Each stamp tied 'Rarotonga 14 No:94". Fine backstamp 'Auckland Reg'd 26 No:95' and 2 diff SFO b/s. SG Cat £1000=$A2500. A full set on Registered cover is quite a rarity. $A600

77.
Aust PSE's CTO FDI Coll:
1978 Birds (No #1) to 1990 in nice large brown $50 album. Cost owner $200 he recalls! 'Another
time, another place"!
$A50
78. Falklands 2005 WW2 60th Anniv: Sheetlets 10 at FACE!! $A50
79. Roo Small Multi Wmk, 3 values on parcel tag: 6d, 1/- + 2/- on Geelong North 1930 cds parcel tag. Attractive 3 colour solo use
ACSC values on Tag is $90, $180 and $200 per stamp respectively. Seldom seen in combo $A150
80. Roo 9d on nice parcel tag ( with cord!) "Adelaide 28 MY:34" to Perth. $A40
82. New Zealand Health M/sheet sets: 1964/66/69/70/73/75 +1969 Captain Cook all fresh MVLH/MUH. Cat £150. V. popular
and seldom offered sets. $A100
83. Aust + A.A.T FDC Coll: Nice lot in 5 x large Deluxe albums in large carton. 1970 to Xmas 92. All clean PO unaddr. Inc Frama
sets of 7 + 9 (scarce) and looks 99% if not 100% complete. Many 100s. Ret $2000. Huge face value. A GIFT! $A600
87. N.Z. FDC Coll 1948-74: Inc many good commems. 1957 Ross Dep Defins, scarce 1962 2½d Life Ins, even GB 1936 KEVII
FDC. (85) Near all pict unadd. $A70
91. Sth. Rhodesia 1953 QE Defins genuine FU: SG 78/91 £70 (14) $A60
93. Norfolk Island Complete Country 1947-1984: In blue '7/Seas' album. Missing only 2 stamps, nearly all Mint – most fresh MUH
(321 inc. M/Sheet) $A100
94. INDIA 1926 to 1990: About 1000 diff in a green ledger. Near all large sized $A85
96. St. Helena 1938 KGVI top 3 vals to 10/- w/c VFU: SG #138-40. $A40
97. MAURITIUS 1938 KG6 set to 10R: V.fresh MVLH all chalk paper hi-vals - a few shades. SG #252/263 £186 = $A450. All
incredibly elusive material. $A135
98. NYASALAND 1935 S/Jub set VFU: "Llongwe" cds SG #123/6 £55. $A45
99. Roo 6d Brown CofA Wmk: Lovely centred MVLH horiz pr. SG 132. $A40
101.
Aust 2d Roo hoard 325 copies!
Untouched estate find: all 3 wmks seen. Lots shades, dies etc seen. Ret around $4,500 if fine,
but cond v.poor to nice.
$A165
103.
1898 Turkish occ THASSALY:
Full set 5 Mint original gum. 'Complete Country'(!) All with the 4 outer margins intact - most
elusive thus. Mich 85 Euro.
$A55
105. PITCAIRN 1940 KGVI Defins x HALF Sheets of 34 each value: Fresh, well centered MUH. Certainly the largest multiples
still for sale. Amazing find for 66 years old. Ex Bill Hornadge hoard. Author Pitcairn Island Stamp Catalogue, Founder Stamp
News + Seven Seas Stamps. SG #1-8 x 34 £714 = $A1,750. $A500

| | | |
| --- | --- | --- |
| | | |
106 Roo 1915 6d blue Second Watermark Roo on Registered parcel tag: To "Budgen Watchmakers Adelaide". Franked 1915 6d blue second watermark (100% certain!) tied crisp 'Murray Bridge 12 JL:16' cds on both label and stamp plus the huge old style red Registered label.

Complete parcel tags are VERY rare survivors - almost always the stamps were soaked off by earlier generations of collectors. This one is 90 years old. Came from an estate recently that no-one had go to and started soaking! And most higher value Roos exist only on parcel fragments or pieces of parcel post labels - seldom on complete tags like this one. ACSC Cat $600 on tag or parcel fragment. Have never seen another offered. $A350

108. Aust. 1962 3d QE2 Coil stip of 120 Coil perf pairs!: Fresh MUH. Retail $360. SG #311A £480=$A1200. What an amazing
estate buy at only $A150
109. Aust. Post FDC 1990-2000: Clean lot inc $10 wetlands MS &c FV $135. $A125
110. 1970 'Anpex" Mini Sheet x 50 only $7 ea! Amazing hoard ex Estate. Soaked off FDC's it appears with NSW, '27 AP:70'
FDI cds. Only 50,000 issued. Ret $25 each. Superb re-seller or "tuck away for the future" at only $7 each! $A350
111. G.B. 1976 Roses Mint 'PHQ' card set 4 x 17 sets!: (+ extras) A few storage blemishes. SG 2005 Concise cat £478=$1200.
Must suit someone at $A150
112. NSW Railway Stamps 5¢ to $5: Many stations: noted 24x $5. Usual cond. $A50
113. Norway U coll 1855-1947: On SG leaves. From 1855 2/3/4/8 Sk. 1866 inc 1+2 sk. 1871 inc 1+2+5 Sk+ later. Mixed cond.
Michel 780E=$A1300. 10% Cat. $A135
114. GB FDC's 1938 KEVIII to 1966 'England Winners': In large orange FDC alb. Many cacheted, many Reg'd. Some Phosphors.
Mostly typed address, but many unaddr. Good spread. Cond average-superb. SG Cat £1422=$A3,500. $A300
116.
G.B. 1977 Machin Hi-Vals Hoard:
Large multiples on piece inc £2 block 20 (!) Heaps £5 inc blocks 4, 6 + 15. Also £1.41,
£1.60 etc. And about £20 of uncancelled. Usual mixed condition, from parcel use.
Stars of the future.
$A75
117. Yugoslavia mostly Mint coll on old leaves 1931-44: Good 1930s material sighted. Also pages Rebel Gov't sets which I can't
see in catalogues! $A70
118. Aust. 1971 Xmas Sheet 100 MUH – only $125!!! Couple tone spots. ASC $A540 mint OR CTO! I.e. 4 blocks of 25. Cost
owner $1,000 in 1980. $A125
119. SG 'Imperial' Albums, 2 Vol set as new: Gold blocked red. 2 x huge Vols, for all Empire stamps, Egypt + Iraq 1840 to 1937
(KEV8) A few stamps have been in here, and later removed to stockbooks. Retail is $A750 new. True. $A285
121. Roo 1915 £2 Roo 3rd wmk $425! Clean FU appearance – clever central repair. Nice looks–a light single 'Receiving Room'
cds. Retail $2750 usually. $A425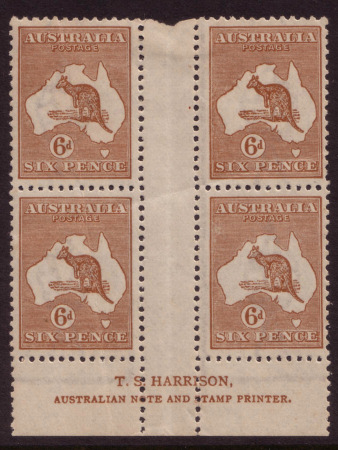 124.
Roo 6d Brown 1923 Harrison Imprint:
Scarce Plate #3 with NO Var! ACSC 21z
$750.
Facially v.nice w/centred but creased
+ couple spots back.
$A250

125.
Brit. Ant. 1963/69 Defin set 16:
. V.Fresh MVLH. SG 1-15a £275
$A175
128.
Aust - set 7/Seas Hingeless Decimal pages 1966 to end 1976:
Housing a MUH not comp coll inc 1971 Xmas Bk/7, 72
Xmas, 73 Nat Dev etc.
$A65
130.
Aust Pre-Dec Coll 1913-65 in Green S/Book:
Roos to 5/-, KGV to 1/4d (pair) Nearly all pre-war commems (1/- 1932 Lyre is
Mint) 'Robes' set etc. Often M
and
used of each. Many 100s mixed cond ex Estate and at a terrific price.
$A175
131. 1932 4d KGV o/p "OS": Attractive w/c fresh MUH horizontal block 6 – good perfs – usually they are "fluffy". Multiples most
unusual in MUH. Nice! $A150
132. Cocos Is: 1976 Ships Defin set 12 x 15 sets on PO FDC! Retail $170. $A45
133. G.B. Used coll. in red SG Album to mid 80s: The Post 1912 era seems to be largely complete. (1000+ stamps) A terrific
group to complete $A135
135.
Br. Cwth Trove from 19th Cent on 52 Hagners to 1980:
(Ret $83 alone!) Great lot ex Estate. Good India+States cat v.many
£100's alone. Mostly Mint and much is MUH. lots sets Malaysia, N. Borneo, Kedah, Africa etc. (1000+)
$A225
136. Brusden White Current 1st Edition Aust ACSC Cats ¼ Ret: KGVI (214 pages) QE2 Pre-Decimal 1953-66 (278 pages) Ret
$165. As New. $A45
137. Compact Zoom Camera: Pentax Espio160 Huge Zoom. Red Eye, Date back option, case + battery. 'Panorama', auto
everything, near new in Downtown Duty Free box with $499 price tag: bought for myself, and I've just upgraded $A150
138. Camera Stuff for above!: 7 x new 36exp 400 ASA films, 2 x new Lithium 123 batteries, 2 x lead lined film bags for airports,
extra soft case. Cost $200+ $A55
139. 1991 P.O. 'ACROSS TOWN" PARCEL LABELS PERTH & SYDNEY: Your choice of Mint or FU or Pack or FDC. Also the
scarce "Box Link" label! You can mix + match between all 4 choices if you wish! Per set 3: $A35 5 Sets 3 (15) $A120
140. Aust Early Decimal FDC's: 1966 to 1970. RV/Expo/Grasslands/Cook. All cacheted, neat typed addressed, and all to same
person.(42 diff) inc Bklt issues, 20¢ + 25¢ commems &c. mostly fine. All in d/sided Cumberland FDC pages r.$15. $A60

141. Complete Set Aust Post Year Albums 1981-2000 Under FACE! Estate special. The FACE value of the stamps is $720
issue piece was $964! Each Australia Post book from the 1981 book also has a matching coloured, hard slipcase to prevent
dust and moisture entering the book. $A700

142.
Aust 7/Seas 'Specialist' hingeless pages 1913-1993 -
½
Price!:
152 diff! 1913 Roos Small + Large "OS" perfins + all Roo +
later Specimens, BCOF, Bklt Panes, Framas, Exhib OP M/S, Koalas, &c. Ret $2.40 ea ($360) New.
$A180
143
AAT 1979 1st Flight Wholesale: About 170 sets, mostly CTO on piece in gutter pairs or gutter/blocks 10 with central "traffic lights"! SG #35/6 £340+ $120
144. Aust. 1990s Aust packs + M/sheets + Blocks 4 etc.
FACE is $413.36.
$A375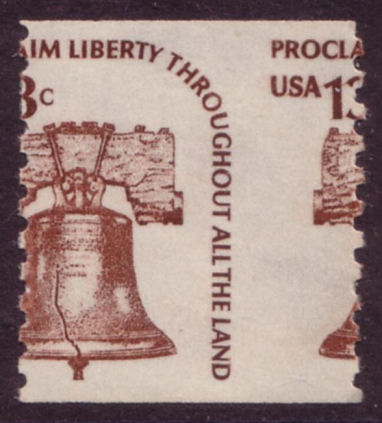 145. USA 1975 13¢ Liberty Bell MUH – Spectacular misperf. Sc#1595. $A50
146. BAHAWALPUR 1948 KGVI Defins:
Fresh bright MLH set 14. SG 19/32 Cat £140=$A350.(Cat for USED is £325!) Large and impressive engraved
set
$A135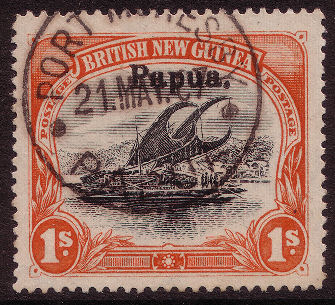 | | | |
| --- | --- | --- |
| | 147: Papua Lakatoi. 1906/7 Vertical Watermark overprinted 'Papua' - superb used at Port Moresby. Clean and perfectly centred, and with deep vivid colour. Expertised. SG #27 £900 = $A2250. A nicer copy you'll never see. Especially at less than HALF Gibbons! $A1,000 | |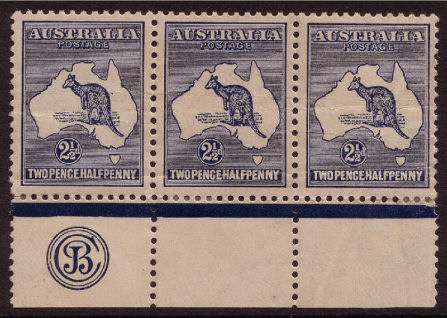 149 Kangaroo 1915 2½d Second Watermark Monogram strip of 3.
Complete "JBC" monogram - many monograms in this era are cut off at base. Indeed, an off-centred single stamp with the monogram badly sliced off at base sold for near $A90,000 last year at Auction! Lot of info in this link here on the soaring popularity (and prices) of Kangaroo monograms :

https://www.glenstephens.com/linnsFeb23-04.html
Fresh mint, no rust, but creased. Quite
UNBEATABLE colour,
centering and freshness as you can see - absolutely exceptional appearance for these. (For some weird and inexplicable reason, the image has "strobed" when scanned on my new scanner - in the flesh it looks facially superb - trust me! 100% Money back guarantee you'll like the looks of it!) Only a few strips exist in this monogram from top plate of sheet.
ACSC 10zd, $3,000,
and going much higher EVERY edition. The Catalogue value is WAY out of date on this item already. A poorly centred, hinged "JBC" Monogram strip of 3 sold for $A4,200
at Prestige Philately Auction on June 25, 2005 :
http://www.prestigephilately.com/auction116/226255.jpg
90 years old now, and still sensibly priced compared to it's great scarcity. A used £1 Brown and Blue roo from this era costs more, and many 1000s exist of those. Near one THIRD of recent Auction price: $A1,500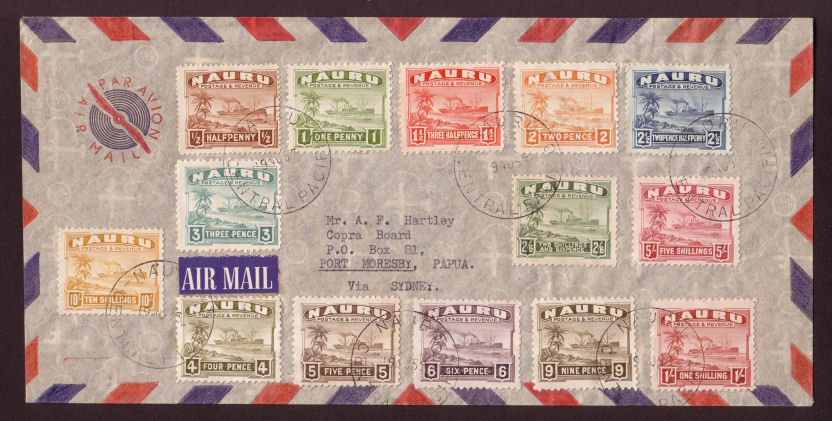 151 NAURU - superb cover to PAPUA with complete set 14 of the 1937 Ship/Freighter: Incredible colourful 'eye-appeal' cover with complete set 14 VFU of this rare Definitive set. VERY seldom seen in genuine used condition. (SG 26B-39B Cat £225 =$A560 as used OFF cover!)

Stamps all tied crisp "Nauru Central Pacific 19 Nov 53" cds. This cover shows correct use of the CURRENT definitives. SG Cat "x 6" on cover = £1,350 ($A3,375) but clearly this is philatelic use.

The rare PAPUA destination makes it even more desirable - especially to collectors of Papua incoming mail - of which virtually nil would exists from Nauru! I can't recall seeing another complete set at any time, to any destination. Be like seeing a full set of 1936 CofA Kangaroos on one cover - again something I have never seen, and I do not believe exists.

A stunning looker, that fits perfectly on #1 size Hagner sheet, stockbook page, or any album page. Huge face value for over half a century back. $A500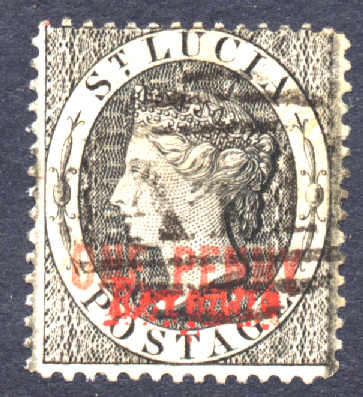 | | | |
| --- | --- | --- |
| | 156 St. Lucia 1883 1d Postal Fiscal 11mm with DOUBLE overprint superb used: Quite perfect condition light postal used with light upright "A11" numeral. SG F21b £350=$A925. A finer copy you would never see - yet only 33% of SG Cat! (NOTE - I have under-exposed the scan so that the clear doubling on the word "Postage" is more visible. If you want a much larger scan please ask and it is strikingly evident on that!) $A300 | |

158
Papua New Guinea 1994
Rare "Emergency Overprints":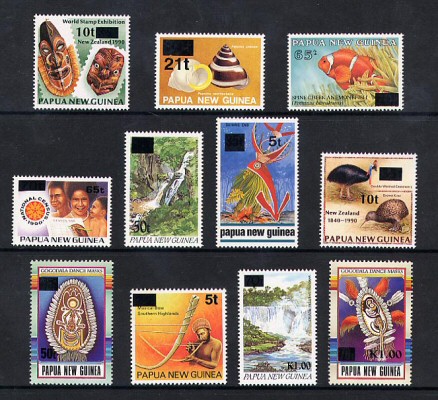 Papua New Guinea 1994 "Emergency Overprints": I do now have, and have always had, the largest stock of these overprints in the world. Buy DIRECT from the original "source"! Thousands of collectors NEED this set to complete their collections. Only 45,000 were ever printed, NONE were sold by the agents, Papua New Guinea Bureau, or even Australia Post. Nearly all were used up on genuine commercial mail. Not discovered by stamp world until months after all the key values all used up! I first reported their existence to the stamp world.
"Set of 11" - SG # 730/740. Michel # 714 -724.
Scott # 860/871. ASC Cat $A420.
Local Richard Juzwin retail price is $A330. The Seven Seas Stamps "Australian Stamp Catalogue" (ASC) price for the set 11 is $A420. MUH set of 11 - my VERY special DISCOUNT price offer for this month is: $A275. Or MUH blocks of 4 (very rare) $A1,250. I also have the earlier and later overprints also at terrific discount prices. For a complete set of TWENTY different overprints my discount price is $A335 or that full set 20 in MUH blocks 4 for $A1,500. These will never be cheaper.
Definitive sets like the 1967 Anguilla overprints are already cat at £9,000 in Stanley Gibbons ... and Anguilla has NOTHING like even 1% of the collector following of PNG I suspect. Think about it! £9,000. This PNG set has a LONG way to go yet - that seems very clear. This PNG set selling for DOUBLE my price would not surprise me to see in the next few years. For very detailed and comprehensive background on this issue with all numbers printed etc - see my special page on these issues: https://www.glenstephens.com/overprints.html
Finally - all the 1994 "Emergency" sets I sell are of course guaranteed 100% genuine. You may ask for a Photo Certificate Of Genuineness on my security watermarked colour letterhead for this set of 11 or 20, dated and signed, illustrating in full colour the exact set I mail you. If required, this CERTIFICATE costs you an extra $A45 on top of price of the stamps, largely to cover the considerable time and messing around of individually preparing each one, typing, and scanning &c. This is Substantially cheaper than sending it to the R.P.S. in London etc, which takes half a year to get back, and also incurs substantial Registered airmail cost to you - in both directions. And quite frankly, the RPS would not have a clue about these issues. 'Too Modern' they would sniff. Years down the track when the set sells for several times what it does now, such a certificate Guaranteeing these came from original PNG sources in 1994/5 will add FAR more than $A45 to the extra price you obtain when selling.


Special Offer #159
***** I bought Pallet loads from Germany! *****
LIGHTHOUSE STOCKBOOKS AT Under HALF THE COST OF HAGNER SHEETS !!!!!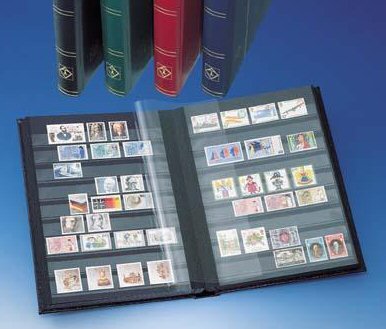 This is a wonderful lot. My BEST selling line all year. Another few pallets of stock just arrived. All BLACK pages as that is what all collectors prefer. Your stamps look SO much better on black pages than white. The universal best-seller 32 page size. This new Deluxe line has CLASSY looking covers front and back - like 'marbled' leather I suppose you'd call it. SO much classier than the solid colours they have used for the past 30 years! A lovely mix of cover colours per carton. Top quality West German made books. The BEST! Surely your stamps DESERVE the best .... and at HALF the usual storage costs .. why ever not?!

These have CRYSTAL CLEAR strips - 9 strips per page. This is much more expensive than glassine to manufacture of course - but with glassine your stamps are always half hidden behind murky/cloudy type glassine when you look at them. VERY few stockbooks (only a few %) sold in the past 20 years have CLEAR strips, as the cost to make them is high. Strong LINEN HINGED pages both sides for very long wear and DOUBLE interleaving to protect all your stamps - and stopping the cheaper single interleave pages from tangling and crumpling up - which they ALWAYS do!

I am selling these ONLY in

Factory cartons of TEN for $A240

Or TWO factory cartons of 10 - 20 stockbooks - for just $A450! (A70¢ a page!)

(And yes, I will quote even lower prices on larger buys - dealers, re-sellers or collectors with a LOT of re-housing to do please enquire!)

Postage and insurance is of course extra, but as always, I use carefully selected, light cancelled, philatelically VERY valuable stamps and se-tenant strips, small run modern mini sheets of 10 etc on every carton mailed, so "real" shipping cost is often basically zero to you. POSTAGE ON 2 BOXES is exactly the SAME as 1 box within Sydney! Indeed, ANYWHERE within Sydney Metro/Central Coast/Newcastle/Wollongong costs the SAME for 1 or 2 boxes i.e. $A10 Registered post and packing in total. To Melbourne or Brisbane 2 boxes costs only $A5 more in total for mailing cost. True! At Aust.70c a page getting 2 boxes is a deal you cannot not seriously consider. Your page cost is way less. And shipping costs nothing to only $5 extra on the entire order! In nearly all of Australia heavy parcels are delivered to your door by an Australia Post parcels contractor - i.e. no lifting for you!

That is 320 pages of quality low acid, black page storage for only Aust.75¢ a page. (Only Aust.70¢ a page for the 2 box buy!) A British made HAGNER sheet is R.R.P. $1.55 each these days - with no binder of course! So you are getting classy German made 'Lighthouse' stockbooks for in effect UNDER HALF the price per page of 32 Hagner sheets - which have no binder! (And which are nowhere near as classy or permanent a storage medium as a Lighthouse stockbook of course.)

Order fast before these are sold out. My next shipment will cost me more - sad but true, as wholesale price has increased. Yes, with the very strong Euro, and weakening $A, my replacement cost WILL be higher if I need to re-order. Band together with a friend and share them 5 each, or order via your stamp club etc. One client has ordered TEN cartons (100!) of these off me in the few months since I have ran this special. As I point out above, the postage cost for TWO cartons is often the same in $$s as ONE carton! A strange Australia Post quirk, but true. A huge carton delivered registered post right to your front door for $10 seems nuts.

REMEMBER: It is a great idea to now and again re-house ALL your stamps. At this price why not do that NOW? Stockbooks 10-15 years old WILL have mould growing on the pages if stored in Australia. NO doubt about it. In any coastal areas it will start in well under 10 years. And on black pages it is VERY hard - indeed almost impossible - to see with the naked eye. You WILL see it using a UV lamp - go check your books! For a measly $20 a new stockbook to put your $1,000s of stamps into a brand new clean book makes superb sense. A pizza costs more than this. Foxing on the STAMPS will lose you half their value. Once mould starts on the stockbook pages, that toning/foxing/rust spreads like a cancer to the other pages and to the stamps inside. Like fruit in your fruit bowl at home .... one piece of fruit gets mould and the entire bowl has it within 24 hours. Stamps are no different. It spreads fast. AND your old stockbooks are bound to have the VERY old fashioned cloudy GLASSINE strips, so you can't see your stamps clearly anyway! Another good reason to replace them all NOW at this great price!
In 25 years of stamp dealing I have learnt one truism. No collector can EVER have too many empty stockbooks! Just because you "think" you will not use 10 or 20 (or 30 or 40 or 50) you are WRONG
Trust me.