Click To Go Back To The Main www.GlenStephens.com Stamps Homepage

Welcome! You are visitor
to www.GlenStephens.com
FastCounter by LinkExchange



February 27, 2006. (Front page feature story)
by Glen Stephens
---
Ugly used 6d Blue Kangaroo sells for $48,500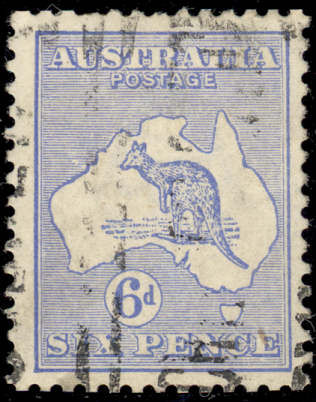 Record Price Down Under

An otherwise common, and rather unattractive looking Australian stamp has just been sold for $A48,500 - or approximately $US35,825.
The stamp is a 1915 6d blue Kangaroo and Map issue, Scott 40. In normal used condition this stamp is cataloged at $24.
This new discovery has an inverted watermark. This record price is the highest ever obtained for an Australian watermark error, on any stamp issue from any era.
Scott Publishing Company does not list or price inverted watermarks on Australian stamps.
US readers should carefully check their early Australian issues as prices for these watermark errors are booming "down under" however stateside dealers often do not price them any higher than normals.
The record price stamp has an unattractive vertical parcel post machine cancellation.
The "Australian Commonwealth Specialists' Catalogue" (ACSC) states that 3 copies are reported to have existed of this error.
One of those three stamps is in the Royal Collection in London. It is therefore not available to collectors.
The other two examples were noted in philatelic literature in the 1930s and 1940s but they have not been recorded or sighted since.
It is understood this example may be one of those two stamps. After this time span, the survival of the third copy is doubted by specialists.
No example of this watermark error is recorded as being offered for sale in Australia or elsewhere for at least 60 years.
The stamp was sold February 9 by Melbourne Australian dealer Michael Eastick via his website.
Eastick is President of the Australasian Philatelic Trader's Association, and is a member of the ASDA in New York. He has a booth at "Washington 2006".
Eastick told me today: "I was given the stamp to sell by a long term customer. He was very concerned by the high level of fees currently charged by Australian auction houses.
"I found him on overseas buyer who specialises in this era. It is a shame this rare stamp needs to be exported, but the demand for top end Australian stamps is truly global" he concluded.
Although Scott do not list or price Australian watermark errors, some other foreign catalogs such as Stanley Gibbons certainly do. This stamp is Stanley Gibbons 26w with a catalog value of £7,000.
The just released and updated ACSC "Kangaroos" volume lists it as BW 18a at $A25,000. As recently as 1992 it was cataloged at just $A85.
The recent sale price is 580 times the full ACSC catalog value in 1992.
Many Australian Kangaroos and King George V head watermark errors are selling for multiples of even the current high catalog prices.
In my "Stamp News" monthly column in January 2006 I reported offering a client $A12,000 for an inverted watermark average used copy of the King George V 2d orange (Scott 27) despite a current ACSC value of only $A3,500.
The collector changed his mind at the last moment, consigned it to auction and eventually received some $3,000 less than my firm cash offer.
That article illustration reminded a reader he had one or two copies with the same small town goldfields cancel, and when he checked one of them also had an inverted watermark - never before noticed until reading the magazine.
That example is easily the finest of the 6 reported copies, and I sold it on his behalf last week for a 5 figure sum.
Several other Australian Kangaroo and King George V head inverted watermark stamps are also recorded with just one or two copies known, and have high Stanley Gibbons catalog valuations in the £7,000 and higher region.
Most are stamps otherwise worth only a few cents in normal upright watermark. The 2d orange mentioned above is valued at just 25¢ in used condition by Scott.
Some stamps such as the 1923 6d brown Kangaroo (Scott 49) are unique with inverted watermark. That stamp was sold recently for a price much less than $A48,500.
A leading dealer told me that same stamp could well bring 6 figures if offered in the present market.
An even more desirable watermark error is the 1918 5/- Kangaroo (Scott 54) with sideways watermark. Only one copy is recorded.
Many experienced dealers except this stamp would sell for over $100,000 if offered in today's market. In 1992 the ACSC catalog price was just $A1,500.

Glen Stephens is a philatelic journalist and stamp dealer based in Sydney, Australia.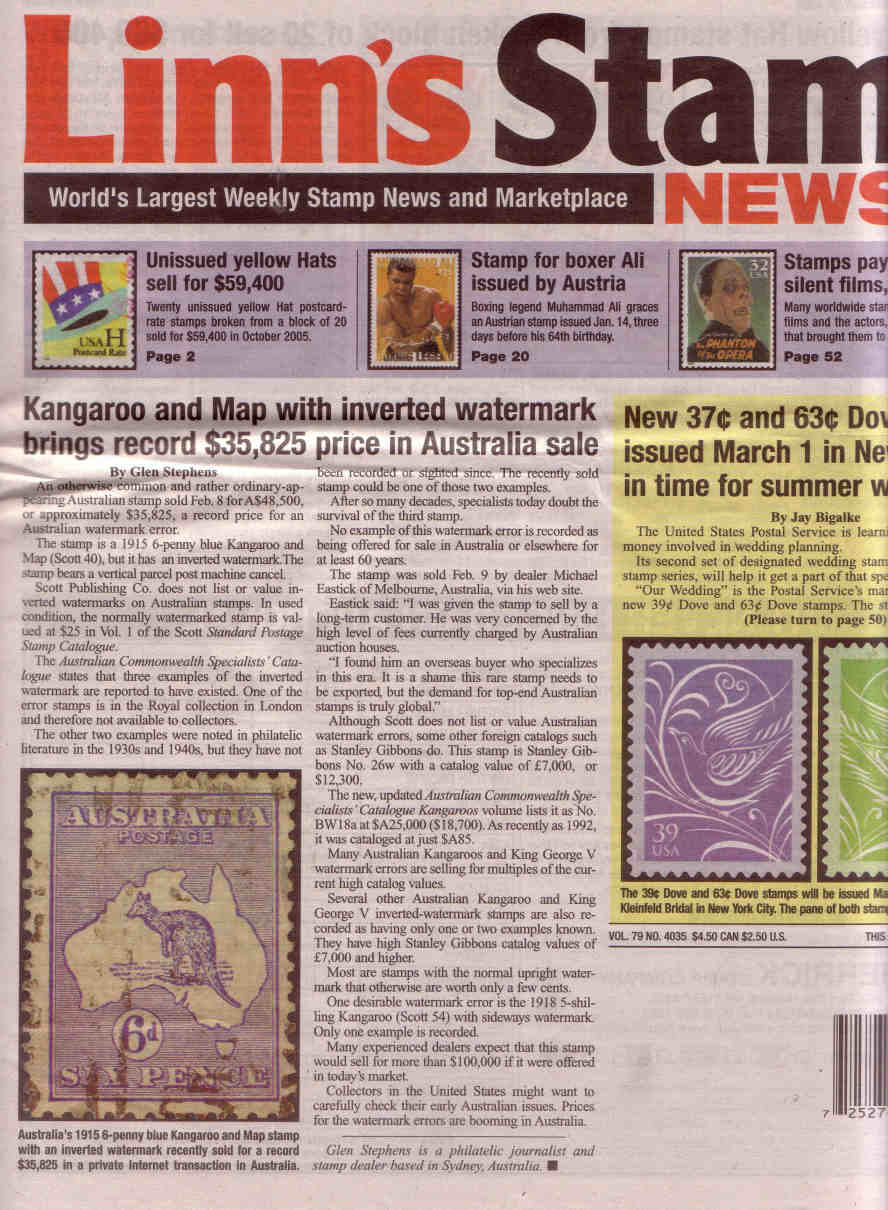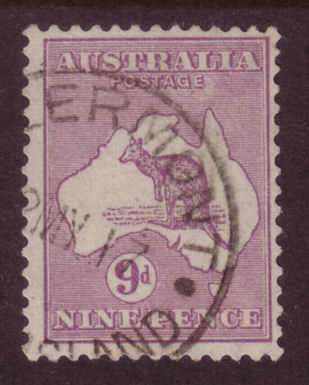 1915 9d Second Watermark Kangaroo Watermark Inverted: One of the great rarities of the pre-war inverts, and most importantly, always has been recognised as such. Way back in pre-decimal 1965 when inverts were not of interest to anyone really, this stamp in ACSC was still cat THREE times a normal used £1 Brown and Blue Kangaroo. (Today those are $2,000 each!) With the incredible boom in INVERT prices, relative to everything else pre-war, this should now be a $20,000 stamp.

In fact for decades this 9d second watermark was always regarded much more highly and priced far more highly, than the inverted 6d blue of the same watermark - that has just sold for $48.500! The same 1965 ACSC I looked at (issued 50 years after these stamps were off sale) has the 9d second watermark prices used at 50% MORE than it's 6d cousin. Even my dog eared of 1979 ACSC has the 6d at $175 and the 9d at $550 - priced over 3 times higher. Logically, using historical relativity this stamp should be worth $48,500 plus 300% + 50% = $150,000! My asking price is 2% of that.

This stamp can only move in price in one direction - UP.

Only a few used are known and ACSC says half of those are non postal cancelled. The known postal used copies have Queensland postmarks of April or May 1917. (The solid black round dot to right of '9d' is a circle stop used on the cancels, either side of town name, and is not an ink blob!) Nearly every copy I have seen offered of this invert has a fault of some kind. Many are plain UGLY! One of the nicest looking copies existing. This one has a lovely crisp Clermont Qld postal cds of May 1917. Clean and fresh and attractive looking, with a professionally added perf tip top right.

ACSC 25a $4,000. The scarcer Roo and KGV inverted watermarks have gone insane in recent months. Many already get MULTIPLES of the recent catalogue price. A fairly ugly 6d blue 2nd watermark of this same set just sold for $48,500 - double the NEW catalogue price! See my recent front page "Linn's Stamp News" and "Stamp News" articles on that sale here:

Well under ACSC Catalogue, which in turn is WAY under the prevailing retail. You'll never see this stamp again at this low a price. In fact it is a very long time since I saw a copy of this error on the market at ANY price! $A3,000

All content Copyright Linn's Stamp News, of Sidney, Ohio, USA and by the author Glen Stephens.



---
To order, click here. To read ordering instructions, click here.
Instant Currency Conversion


FREE! Just click here...
GLEN $TEPHEN$
Full Time Stamp Dealer in Australia for over 25 years.
Life Member - American Stamp Dealers' Association. (New York)
Also Member - Philatelic Traders' Society. (London) ANDA. (Melbourne) American Philatelic Society, etc

ALL Postage + Insurance is extra. Visa/BankCard/MasterCard/Diners/Amex all OK, even for "Lay-Bys"! All lots offered are subject to my usual Conditions of Sale, copy upon request BIGGEST STAMP BUYER: Post me ANYTHING via Registered Mail for my same-day cheque. Avoid the GENERALLY 40% Auction " Commissions" (15% + 17½ + GST, etc.) AND their five-month delays! Read for details.
"Lothlórien," No. 4 The Tor Walk, CASTLECRAG (Sydney), N.S.W. 2068
Phone: (02) 9958-1333 Fax: (02) 9958-1444 (Both 25 Hours, 7 Days!)
E-Mail: glen@glenstephens.com
Web Sites: www.glenstephens.com www.glenstephens.net or www.australianstamps.net
Back to Lists of Stamp Lots for Sale

| | | | | | | |
| --- | --- | --- | --- | --- | --- | --- |
| | | | Time and Temp in Sunny Sydney! | | | |


Sign up AUTOMATICALLY to my world renowned bi-weekly stamp gossip mailing list!

Sign up AUTOMATICALLY to my world renowned bi-weekly stamp gossip mailing list! to read all my recent International stamp magazine articles.

Click here to get back to the main www.GlenStephens.com Homepage
Click here to ORDER on-line ANY items from ANY of my dozens of lists
Click for all info on Conditions Of Sale, Payments, Shipping, Returns &c
Click here for the complete library of my very unusual world travels!
How to PAY me. I accept EVERYTHING - even blankets and axes and beads!
Australia Post Annual YEAR BOOKS - massive stock - '27% off' discount offer today!
Visit my new page on RARITIES - Roos & other expensive photo items.

Instant Currency Conversion


FREE! Just click here...


E-mail me at glen@glenstephens.com -
Every credit card shown is accepted WITHOUT fee.
Earn Frequent Flier points while buying at bargain prices!
ALL prices are in weak Ozzie Dollars. I charge NO nasty, nasty
"Buyer's Commission" on stamps like nearly every "Auction" does.






..