Click To Go Back To The Main www.GlenStephens.com Stamps Homepage

Welcome! - You are visitor number
To - www.Glenstephens.com


December 2018


---
How badly centred is BAD?!
| | | |
| --- | --- | --- |
| | The funny thing about philately is that well centred stamps command a premium, and poor centred ones sell at a large discount. HOWEVER - quite appalling centering often sells for many times the well centred ones. Try explaining all that to a non-collector! | |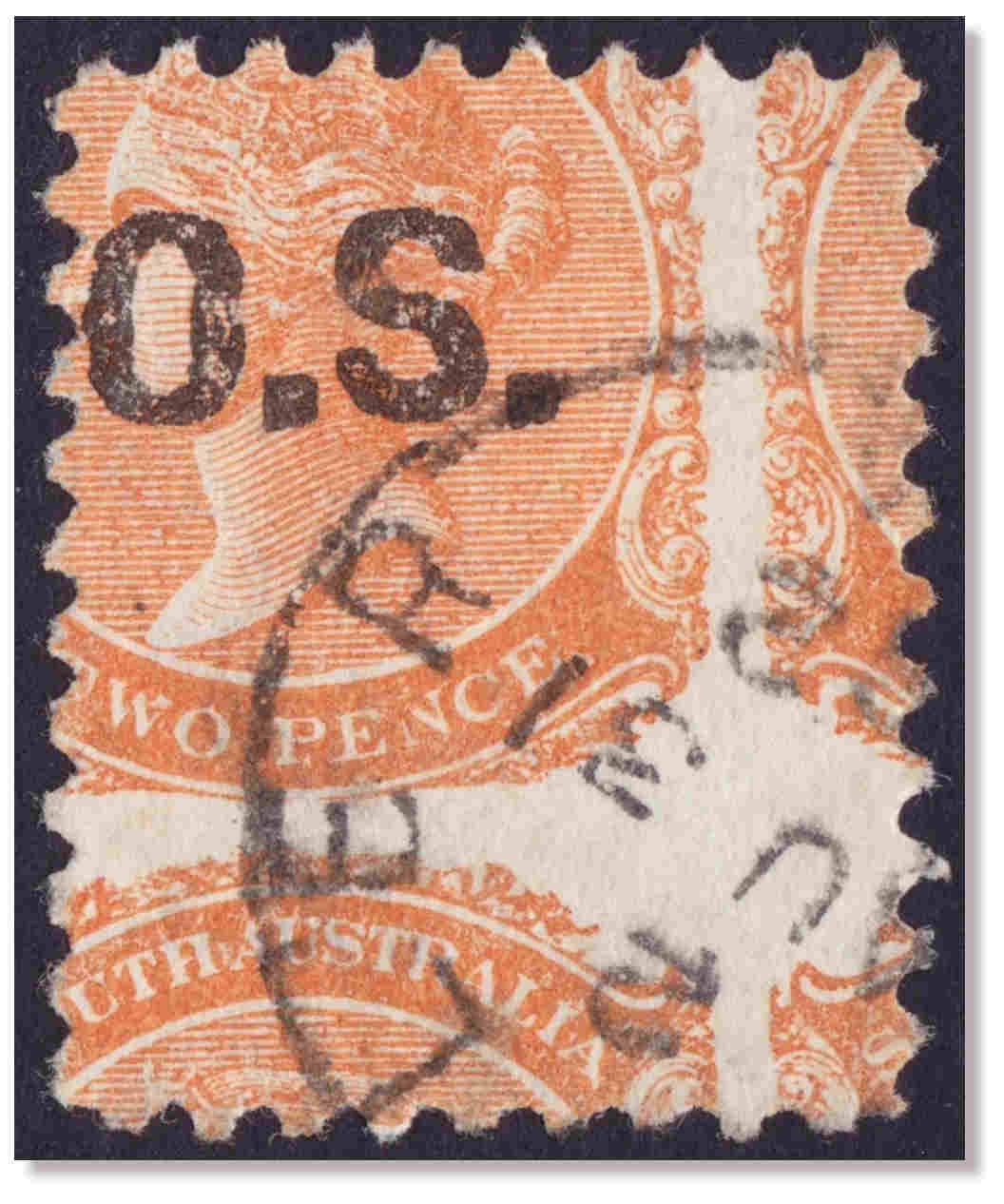 "Almost mathematically perfect centering!"
I recently had a person drive over and sell me some very nice material. Some of the album pages were marked on back as belonging to "F. V. Thompson" in his own hand.

One and the same Lieut-Colonel F.V. Thompson, of Sydney collector fame, in the pre-war era. None of this material had been on the market for 40 years at least, and contained some real gems.

Among it was a wonderful page of South Australia stamps, with totally spectacular misperfs. It included the one shown in detail nearby, the very finest misperf example I have EVER seen from here. Superb condition 2d orange QV, with a neat central cds of "GAWLER - AU 31 : 82 - SA".

They had been on this one page for a half century at least, probably much longer, and I decided it was a real shame to split them up. A Kangaroo stamp looking like this, would be a FOUR figure piece.

Indeed, I have NEVER seen an Australian one perforated this badly, with portions of all 4 stamps showing. The strip of 3 was also a cracker. Condition of the error stamps were very nice it seemed on a spot check.

Rod Perry saw it on stampboards.com, and mentioned the SA page was in the distinctive copperplate handwriting of E.R. ("Ric") Slade Slade of Sydney, who had his outstanding Australia States collections offered in separate Harmer Catalogues in the late 1970s, that I bought much from, 40 years back.
Nothing here for the well centred fans!
| | | |
| --- | --- | --- |
| | "Stamp News" publisher Kevin Morgan quickly bought the SA misperfs page, and whether he offers it intact, or breaks it down I am not sure, but some very striking material there, and with impeccable provenance like "ex Slade-Slade" will make some lovely additions to future collections I feel sure. | |
NEW "Numeral Cancellations Of Victoria"
A superb NEW edition of this brilliant Hugh Freeman work was released in November 2017, and for the first time - in full colour! This huge new book totally updates the opus original 421 page work published by the Royal Philatelic Society of Victoria - fully 17 years back.

That original venture was a ground-breaking handbook, a really brilliant reference work, and I personally sold about a dozen cartons of that globally, and it has been sold out for quite some time now at RPSV, so the timing of this totally updated work is most opportune.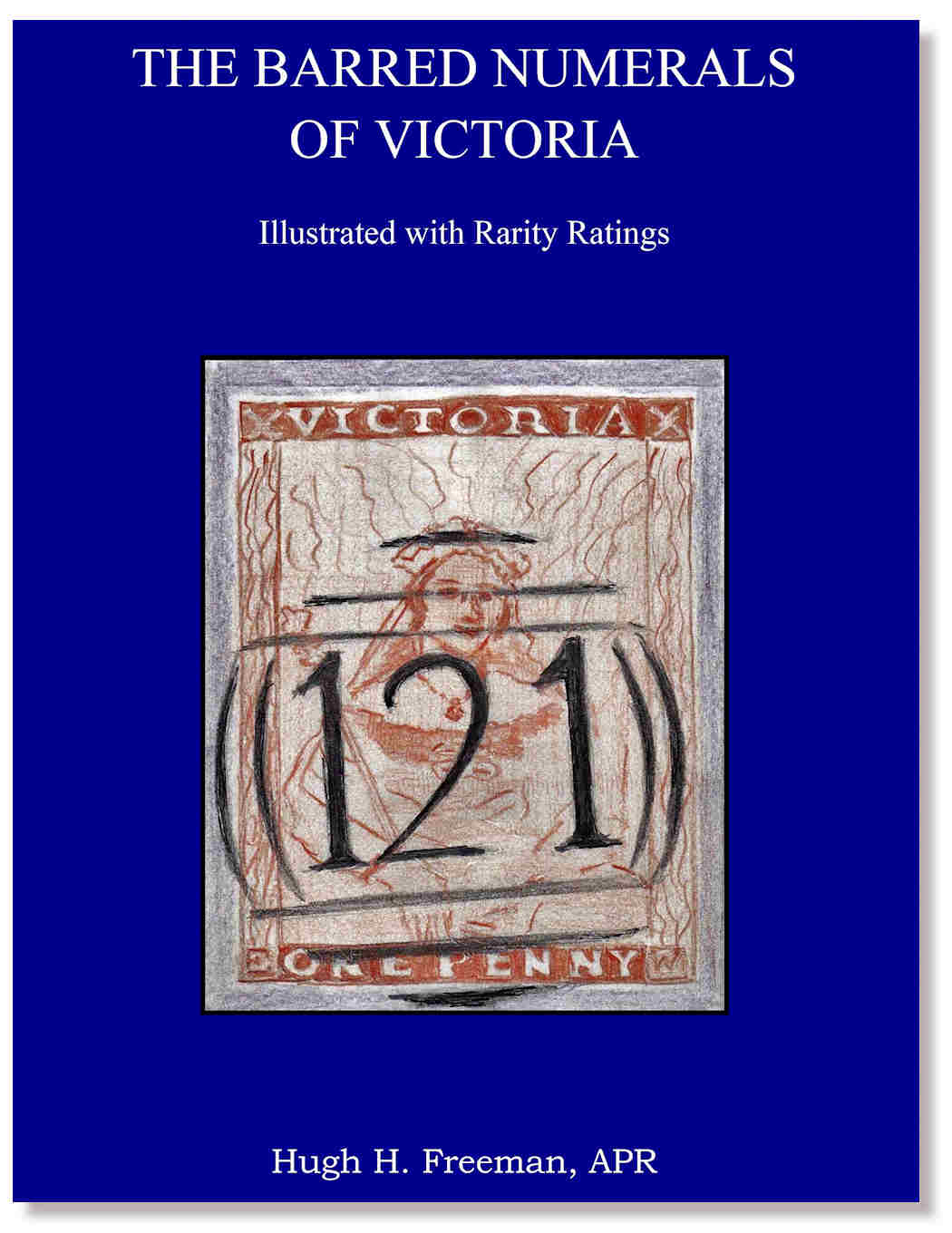 Brand new Freeman "Victoria Cancels", casebound.
The quite bizarre front cover design is a sketch of the unrecorded "121" numeral of Omeo, on a 1d "Half Length" drawn by collector Max Melville. Why on earth a rough imaginary drawing, of a cancel no-one has ever seen was selected, instead of an existing rare cancel, is anyone's guess!

When images of lovely strikes of rare cancels - sometimes on cover were available, a very strange choice. The superb "607" numeral of Preston Vale on cover would fetch a pretty penny if it ever appeared on the market, as the numeral is rated "RRRRR" and may well be the only strike recorded. A fine front cover candidate!

This new edition by Hugh Freeman, APR, published by Brusden White, updates the earlier work published by The Royal Philatelic Society of Victoria in 2001, and of course contains details of all the new discoveries made since, and with totally updated Victorian numeral cancel rarity ratings.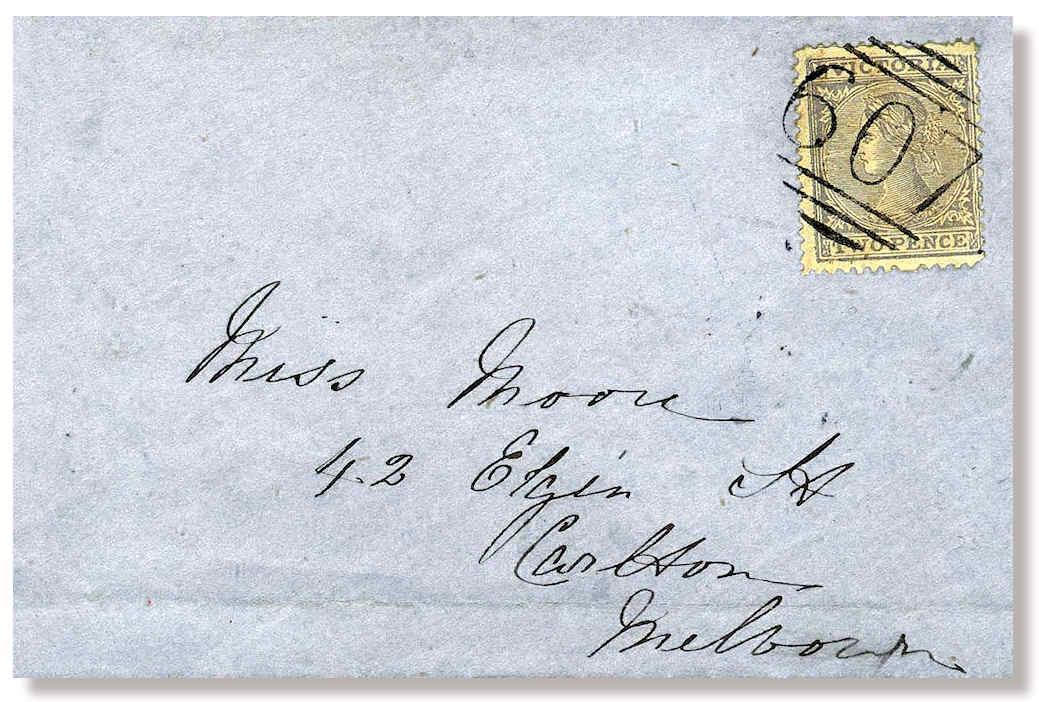 Some "RRRRR" strikes exist on cover.
| | | |
| --- | --- | --- |
| | Hugh's herculean effort, via his global contacts, has succeeded in managing to illustrate actual strikes of near every different numeral obliterator, resulting in over 98% of all Victoria numeral cancels being shown in colour. The result is an indispensable reference for all collectors of this popular area. | |
Near 500 large pages now.
Quality hardbound, with Dust Jacket, this huge work comes in at near 500 pages in colour, on high quality Hi-Brite acid free archival grade paper stock - a 20% increase on the 420 pages of the inaugural Edition, showing just how many new illustrations have been added in the ensuing 17 years.

This edition also has images of many of the vintage Post Offices that used these cancels. Many are sepia picture postcards of these tiny offices with horses and carts out the front of some etc! Very cool. Stampboards.com has long discussions and tables of all the State numeral postmarks at - tinyurl.com/VicNum

Dr. Geoff Kellow is credited by Hugh in assisting greatly with the images and layout, and my thanks to Geoff also, for furnishing images of most of the numeral cancels shown here. The originals submitted to him were often not of high-resolution clarity, but they are all of actual strikes of course.

That original book was issued at $A150 in 2001, when the cost of a First Class stamp was just 45¢, (now $1.50) so today's $A190 retail is DARN good value, and unlike other sellers, I use SUPERB CTO franking protected under plastic, meaning shipping is "Free" essentially - handy to know, as heavy books are not cheap to mail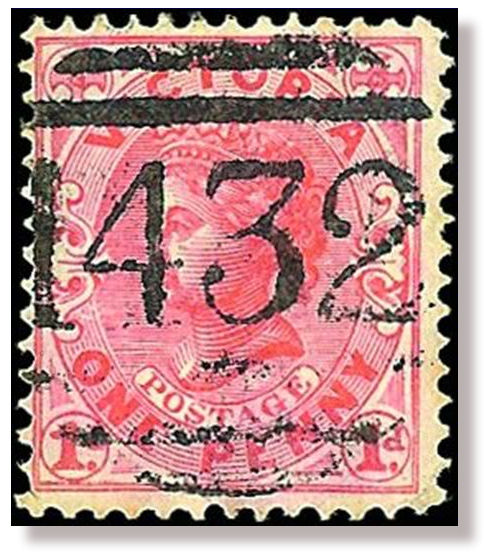 Victoria numeral cancels can fetch $2,000+
Many VERY common Victoria 1d stamps have cancels that sell for many $100s - indeed $1,000s. The "1432" Victoria numeral of Glenmaggie Railway Station shown nearby was invoiced for over $2,000 at the Phoenix Auction late 2011. Another common 1d stamp with scarce cancel sold for $1,500 in the same sale.

Just ONE find like those, once in your lifetime, and you could buy an entire suitcase of these books! Value of either of those 2 stamps without those cancels - about 2¢ apiece! The sort of thing you might find in any junk lot, or kiddies album, sitting un-noticed. IF you own this book, you hit the jackpot.
Victoria Postmark Catalogue
| | | |
| --- | --- | --- |
| | This is a massive and very heavy hardbound book, weighing in at about 2 kilos, or 4.4 pounds for our American readers! Near 500 large size A4 pages. It is without doubt in my mind THE most comprehensive, and easy to follow book on any of the Australian State postmarks. | |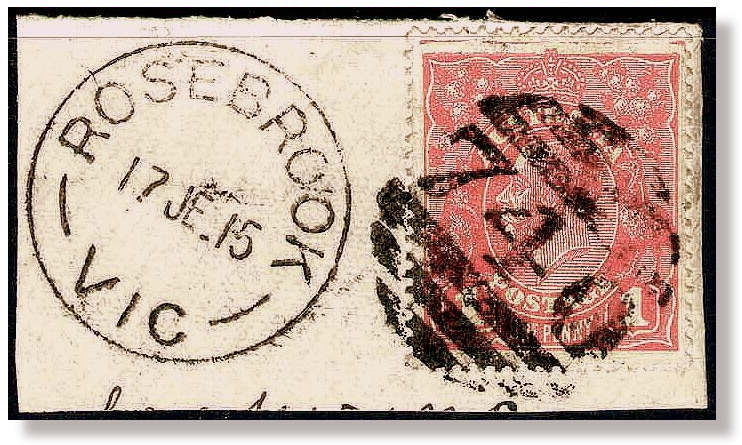 "740" of Rosebrook on 1d KGV - "RRRRR"
For any reader looking for an exciting new challenge to embark upon, this is one to take a close look at. These postmarks are found in 99% of cases, on dirt cheap letter rate stamps. To this day, unchecked bundles of 100 are offered by dealers and auctions.

Numerals are widely found on Australian Kangaroo and KGV stamps up until 1917, when the PO reprimanded Postmasters (again) for still using them, but many disobeyed - they were in fact used right up until 1934 by Creswick.

There is a very detailed listing in this book of all the known Victoria numerals on Australia Kangaroo and KGV heads stamps, and many of these are in the high rarity rating tables, so keep your eyes peeled for them, and naturally there are very serious bucks involved for many of them.
Many found on Kangaroos & KGV heads.
The "740" of Rosebrook shown nearby on a KGV 1d Red is rated "RRRRR" in this bold numeral style, and clearly is worth big money. The tall thin earlier numerals are only "R". Both types are illustrated in the handbook.

Note this is not a "Duplex" style cancel, where the "cds" section was joined to the numeral in one "hammer" implement. As can be seen, the cds and the numeral are un-aligned, and were struck separately for some reason on this piece.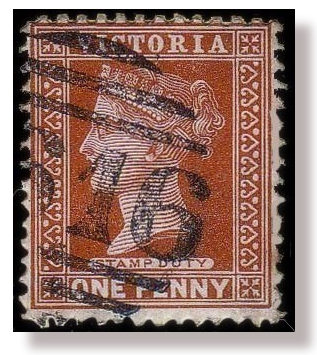 Newly reported "RRRRR" Victoria cancel.
Many common 1d stamps have cancels that sell for $1,000s. Victoria issued 2100 numeral postmarkers, between #1 (Melbourne) and #2100 (King Valley - issued November 1906). Of these 2100 numbers - despite an army of collectors scouring the earth over several generations - 51 of them have NEVER been sighted.

One of the Number Never Seen - "NNS" in last edition was numeral "1616" of Wills Street Melbourne. Between editions, one example has surfaced, on a 1d Orange, and it is illustrated nearby, and of course is now rated "RRRRR".
Even partial numbers pricey.
Not a complete numeral is showing here, as can be seen, but it cannot be anything other than 1616 - the advantage of all cancels being illustrated here, AND noting the style of numbers used. A four figure find, and so far unique.

Many numbers of course exist in a myriad of styles, variants, designs and sub-types. All are clearly illustrated, and rarity rated in this book. Even some from Melbourne number "1" that most of us would regard as "common as muck" are rated "RRRR" simply as they are unusual designs, or sub-types.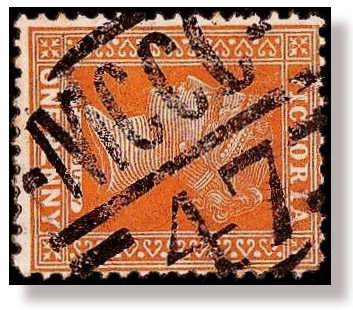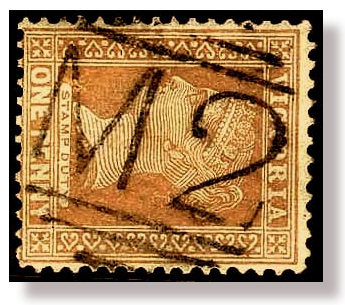 Helps to read the old Roman Numerals!
To complicate matters, not all the numerals were as simple to decipher as reading just "1616" etc. For a few 100 numbers, some genius decided to partly use the 2000 year old Roman numeral system so the "MCCC/47" shown nearby is "1347" of Bagshot, open for 10 years until 1893 - rated RRRRR.

Then, the "M2" numeral of Kalkee also shown nearby, supposedly is "1002". When I went to school, 1002 was written as "MII" in Roman numerals, but who knows what was normal in the 1890s when this was made! Anyway it is another "RRRRR" super rare numeral, no matter how it is written.

Hugh Freeman certainly has had a mass of material to sift through in his lifetime long search. I first met him 40 years back when he ran Status Stamp Auctions along with Barry Cooper they started in 1977. He had owned Auctions in Sydney well before that time as well - indeed worked for Kevin Duffy Auctions from 1969 to 1971.
Plenty of stamp experience!
He then ran The Penny Black Auctions, first from Lindfield, and then from high profile Martin Place, Sydney. Hugh later went on to manage Stanley Gibbons Auctions in Australia for many years. His stamp collections won national Gold Medals, and he was an accredited National Philatelic Judge.

Despite handling probably many millions of stamps from Victoria, the fact remains more than 50 Numerals still are unseen to Hugh Freeman and other specialists, and this offers a real challenge to all readers of this article.

Hugh used to run large ads in overseas magazines advertising to buy the elusive numerals he still sought. I recall seeing his display ads in Stanley Gibbons "Part 1" catalogues for this material, "Paying £50 each for these numerals" followed by a listing, and I am sure it paid off well!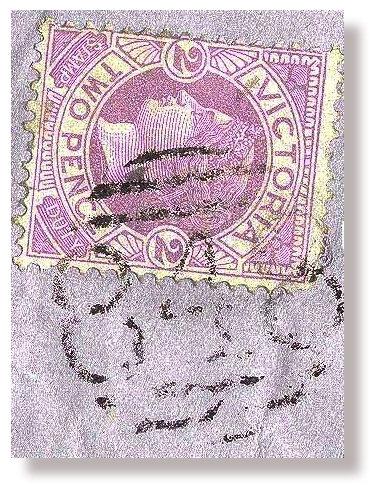 Another "RRRRR" - 848 of Doma Mungi.
There is no real obvious pattern to numeral Rarity. 847 and 849 are both very common with these thin numbers, and the one in between, "848" of Doma Mungi is unique, and rated "RRRRR". The handbook helpfully tells us Doma Mungi was "275 miles NW of the GPO, near Chiltern."

This book illustrates over 2,000 actual cancels on stamps and covers in full colour - not drawings as some other state handbooks have used. Reproduction quality of illustrations is generally very good, and the detail and background to the listings is exhaustive. All cancels are rated in 8 specific rarity classes - or are "non-rated" meaning they are reasonably to very common.

EVERY dealer and Auction in the world should own this book, and it goes without saying ALL collectors of Victoria need to have one too. Stumble across even one half decent cancel, just once in your lifetime, and it is more than paid for. Possibly ten or more times than the book costs, on just one good numeral postmarks find.
More than 50 numbers NEVER recorded.
| | | |
| --- | --- | --- |
| | I have sold a lot of these huge books already, as the work has been in progress for some time, and the number of collectors in this field is large, and very enthusiastic. The fact over 50 numerals STILL have never been sighted - but were issued, is an exciting challenge. | |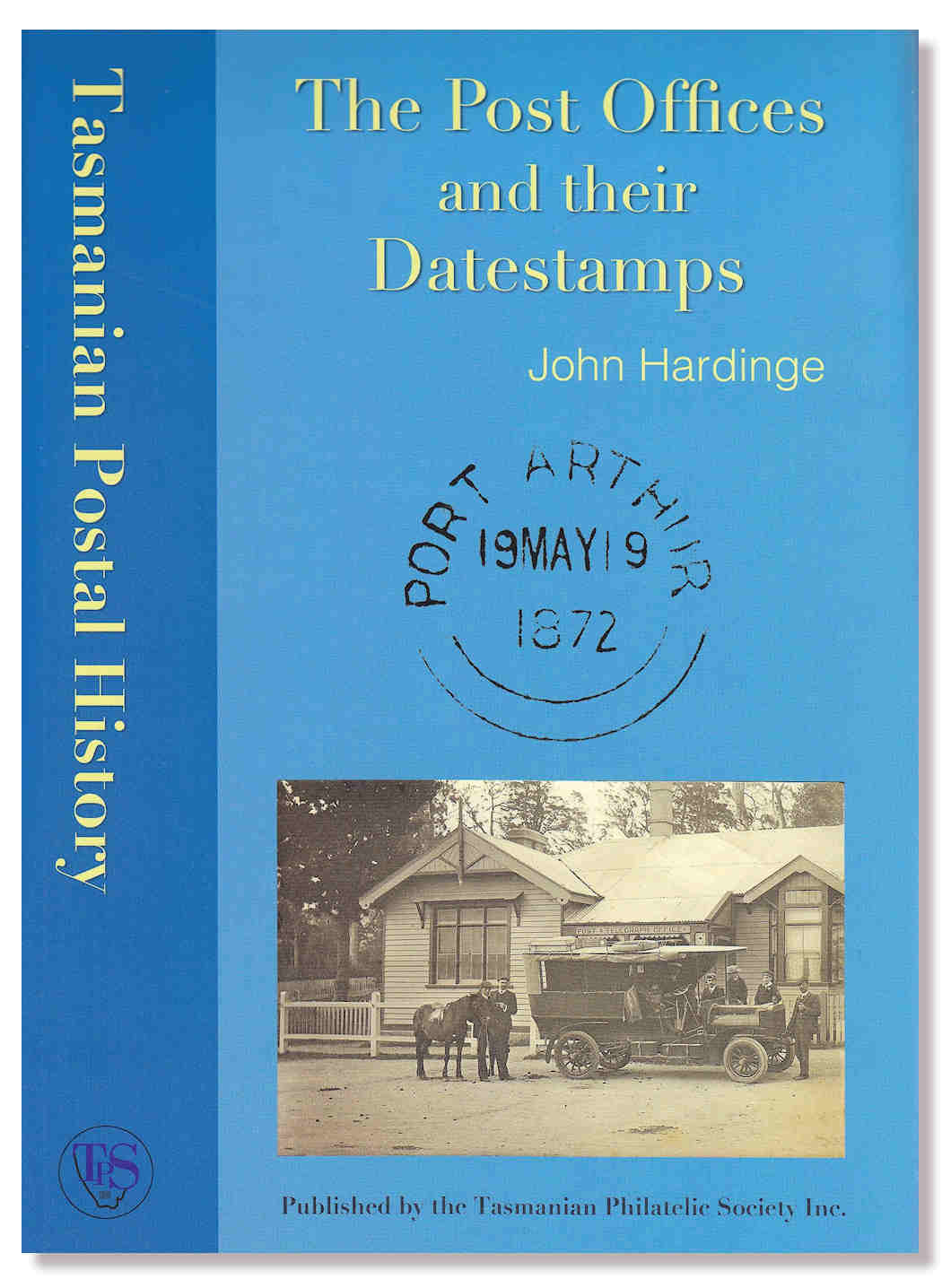 New Tasmania Cancels book out too.
As coincidence has it, the long-awaited new work on all Tasmania cancels was also recently published, so a great year for collectors of States cancels! This new book lists every known hand-held datestamp from 1823 to 2000, with rarity ratings, early/late dates, every datestamp type, every post office opening and closing, plus extensive related information.

That work is - "Tasmanian Postal History - The Post Office and their Datestamps" Handbook by John Hardinge of Tasmania, and took him literally 30 years to compile and research. A superb, and YEARS overdue new opus work. Only 250 printed GLOBALLY!

I am a huge believer in philatelic publishing, and often heavily financially support those who do so. "Knowledge Is Power". They are each hand numbered, author hand signed, hard case-bound, with dust jacket, and will NOT be reprinted I am assured by all concerned.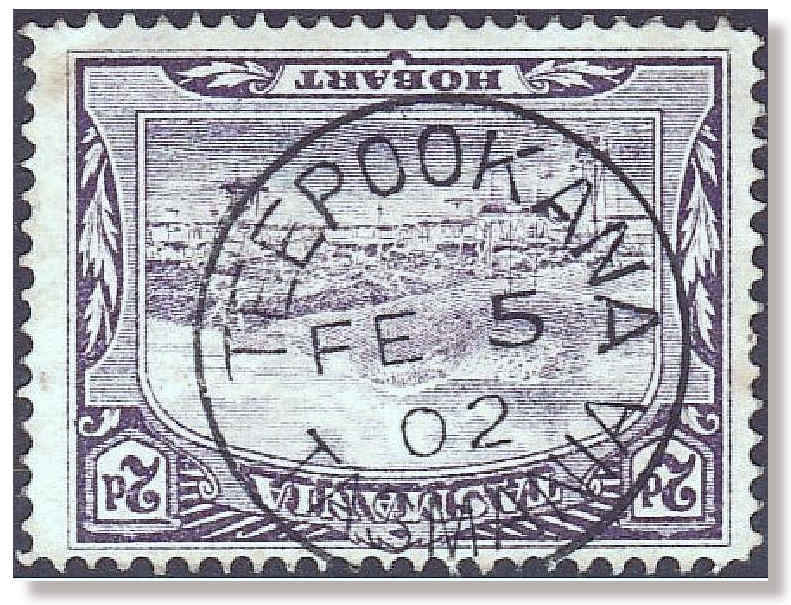 5¢ stamp sold for $A3,600 at Auction.
| | | |
| --- | --- | --- |
| | tinyurl.com/TasPmk has a lot more detail on that one, and I'll do a detailed review of it next month. Scarce cds cancels on very common Tasmania stamps have fetched up to $3,600 apiece at auctions like the TEEPOOKANA nearby, so another handy book for any serious philatelic library. I ordered cartons of that one before it sold out at TPS | |
"Knowledge Is Power" - again!
| | | |
| --- | --- | --- |
| | There are many things out there, that few readers would give a second glance to, I feel sure, if offered in a club circuit book etc for $20, but are actually more valuable than a MUH £2 Kangaroo! One such curious piece is shown in the photo nearby. | |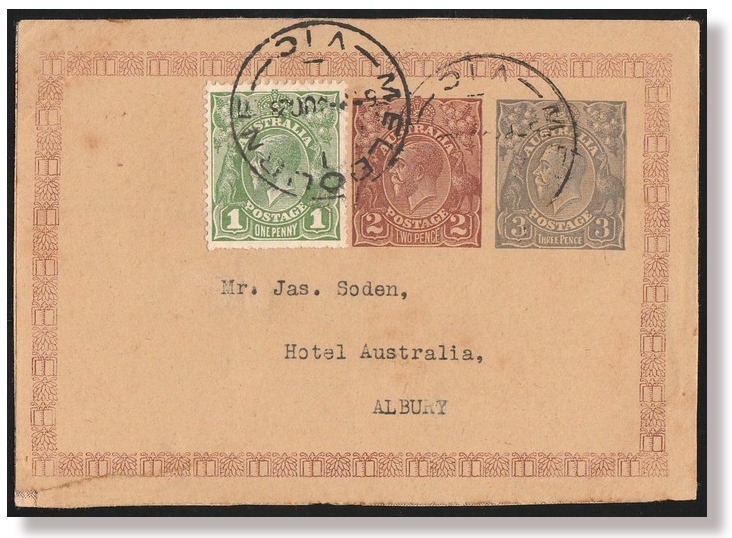 Sold for $19,500 at recent Auction.
It was auctioned by Status Auctions in Sydney on October 25, 2018 and was invoiced for about $A19,500 - or more than twice the auction estimate, despite a fairly large tear lower left (and a creased corner top left not mentioned) and some tone spots. Definitely a few bidders it seems.

The ACSC "Postal Stationery" catalogue tells us this is PL1, Cat $500 for a cut-out, and is a gummed label used by large Melbourne Department store Foy and Gibson to mail their merchandise catalogues. Pre-printed with 2d and 3d KGV impressions, to which a 1d green KGV stamp was also added here.

This pre-printed parcel label was addressed to Albury NSW, and it has a Melbourne cds of '3 OC 28', and seems to be the only full one recorded (2 cut-outs are known) despite Foy and Gibson being a very major store, that would have used 1,000s of these mailing out sale catalogues. So, "Knowledge Is Power".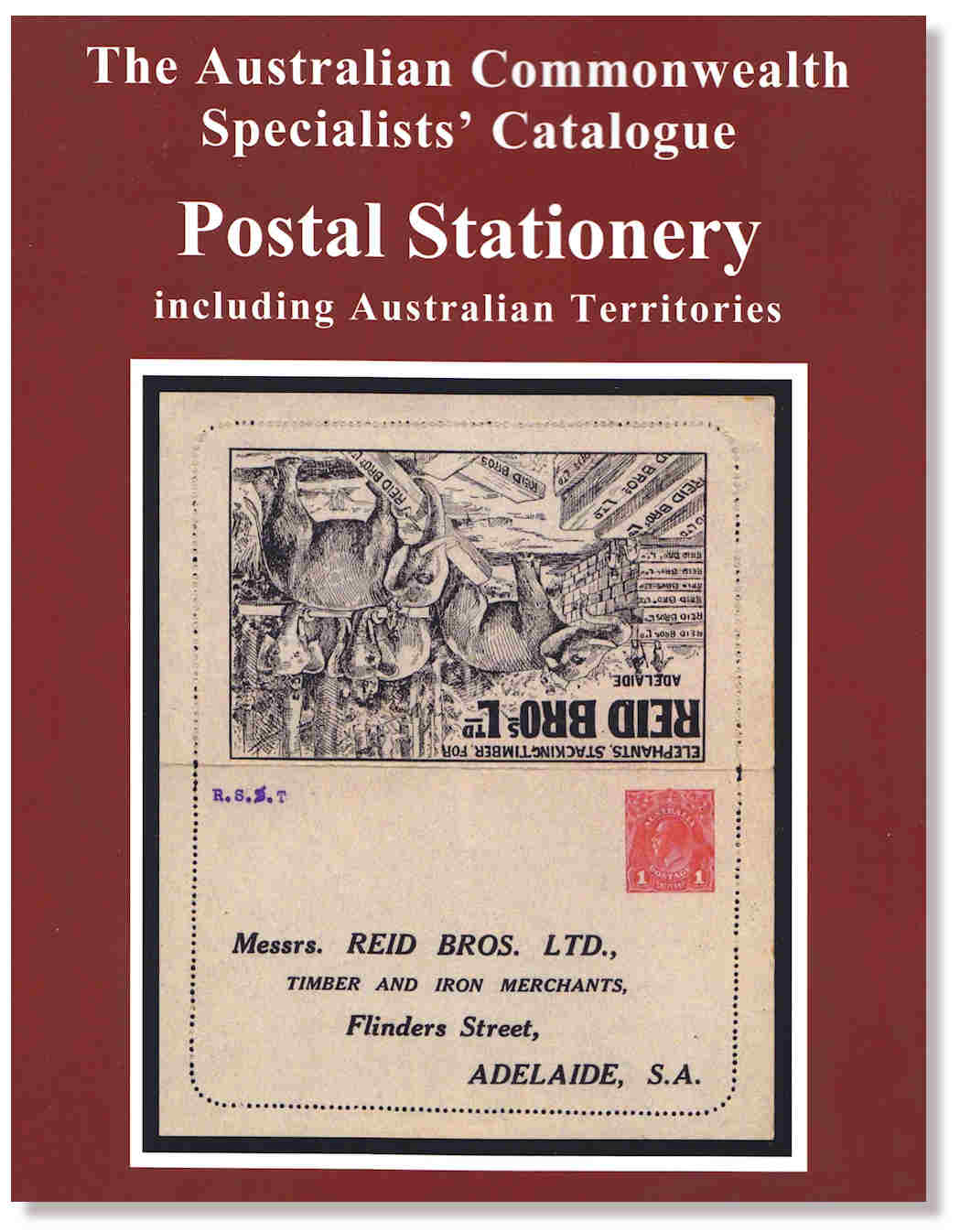 Every library needs one of these.
| | | |
| --- | --- | --- |
| | The massive ~500 page recent ACSC "Postal Stationery" book is an essential Library piece to own, and owning it, might see YOU picking up a $19,500 piece cheap, as others had no absolutely idea what it was! Detailed review of that wonderful work is here - tinyurl.com/GlenAP18 | |








Get my regular market update emails FREE! Stamp gossip, price trends, record sale prices, and many one-time stamp specials, wholesale bargains, and exciting offers and breaking philatelic news. A mini stamp magazine in every email! "KNOWLEDGE IS POWER". The ONE stamp list you MUST be on, to keep in touch with the rapidly changing world market. One client made $65,000 profit in a few months after following my specific advice. Sign up securely and quickly by clicking HERE to access my automated data base. And wiser still ADD your home AND work email, if I only have one right now. Add a stamp friend's email address if you wish. One short click and you are subscribed to probably the most read email list in the stamp world!




If you would like to be notified of updates to this website,
Click HERE.
If have any questions,
or comments regarding my site, please email me at glen@glenstephens.com
| | |
| --- | --- |
| | Search all my 300+ web pages! Simply type in what you are looking for. "Penny Black", "Latvia", "Imprints", "Morocco", "Fungi" "Year Books", etc! Using quotes ( " ) is more accurf used with no quotes. Search is NOT case sensitive. Tip - keep the search word singular - "Machin" yields far more matches than "Machins" etc. |


Full Time Stamp Dealer in Australia for over 35 years.
Life Member - American Stamp Dealers' Association. (New York)
Also Member of; Philatelic Traders' Society (London) IFSDA (Switzerland) etc


GLEN $TEPHEN$

Full Time Stamp Dealer in Australia for 35+ years.

Life Member - American Stamp Dealers' Association. (ASDA - New York) Also Member - Philatelic Traders' Society

(PTS London) and many other philatelic bodies.

ALL Postage + Insurance is extra. Visa/BankCard/MasterCard/Amex all OK, at NO fee, even for "Lay-Bys"! All lots offered are subject to my usual

Conditions of Sale

, copy upon request .

Sydney's

BIGGEST STAMP BUYER

: Post me ANYTHING via Registered Mail for my same-day cheque. Avoid copping the Now normal 45% Auction "Commissions" (15% Buyer + 20% Seller + GST, etc) AND their five-month delays!

Read HERE for details.

"Lothlórien", 4 The Tor Walk, CASTLECRAG (Sydney), N.S.W. 2068

Australia





Phone 7 Days:

(02) 9958-1333

PO Box 4007, Castlecrag. NSW. 2068




E-Mail:

glen@glenstephens.com

The Number #1 Web Sites:

and www.stampboards.com