Click To Go Back To The Main www.GlenStephens.com Stamps Homepage


Welcome! You are visitor
to www.GlenStephens.com




Glen Stephens
Monthly "Stamp News" Market Tipster Column


March 2007

---
Beatle Fest
Credit where credit is due.

The most innovative and attractive set of new stamps I have seen for ages was issued in January.

Royal Mail in Great Britain issued a set of stamps and mini sheets to commemorate the meeting of Paul McCartney and John Lennon in 1957 - 50 years ago.

They went on to form one of the most famous song writing teams in musical history.


Lennon was 16 and had already formed a band called The Quarry Men who were booked to perform 'skiffle' music at the Woolton Parish Church Garden Fete on 6 July 1957.

After the event John was introduced to Paul. McCartney played some Rock 'n' Roll numbers for Lennon, who was very impressed with his talent. Paul then became a member of The Quarry Men and his first gig with them was in October 1957.

The six self-adhesive stamps feature some of the band's iconic album covers, including many fans' firm favourite, "Revolver" and classic releases like "Sgt Pepper's Lonely Hearts Club Band" and "Abbey Road".

Each self-adhesive sheet stamp in the collection has two designs - the first Royal Mail self-adhesive stamps to do so.

The four-stamp miniature sheet takes a look at some of the memorabilia produced for eager fans of the world's first super-group, including their first single, "Love Me Do."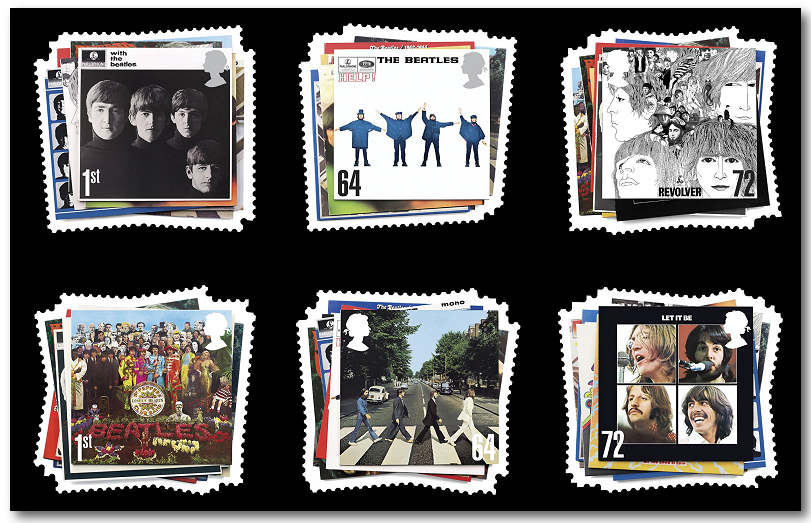 Great designs!
The albums depicted in order of denomination are "With the Beatles" on a first-class stamp. "Help!" is on the 64-pence and the groundbreaking 1966 album "Revolver" is depicted on the 72p. "Sgt. Pepper's Lonely Hearts Club Band " is on another first-class stamp.

"Abbey Road" (with the famous photo of the band walking across the street) is on the 64p and "Let it Be", released in 1970 after the Beatles broke up, is on the 72p high value.

The Beatles stamps, with their irregular self-adhesive shapes, are cleverly free formed around a crooked stack of albums.

Songwriter and singer John Lennon was shot to death in New York City by a "fan" outside his apartment on Dec. 8, 1980.

Lead guitarist George Harrison, sometimes called the silent Beatle, died of cancer on Nov. 29, 2001.

Paul McCartney has been heavily in the news recently with his acrimonious divorce from Heather Mills.

The British stamps have caused a minor sensation in New Zealand where even New Zealand Post has imported stock to sell to its own customers!


New Zealand Post's Stamps General Manager, Ivor Masters, predicts the stamps will be a big hit with Beatles fans there too.


"The Fab Four's music still resonates around the world decades after they split, so Beatles memorabilia is still extremely popular. As this is the first time Beatles stamps have been sold here we think they will prove to be just as popular as they are in England" he said.

Mr Masters says supplies of the stamps are limited in New Zealand. "But we will assess demand and order more stamps from Royal Mail should we need to."


In England the stamps have reportedly smashed the sales record for all earlier commemorative stamps.


The Royal Mail's Julietta Edgar said : "judging by the unprecedented response we have already received from collectors and the public, the Beatles' stamps are on course to be our best selling issue internationally."

"We chose to celebrate the Beatles because of their contribution to the world -- and that popularity has been demonstrated by the interest this stamp issue has received across the globe" she concluded.

The music sales success of these Liverpool "long hairs" is un-precedented in pop music history.
World Record
"Yesterday"

has been covered on disc over 2,500 times - more than any other song in the history of pop music.

The chart success of the albums depicted on the stamps was enormous.

"With The Beatles"

was just their second album release on 22 November 1963. That LP stayed at No. 1 in the charts for 21 consecutive weeks!

"Sgt. Pepper's Lonely Hearts Club Band" was released on 1 June 1967. It entered the UK chart two days later and stayed at No.1 for 23 weeks from 10 June 1967. Nearly 6 months on top.


Most new issue dealers will of course stock these issues. I noticed a great UK website offering these and all the associated material. Including THIRTY different pictorial FDI postmarks!

www.norvic-philatelics.co.uk

is the site, and Manager Ian Billings told me he had received orders from new customers all over the globe as the website got a high google match.

Lennon Stamp Album
Readers of my column may recall my reporting in mid 2005 that John's Lennon's childhood stamp album had just sold for $A73,377.


The photograph nearby shows the facing New Zealand pages of a clearly dilapidated album, one obviously formed by a youngster.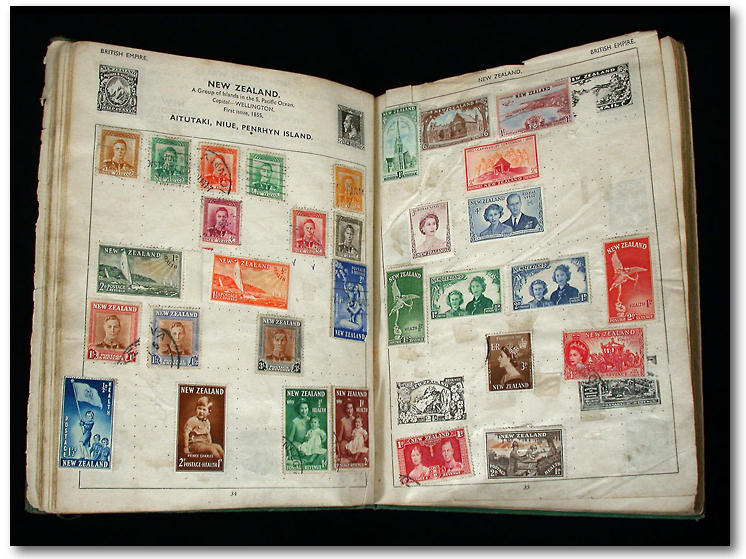 Sold for $A73,377


I see dozens, sometime hundreds of kid's albums a year that look very similar. In general they are worth from $1 to $10 each. Probably most of the readers of this magazine started their collecting interest via such an album!


Arthur Gray - whose amazing "Kangaroos' collection will fetch around $10 million at Shreves auction in New York as we go to press told me his collection started in such an album.

The Lennon album is dirty, dog-eared, creased and stained, and contains only a few 100 near worthless stamps, untidily arranged in no chronological order whatever.

Stanley Gibbons had the album for sale for £29.950 but refused to tell me who the buyer was. The Smithsonian National Postal Museum in Washington DC then publicly announced June 28, 2005 that they were the buyer.

On the album's title page, beards and moustaches are drawn in blue ink on the likenesses of British monarchs, including Queen Victoria and King George VI - an early sign of the famous Lennon irreverence!



Sold for 6,037 times Scott Catalogue
Our American cousins often do strange things with their money.

In recent times they are paying quite insane amounts of money for incredibly common stamps that are very well centred.

My past columns have reported auction multiples of 100 - then 338 times full Scott catalogue in April 2006. That is very old news. Now we have reached 6,037 times full catalogue value.

I get regular auction catalogues from Nutmeg Stamp Sales in the USA devoted primarily to such well centred USA stamps.

The January 27 sale got some truly nutty prices for very common stamps.

This piece does not criticise those selling the "100" stamps - that is just business, but is a warning to buyers that price multiples like this will be short lived, and prove a very costly mistake to the buyers.

The 1934 3¢ Mt. Rainier stamp illustrated nearby - Scott 742 was one that caught my eye. The Scott catalogue value for mint unhinged on this stamp in "very fine" centering MUH is 20c. That frankly is what I'd sell it for.

Indeed, I sell these things at or under face value in 1930's full sheet job lots - as do most other dealers, as they are very plentiful. Many possess quite excellent centering and appearance.

Scott has 20¢ as a MINIMUM book value on any stamp - not to reflect its actual worth, but as a dealer "handling charge" in effect.

This stamp just sold at public auction for $US1,050 plus the ubiquitous 15% "buyer fee" = $US1,207.50. The kind of money that I just sold a reasonable mint 1913 £1 Kangaroo at.

That is 6,037 times full Scott value. For an exceedingly common stamp of which over 95 MILLION were sold. Clearly many THOUSANDS of identical copies exist - simply as no-one has (yet) bothered getting numerical grading Certs done on them!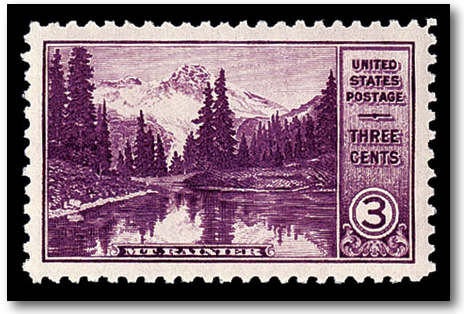 Sold for $US1,207.50!
The stamp was graded 100 out of 100. I certainly would not give it anything like a perfect grade, as I personally hate "hang-nail" corner perfs like this has at top right. In fact 3 of the corners I do not really like.

They visually detract from a "perfect" looking stamp. Well formed corners most certainly DO exist on perfect centred stamps. THEY might get a 100 score. But this one could most certainly be improved upon very readily.

The folks writing these Certs need to rapidly get a grip on reality. A "100/100" score indicates no finer copy can exist. With this copy I'd disagree with them most strongly. Thousands of copies would look better than this example. So how on earth did it get a perfect "100" score?

PSE appear to place no importance whatever on ugly, short or untidy looking perfs or corners in its "eye appeal" descriptor.

That in my view is a fatal flaw in their numerical grading system, if it is ever to be taken seriously on a global stage, and not become a laughing stock -

www.psestamp.com/eyeappeal.chtml

In 10 years time will the buyer of this stamp, or the buyer of my similar priced £1 Roo, or 3 of the USA 1847 5¢ imperf classics below be better off financially? The answer to that question dear reader, I will bet my house on.

For anyone seeking more information on where such unsustainable prices for common stamps will most certainly end up, please google the words "Dutch Tulip Boom."

To perfectly illustrate my point, the very same auction sale offered a most attractive, 4 very wide margin lightly used copy of the USA 1847 5¢ Ben Franklin imperf.

Scott 1B with 2006 PSE Certificate - no thins or repairs. It sold for $US350 plus fee on a Scott value of $US850. THREE of those for $1,050 plus fee, or the one 3¢ violet above for the same price - absolutely NO contest for a wise buyer.
Piece Of History
This is a shameless plug in one way for an item I have for sale - and an interesting record of philatelic history in another.

An English client recently asked me to sell on his behalf some documents apparently unique in private hands that relate to the later developments of postage stamps - and in part led to the American Revolution!

They are most unusual, and must be the oldest items I have ever offered for sale, so have summarised them here.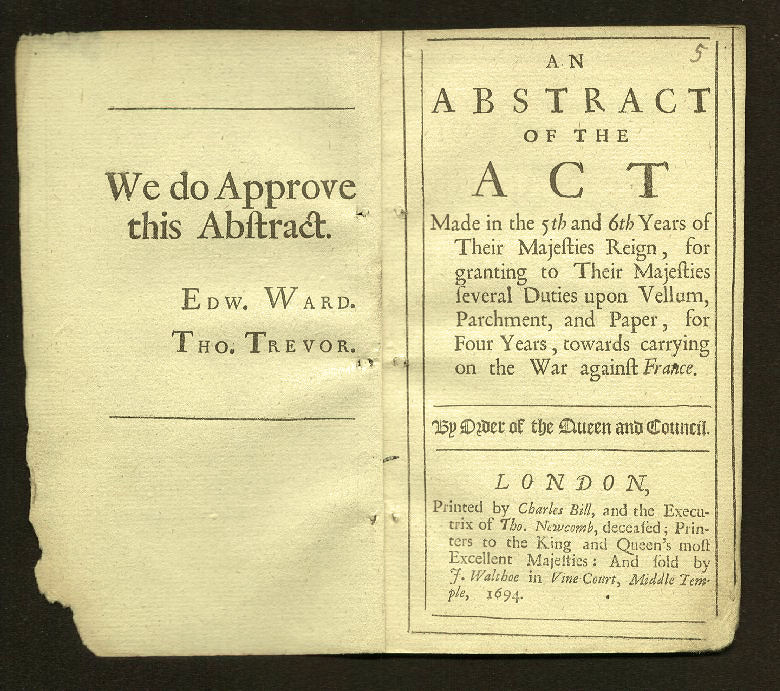 Rare survivor

He owns the official abstracts of the Acts that first sanctioned the use of duty stamps on various documents in 1694 ..... 76 years before Captain Cook first set foot in Australia!

They are not the far more common "Acts Of Parliament" extracts as typically appear on the market - one is a book, the other is a pamphlet. NO other copies are recorded in private hands of this historic pair.

These were the actual Acts that first initiated the use of Adhesive Stamps in Great Britain.

As many students of philately realise, the very first "stamps" were embossed on to "cypher" blue paper, which was attached to British documents used for a variety of purposes in payment of the official fee.

This was a revenue-raising operation to fund war with the French, and intended as a temporary measure. (Ho, ho,ho.) These documents were to put that process in train -

http://en.wikipedia.org/wiki/Stamp_Act

I am offering these 2 historic documents together as one lot on my website -

www.glenstephens.com/1694.html

- where much more detailed info is available.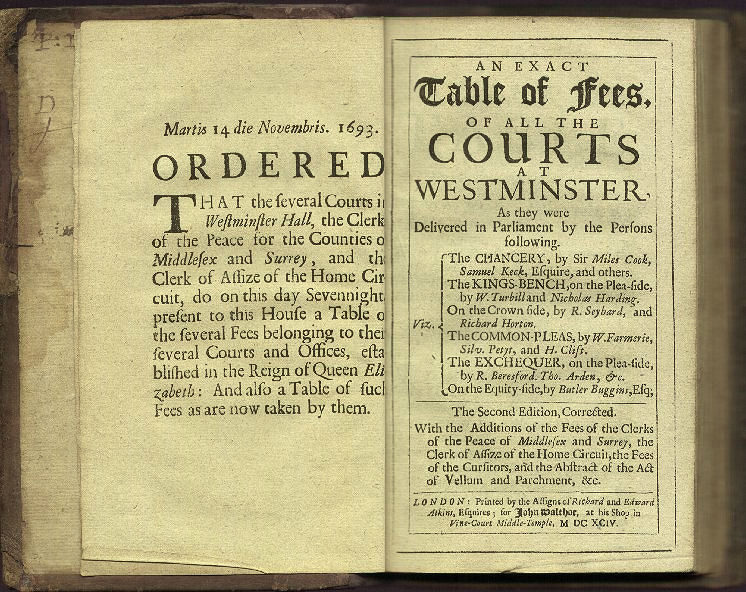 The first of these items I am offering was unsold in Stanley Gibbon's London 14th December 2006 auction (lot 922) where Gibbons placed an estimate of £15,000 to £17,000 (=$A37,500 to $A42,500) upon that single document .

The text was illustrated in colour in the auction catalogue on plate 4, and in 'Gibbons Stamp Monthly' (November 2006, page.30, UK edition). The full SG Catalogue description is on my website. The document is a 27 extensive page item, with a 4 page supplement.

The second item I am offering along with it, is considerably rarer than the one Gibbons ran to auction. It is unlikely that both variants will ever
appear for sale together again. The seller bought both separately, and it is believed this is the first time a private collector has owned both at one time.
Philanthropic Fodder?

Someone may care to buy them and donate them in the philanthropic tradition to a National Postal Museum or similar body, and take the tax deduction for their "assessed" value? I feel sure many qualified appraisers would rate their value to be several times my asking price, especially if given the Gibbons auction estimate as a recent price reference guide.

These are the key texts for any English Revenue collectors - indeed for serious stamp collectors. And would make for a most impressive - and unique - preamble to any classic exhibit in this field.

There are NO "Private Collection" copies listed in the English Short Title Catalogue. (ESTC) There may be other (unknown) copies held privately, but it is not likely, and the highly respected ESTC is a good indicator of rarity. The 'book' copy (as opposed to the 'pamphlet' copy) is exceptionally rare.

Of the main text the only other copies recorded are at the Bodleian Library, Oxford, and at the Folger Shakespeare Library. HOWEVER, the Folger copy is a fragment, being only the third part. (The Bodleian Library is the main research library of the University of Oxford.)


Thomas Arden
One of the 1694 texts mentions a Thomas Arden. I am not sure if this might be one of the landed gentry Ardens - Shakespeare's mother's family. More research would be needed. However, if so, that would be the icing on the cake. (Mary Arden was William Shakespeare's mother.)

If any research minded reader knows more on this - please contact me! A fragment of this same document is in the impressive Folger Shakespeare Library in Washington DC, hence my strong suspicion of the direct family connection.

These documents were written just 28 years after the Great Fire Of London - which is mentioned in the text - some records were lost in the fire and they have pieced together what they could when compiling the work.

The small "holes" you can see in the photo by the central spine, are the original "stab holes". When pamphlets were printed they were folded and 'stabbed'. They could then be held together with cord through these holes when the leaves were slit on the edges to separate them.

They are gorgeous. Well over three hundred years old, yet written in English, and are proper working texts, describing the operation of the basic services of legal and economic administration.

The actual officers that dealt with the taxes and fees are named in the 'Exact Table of Fees' (including Thomas Arden!)










Get my regular market update emails FREE. Stamp gossip, price trends, record sale prices, and many one-time stamp specials, wholesale bargains, and exciting offers and breaking philatelic news. A mini stamp magazine in every email! "KNOWLEDGE IS POWER". The ONE stamp list you MUST be on, to keep in touch with the rapidly changing world market. One client made $65,000 profit in a few months after following my specific advice. Sign up securely and quickly by clicking HERE to access my automated data base. And wiser still ADD your home AND work email, if I only have one right now. Add a stamp friend's email address if you wish. One short click and you are subscribed to probably the most read email list in the stamp world!


Instant Currency Conversion


FREE! Just click here... see exactly what my lots cost in your currency.




If you would like to be notified of updates to this website, Click HERE.

If have any questions,
or comments regarding my site, please email me at glen@glenstephens.com


I am a Member Of
Full Time Stamp Dealer in Australia for over 25 years.
Life Member - American Stamp Dealers' Association. (New York)
Also Member of; Philatelic Traders' Society. (London) ANDA. (Melbourne) American Philatelic Society, etc

GLEN $TEPHEN$
Full Time Stamp Dealer in Australia for over 25 years.
Life Member - American Stamp Dealers' Association. (New York)
Also Member - Philatelic Traders' Society. (London) ANDA. (Melbourne) American Philatelic Society, etc

ALL Postage + Insurance is extra. Visa/BankCard/MasterCard/Diners/Amex all OK, even for "Lay-Bys"! All lots offered are subject to my usual Conditions of Sale, copy upon request .
Sydney's BIGGEST STAMP BUYER: Post me ANYTHING via Registered Mail for my same-day cheque. Avoid the
GENERALLY 40% Auction " Commissions" (15% + 17½ + GST, etc.) AND their five-month delays! Read for details.
"Lothlórien", 4 The Tor Walk, CASTLECRAG (Sydney), N.S.W. 2068 Australia

Phone 7 Days: (02) 9958-1333 Fax: (02) 9958-1444 ( Contact me FIRST before sending a fax please.)
E-Mail: glen@glenstephens.com The Number #1 Web Site: www.glenstephens.com

all my International stamp magazine articles.
Click here to ORDER on-line ANY items from ANY of my dozens of lists
Click for all info on Conditions Of Sale, Payments, Shipping, Returns &c
Visit my Red-Hot new page on *RARITIES* - Roos & other very expensive photo items.
Click here to get back to the main www.GlenStephens.com Homepage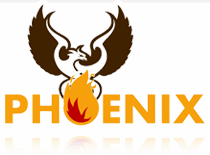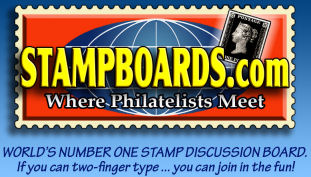 Instant Currency Conversion


FREE! Just click here...


E-mail me at glen@glenstephens.com -
Every credit card shown is accepted WITHOUT fee.
Earn Frequent Flier points while buying at bargain prices!
ALL prices are in weak Ozzie Dollars. I charge NO nasty, nasty
"Buyer's Commission" on stamps like nearly every "Auction" does.