Click To Go Back To The Main www.GlenStephens.com Stamps Homepage


Welcome! You are visitor
to www.GlenStephens.com




Glen Stephens
Monthly "Stamp News" Market Tipster Column


May 2009

---



Mail Volume In A Tailspin



Do you get as much mail in your post box as you did 10 years back?

I certainly do not.

Nearly all communication reaches me via email or phone these days.

I see very few cheques mailed in these days – nearly all clients pay via credit card over the phone, or credit card via email or, make a direct deposit into my account - or use paypal to do essentially the same thing.

All dealers will tell you the same.

I seldom get account statements at home. Even public companies often do not mail the huge Annual Reports they used to – they make them available on line.

Most of the DOZENS of airline and hotel frequent flier/stayer schemes I am a member of all got cunning years ago to give members a few 1000 bonus points if they opted to receive account balance statements and promo material via email instead of the VERY costly monthly postal method.

It all adds up to a TON less mail reaching my letterbox each year. And I am sure every reader here experiences the same thing.
Very bad news
This is all TERRIBLE news for all postal administrations of course.

I assumed they'd be seeing a slight, but continuing decline in mail use each year.

Many Post Offices do not make recent figures available but in a recent "Linn's Stamp News" I was amazed to see how dramatic the downturn is in the USA.

Their decline there has been spectacular.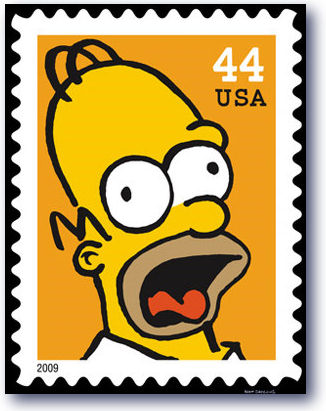 In the first quarter of fiscal 2009, mail volume in the USA dropped a whopping 9.3% compared to the same period in 2008

This was the eighth consecutive quarterly mail volume decline, and the sharpest drop seen in this current streak, according to Anthony Morrow, Manager of the USPS Budget and Financial Systems.

First class mail volume was down 7.2% from fiscal 2008 levels, and advertising (or "junk") mail plunged by a huge 11%.

These drops occurred much faster than the USPS could cut its costs, leaving it with a nett LOSS of $US384 million for the quarter, compared to a PROFIT of $US672 million for the first quarter of fiscal 2008.

That is more than a $US1 BILLION a quarter see-saw, from profit to loss in one year.
Don't Touch Saturdays!
One measure that USPS pushed for to cut costs, was seeking Congressional approval to cut mail deliveries from the present 6 days a week. That is, to restrict them to, as they have been here in Australia for decades - to Monday to Friday.

That idea spooked rank and file Congressmen, and gained virtually no support at all in Washington, as it would have meant voter backlash.

So the Post Office has its hands tied behind its back with making obvious savings measures like that, and needs to keep trying to make more and more money from things like special stamp sets and Philatelic sales.

To this end it is probably no co-incidence, that the strangest looking US commemorative set ever, is to be released by the time you read this.
Springfield Strikes Back
The USPS has announced that the FOX television series "THE SIMPSONS" will be commemorated on a set of 44¢ First-Class Mail stamps to be issued May 7.

Featuring Homer, Marge, Bart, Lisa and Maggie Simpson, the stamps have been personally designed by Simpson's creator Matt Groening.

Winner of 24 Emmy Awards, a Peabody Award and a multitude of other accolades, this historic series set in Springfield and starring the five family members, is the longest-running primetime comedy in television history.

Now running for 20 years it has beaten out the long record held by "Gunsmoke" as the prime time TV long term stayer!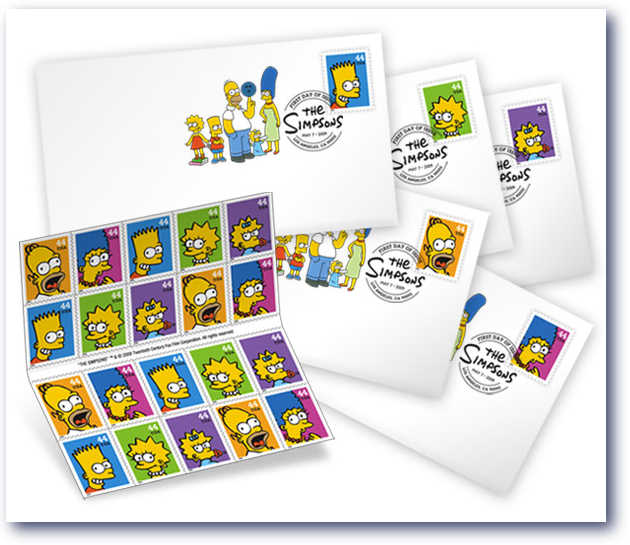 Bart Simpson To The Rescue
"We are emotionally moved by the Postal Service selecting us, rather than making the lazy choice of someone who has benefited society," was the typical tongue-in-cheek comment from James L. Brooks, executive producer of The Simpsons.

The USPS receives approximately 50,000 suggestions for stamp subjects each year, yet only about 20 topics are selected for postage

Another "First"

"The Simpsons" is the only television show to be featured as the sole subject of a stamp set, while still in prime time production.

The strong and simple stamp graphics will mean these stamps will really stand out on mail.

Hopefully all the hoopla the USPS is generating in the wider USA media will attract a lot of casual buyers to these stamps. and create a lot of use of them from fans etc.

This kind of thing is good for stamps and collecting, and I hope it is a huge success in the USA - and elsewhere, as all new issue dealers will stock up on this one, I can bet!

Any American company involved in direct marketing could do a LOT worse than buying millions of these to use on the direct mail pieces.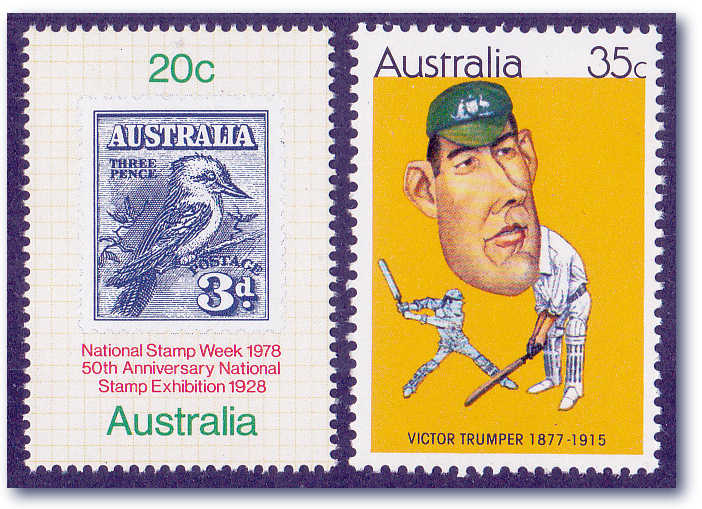 Smart Marketing Tactic

Large direct mail companies have proven for decades that the "open" rate for such mail is many times that of "Postage Paid" frank imprints etc.

Yes it costs more to affix stamps, and yes they lose the bulk mailer discounts, but if their business gets twice as many mail pieces being opened up, it is a very small extra cost to pay.
One company in Sydney buys 1000's of mint Australian stamps off me each month for this very purpose - see www.glenstephens.com/postage.html

They are usually stamp issues going back to the late 1970s and 1980s that they pay me WAY under face for, so their affixing costs and loss of bulk mailer discounts is more than offset by that large saving.

Their tell me their research shows that an envelope arriving with a couple of colourful and interesting looking old stamps to make up the 55c domestic rate, ALWAYS gets a more receptive client response than one with a single 55c current issue.

And BOTH work far better than any of the many kinds of "Postage Paid" imprints.

This is good for stamps as people do save these oldies off their mail, and it helps slowly but surely soak up all those "Boom-Time" stamp issues off the market.

As the PO does not sell any postage stamp below 5c face value, and has not for many years, they seem perfectly comfortable to allow "rounding up" occur to the nearest 5c, as occurs in supermarkets each day in Australia.

Two 27c stamps seems perfectly fine to pay the 55c rate - or likewise a 30c and 24c – and all of these 3 values are about in massive quantities from the "Boom" era - very often in full sheets as they were the letter rates for years.
Australian Decimals used on cover


Now call me old fashioned but until recently if I bought Decimal Australia covers in an estate that were franked with generally common stamps I ignored them.

Single use of Xmas stamps, or the common 1980s "Bird" Definitives etc that are worth 5c a stamp when used, simply did not raise any interest from me.

Indeed only a year back I sold an entire garage full of such covers in about 28 cartons plus other containers, for just a few $100 the lot – www.ughani.notlong.com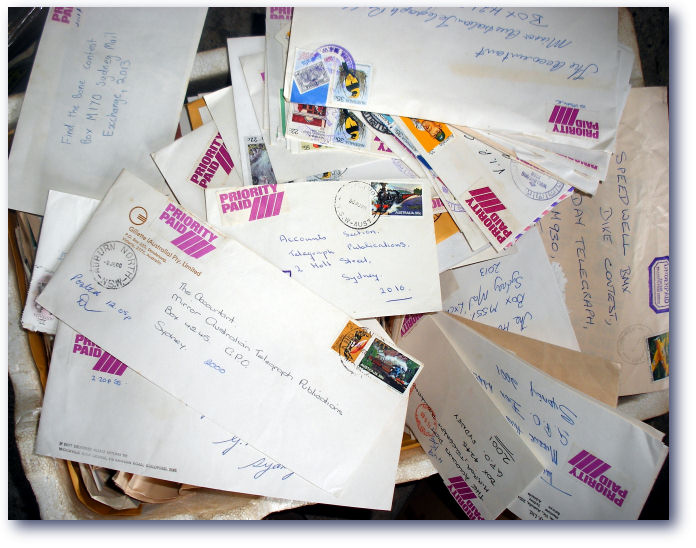 Sold for a pittance


This had cartons of Registered, Certified, Express, Priority, unpaid, Return To Sender, and taxed covers etc, going back to about 1980.

They all came from News Limited, and the seller was Rupert Murdoch's driver at the time, so he seems to have had first pick of their inwards mail!

Even over that short period of time, I would now gladly BUY it all back at more than TREBLE that figure! Why?


As collecting common looking commercial mail COVERS has gone nuts in this country in the past year or two.

"Stamp News" columnist Rod Perry has been pointing out the real scarcity of many of these real commercial uses for some time, and a small but very keen band of collectors has taken on this challenge of collecting real usages.

Stampboards.com has a large number of discussions with endless photos, of the many real mail uses of the different series of Decimal stamps.

The 1966 Fish, Birds and Navigators, the 1971 Christmas singles, the 1980s "Bird" Definitives etc, etc.


Senior collectors love these things!


Many of the discussion threads are started by a member there called "didge" whose main collection is specialised Kangaroo & Map stamps.

Other keen contributors are members like "Pertinax" whose primary stamp interests are early Great Britain line engraved QV classics.

One member "GJ50" is President of the APF, and an International FIP Judge, and mainly collects early Aden and other very specialised fields.

There are other keen contributors to the threads like "Norvic" who is Ian Billings from the UK, who runs a specialised modern FDC and Machin business.

And there are other keen contributors from Germany, Canada, the USA and Austria …. there is now a global following for this material.

It really seems this is an interesting, and challenging field that folks from all collecting backgrounds enjoy – and that as yet is not too expensive – and great finds are very possible.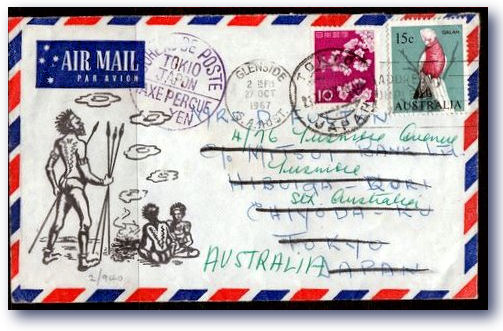 THIS is worth $200+?
However a global following, even a small one - means high prices follow - as sure as day follows night.

Covers I would have left in boxes from estates a few year back, now routinely fetch 3 figures.

The 15c Galah on cover shown nearby, mailed to Japan sold for over $A200 on ebay recently, as solo use of that 15c to Zone 3 (North Asia) is not common. On cover.

Buyer was member "didge" above, and he needed to outbid another stampboards member "dwhopper" from Canada (and others!) to get it.

I have to be honest, and say even today if I saw this kind of thing in a box I'd probably leave it there.

Otherwise common looking sets like the 1978 Trees are scarce, with the separate values being used solo on covers to the zones and the rates they were intended to be used for.

Oddly only a few examples are recorded worldwide of the 45c "Trees" value, which should be common as it was the airmail letter rate to Europe – Zone 5.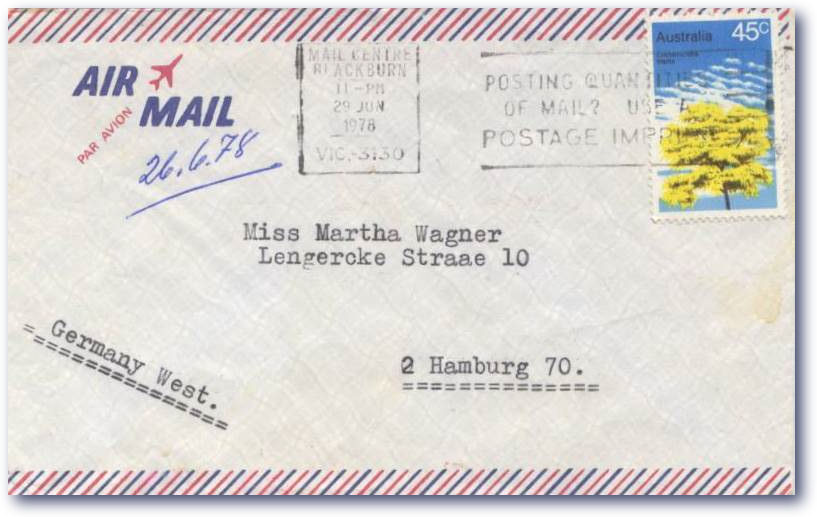 A modern rarity


Even things that SHOULD be incredibly common like singles of the 1971 x 7c Christmas stamps are most elusive – used on COVER.

It seems a full set of the 7 single stamps on 7 covers is a VERY hard group to assemble.

Stampboards member "fromdownunder" researched the stamp numbers issued.

There were 110 million of these 7c stamps sold altogether - 99.2 million on cream paper, and 10.7 million on the "white" KP5D paper. The usage singly on Christmas cards would have been near the only rate these fulfilled.


Quantities for each of the seven also differed considerably, because of the bizarre format of 7 identical designs but in different colours, that made up each Post Office sheet of 100.

For 5 of the stamp colour combos, there were 16 of each, per sheet of 100, for one there were 12 per sheet, and for the seventh, there were 8 stamps per PO sheet.

Actual quantities issued for each would have been: for 5 of the colour types - 17.6 million each, 1 scarcer design - 13.2 million, and the most "scarce" design - 8.8 million.

With the smallest number being near 9 million used, and most of them being used in 17.6 million runs, you'd imagine that finding the set of 7 on covers would be a cinch.

Just try doing that!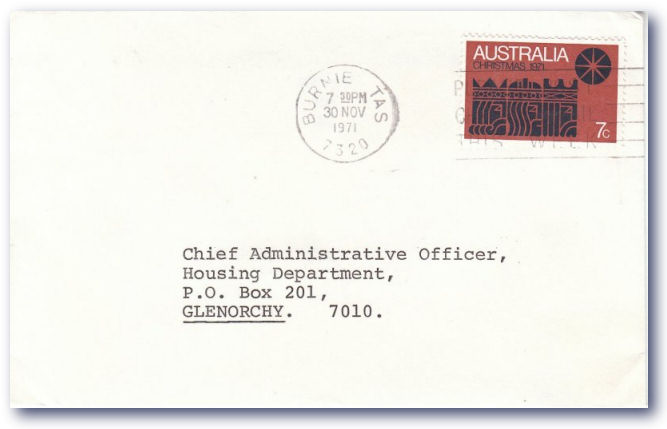 Try finding all SEVEN on cover!


I'd bet I could get $75 a set very readily for a clean set of 7 covers used to mail greeting cards.

However over the years I must have neglected even looking at, much less removing for stock, the 100s that were in mixed junk lots and Estates I have handled.

Disclaimer ... I have no sets of these Xmas stamps, nor 45c Trees, nor 15c Galahs on cover – so please do not ask me.

I am simply pointing out these are a fast emerging new collecting field, that really seems to be catching on very widely – on a global level.

Many senior collectors I am surprised to have discovered, find these very interesting and challenging, and are flocking to this field.

I must stress the absolute key here is paying the CORRECT postage rate, to a non philatelic recipient, using stamps franked in the CORRECT period of their issue. Philatelic use a decade later is not counted!

Right now there ARE chances of finding these kind of things in dealer 50c and $1 boxes, or junk lots etc, or at shows - that in a few year's time might be worth many $100s each.

Remember the ACSC Cat does list and price EVERY Australian decimal stamp on cover, and their pricing is done with the aid of Rod Perry and others, and is quite accurate.

UP, UP ...... and AWAY!!!!!

On March 18, Mowbrays Australia in Sydney auctioned the cover illustrated nearby.

It sold for an amazing $A190,800 including Buyer Premiums – nearly five times the hefty looking $40,000 pre-sale estimate. .

It is the only cover addressed to Australia from the famous Siege of Paris. It was sent out in 1870 aboard the Balloon "Armand Barbes".

That balloon coincidentally, also had on board Leon Gambetta, Minister of the Interior, who was on his way to establish the Government of National Defence at Tours.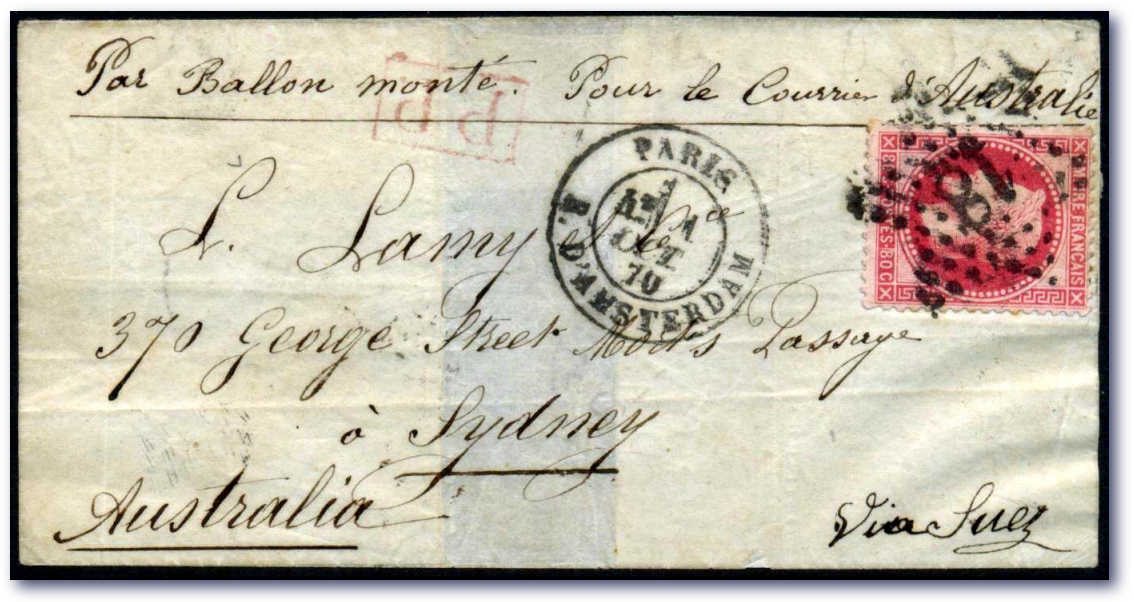 Balloon Monte - sold for over $190,000

This cover is addressed to "L. Lamy and Co", who were importers of French millenary goods, in Pitt Street, Sydney. It reached Sydney on the "RMS Rangoon" via Suez.

This cover was part of a superb France collection belonging to legendary collector W.M. Holbeach.

He was well known in the 1940s to 1960s for his fabulous collection of Australia Commonwealth which was auctioned by Christies in the 1970s.

I have learnt the telephone under-bidder was a well known Melbourne collector, who apparently wanted the item for his collection of: "Inwards Airmail Covers to Australia". It would have looked nice on his first page.

The buyer flew out from France just for the sale, and took the cover back with him to France.

I am advised via generally reliable sources that French President Nicolas Sarkozy requested an auction catalogue.

President Sarkozy has turned into a manic stamp collector it seems – as reported in detail in my column last month.

My guess is that if he does not own this cover now, or a French Institution does, one or the other will occur soon.

With total sales of $810,000 at this Mowbray's sale, the "global financial crisis" seemed like something from another world.

It simply confirms and reinforces the long held axiom that stamps, coins and collectables traditionally do well during time of economic duress.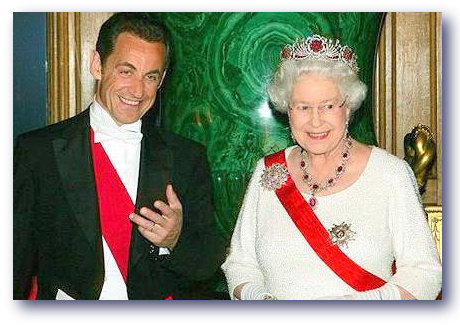 President Sarkozy and Her Majesty.









Get my regular market update emails FREE. Stamp gossip, price trends, record sale prices, and many one-time stamp specials, wholesale bargains, and exciting offers and breaking philatelic news. A mini stamp magazine in every email! "KNOWLEDGE IS POWER". The ONE stamp list you MUST be on, to keep in touch with the rapidly changing world market. One client made $65,000 profit in a few months after following my specific advice. Sign up securely and quickly by clicking HERE to access my automated data base. And wiser still ADD your home AND work email, if I only have one right now. Add a stamp friend's email address if you wish. One short click and you are subscribed to probably the most read email list in the stamp world!


Instant Currency Conversion


FREE! Just click here...




If you would like to be notified of updates to this website, Click HERE. If have any questions,
or comments regarding my site, please email me at glen@glenstephens.com
| | |
| --- | --- |
| | Search all my 300+ web pages! Simply type in what you are looking for. "Penny Black", "Latvia", "Imprints", "Morocco", "Fungi" "Year Books", etc! Using quotes ( " ) is more accurf used with no quotes. Search is NOT case sensitive. Tip - keep the search word singular - "Machin" yields far more matches than "Machins" etc. |


I am a Dealer Member in Good Standing Of:

Full Time Stamp Dealer in Australia for over 25 years.
Life Member - American Stamp Dealers' Association. (New York)
Also Member of: Philatelic Traders' Society. (London) ANDA. (Melbourne) American Philatelic Society, etc
GLEN $TEPHEN$
Full Time Stamp Dealer in Australia for over 25 years.
Life Member - American Stamp Dealers' Association. (New York)
Also Member - Philatelic Traders' Society. (London) ANDA. (Melbourne) American Philatelic Society, etc

ALL Postage + Insurance is extra. Visa/BankCard/MasterCard/Diners/Amex all OK, even for "Lay-Bys"! All lots offered are subject to my usual Conditions of Sale, copy upon request BIGGEST STAMP BUYER: Post me ANYTHING via Registered Mail for my same-day cheque. Avoid the GENERALLY 40% Auction " Commissions" (15% + 17½ + GST, etc.) AND their five-month delays! Read for details.
"Lothlórien4 The Tor Walk, CASTLECRAG (Sydney), N.S.W. 2068
Phone: (02) 9958-1333 Fax: (02) 9958-1444 (Both 25 Hours, 7 Days!)
E-Mail: glen@glenstephens.com
Web Sites: www.glenstephens.com www.glenstephens.net or www.australianstamps.net