KGV 'Penny Red' smashes price record.
The primary thing I love about working in the stamp business is that you ALWAYS are hearing about new discoveries and finds and ANY of us might be the next one to stumble on a major rarity!
One such major discovery was unearthed this year – 88 years since the stamp was issued.
Adelaide stamp dealer Steve Meharry was phoned to appraise a stamp collection owned by a 90 year old local man.
Meharry visited the long time collector and inspected the rather average Australian and general world collection that was primarily housed in one album, plus the usual few cigar boxes of odds and ends. He made an offer for the lot that the collector declined.
Undeterred, Meharry noticed a few nicer things he did especially want, and made a good offer for those and the collector happily accepted as 99.99% of the collection was still in his possession. Where it remains today.
Meharry told me today he estimates the balance was worth about $1,000, so this was not a major collection.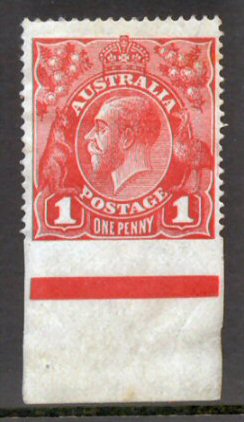 Single Australian 1915 KGV "Penny Red" stamp fetches $48,400 at auction
Cost original buyer £6
The only stamp that really stood out was an Australian 1915 KGV 1d dull red which was imperforate at base. On the album page the collector had pencilled alongside: 'Rubens Sharples £6'.
Sharples was a well known Adelaide stamp dealer in the pre-war era, and operated a retail shop from Hindley Street.
Meharry is director of a long established stamp Auction house, Philatelics (Australia) Pty Ltd and placed the stamp in the October 16 auction with an estimate of $30,000.
The stamp is not in perfect condition, having a bad brown tobacco stain on the gum of the imperforate margin, had several heavy hinge remainders and other minor blemishes. But facially it is most attractive.
The current (2001) Australian Commonwealth Specialists' Catalogue lists only a used block 4 imperforate at base, cancelled Mackay Qld, March 5, 1914 as ACSC 71b, with catalogue value of $4,000.
I have not sighted this block, but understand a leading KGV specialist is of the opinion that the lower selvedge is not sufficiently wide to warrant the used block being a true 'imperforate at base' error. This block is possibly just a (striking) jumped perforation error – not uncommon at all on this wartime issue.

A possibly unique mint example of an attractive error from the highly collected stamp issue in the world is quite a find.

The stamp sold for $A44,000 plus 10% commission for a total cost price of $A48,400. (About $US33,400.) Dealers and collectors worldwide both bid keenly for this item. It is a world record price for a single Australian Commonwealth stamp.

Meharry told me today: 'we are delighted with the price, and are pleased to have introduced to the market a stamp never previously recorded'. The auction has no website. Contact address for the company is stevem@philatelics.com.au
This stamp was auctioned with no certificate of genuineness - something strangely common with the major priced pieces in this country. Wide imperforate at side errors are of course not possible to fake successfully.
The record price is additionally significant bearing in mind this stamp is not, and will not be catalogued by either Stanley Gibbons or Scott. Neither publisher lists or prices foreign stamps imperforate on just one side.
Leading Australian stamp errors dealer Simon Dunkerley predicted well before the sale it would sell for a record price, and told me he would have gladly paid the $A30,000 price plus buyer commission right up front.
The buyer was Melbourne dealer Gary Watson, owner of Premier Philatelic Auctions. 'I bought it on behalf of client' Watson told me today. 'We auctioned the previous price record .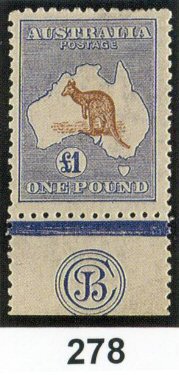 That same auction saw us achieve a then world record price for an Australian stamp item, of $A96,800 for a 2/- Kangaroo strip of 3 imperforate three sides. Neither of those pieces had been seen by collectors or dealers for over 60 years.'

(See front cover Linn's Stamp News story - https://www.glenstephens.com/linnsJune4-01.html )

This $48,400 is clearly a record price for ANY single Australian Commonwealth stamp, although the $217,898 obtained March 20, 2003 at a Spink London auction will take a lot of beating!
That price was for the tête-bêche mint pair of the 1930 2d Red KGV. This was nearly THREE times the catalogue price in the then newly published ACSC catalogue! (See my front cover Linn's story - https://www.glenstephens.com/linnsMay5-03.html )

It is my professional opinion that ten years ago this same stamp would not have reached even 10% of this sum, such is the strength and maturity of the top end Australian stamp market in the past decade.
The KGV 'Penny Red' is the most collected and most studied individual stamp in history. The issue of this stamp coincided exactly with the 1914-18 WWI period, and the disruption in supply of ink and paper from Europe produced thousands of catalogue varieties and hundreds of recognised 'Red' shades.

I typed and circulated this story to national media. Several of them quickly published feature stories on this record breaking sale. Including the 'Adelaide Advertiser' - the main Sth Australia newspaper 21-10-03, and "The Australian" 21-10-03. This is TERRIFIC national publicity for stamp collecting!


Stamps for Greece Gold Medal winners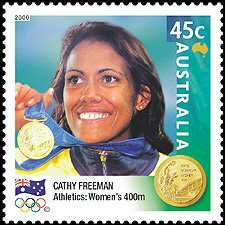 2000 Cathy Freeman Gold

Australian athletes who win Gold at next year's Athens Olympics will again be honoured on a special commemorative stamp from Australia Post.

The Gold Medal stamp is part of a new sponsorship agreement with the Australian Olympic Committee.

'We are proud to partner the Australian Olympic Team in Athens and again introduce the gold medal stamp which was an outstanding success at the Sydney Games and the Salt Lake Winter Games' said Graeme John, Managing Director of Australia Post.

Announcing the new sponsorship agreement today, Australian Olympic Committee President John Coates said: 'Australia Post is an Aussie icon and the Gold Medal stamp is a fitting honour for any athlete to receive. I know past winners treasure their framed memento of their special stamp'.

'More importantly Australia Post has been a long-time supporter dating back to 1992 and we are delighted they have decided to continue that Olympic tradition. We are taking about 500 athletes to Athens and we feel AP is the ideal partner for our Team, they are big, mobile and always get the job done' Coates said.

The program is also a great incentive for the athletes with Gold medallists paid $20,000 each for the use of their image.

The scarcest Australian decimal issue for the past 30 years is the sheetlet of 16 Australian Gold Medal winner stamps, plus the Cathy Freeman torch lighting issue, which sells retail for about $100. The sheetlet was only available in the 2000 PO year album.


'Solo' use on cover popular
A fast emerging collecting trend is higher face value Australian stamps used "solo" on cover paying the correct rate.
This has been a rage in the USA in recent years and many of the 1938 Presidential series of 32 different ('Prexies') bring $1000s when used 'solo' on cover.
This is an area for collectors seeking a new challenge to consider. Rodney Perry's monthly column in 'Stamp News' has highlighted this area well.
Even common looking decimal era definitives on correct rate solo use covers are increasingly sought, and 3 figure sums for some rather "ordinary" looking covers is not unusual these days.

This cover below has an estimate $2000.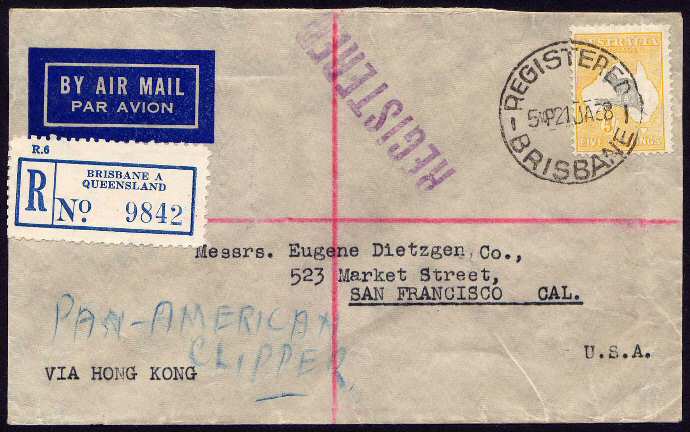 One such 'solo' use cover caught my eye this week. It is a 5/- Roo used in 1938 to pay the correct 4/8d per ½ oz 'California Clipper' airmail rate to USA and 3d Registered fee and 1d 'Late Fee'. Total correct fee = 5/-.
This was just one choice item in the October 22 Millennium Auctions Rarity Sale in Sydney.
What a wacky routing that seems to us today – Brisbane – Hong Kong – Hawaii – San Francisco. The cover has what I consider enormous 'eye appeal' - with a lovely mix of colours and markings, and the estimate was $2,000. A few years ago it would have been 10% of that sum.
More importantly - soaked off cover the CofA watermark stamp would be worth less than 1% of that $2000 figure!
I have been selling a lot of the $20 Painting definitive from my website used 'solo' on Tax Pack covers. Such a quirky use, especially being on Australia Post logo envelopes will be sought in years to come, as it is about the only 'solo' use for a $20 I can think of! https://www.glenstephens.com/cover.html
Sydney not Melbourne for big 2005 Stamp Show
The 'Pacific Explorer 2005' Organising Committee has given detailed consideration to a request from Australia Post to stage it in Sydney and has secured two halls at the Sydney Exhibition and Convention Centre in Darling Harbour from 21 to 24 April 2005.
This change of venue from Melbourne has received the support of the philatelic community in Sydney and meets the objectives of Australia Post in further developing the philatelic market in Australia.

'Pacific Explorer 2005' will have a theme of exploration of the Pacific Region. Entries will be invited from member countries of FIAP, Pacific-rim countries and countries with an historical link with Pacific exploration. In all, 33 countries have been invited to participate. All the FIP philatelic classes will be catered for.
Richard Juzwin pricelist
Juzwin's Australasian list has always been the price backbone of this industry. The list is comprehensive, and accurately reflects the ever-changing market from a dealer who knows exactly what is going on.

I received the 2004 pricelist this week, and urge you – whether buying or selling to obtain one by contacting him via the back cover ad contact points. (I understand there is even a possibility subscribers may receive one with a future magazine.)

On a quick look I was amazed at how strong the price increases have been for many better Kangaroo 'basic' stamps.


Being lazy the last list I have here was his 1999 edition. A £1 bi-colour Roo cheapest type (SG #44) was $A975 that recently and is now $A1,850 or near double.

Even far more common items like the cheapest 10/- Kangaroo (CofA, SG #136) is up used from $120 to $195. There are many other large price rises. If you have gaps fill them NOW. Money in the bank gets only a couple % interest after tax, and these stamps go up 30% a year in some cases.

One stamp I tipped strongly back in 1999 - the 1929 10/- Small Multiple watermark roo (SG 112) is up nearly 50% whether MUH, hinged mint or used.

Overprinted 'Specimen' that stamp increases near 70% from $225 hinged to $375, and this is STILL ridiculously low priced buying in my view. Order EVERY nice copy Richard has at that price, and I bet you do not get more than 2!

I have strongly 'tipped' this Specimen several times in the past and in my view it is THE most underpriced Kangaroo issue by a very LONG way.

Modern research by editor of the ACSC, Dr Geoff Kellow has shown only 1,920 copies were EVER issued in this watermark, and many of those went to officials and other Post Offices.

To compound scarcity, there were 2 different overprint types in that low 1,920 number. A price of $1,000 hinged for cheapest type is CORRECT in my view, so this stamp has about 300% left to increase!