Click To Go Back To The Main www.GlenStephens.com Stamps Homepage

Welcome! You are visitor
to www.GlenStephens.com

October 2015

---
Gray Australia "KGV" Auction
Some huge prices are expected when Arthur Gray's "KGV" International Large Gold Medal Exhibit collection goes under the hammer October 30th at mossgreen auctions in Melbourne - a merger of Charles Leski and Prestige Auctions essentially.

I estimate that the invoice total of the sale when the Buyer Fee, GST taxes and credit card fees are added, will be approaching $A5 million. Not too shabby for the stamps of just one monarch's era, from one country! Indeed there are no KGV era Kangaroos here - they sold years back for $A7.15 million.

This sale is a combination of TWO of the many Arthur Gray collections – the "Australia KGV Definitive Stamps" and the "KGV Commemorative stamps".

They earned TEN International Large Golds between them. And many International Golds, and many top national awards too. Not bad for a bloke who had never exhibited until 17 years back.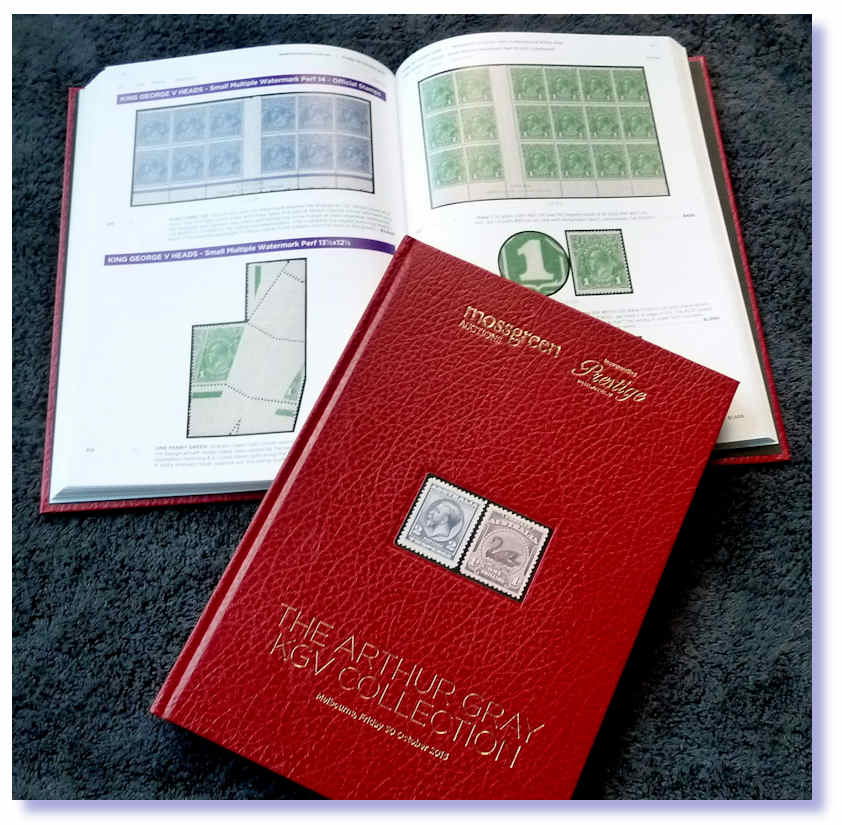 An essential KGV colour reference.
Arthur passed away on May 22, and this sale was in the pipeline well before that. A huge loss to the Stamp World globally, and a full summary of his stamp achievements and funeral is at - tinyurl.com/ArthurRIP

Many of the key items were shown in my column last month, and now extra photos are to hand, I am pleased to be able to share a few more with readers, as promised. Much of this material we will not see offered again in our lifetime, I am sure.
Classy hard bound "Leather" Cat.
The superb Auction catalogues are a classy hard bound "leather" cover look, much like the Shreves "Arthur Gray Kangaroos". Gary Watson advised me today they will cost $A100 plus postage, to mossgreen non-subscribers, who want one for reference, as production cost was very high.

I ordered a few cartons in, as they, like the Gray "Kangaroos", will be stand-alone reference works for decades to come. Mine will also be the same $100 until the mossgreen stock is sold out. General auctioneers tend not to keep many extra copies of past sale catalogues.

I sell the "Kangaroos" for $150 as often as I source them, and to this day, 8 years on, use mine every week to look up something. These are essential reference books in their own right, so $A100 for the "KGV" is a very wise buy – indeed only $US70 to an American!
New info on this block in Catalogue.
Never assume ANY stamp auction website will be there in future. They disappear all the time due to closures and mergers etc. All the fancy flip-book catalogues on the Charles Shreve website totally disappeared some years back, Gray "Kangaroos" sale included, so owning the printed catalogue is a MUST.

"KGV" at 270 pages in hardbound form, no other stamp auction catalogue from ANYWHERE globally is better quality. This is truly a "KGV" handbook, with large scans on every page. When the prices realised pages are added, it will be an essential reference book to own.
More a "KGV Handbook".
The characteristically wordy Gary Watson describing style adds more than just catalogue numbers and condition notes to each lot. The detailed background data is often outlined nowhere else, and again makes this a "KGV handbook" as much as a sale catalogue,

This opus work has been underway for several months, and had input from many of the great minds on KGV material, and expert dealers, and I'd suggest no sale catalogue ever produced locally has had as much a varied contribution base as this one.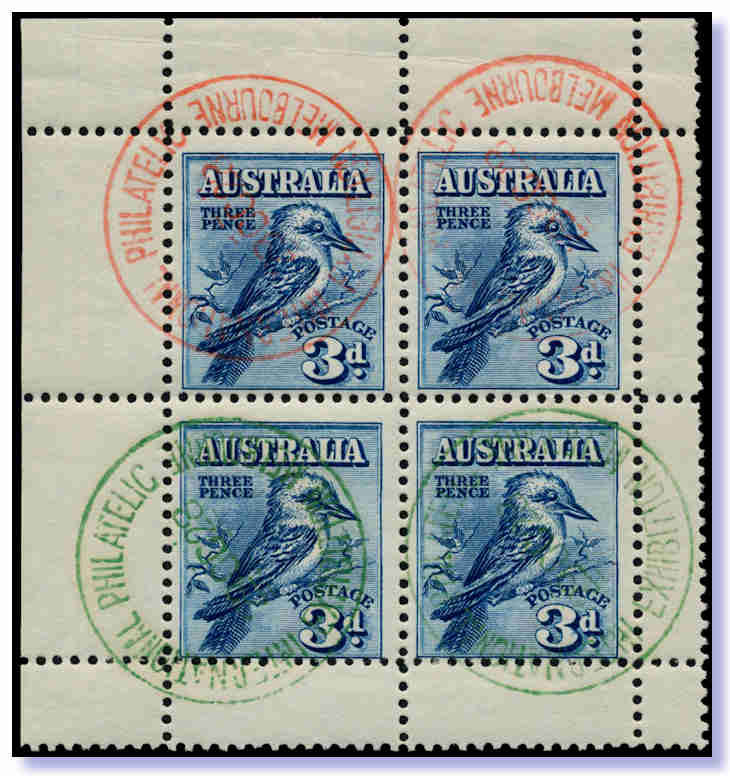 The different colour cancels explained.
For anyone not having a catalogue to hand, fortunately the entire sale is viewable on the Prestige Auctions website - tinyurl.com/KGVGray - I personally find the software used there a LOT easier to navigate and find than the art auction based mossgreen site.

A few more of the "KGV" lots are shown here, to give readers a tiny taste of the wonders of the Gray International Large Gold collection, before the Auction and the global viewing roadshow is upon us.

Geoff Kellow has penned a scholarly 11 page story with photos of the complicated and complex story of KGV head issue, Printer Politics, and a potted history of all the legendary collectors in Australia - a really wonderful read in its own right, in this Gray catalogue.

tinyurl.com/GrayKGV is the detailed ongoing discussion on stampboards of this sale, and was the first report anywhere on this major event. Many of the other stamp photos from his good friend Geoff, and mossgreen are on that link, for those interested.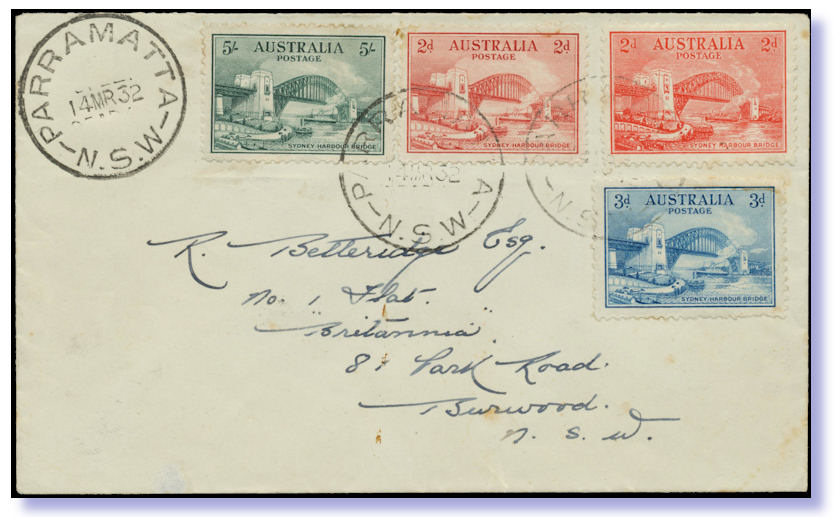 Would YOU know this was fake?
The sale contains not only the KGV heads issues in huge depth, but all the KGV era Commemoratives, the 5/- Harbour Bridge in full sheet etc, many 1927 Canberra imperfs, and corner Plate Numbers and retouches, and re-entries, and Officials etc.

One example is the 1932 Sydney Harbour Bridge "FDC" shown nearby. It is a total fake and fooled Australia's largest dealer. Would YOU have known that - read the catalogue for more detail, as to who was behind it all!
Did not like "Fly Specks".
Arthur did not like tiny "fly speck" varieties (like me!) or commercial covers, and tended to focus on the major and readily visible and spectacular printing errors, and perf and watermark freaks, and liked them in positional mint blocks where possible.

And there is no more exciting piece to own in mint block form, than the 1d Red block of 6 of the "Rusted" or "Pre-Substituted Clichés". The only mint block in private hands, and estimated at $A85,000. Geoff Kellow regards it as "The greatest 1d Red item in private hands."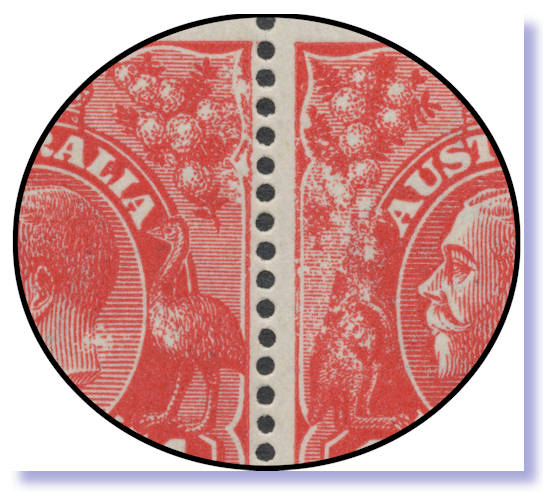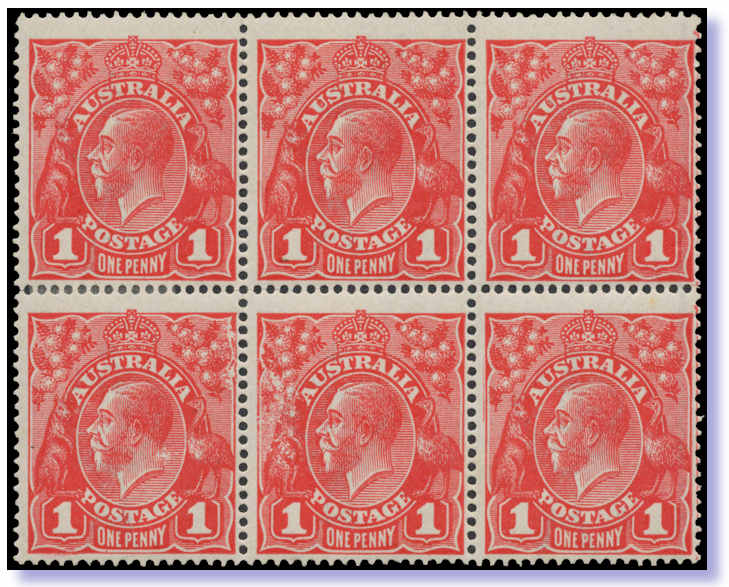 Unique "Rusted Clichés" block 6.
Even single mint copies are rare, (Gray had one too!) as the error was not noticed by the stamp fraternity for YEARS after being issued, the ACSC tells us. Most Australian men in early 1917 when these were issued, were overseas fighting Germans in the midst of World War 1.

There are over 500 seperate lots in this sale and all are photographed, often with enhanced detail blow-ups as well, so what are shown here is only a tiny sampling, but it gives readers a small "taste" of what is in the offering.
Super strong in KGV Proofs
The KGV heads Die Proofs are very strongly represented of course, as Gray had chased down most on the open market. Like many things, Arthur was buying scarce things when they were not terribly popular, and VERY cheap by today's standards.

Many pieces in this sale I sold him over the past 35 years, and I shake my head in wonderment at how he had FAR better forward vision that I did, and the other dealers did, who sold him this material for what now looks like a "pittance"!!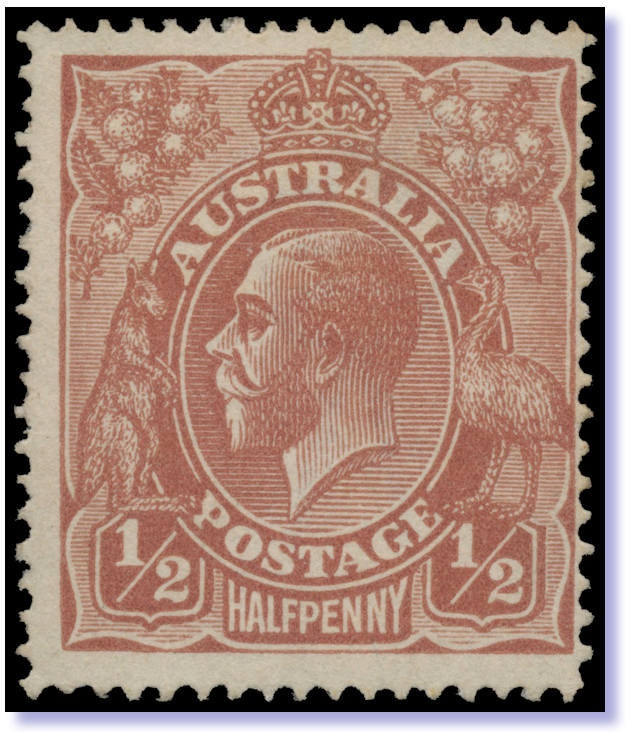 Not a faded ½d Orange!
Indeed of all the Die Proofs of the Australia KGV era Commemoratives, about 90% that exist in private hands are in this collection, Geoff Kellow's preface advises. And the proofs of the "Heads" are also incredibly extensive.

The ½d watermarked KGV head stamp nearby many would assume was a sun faded or "changeling" ½d orange. It is a plate proof in "lilac brown" Single wmk, comb perforated, and one of two known, and as lot #78 has an estimate of $A20,000 - cat $40,000.

Everyone will have their own special "favourites" in this sale based on their own collecting interests. Some collectors only chase 1d Reds. Other specialise in just the 4d value etc. Others in the Commemoratives, and often just one issue of those etc.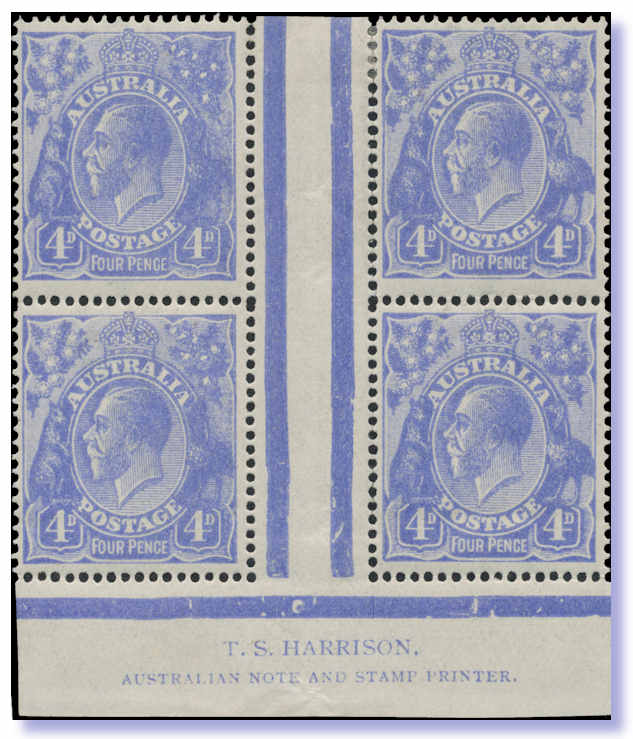 The possibly unique 2 line 4d Imprint
| | | |
| --- | --- | --- |
| | I personally like the 4d Blue Harrison 2 line imprint nearby, as it is unusually well centred for an imprint from this era, and has lovely colour. Lot 232, Cat $20,000 it is estimated at $10,000, and will certainly be invoiced for more than that I can guarantee! | |
Now for something REALLY odd:
Many of the things in this sale I have never seen before, and will likely never see again. One was Lot 54 - "The Watermark Master Plate" - starting price $380 if you want to add something REALLY left field to your KGV era collection!

"The master plate of twelve Crown/A watermark "bits" from which the dandy roll was developed, instrument number '1787' impressed vertically at upper-left, some very minor corrosion. The watermark bits were constructed from fine wire that was affixed to the surface of the 2mm-thick metal backing plate (86x74mm). A remarkable survivor and another highly desirable & unique artefact. Manufactured by the English firm Edwin Amies & Son Ltd."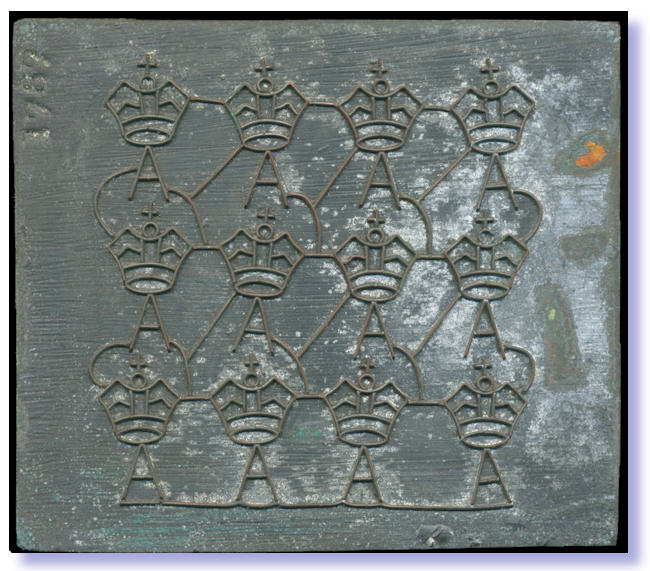 You'll never see these again!


I hope to be able to fly down for the sale, if a family commitment on same date can be juggled around. Like the Gray "Kangaroos" sale in New York I flew over for, being part of this will be quite an "experience" I am sure.

Went just now to book a hotel room, just in case I can make it, and for some reason there are few hotels bookable. Phoned and checked and got told that it is leading into Melbourne Cup Week where the whole place goes on horse race holiday mode! Airfares reflect that too, so book NOW if going down.

Anyway a great "Arthur Gray KGV" sale in the offing October 30, with material to suit all budgets for sure. The text above focuses mainly on pricey pieces, but there are $100 type lots in the sale, so something for all budgets here.

The day the sale was announced, Arthur spoke to me by phone for 2 hours, and despite being quite ill at that time, had me promise in his very colourful way to do my best to promote this sale as best I could, and that promise has now been kept to an old friend!

Arthur's fervent belief was that major collections should NEVER be locked away in damp and dusty institutions, where essentially no-one could then see or enjoy or display them. This sale ensures that fate will not occur. Hear, Hear.
Rocket Mail = Rocket Price!
Ace Auctions in Perth had a nice Aerophilatelic related sale on August 29th, and the realisation of one item took most observers by surprise. The vendor too, no doubt, as the estimate for the cover was a mere $A300!

The local agent buyer of the Rocket Mail cover shown nearby, for an Austria client laughed with me today that his phone bid was "a tad higher" than his client had expected it to cost him!

Please excuse the very fuzzy low resolution scan - that was all they had on the website or on file, despite a good check of resources, but it gives you a blurry idea of what the $12,000 "Rocket" cover looked like!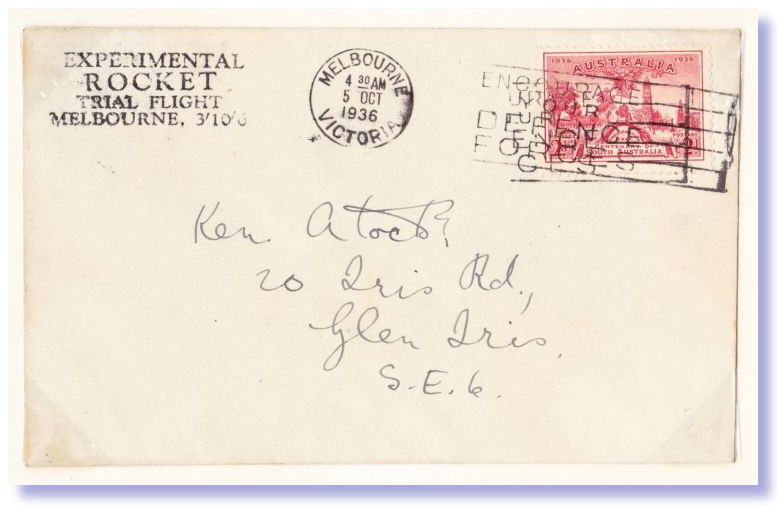 Over $A12,000 for this Rocket?!


$10,100 was the HAMMER price - the nasty 16.5% "Buyer Fee" is always extra, so invoice to my colleague was $A11,766. Plus goodness knows what his fees and insurance were on top of that to his end buyer overseas. No change out of $12,500 in my guess.

1936 (3rd Oct) Fishermen's Bend, Victoria firing with 2d SA Cent tied by Melbourne slogan cancel. "EXPERIMENTAL ROCKET TRIAL FLIGHT MELBOURNE, 3'10'6" 4 line in cachet in black. Only 19 flown AAMC states "Covers may exist" - extremely rare. AAMC R8 - Unpriced.
When is a FDC, NOT a FDC?!



Strange item I bought today. It is a striking looking cover anyway, having been routed all around the North Shore of Sydney as can be seen. Gordon, North Sydney, Cremorne, and Mosman.

A closer look shows it was hand inscribed "First Day Cover" in the same pen handwriting as the original address of "Mr G. Cox, Flat 3, 343 Military Road, North Sydney". (About 10 miles/16 kms south from Gordon by road.)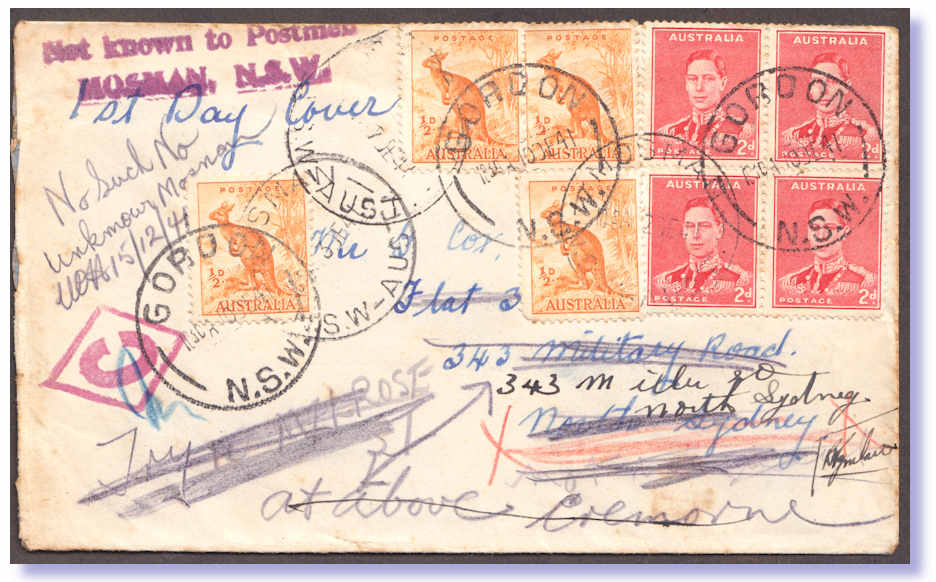 From an era when Posties CARED!


This was the middle of WW2, and most of the collectors (near all men, as today!) were overseas at War. Things like a colour change on a Definitive stamp did not garner much if any interest or advance publicity, hence all Definitive FDC's from this mid WW2 era are rare.

The cover was mailed from GORDON, a large PO on the Pacific Highway, on the Sydney upper North Shore, at 10.15am on December 10, 1941, and all 8 stamps are clearly and sharply stuck with 3 strikes of that Gordon cds cancel.
FDCs in infancy in WW2 era.
Pictorial FDC's were not usual 74 years back in Australia, and plain covers were very commonly seen. Post War, the FDC makers got highly organised, and pictorial or cacheted covers then became the "norm". But we are 5 years earlier here.

As an example, the quite awful looking 1942 1½d Queen FDC nearby is on a Melbourne FDC dealer's site right now for $US715 = $A1,025 (Full cat $A800) despite it being cut near in half, with chewed corners at right as a bonus!

WHY the KGVI cover had 10d of franking, when letter rate was only 2d was the first question in my mind. Even Registered mail fee only added 3d. So even if this were a TRIPLE weight letter (It appears to have only been a normal weight one) and Registered, the 10d would still overpay it.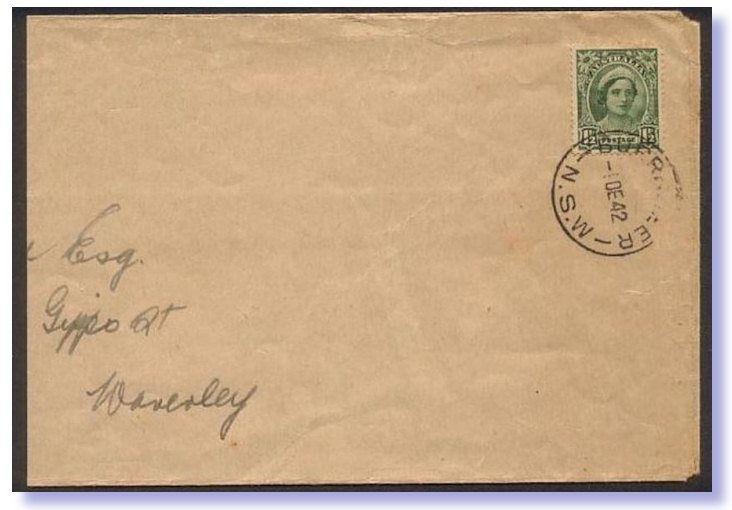 Half a FDC for $1,000!
If you pay 5 times the going rate, common sense indicates sender would opt for the Registered Mail Service, seeing that was already overpaid for, if you asked for it.

Anyway, that franking aspect was not uppermost in my mind - the value of a 1941 2d KGVI FDC was my main interest, as they usually are very many $100s in retail value.

Reached for the new KGVI ACSC catalogue, and went to check the values. Sure enough the 2d KGVI is listed on FDC of December 10, 1941, at ACSC 189y at $A500. Bingo. One Happy Glen.
Oops - right date, wrong colour!
Very pleased with myself, I was about to list it on my Rarity Page for $500 as it was well travelled, and "interesting" looking, when it occurred to me the 2d KGVI stamps on here were RED, and not the same 2d design issued Dec 10, 1941 in new colour MAUVE!

So after 74 years we will never know the story "WHY?" I imagine. It might be a husband sent the wife off with the addressed envelope to friend Mr Cox, and she did not specifically ask for the NEW colour 2d stamp - that was my first thought.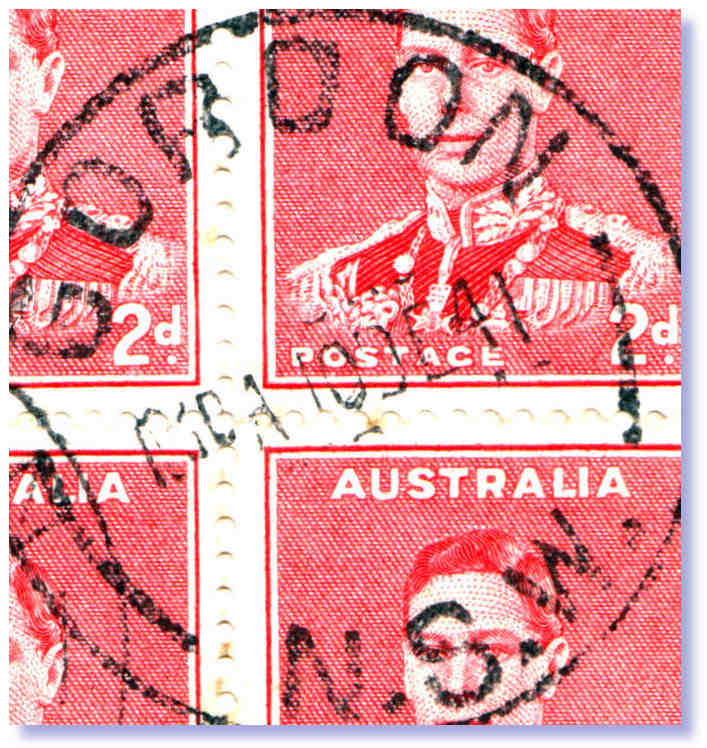 At least the DATE is correct!



More logical is the collector pre-franked cover the day before with the 2d red OLD colour KGVI he had on hand, and assumed he could buy the 2d Mauve NEW colour to place alongside it at Gordon. When told the 2d Mauve had not arrived into stock at 10am, he added 4 x ½d Roos, (2d) instead of that stamp.

All very strange. Anyway it shows us an era where Posties CARED about letter mail, even in the peak Xmas Card avalanche. It bears THREE different Mosman cds – Dec 12 and Dec 13 on face, and Dec 16 on reverse, with handwritten "No such Number. Unknown Mosman 15/12/41." And handstamped top left.

There is no sender detail on back-flap, and no "Dead Letter Office" handstamps as one usually finds in such cases. The cover has been slit open at left, so perhaps DLO did that, and located a letter with sender address etc, and forwarded it back under separate cover?

What the bold "C" in a Diamond marking at lower left is, I have no idea - any guesses from readers? Anyway my "$500" find is now more like a $A50 item in my "re-directed Mail" box, and like all Fishermen, is in the "one that got away" file!
PNG unannounced overprints.
PNG for some years has been creating new higher postal rates at short notice, and overprinting obsolete stamps to create "instant" new stamps to use for that new rate.

The famous 1994/95 "Emergency" overprint set 11, I still sell for $A275, as many of those values were totally sold out before collectors even knew they existed. I reported these to the world stamp community 20 years back, and have always held the world's best stock.
Worth more than mint £1 Kangaroo.
They are of course listed at high figures in all catalogues, and all album page makers have spaces for them, so global demand is high and supply was low, the key 50t Gogodala Mask most especially so. MINT, that is modern Pacific rarity, it really is. Even used are scarce.

A set of 11 of the PNG 1994/1995 "Emergency Overprints" in blocks 4 with Certificate, sells for way more than a mint £1 Grey Kangaroo in either watermark, strange but true. Full details on the background to these fascinating issues is at - tinyurl.com/PNGop

PNG Stamps in the Air
A feature article on many PNG stamps and unusual and elusive postal history was part of the last Air Niugini "PARADISE" in-flight Magazine.

A journalist from Papua New Guinea's "PARADISE" in-flight magazine contacted me a while back, about writing a story on their stamps, and I was as always, happy to assist him.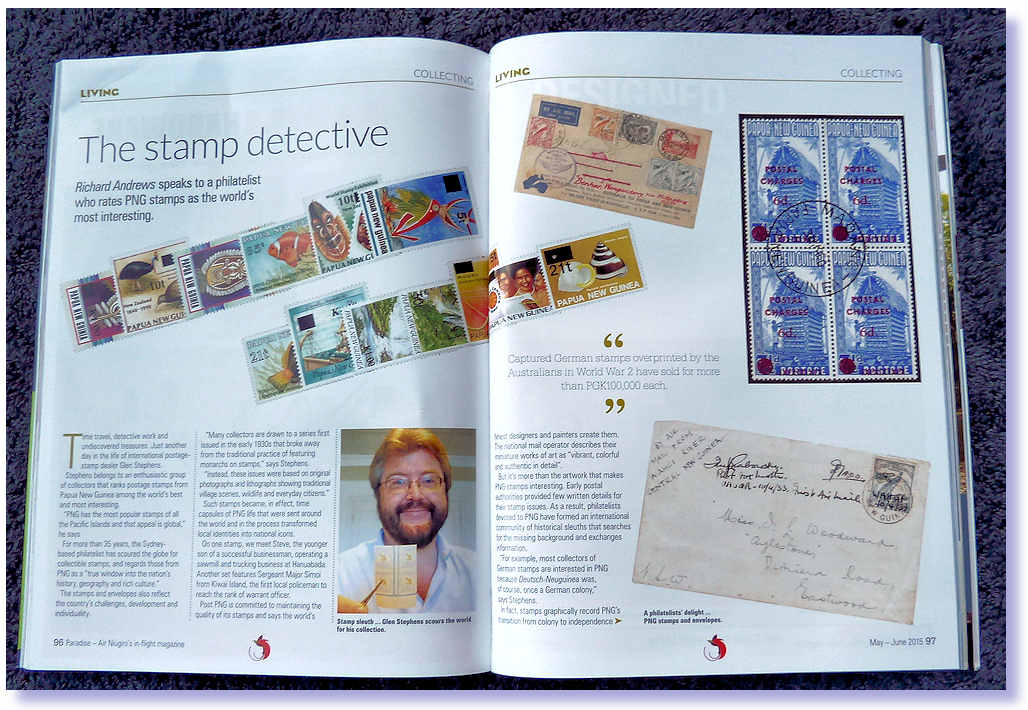 Good for promoting stamps.
These non-stamp journalists generally mess some facts up - like the "G.R.I." overprints being made in World War *TWO* etc, but overall a nice general plug for these pretty stamps, to a very wide audience.

A lot of folks from all walks of life read these airline magazines whist flying, or when stuck in airports, and who knows, a few brand new stamp collectors may result from it all?

I rounded the writer up a good number of photos to add to the multi-page full colour story - which can be seen here - tinyurl.com/MagPNG for anyone interested.

A client in PNG kindly offered to mail me the magazine he picked up on an internal flight as a keepsake, and he kindly offered them to other stampboards members in Germany and Australia who had asked for one.
$A45 to mail a magazine!
| | | |
| --- | --- | --- |
| | It is a heavy glossy magazine - weight over 500 grams. Normal airmail from PNG was 90 Kina - about $A45! Outrageous. He asked his staff to have PO add a wide range of recent commemoratives to the envelopes, as postally used modern PNG is near impossible to locate. | |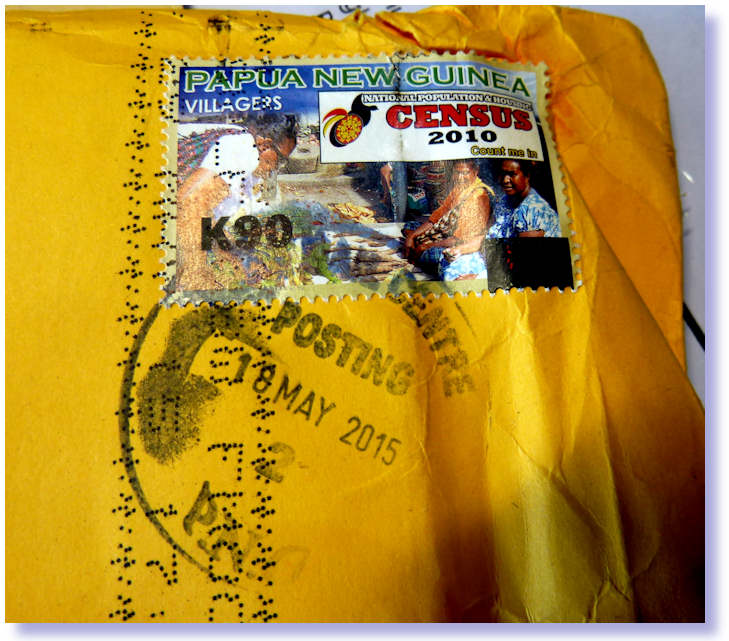 Unique PNG postal use on cover?


I added up a photo of the cover when it arrived, and told him I'd mailed it back to him as a courtesy. He was shocked to note it bore only a single stamp, and angrily vowed to kick some butts among his mail room staff.

He was less angry when it was pointed out to him by others on stampboards this was an un-announced 90K overprint, never on sale at Philatelic Bureau, and was indeed by far the highest face value stamp ever issued by PNG!

My guess is, despite his clueless staff affixing it at top right so it got a bit crumpled, AND copped the ugly ozzie ink jet spray cancels, it will likely be a unique use on commercial cover, worth already WELL over the $A45 he paid to mail it!

So sometimes the Good Samaritans come out on top. Memo to all - NEVER affix any stamp at far top right corner - always place them a few inches in on each side. There is no LEGAL reason not to do so, and stamps then arrives in perfect shape.
"O.P.M. FREE PAPUA" stamp issue.
| | | |
| --- | --- | --- |
| | Another lot of PNG related overprints turned up in a multi carton lot of material I bought this month. 1978 "FREE PAPUA" Operation Papua Merdeka - "O.P.M." stamps x set of 11 different. | |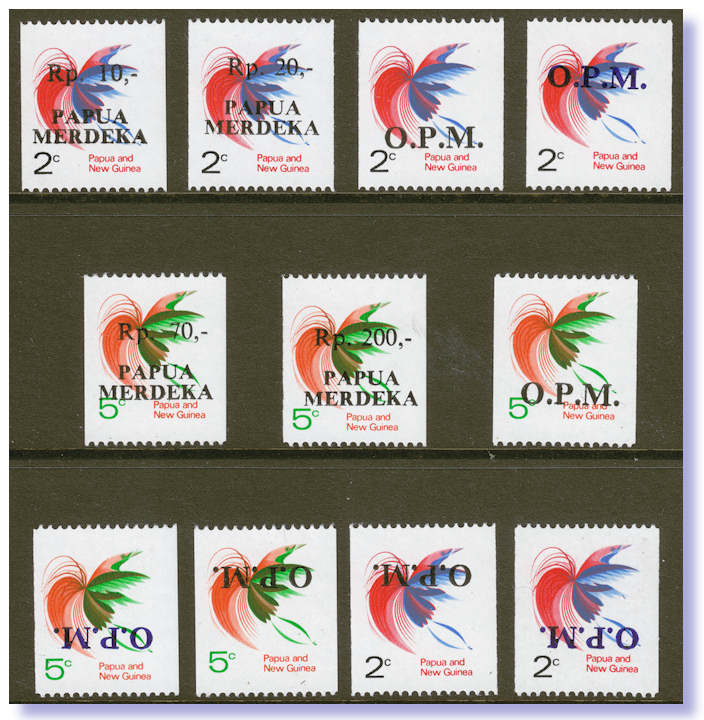 Ever seen these stamps before?


Seller had a UK specialist journal from the time - "P.P.S. Stamp News" from March 1979, that shows in full a 'Letter To The Editor' to the "Philatelic Exporter" from December 1978, reporting these stamps to the world for the first time. Also comments from "Stamp News" at from the same era.

In 35 years of stamp dealing, I have never seen or handled even one of these, much less a set of 11 different of them! All neatly overprinted with metal type, that much I can confirm, from the "bite" visible on back.

Overprints in Indonesia Rupiah currency, different overprint positions, and also INVERTED overprints, and even BLUE overprints - many of which seem not to have been mentioned anywhere on the web that I can see.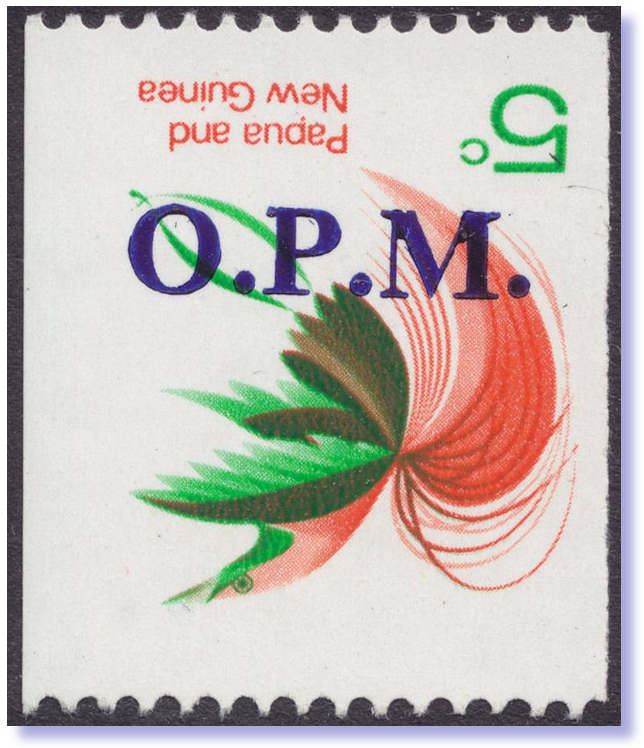 "O.P.M" Inverted stamp overprint.
Seller bought these "O.P.M." FREE PAPUA stamps at the issue time, 37 years back. I loaded up many high rez images on stampboards.com for permanent reference, as a guide to what the genuines look like. To assist others in future in case fakes appear etc.

I cannot see a single one offered now or in the past, on the web or via dealers or auctions, via a google search today. So it is clear not very many were sold to collectors 37 years back. They sold within hours of being listed on stampboards for a substantial price, and are recorded here for the record.









Get my regular market update emails FREE. Stamp gossip, price trends, record sale prices, and many one-time stamp specials, wholesale bargains, and exciting offers and breaking philatelic news. A mini stamp magazine in every email! "KNOWLEDGE IS POWER". The ONE stamp list you MUST be on, to keep in touch with the rapidly changing world market. One client made $65,000 profit in a few months after following my specific advice. Sign up securely and quickly by clicking HERE to access my automated data base. And wiser still ADD your home AND work email, if I only have one right now. Add a stamp friend's email address if you wish. One short click and you are subscribed to probably the most read email list in the stamp world!




If you would like to be notified of updates to this website,

Click HERE. If have any questions,
or comments regarding my site, please email me at glen@glenstephens.com



| | |
| --- | --- |
| | Search all my 300+ web pages! Simply type in what you are looking for. "Penny Black", "Latvia", "Imprints", "Morocco", "Fungi" "Year Books", etc! Using quotes ( " ) is more accurf used with no quotes. Search is NOT case sensitive. Tip - keep the search word singular - "Machin" yields far more matches than "Machins" etc. |


I am a Dealer Member in Good Standing Of:

Full Time Stamp Dealer in Australia for over 35+ years.

Life Member - American Stamp Dealers' Association. (New York)
Also Member of: Philatelic Traders' Society. (London)
GLEN $TEPHEN$

Full Time Stamp Dealer in Australia for 35+ years.

Life Member - American Stamp Dealers' Association. (ASDA - New York) Also Member - Philatelic Traders' Society

(PTS London) and many other philatelic bodies.

ALL Postage + Insurance is extra. Visa/BankCard/MasterCard/Amex all OK, at NO fee, even for "Lay-Bys"! All lots offered are subject to my usual

Conditions of Sale, copy upon request .

Sydney's

BIGGEST STAMP BUYER: Post me ANYTHING via Registered Mail for my same-day cheque. Avoid copping the Now normal 45% Auction "Commissions" (15% Buyer + 20% Seller + GST, etc) AND their five-month delays!

Read HERE for details.

"Lothlórien", 4 The Tor Walk, CASTLECRAG (Sydney), N.S.W. 2068

Australia

Phone 7 Days: (02) 9958-1333

PO Box 4007, Castlecrag. NSW. 2068


E-Mail: glen@glenstephens.com The Number #1 Web Sites: www.stampboards.com