Click To Go Back To The Main www.GlenStephens.com Stamps Homepage

Welcome! - You are visitor number
To - www.Glenstephens.com


October 2018


---
Don't soak used blocks still on piece!
Readers will know my strong feelings on postally used BLOCKS. They in the past have been wildly under-rated by the local market here, and countries like Switzerland and Italy and Scandinavia have for 100+ years listed and priced such items - often at 100 times 4 used singles type levels for trickier values.

Used blocks OFF cover are hard enough - finding them used on cover or parcel piece is of course far harder. Most especially the higher face values, which is common sense of course. But NOT being soaked off, can often reap rich dividends to owners!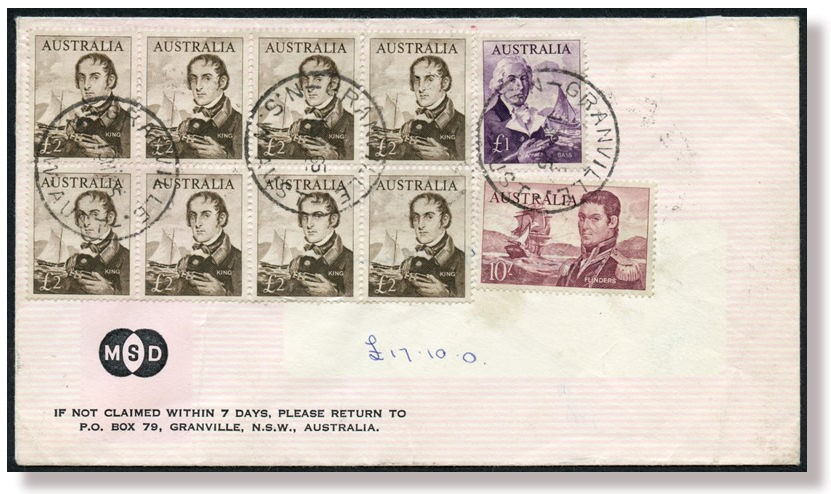 Sold for more than a MUH Block 4, £2 Roos!
Abacus Auctions in Melbourne offered the Navigator "cover" shown nearby in their September sale. With small faults, it had an estimate of $1,000 - the vendor had suggested only a $500 estimate, director Gary Watson has confirmed. It was invoiced after Buyer Fees and insurance etc, for around $A35,000! I kid you not.

Why? Well who really knows! Clearly it is not something that ever entered the mailstream, and was simply a £17½ receipt for bulk post, Business Reply Paid mail fees, Telegram use, or Telephone accounts etc. The buyer of this receipt was reportedly from Asia, and the other high bidders were from Australia, UK and USA.

As there is zero evidence of it paying any postal fee, I really wonder if it being exhibited would gain or lose points to experienced Judges in an "usage" Exhibit? A most strange result, for a piece that most many experienced dealers would have priced nett, at about 5% of what it finally sold for. The wonders of this hobby at work here.

tinyurl.com/NavPiece has a great deal of discussion on this receipt, and what is might possibly have been used for. A half century on, no-one will even know for sure of course, but what is certain is, that someone has spent on this strange piece, what a MUH block 4 of £2 Roos would have cost!

In 10 years' time, if this receipt, and a MUH block of £2 Kangaroos were offered side by side, at a large public auction, one will sell for about TEN times the other, is my very confident guess. Most likely, a larger multiple than 10 times would prevail is my guess.

I did some research, and discovered that "MSD" stood for Merck Sharp & Dohme - one of the world's largest pharmaceutical companies. Known in the USA and Canada as Merck & Company. After a half Century, MSD are still at the exact same PO Box in Granville NSW!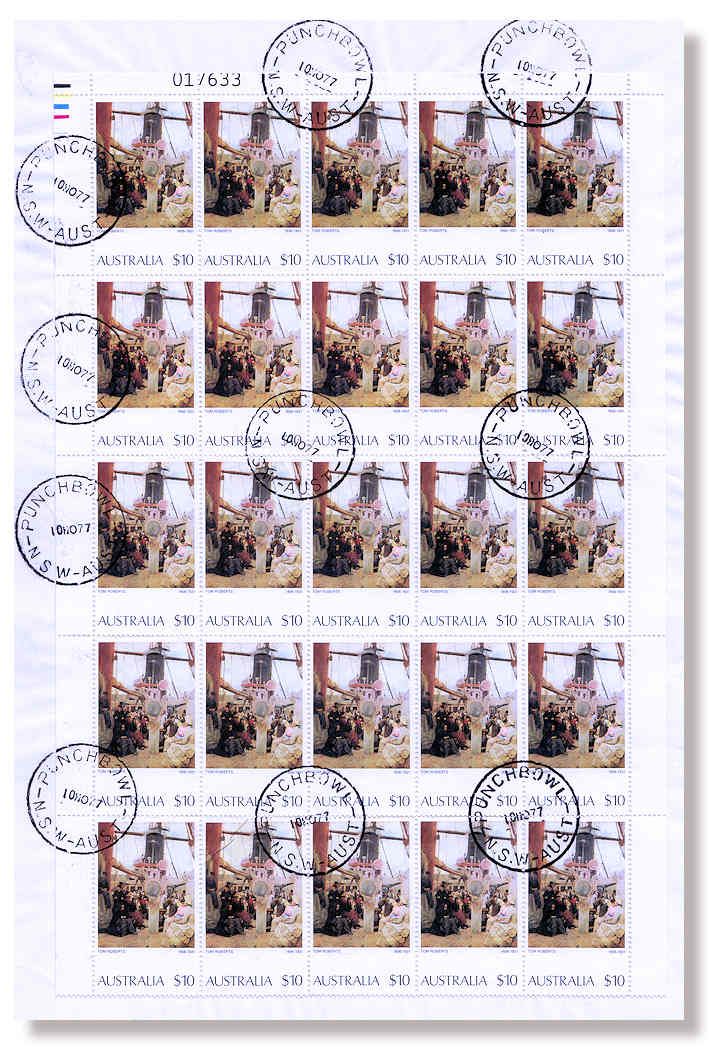 A $100,000 piece now!?
Anyway $35,000 is an amazing price for a receipt. I sold 2 x ¼ sheets 25 of $10 Paintings top value shown nearby, for a pittance - a few $100 each, so the collector who bought that, will now be smiling, at the $35,000 Abacus price! $10 was well over double £2 face. These were used only a few years later, for probably the same receipt type use.

A first class domestic letter in 1977 was 18¢, and today is $1.50, so this is a $A2,083 type face item in today's buying power. The client contacted me today and told me if anyone offers him $1,000 for each block they have a deal - bypassing hefty auction Buyer Fees and taxes etc. If anyone is interested, let me know and I'll put you in touch.

However, all that aside, the lesson is clear these days. Do NOT soak these items if you do not have to. A block 8 x £2 of this stamp, even with a fault at base, is still a very nice animal - but is a $A1,500-$2,000 type animal in the real world, not a $A35,000 one. "We live in interesting times" as the famous expression reminds us!
Norfolk Island commercial mail HOT.
A lot of things one sees at first glance look pretty ordinary and of minimal value. The Registered envelope mailed from Norfolk Island in 1967 to Wagga Wagga illustrated nearby, certainly comes into that category for most readers, I am sure.

Like Australia, the postal rates back then in mid-1967 were just 4¢ for a standard letter, and 20¢ for the Registered Fee = 24¢. Cost for same thing is now $5, i.e. 20 times more, but the $100 compensation is 100% identical - a scandalously puny level that must be adjusted to be a $1,000 cap, but that is another story.

So here we have a standard Registered letter, franked with the current stamps on Norfolk PO sale, themselves worth literally pennies if floated off the cover. The 4¢ is cat just 10p used by SG. So, have a close look at this envelope, and take a guess at what it is really worth on the open market.

BE honest - if YOU saw it in a club auction, or circuit book, or in a dealer's cover's box - at what price point would you have grabbed it? I can GUARANTEE via many of those sources, it would be priced to sell at less than double dollar figures. As I often type - "Knowledge Is Power".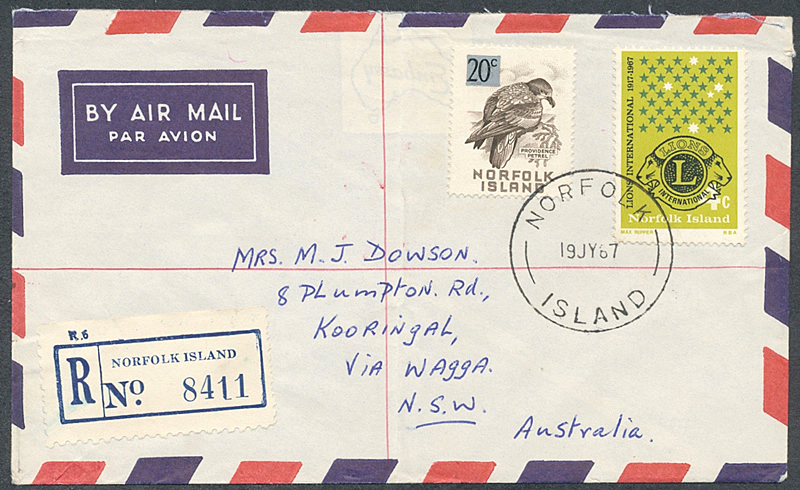 Guess time - WHAT is this worth?
Well I can now tell you it was estimated to sell at $A150 in the Abacus Auction in Melbourne in September. Me, I'd have ripped your arm off if I owned it, and if anyone offered me anything remotely like $A150 for it! Indeed, I'd have VERY gladly taken $A100 for it.

The cover ended up being invoiced at a public auction for $A1,320 - near 10 times the pre-sale estimate! No real idea why folks were fighting over it, but clearly some of them were. You never can tell.

I sold a box of 450 different Norfolk Island totally commercial covers, for about $US1 each, never been on the market before, and the buyer of that must be laughing his head off! Value today, 5 or 10 times that already.

tinyurl.com/NorfStamps is the detailed stampboards discussion on Norfolk covers, and errors, and stamp varieties etc, and for all keen collectors of Norfolk, is well worth visiting, and adding to, as interest in this field has grown enormously in recent years. Why?

Norfolk Island from July 1, 2016 as we all know, became 100% "Australian" for the first time for postal and legal purposes - exactly as Cocos and Christmas Islands, and AAT are now. So, prices of all stamp related things NORFOLK have risen, that is for sure, especially for scarce material.
Large surge in Norfolk Island collectors.
All Australia Post standing order clients have now been getting Norfolk stamps and FDC for the first time the past 2 years, and of course many of them will opt to buy the older issues back to stamp #1. Creating vast demand - see tinyurl.com/NorfolkPO for details on the MASSIVE changes that took place from June 30, 2016.

ANYTHING Norfolk after 1990 is scarce, mint or used. Post 2000 material is near UNBUYABLE from ANYWHERE in the trade. The 1980s saw a big ''stamp boom'' and all Australasia Pacifics were widely bought. By the late 1980s this buying totally petered out. Come 1990, near no-one was buying. Come 2000 onwards, halve that tiny figure again.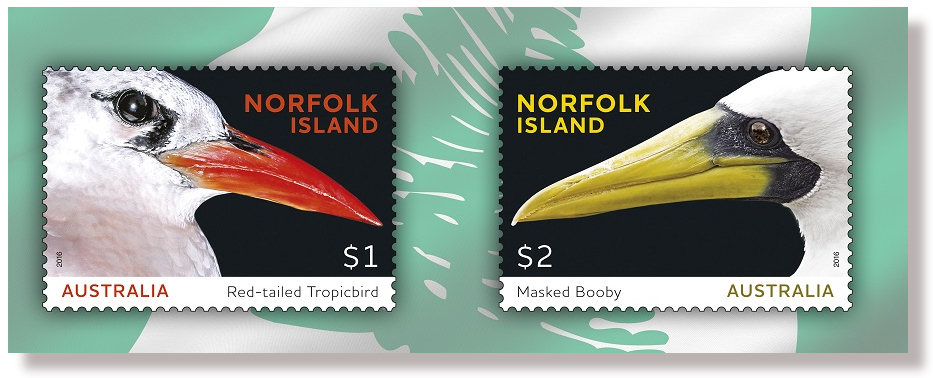 First NORFOLK ISLAND AUSTRALIA issue.
The first issues inscribed "NORFOLK ISLAND - AUSTRALIA" were the attractive $1 Seabirds pair shown nearby, issued September 2016. New Norfolk Island inscribed stamps are often on wide sale at Post Offices nationally in Australia - I see them at my little Castlecrag PO being used on outward mail often these days.

So for many, adding all things Norfolk Island to their stamp collecting palette is now fully on the agenda, and this will clearly create a vast extra demand on the supply of material, for a country that has always been less than plentiful. A very interesting collecting area - join in the fun!
USED Roos worth considering.
Over the past 40 years I have quietly built up what is without doubt the largest dealer stock in the world of used KGV heads and Kangaroos. Both normal and in both 'OS' perfin sizes. I still have it mostly tucked away in the bank, and am glad I have been too lazy to run ads for it in recent decades. It covers Australia to 1980 really in scope.

It may finance my retirement! I used to run full page ads every month 35 years back offering the key pre-war Australia issues each in FIVE used grades, from "Spacefiller" to "Superb Used". With "Average Used", "Good Used", and "Fine Used" grades in between those top and bottom grades. For every stamp, in every Kangaroo watermark, up to £2.

A rough condition 1913 5d Brown Roo with heavy cancel, and off centre with a crease was a few dollars, and a truly SUPERB one was priced about 10 times more. Folks bought exactly what suited their collecting needs, and their budgets.

Some folks enjoy filling up "Seven Seas" type albums for a kid or grandchild, and really only need "roughies" for that purpose, and happily pay accordingly. Others want only the very finest grade. Both sell equally well, oddly.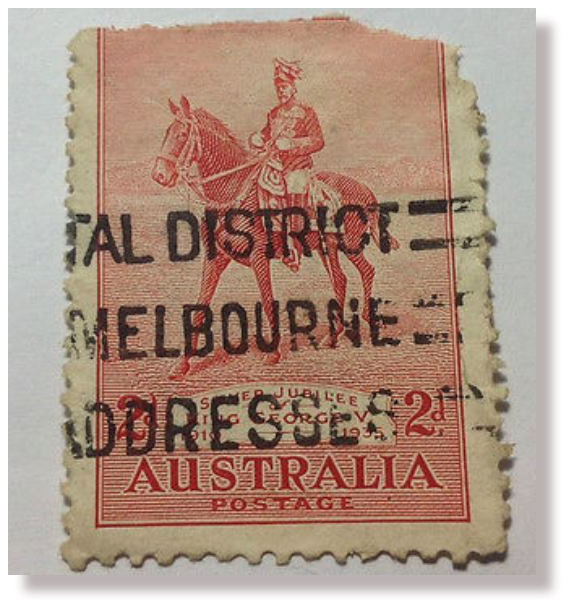 Ebay version of "Fine Used"!
Everyone grades stamps differently. Stampboards has an "eBay dreamer" thread where armies of totally clueless nutters list up stuff for sale like the 1935 2d Jubilee red stamp shown nearby as "Fine Used", time and time again. I kid you not!

tinyurl.com/EbayDreamer is something to spend an hour reading, and shaking your head at, over the absolute stupidity and deception skills of many 100s of eBay sellers. Until you read it, you literally have NO idea how bad it is - globally!

Parts of cheap stamps totally missing, or obliterated by truly ugly postmarks. Or totally and hopelessly mis-described or madly over-priced lots, and they ignore all well-meaning advice relayed to them. The term "Bunny" is being generous in many cases!

Those ugly stamps can be visually seen of course, but the extensive regumming of "MUH" stamps I've warned about for decades, is impossible to see in any scan. Indeed most of the eBay sellers do not even scan the backs. Quality regums will fool 95% of collectors, and even crude ones fool 50%.

As Rod Perry posted on stampboards.com, when he came into the trade 50 years ago, the number of alleged "MUH" £2 Roos one saw was hardly any examples each year, and yet strangely today, you can buy as many copies as your Visa card can afford! That says it all.

It costs $50 to have a superb regum in Germany that most readers would not pick at all. A £2 CofA Roo "MUH" is cat $15,000 and same stamp is cat $5,000 for light hinged. The eBay spivs spend $50 to rip you off $10,000. A Fine USED copy of the same stamp is about $A500. A total no-brainer.
Mint £2 Roos are 20 times used.
A £2 Kangaroo cheapest Watermark used is about $600 in decent used, and a MUH example is TWENTY times that at $12,000. So used condition is the only realistic collecting option for most. Miles cheaper, can't be regummed, and they do not tone or fox like mint.

Some present day dealers like Richard Juzwin started to illustrate Kangaroo used stamps in 4 different grades on his widely distributed price list, to better educate the buyers, but I have not seen that list for a decade of so now sadly.

I have typed a dozen columns over several decades warning folks that paying a 300%-400% premium for 'MUH' early Commonwealth was mostly just lining the pockets of the re-gummers, and their MANY local shonk agents, but I was near a lone voice in the wilderness. I still hold that view.

I have seen skilled German re-gumming that 95% of dealers could not pick, much less any collector, even very experienced ones. Only a fool has paid these silly 300%-400% premiums for "unhinged" versus hinged, on expensive stamps. IT makes ZERO sense.

Ebay is awash with these regums - from appalling grade, to superb, and the Bunnies still buy them with fevered gusto. When it comes time to sell, and a REAL dealer or REAL auction looks at your folly, the tears of despair will come. Trust me - I've seen it endless times.

And so will a cheque for a quarter of what your eBay "BAAAHHGIN" cost you, from a long suspended or abandoned seller now of course. Try getting your PayPal refund back 2 years later from eBay shonk "Billybob**3485148273" or the usual wacko names they seem obliged to use there.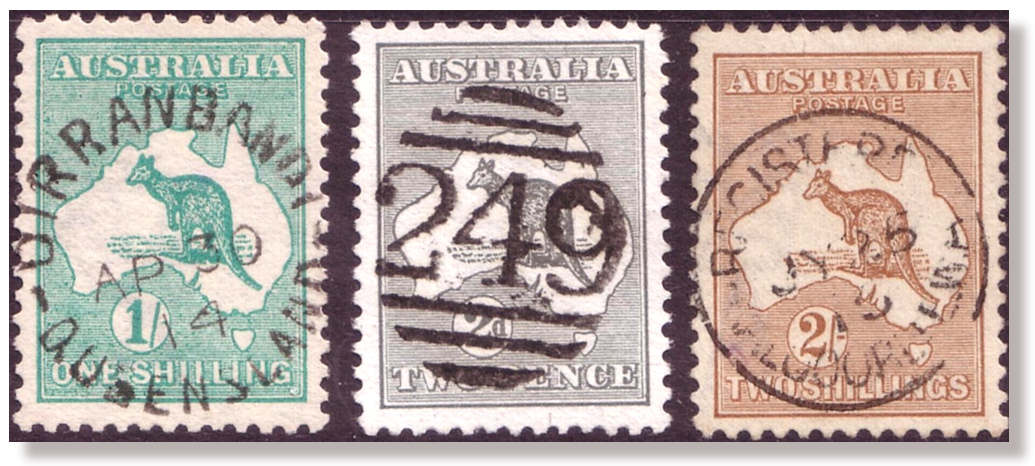 Try finding this grade in used.
| | | |
| --- | --- | --- |
| | A superbly struck, crisp readable cancel, on a clean and attractive well centred Kangaroo, is a joy to behold. And near impossible to forge. And even today, will cost you only 10% of what you pay for a HINGED 5/- CofA Kangaroo. One thing is for sure - NO German regummer is going about applying nice steel cancels to mint 5/- Roos! Or virtually any mint Roo for that matter. | |
Minimal toning or "rust" on used.
And most importantly and often overlooked - used stamps do NOT tone or "rust" anywhere near as fast as mint stamps do, along the Australian eastern seaboard. True. Well struck crisp steel cancels on pre-war Australian stamps can be a delight to the eye. Most especially on values higher than 6d. And on some values, are truly "one stamp in a 1000" type occurrences.

The three single Kangaroos I illustrate nearby, are the kind of thing I personally love to handle and sell. A 1913 First Watermark 1/- was used on parcels, so this is a lovely example. As used copies of 1/- are 10 times cheaper than even hinged mint, I'd much rather have a row of 10 of these than a single mint copy. History will show I was right.

The Victorian numeral "249" in that Kangaroo trio has great "eye appeal". As the basic 2d 1913 stamp is only $10 retail in decent shape, I'd sell such a superb looking copy for 2 or 3 times that base, which is of course only a $20 premium for visual perfection! The cost of a medium Pizza to own something really eye-catching, versus a boring "vanilla" cds cancel.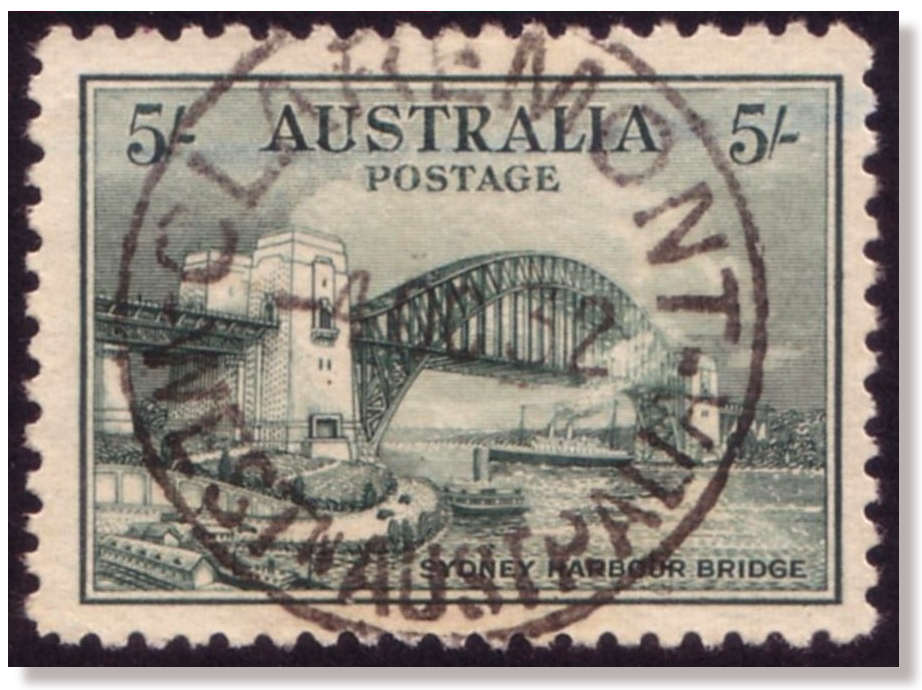 Give me this, over CTO any day!
Some stamps, like the 1932 Sydney Harbour Bridge 5/- Green are iconic - and expensive! Buying a used copy with a corner CTO copy is hot hard, and will cost you $250 or so. Hinged mint cost near double that. Many do not realise that any postal used example is RARE of this stamp, and one with a neat date-stamp even scarcer still. The one shown nearby is worth $450 or so.

There was surprisingly little postal use of this stamp, and when there was, they mostly got the hideous Parcel Branch "Killers". These were printed during midst of the Great Depression, on what was essentially coarse blotting paper, so these thin, crease and tear readily, and the horrible "fluffy" or "woolly" perfs are usual on these. Tiny print run, and such use neat postal used is rare.
Kangaroo "Tip Of The Month".
The 1915 Second Watermark 2/- Roo (SG 29) is a hard stamp to find in top condition used - mint are actually relatively plentiful. This stamp rather incredibly sells (now) for around five times more mint, than it does used. That is absolutely absurd, and does not reflect relative scarcity whatever. My old 1971 ACSC says that mint was worth 3 times used. Today it is ACSC $350 used, $1,500 hinged. (And an absurd $8,500 for "MUH" - 5½ times hinged!)

Three times is about the correct ratio, not today's 5 x multiple. So from here, if used prices double, and mint hinged stays the same, ratios are about correct - again! If you want my tip of this month, go and buy all the NICE used copies you can find. Light cancels on this 2/- that have no other faults, are truly hard to find, as it was used on heavy parcel during WWI.

The crisp little 'thimble' cancel "Registered Kalgoorlie JY 25 15" illustrated nearby is a beauty in the trio, most especially being entirely placed on the stamp - rare on any Roo. An older scan, so excuse lack of clarity! Ten years ago, I'd have added a 50% premium on that stamp over a more usual cancel. Today I'd add even more. It was priced $200 or so when I last sold it.
Top end copy trebles its cost.
Knowledgeable collectors looking for this grade, realise that you see a stamp like that once a decade, and thus the price paid is not a major issue. $200 THEN was absolute top end price. A client liked it, bought it, and sold his Roos at Phoenix Auctions, and it was invoiced for near $600. So it trebled in value over what he paid me - and THAT was top dollar then. Buying *quality* always pays off.

The 2/- rate covered parcel and telegram use, (the latter used up most copies), so used with a Registered cancel clearly denotes genuine postal duty. The Second Watermark (emergency war-time use on KGV watermark paper) was only on sale for a short time during WWI, before the Third Watermark 2/- brown was issued. Only one printing of 960,000 was made.

And most importantly, there are only 2 x genuine CTO 2/- copies known in the collector market - unlike the 1913 First Watermark 2/-, where literally 6,000 x CTO exist, for folks seeking an "attractive used" copy for the album. Hence nice used copies of SG 29 are very scarce, and examples used on parcel piece/fragment or cover were unrecorded, right up to the publication of the 2007 Brusden-White ACSC catalogue.

Unique and multi-coloured offering.
That changed when I discovered in an estate, a lovely parcel tag with this stamp affixed. I sold it to a good client a few years back, and when he changed collecting direction, and I aggressively bought it back. It is shown nearby - a unique trio on parcel piece use: 2d, 1/- and 2/- used on portion of bright red PO "WESTERN AUSTRALIA/INTERSTATE PARCEL POST" label.

The 3 stamps of the Second Watermark are all tied by crisp "Post Restante - Perth 13 Oct 15 - Western Australia" cds cancels. I always really liked this colourful piece, and was delighted to buy it back. A most attractive 5 colour exhibition piece as you can see. Neither the 1/- or the 2/- Second Watermark was recorded or catalogued on label or tag or cover, in the previous ACSC.
The "Discovery Piece"
This is the "discovery piece" that allowed the new listings and pricing in the latest ACSC edition. Even the 2d is cat $400 on parcel label - this copy has a portion of the interpanneau gutter piece. The 1/- is now Cat $2,000 on parcel fragment, and the 2/- is ACSC cat $6,000 on parcel piece, as it certainly should be. It sold very fast - once again.

The market for high value Roos used on parcel fragments or parcel tags has been exploding in recent times. Since the ACSC has catalogued that usage, instead of just "on cover" which for most Roo higher values, are simply not recorded. A strikingly attractive and unique Kangaroo classic near a century old, and I sold it for well under one THIRD the price of a MUH 2/- value of the same stamp - crazy!

As I told my client a few years back who bought the Registered Kalgoorlie "thimble" cancel 2/- nearby - "grab this now, and it will never go down in value" and was proven correct. It sold for 3 times what he paid. My Gold Plated tip of the month is to buy up this 2/- stamp in nice USED condition. Check your dealer's stock - I bet his few copies all look pretty dreadful, and you'll then appreciate just how hard truly nice examples are to locate.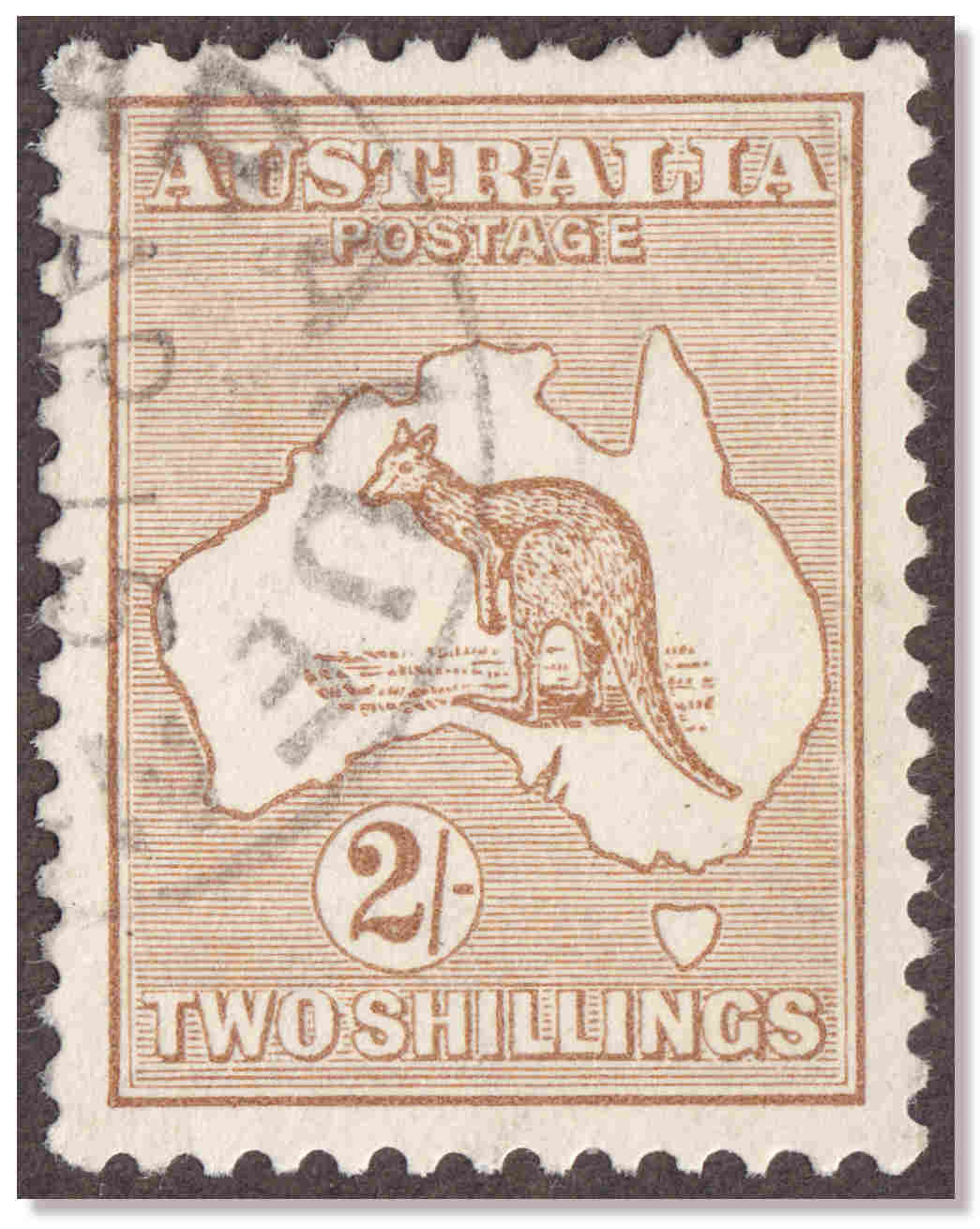 A VFU Kangaroo joy to behold.
Anything really nice I'd think you can readily pay $350 or so for, and put it aside with a smile. The superb used "ARALUEN (NSW)" copy shown nearby I sold recently, is as good as you will see anywhere. A tiny NSW Southern Highlands town of just 200 now, with a gold-rush history. Cost - what a few current "Year Books" are, from your local PO! Madness. What will THEY be worth in 10 years?

The reason Grange Hermitage wine sells for $500 a bottle, and rough reds are always $5 a bottle, is the same as VFU stamps - some savvy folks recognise real quality - and will gladly pay for it! Note - unlike the 5/- Second Watermark Roo, perfs on this 2/- stamp are ALWAYS clean and neatly punched, and centering is very good too. Light cancels and freshness, and freedom from faults are what you are buying here.
MEGA Million Gross USA offered.
Bill Gross, one of the richest collectors in the USA, has decided to dispose of his USA stamp collection to allow new owners to share in owning this material. Gross has been a successful Bond and stock trader for decades, and headed a massive Bond fund PIMCO that controlled $US850 BILLION in assets etc.

It is clearly the finest USA collection ever formed, and contains the unique 1¢ "Z" Grill and blocks 4 of the 24¢ "Inverted Jenny" Airmail, together probably worth $US8-10 million, neither of which are in sale #1, taking place October 3 in New York at Seigel's. There are more Gross sales to come.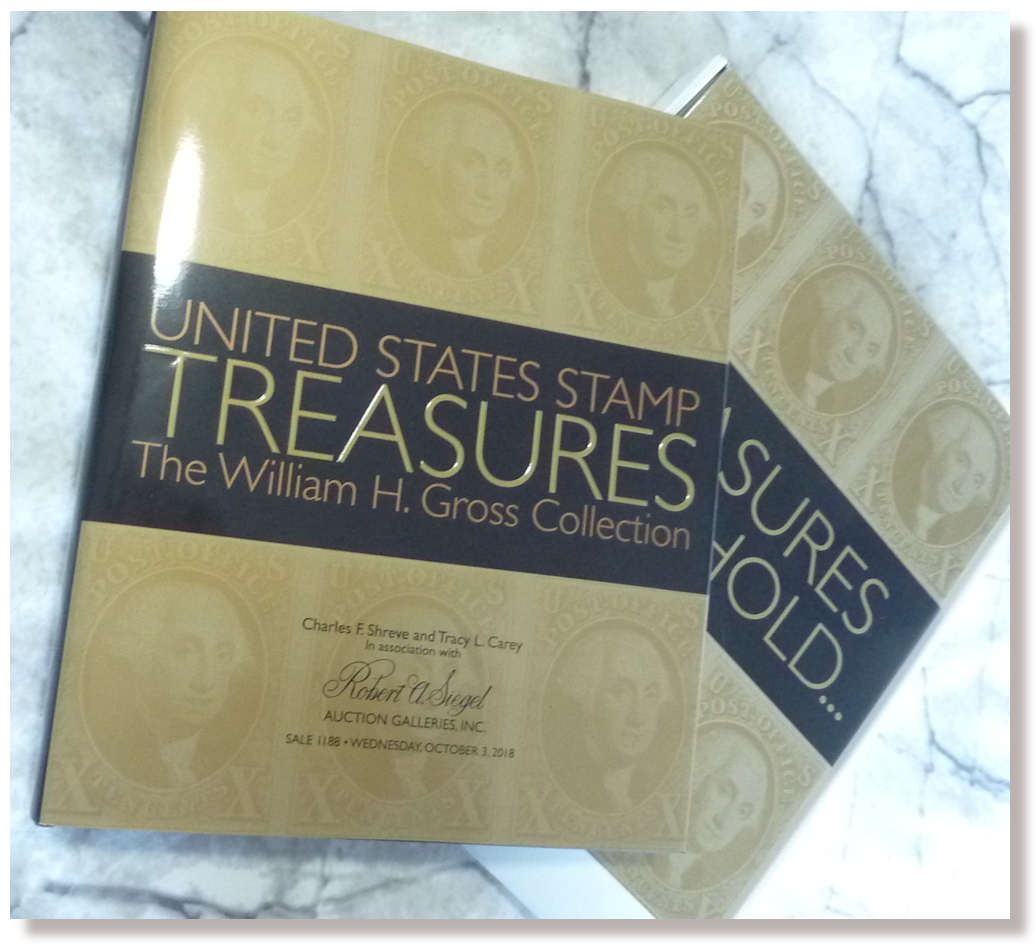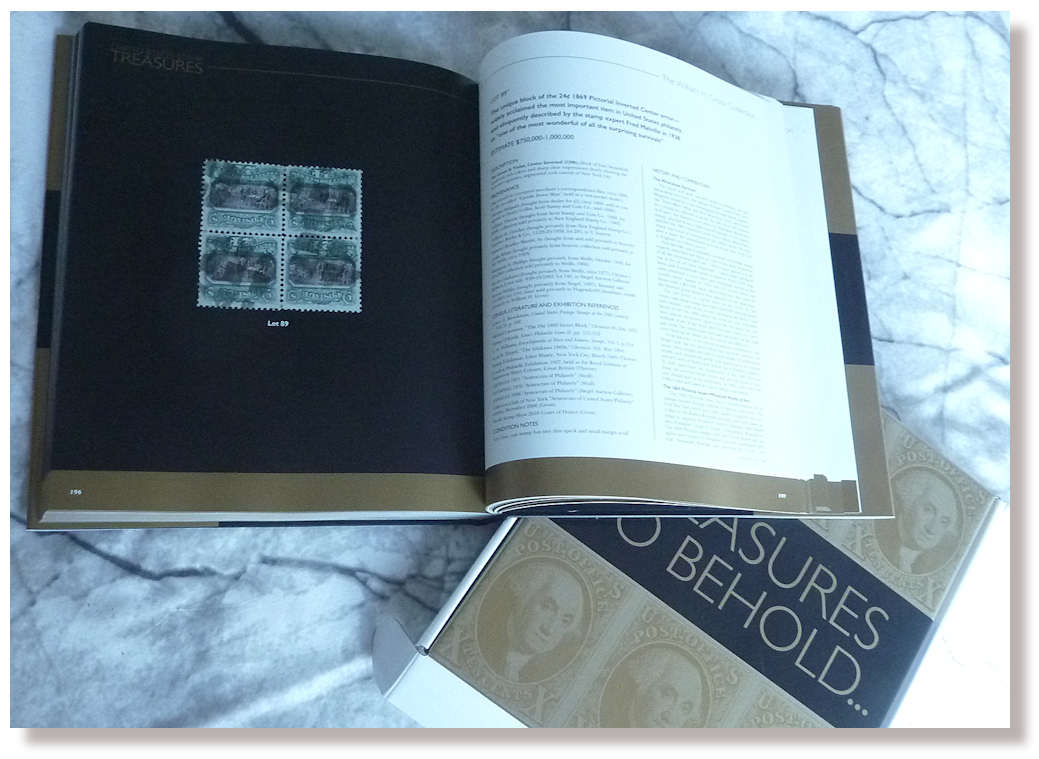 Hardboard 236 page overside sale cat.
Gross was a long-time client of Charles Shreve and then wife Tracy, who helped him assemble it all over 25 years. As Shreve now works for Seigel's in New York, it is no surprise that is where the collection has ended up for sale, due to that strong friendship.

Shreves auctioned the Arthur Gray Kangaroo Collection in 2007, and it realised about $A7.15 million - a clear record for Australian stamps. I flew over to New York for that sale, and spent much money, and their professionalism and hospitality was legendary, as was the deluxe hard cover "leather" embossed Auction catalogue.

Gross has disposed of some $US27 MILLION of non-USA stamps (he had superb GB and Canada and Europe material) in the past decade or so, and donated most of the proceeds to Charities, and $US11 million was donated to underwrite the Smithsonian National Postal Museum in Washington.

The entire hammer price of the GB collection offered by Shreve in 2007 went as an unrestricted gift to "Doctors Without Borders." That donation is the largest ever received by Doctors Without Borders, better known internationally as Médecins Sans Frontières. Over the years, Gross has become the largest donor in history to Doctors Without Borders at approximately $US25 million.

The photograph nearby shows Bill and then wife Sue Gross (on left) handing over a symbolic cheque for the hammer price of $US9,136,000 for his GB collection sale to a delighted Dr. Portnoy from Médecins Sans Frontières at right, and smiling Auctioneer Charles Shreve at back.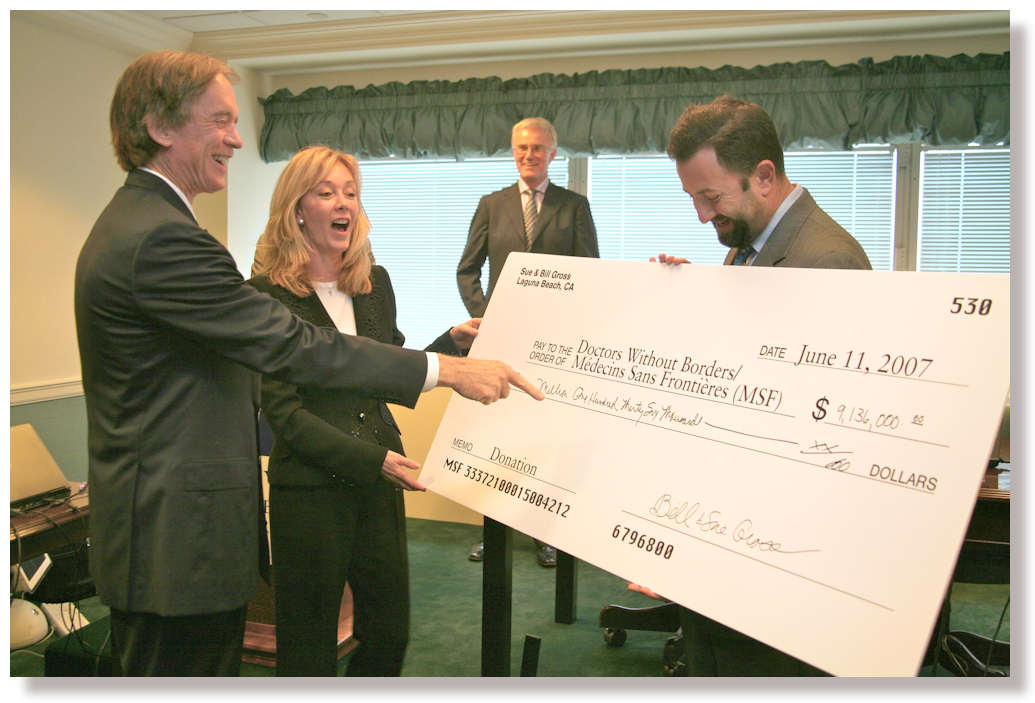 Sell stamps – donate the millions!
| | | |
| --- | --- | --- |
| | Bill Gross estimates he has spent between $US50 million and $US100 million buying stamps. "It was beyond my expectations'' Gross said about the GB Auction result to Bloomberg's. "It is four times profit. It is better than the stock market.'' | |
Donated about $US150m to Charity.
The level of Philanthropy in the USA is astounding - a quick google search shows publicly known donations by Gross to Charities and Institutions etc is at near $US150 million in the past decade or so. And likely is far higher.

The huge 236 oversized paged Bill Gross Auction catalogue Charles Shreve kindly mailed me recently, and it is shown nearby. It surpasses even the Gray Kangaroos catalogue - if that were possible, and is hard bound, in a dust jacket, and comes in its own matched design, heavy cardboard library slip box.

Siegel owner Scott Trepel claims he spent a month of 18 hour days researching the provenance of every lot on offer in this huge catalogue. Often, tracking the complete transition and ownership provenance is provided from original finder, to when and how Gross acquired a given item. Complete with photos and biogs of earlier owners etc.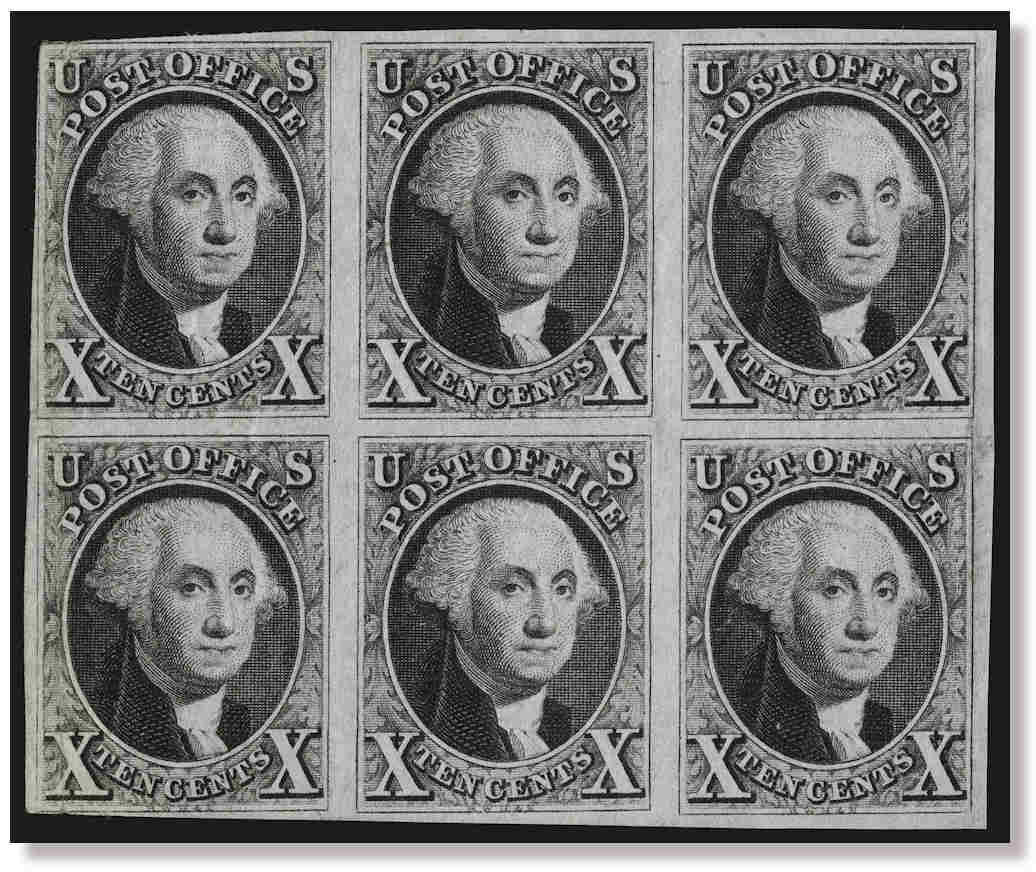 "The Bible Block" Est. $US750,000.
Such a collection is of course groaning with major rarities and space only allow a brief summary - the Siegel website has more detail. The one I asked Siegels for a good scan of, was the nearby 10¢ Black imperf block of 6.

This is the 1847 USA General Issue, and this and an adjoining block of 4 of the 10¢ were found in the 20th Century inside the pages of the Rives family Holy Bible in Virginia, hence the "Bible Block" nickname.
"Most important item in USA Philately".
The inverted centre on the 1869 24¢ Pictorial used block 4 is in the photo I took of the catalogue nearby. Estimate $US750k-$1 Million, it is apparently sometimes stated to be "the most important item in USA Philately". According to the catalogue anyway! 94 invert stamps are recorded - not a small number.

It is so heavily cancelled by the solid cork cancels, it is hard to see whether the centre is normal or inverted, but it is the only block recorded, and it will be interesting to see what it fetches. Oddly, it is offered with no Expert Certificate noting condition etc, unlike most others lots in the sale.

The first sale is on October 3 - their website on this is superb, and the calibre of the material, and the savvy marketing of Siegels - who make outfits like Spink look like amateurs with these major sales, and it will doubtless see many record-breaking prices.
Fake Penny Blacks on eBay.
There are large armies of gullible collectors out there, who just can't understand or comprehend that wonderful and VERY true old common sense expression - "In Life, There Is No Such Thing As a Free Lunch."

I am sure they are the same highly astute personages who buy "genuine solid Gold Rolex watches" at pubs on Saturday night for $100 cash. If it sounds too good to be true, …………
Used 3 months before issue date.
Anyway these people will always exist - taking a chance at a "BAAAHRGIN" from an unknown source, no matter how implausible it seems. A new member joined up on stampboards breathlessly showing his latest canny deal.

He'd bought a GB 1840 Penny Black for 'just' $US100. He'd been so smart, he'd spent hours "plating" the stamp via the corner letters and corner rays etc, and cheerfully sought other opinions to verify his plating genius.

Now anyone who has ever seen a REAL 1d Black knows the corner alphabet letter serifed fonts look nothing remotely like these absurd things, but hey - who said knowing anything about stamps was necessary to be an eBay bidder!

His "BAAAHRGIN" was clearly cancelled 13 FEB 1840 - very impressive, seeing the stamp was not issued until May 1840! He was told from reply #1 he'd bought a crude fake, with a fake cancel. Yet despite that, argued and argued that could not be so, and we were all nasty meanies.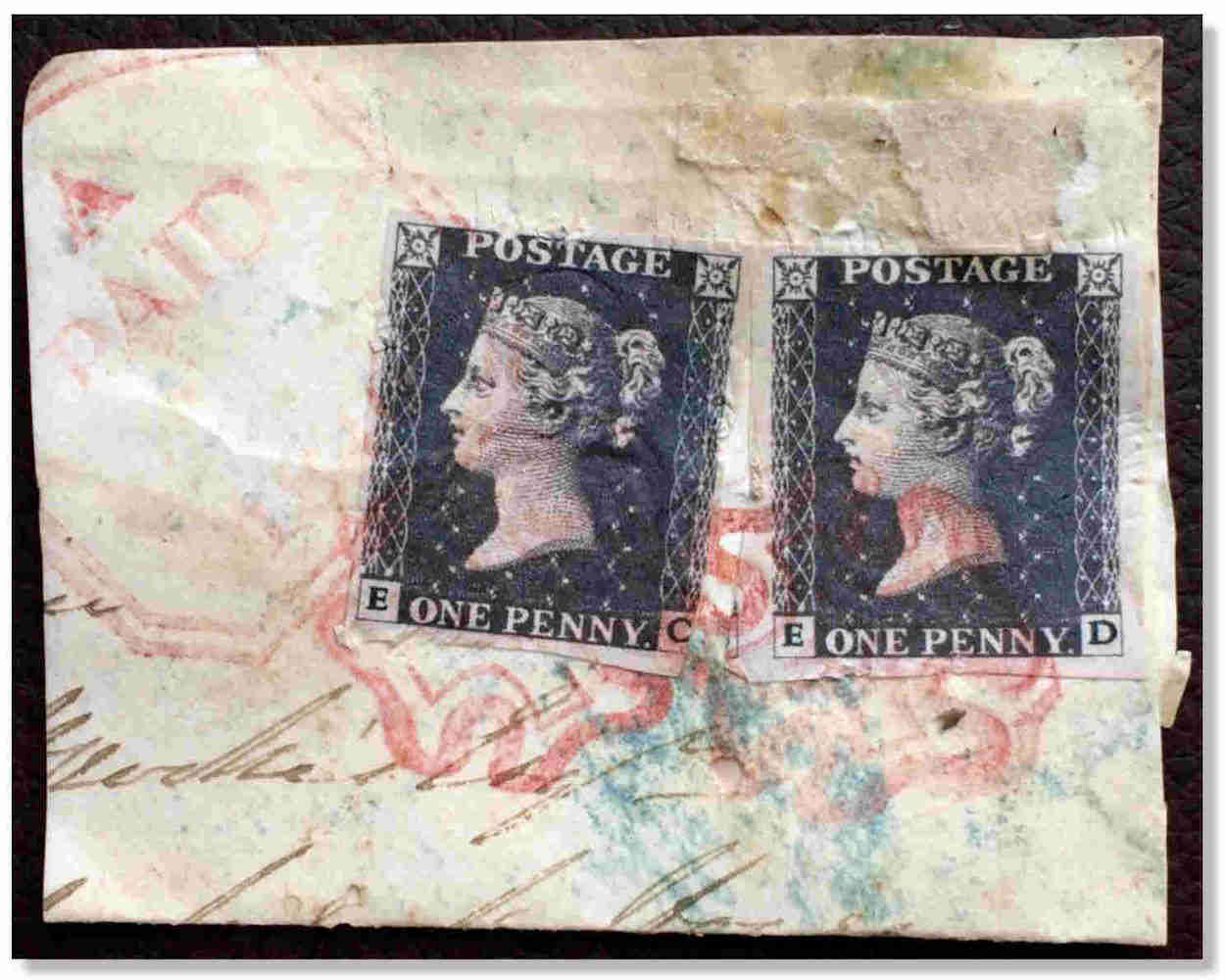 Why settle for just ONE fake?
When the bleeding obvious bidding pattern was pointed out to him, that his seller, and a fake eBay "shill" bidding account were 2 accounts from one owner, pushing up his bids, between paulkarjalainen and grampi_35 - he still did not get it.

These two had been flogging these laser printed fakes for weeks at high prices - often gluing them onto bits of old envelopes, and adding their fake Maltese Cross cancels. Buyer feedback was great - they all LOVED being ripped off it seems clear.

So, what does our man do - leaves POSITIVE feedback for this crook, and despite endless reports to eBay, they of course do nothing about these spivs selling conga lines of these laser printed fakes, and shill bidding up anyone really stupid enough to bid on them.

tinyurl.com/BlackFake is the discussion, for anyone who wants to see a train wreck in full flight. Victim leaves positive feedback, so as not to warn other gullible. Fakers are untouched by eBay as usual, so more Bunnies will get ripped off cheerfully. eBay loves fees, and cares not about stamp fakes.








Get my regular market update emails FREE! Stamp gossip, price trends, record sale prices, and many one-time stamp specials, wholesale bargains, and exciting offers and breaking philatelic news. A mini stamp magazine in every email! "KNOWLEDGE IS POWER". The ONE stamp list you MUST be on, to keep in touch with the rapidly changing world market. One client made $65,000 profit in a few months after following my specific advice. Sign up securely and quickly by clicking HERE to access my automated data base. And wiser still ADD your home AND work email, if I only have one right now. Add a stamp friend's email address if you wish. One short click and you are subscribed to probably the most read email list in the stamp world!




If you would like to be notified of updates to this website,
Click HERE.
If have any questions,
or comments regarding my site, please email me at glen@glenstephens.com
| | |
| --- | --- |
| | Search all my 300+ web pages! Simply type in what you are looking for. "Penny Black", "Latvia", "Imprints", "Morocco", "Fungi" "Year Books", etc! Using quotes ( " ) is more accurf used with no quotes. Search is NOT case sensitive. Tip - keep the search word singular - "Machin" yields far more matches than "Machins" etc. |


Full Time Stamp Dealer in Australia for over 35 years.
Life Member - American Stamp Dealers' Association. (New York)
Also Member of; Philatelic Traders' Society (London) IFSDA (Switzerland) etc


GLEN $TEPHEN$

Full Time Stamp Dealer in Australia for 35+ years.

Life Member - American Stamp Dealers' Association. (ASDA - New York) Also Member - Philatelic Traders' Society

(PTS London) and many other philatelic bodies.

ALL Postage + Insurance is extra. Visa/BankCard/MasterCard/Amex all OK, at NO fee, even for "Lay-Bys"! All lots offered are subject to my usual

Conditions of Sale

, copy upon request .

Sydney's

BIGGEST STAMP BUYER

: Post me ANYTHING via Registered Mail for my same-day cheque. Avoid copping the Now normal 45% Auction "Commissions" (15% Buyer + 20% Seller + GST, etc) AND their five-month delays!

Read HERE for details.

"Lothlórien", 4 The Tor Walk, CASTLECRAG (Sydney), N.S.W. 2068

Australia





Phone 7 Days:

(02) 9958-1333

PO Box 4007, Castlecrag. NSW. 2068




E-Mail:

glen@glenstephens.com

The Number #1 Web Sites:

and www.stampboards.com