Click To Go Back To The Main www.GlenStephens.com Stamps Homepage

Welcome! - You are visitor number
To - www.Glenstephens.com


September 2018


---
"Best Buy" among Kangaroo series?
Many collectors assume that there are no bargains or sleepers among the Kangaroo stamp higher values. That is actually not true - it just depends on how much experience you have, and exactly how much research you do!

I was pricing up a Third Watermark £1 Grey Specimen into stock this week, and looked up the value in the ACSC catalogue. This one was the heavy overprint font type "D". Facially, most assume it is common, as that same font was used on the CofA trio, which sell for small sums really, about $70 for that £1 in hinged mint.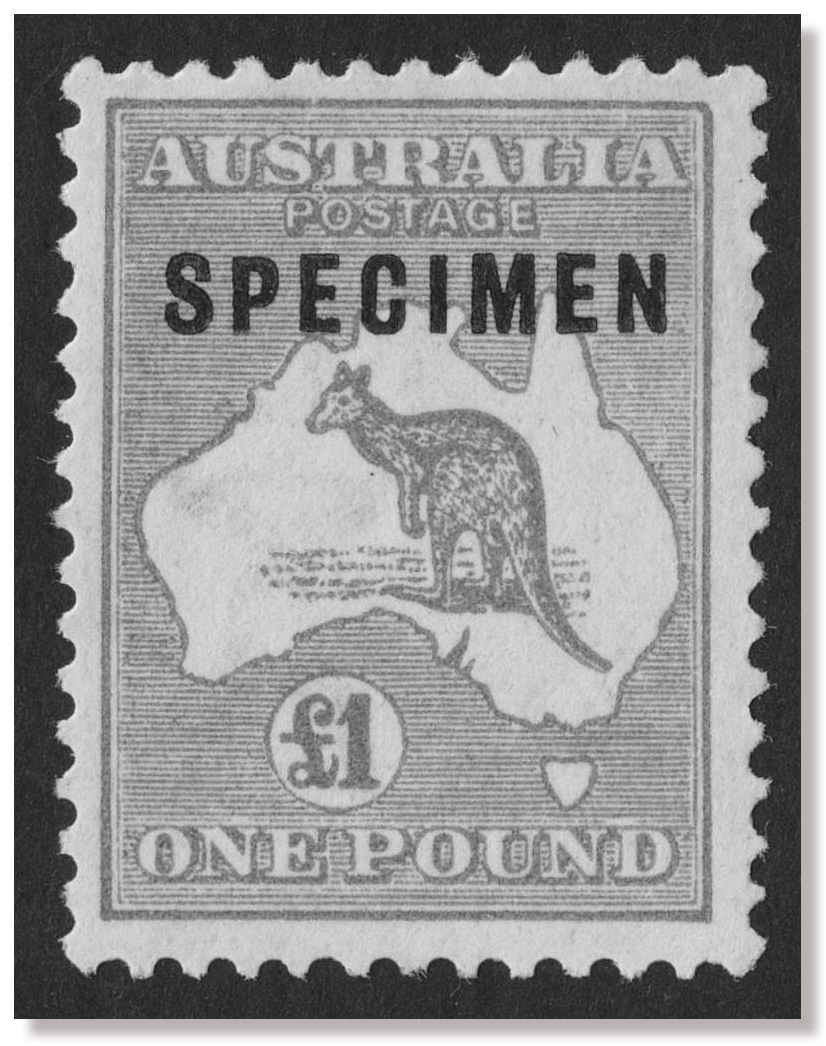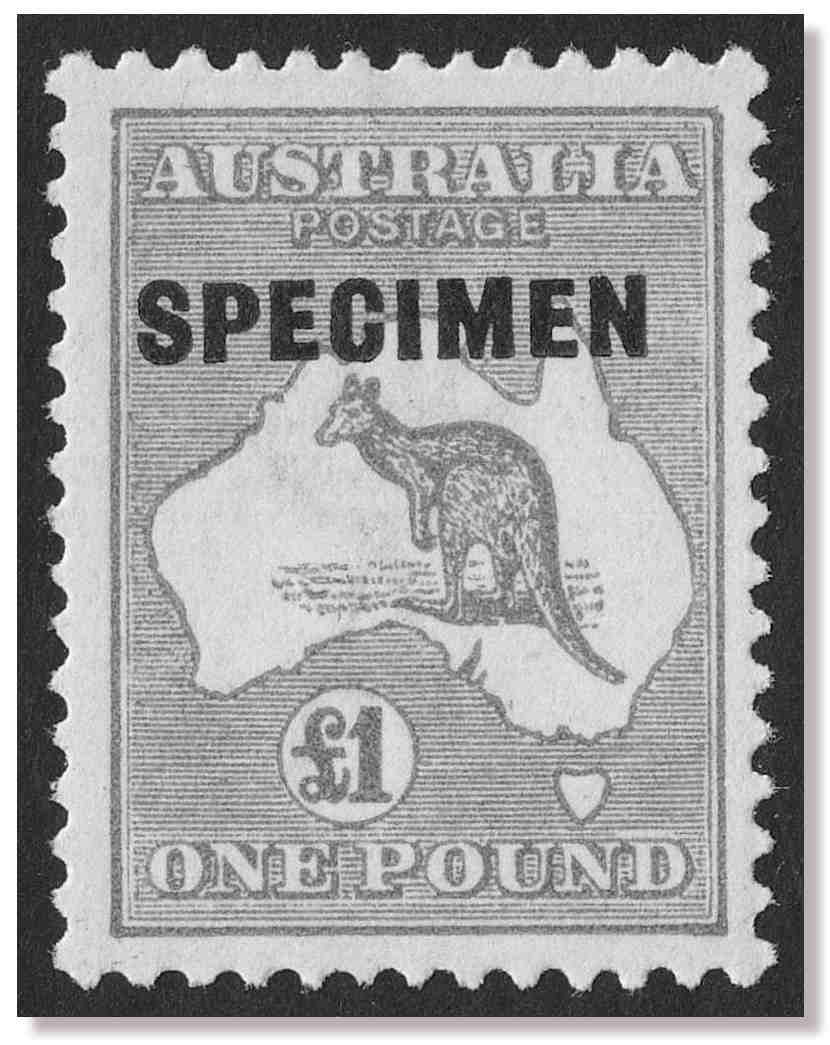 The Types "C" and "D" Specimen Kangaroos.
I was most surprised to note in the current 2017 ACSC catalogue, that the spindly and condensed Specimen overprint type "C" is the same price in ACSC as Type "D" - for both hinged and unhinged on both - $850 MUH and $375 hinged for each, respectively.

As a long-time dealer, I know this to be totally absurd, as the Type "D" is a TEN times harder stamp to locate than the type "D" in the same Third Watermark. I see one each few years. ACSC tell us only 600 of the heavy Type "D" were sold, as it was a stop-gap Emergency late print, on this watermark.

The thinner type "C" overprints occurred for a long run on this Third Watermark, and Dr Kellow's research in ACSC tells us 4 printings of those were made, and 5,520 copies were sold - near TEN times those of the Type "D". In reality, the type "D" should be a $1,000+ catalogue stamp hinged.
Accurate numbers now recorded.
In fact, it is worth noting that Dr. Kellow's detailed research of Note Printing Branch files and records in recent years has meant numbers sold of most of the various SPECIMEN and CTO types have now been made available - often correcting older and incorrect information and figures and guesses.

As a totally relevant comparison, the 1913 Kangaroo top values overprinted "Specimen" were sold to the tune of 2,169 sets of 3. The ACSC values those 3 hinged mint at $750, $950 and $850 each. I see FAR more of all 3 each decade, than the Type "D" £1 Third - which is obvious, as only a quarter were sold. .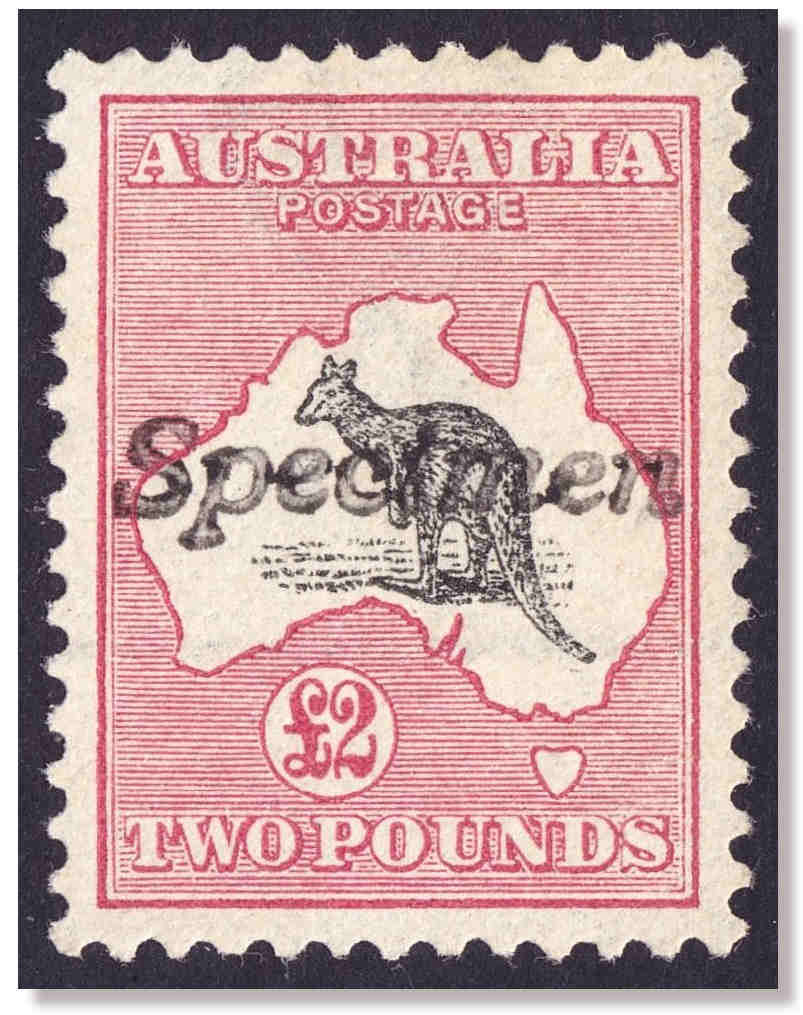 First Watermark SPECIMEN - 2169 sets sold.
There are of course some very minor variance on the lettering of the Type "C" thinner overprints, and the so called "Type 1a" (previously called Type "C1") is cat $3,750 hinged. We know that 184 of these were made, so $3,750 for them, and $375 for the type "D" with 600 sold, is WAY out of whack!

This always has been an elusive and greatly overlooked "SPECIMEN". One client had it on his "want list" for years in the 1990s and even later, and I could never locate him a nice condition example. Price was no object to him really.

He refused to accept no gum copies, or the usual "fluffy" perfs, or toned gum, and the only ones I saw were one, or all, of these! It is a Specimen Kangaroo type that even the massive $7.15 million Arthur Gray sale did not possess.

I did some sleuthing to see WHEN the prices had fallen well out of kilter. Sadly the ACSC had a disgraced eBay alleged "dealer" work on Kangaroos pricing for recent editions, who messed up many of them totally, making a dog's breakfast of the ones fiddled around with - this stamp included.
Pricing normality gone mad
Thankfully he is no longer involved in there it appears, and hopefully many prices will again in future revert to the usual relativity of previous decades. When more experienced heads were at the wheel, the Type "D" was of course always listed at a large price premium, to the far more common type "C".

In the 1999 Edition, the prices for unhinged/hinged for them was $150/$75 "C", and $225/$125 for "D". In 2004 when savvier heads worked on pricing, they were $175/$100 and $350/$225 - the hinged stamps being 225% higher for type "D" than Type "C". Not as much a premium as there really should be, but a fair reflection of scarcity.

The 2013 Edition the eBay "dealer" gave us the crazy levels of $750/$375 for "C" and $475/$275 for "D". So the few 100% premium in 1999 and 2004 Editions was oddly reversed suddenly to a 25% DISCOUNT! Madness. The type "D" is offered with gum very infrequently, and is truly scarce.

I have "no horse in this race" other than to try and restore normality back to these wacky ACSC prices. I only have one example of Type "D" in stock, as it is quite scarce, and that will doubtless sell before this piece is published. My advice to you is buy ANY type "D" Third, at today's wacky levels.

That place will not be from ME, as I have priced mine around full underweight ACSC, as it is virtually MUH, and fresh with superb perfs and centering. Hunt around - you may get lucky. The gum on these was often rather yellowish, and indeed many offered are no gum "unused" for some reason, but if you can track down a fresh attractive MLH copy, grab it NOW!
Add suggestions to ACSC Editor.
| | | |
| --- | --- | --- |
| | Stampboards has a central place to post suggestions of such errors and omissions and typos in the ACSC, that Dr. Kellow does read, as it is a handy one-stop place to amend any mistakes that creep in. tinyurl.com/ACSCnotes is the 350 post conga line so far. Please add anything in there you have noticed is amiss. | |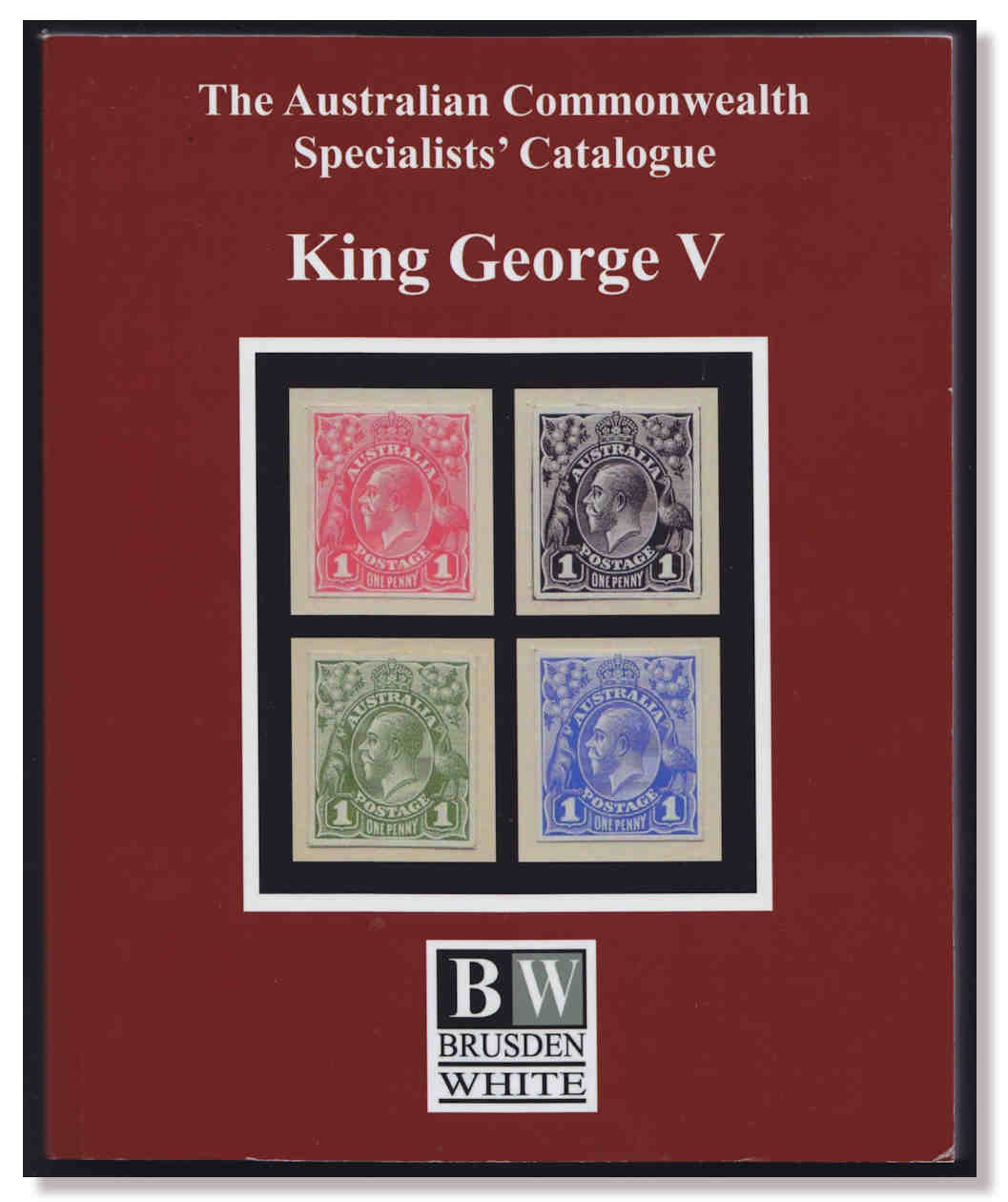 Near 500 pages in full colour.
The Brusden-White 10 volume ACSC Catalogues are literally the world's finest one country set. Far, far, better and more detailed than anything published for the UK or USA, and collectors and specialists can assist Dr Kellow in proof reading current editions, to keep them 100% relevant etc.

The recent new ACSC "KGV" catalogue now in full colour for the first time I reviewed recently, and is selling very well. Some price rises were of 500%. Full detailed review of that here: tinyurl.com/Glen0618 - an essential reference for the collector of this ever popular series. "Knowledge Is Power".

This new volume does not only cover the popular KGV head issues, but all the KGV Commemoratives and Definitives - the Harbour Bridges, Macarthurs, Anzacs, Sturts, and 1/- Large Lyres etc, and both 6d Kookaburra etc. It is near 500 pages thick, in colour, and THAT is "bang for your buck!"

Many older collectors are mentally dismissive of Specimen overprints on Australian stamps for some reason. 40 years back when I started as a dealer, they were generally sneered at by the advanced and senior collectors. (And so were all stamps used on cover!)

Fast-forward to 2018, and the true mega scarcity of many these official Post Office emissions are now apparent. The prices of many of them are well into the $1,000s. The unused £2 "Arms" shown nearby I listed up recently on my Rarity Page.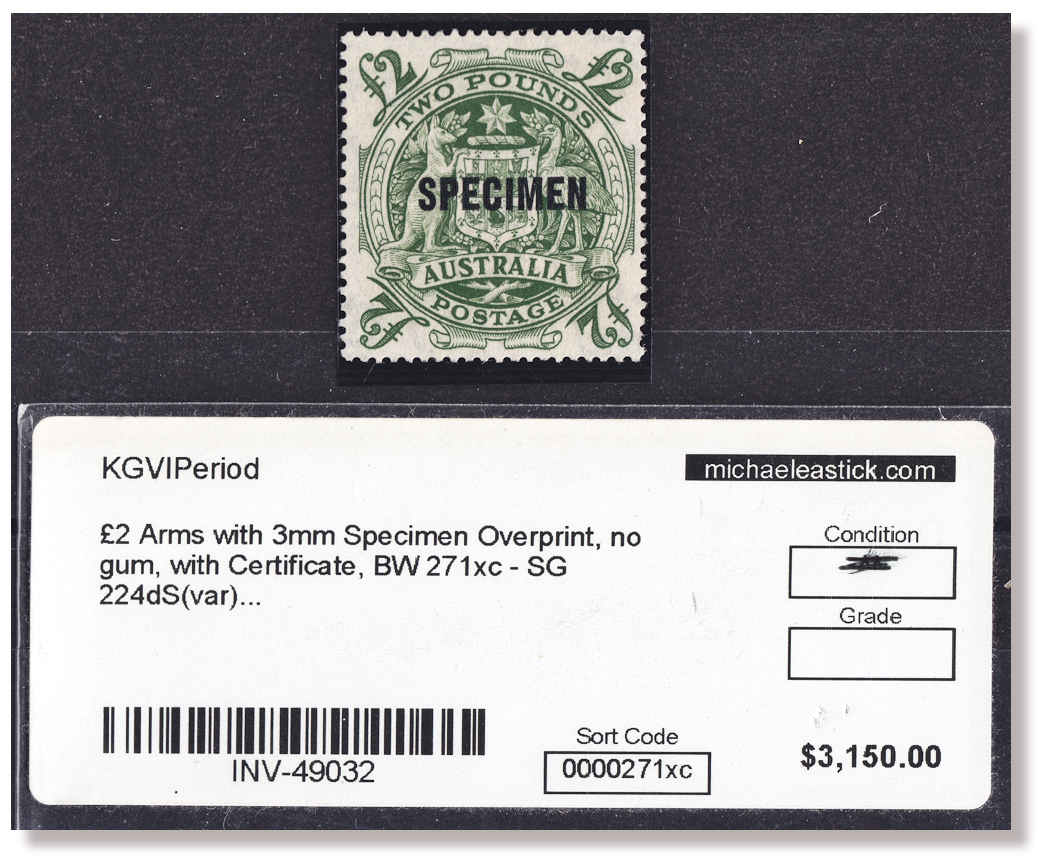 £2 "Arms" Specimen – only 15 recorded.
It has a Photo Certificate of Genuineness, and was on a dealer card who sold it for $3,150. My price is $1,000 less than that, but the stamp is truly scarce. ACSC tell us only 15 are recorded with this unusual 3mm high overprint, and lists it as 271xd, Cat $5,500 hinged mint.

Be careful of eBay - fakes of this, and all kinds of other pricey overprints are offered there of course. The clueless Bunnies hop in with their ears pinned back, hoovering up such "BAAARHGINS" which of course are worth near nothing, when it comes time to sell. As ACSC notes, you MUST have a Cert.
A Decimal FDC to look for.
Many readers likely assume that there are no Australia Decimal era FDCs that are worth looking out for, value wise. They would be very wrong! The one shown nearby sells for $100s, and armed with knowing that, you might well score one cheap one day.

Especially overseas, there is no knowledge that this FDC is scarce, and to hear you found one in a local dealer's box for a couple of bucks in the USA or Canada or Europe etc, would not surprise me to learn at all. The dealer would assume that was "fair value" for a Decimal era FDC.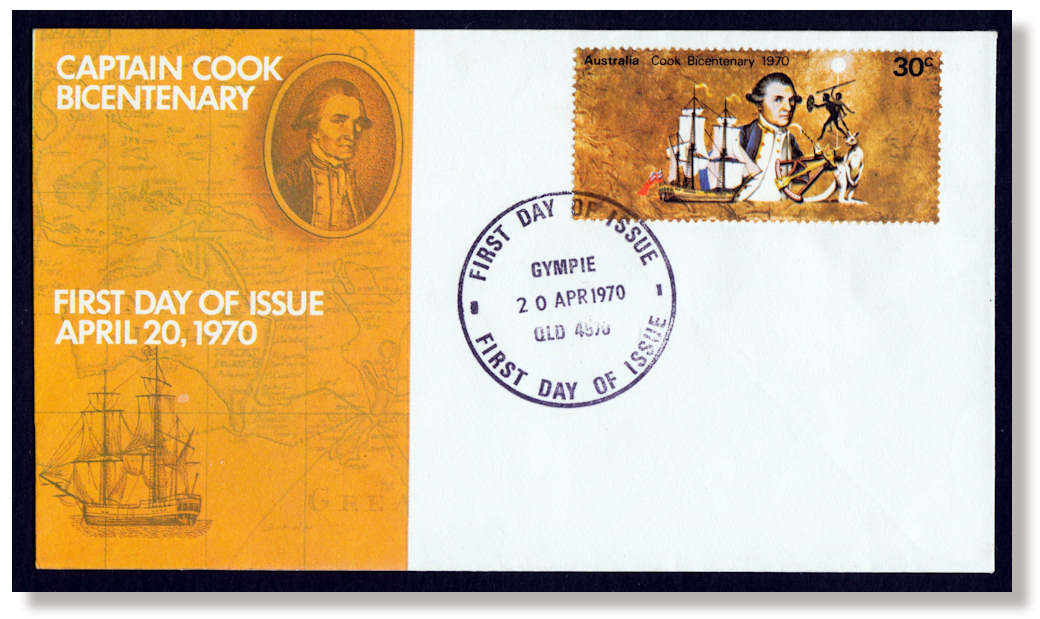 The famous 30¢ "Small Cook" FDC
Australia's Rarest Decimal FDC is the Famous 1970 "30¢ Small Cook". This has legendary status here, and I have only handled a few genuine unaddressed copies in 40 years of dealing. In 1970 Australia Post decided to tentatively enter the FDC market. It was very low key, and it was not well promoted or publicised.

For over 40 years the private major cachet makers had ruled supreme, and anyone with a 20 year run of 'Wesley' or 'Royal' or 'Excelsior' FDC's, saw no reason whatever to change their buying habits of their favourite brand. And they did not. And hence the PO sold virtually none of their new product.

Do NOT confuse this cover with the Post Office cover of exactly the same design and colour and size, but inscribed "Commemorative Cover" on the left hand panel - those are far more obtainable, far cheaper, and of course DO exist with the April 20, 1970 cancels of first day issue.

In those days, near a half century back, you needed to have First Day Covers addressed - so sadly MANY were done in handwriting, which looks really terrible. PO staff back then would not simply cancel stamps, and hand back the envelopes. Hence near all one sees are hand or typed addressed, that went in the mail, and sell for at about 25% the price.
Most are "Large Cook" FDC's.
The one shown nearby clearly was an exception. What they mostly sold via AP were the "Long Cook" (9" x 4" or DL sized) cover in the exact same design - bearing a se-tenant strip of 5 x 5¢, and a 30¢ - i.e. a full set of 6. That "Long Cook" cover (identical cachet design) is not too hard to get, even unaddressed, and sells for only $A30 today - myself and all major dealers have them in stock if you want one.

The "Small Cook" 30¢, is quite another kettle of fish. Easily the rarest Decimal PO FDC. My guess is only a few 100 were serviced. Many have not survived the ensuing 48 years, and near all of those are addressed. Given the enormous popularity of Captain Cook as a stamp topical, it adds to their worldwide appeal.

I remember back in the 1980's Stamp Boom era these "Small Cooks" fetched $750, and even so, were near unobtainable. The very popular and huge selling "PW" Brand illustrated FDC album had a special space printed just for this, so of course collectors all sought it from dealers. See much more discussion here on these - tinyurl.com/Small30c

In the early 1980s when the price hit $750 each, there were superb fakes created by Reg Gavin and his miscreant mates in Western Sydney. The only real mistake was, that they used the then current envelope base stock, which had 3 neat segments of blue green gum on the flaps.

The originals like the one shown nearby, have a solid band of rather patchy, streaky, yellowish gum. Now 48 years old, in superb unaddressed shape, they are remarkably hard to locate. The fakers licked down the flaps in panic, so NEVER buy one unless you can check the flap gum!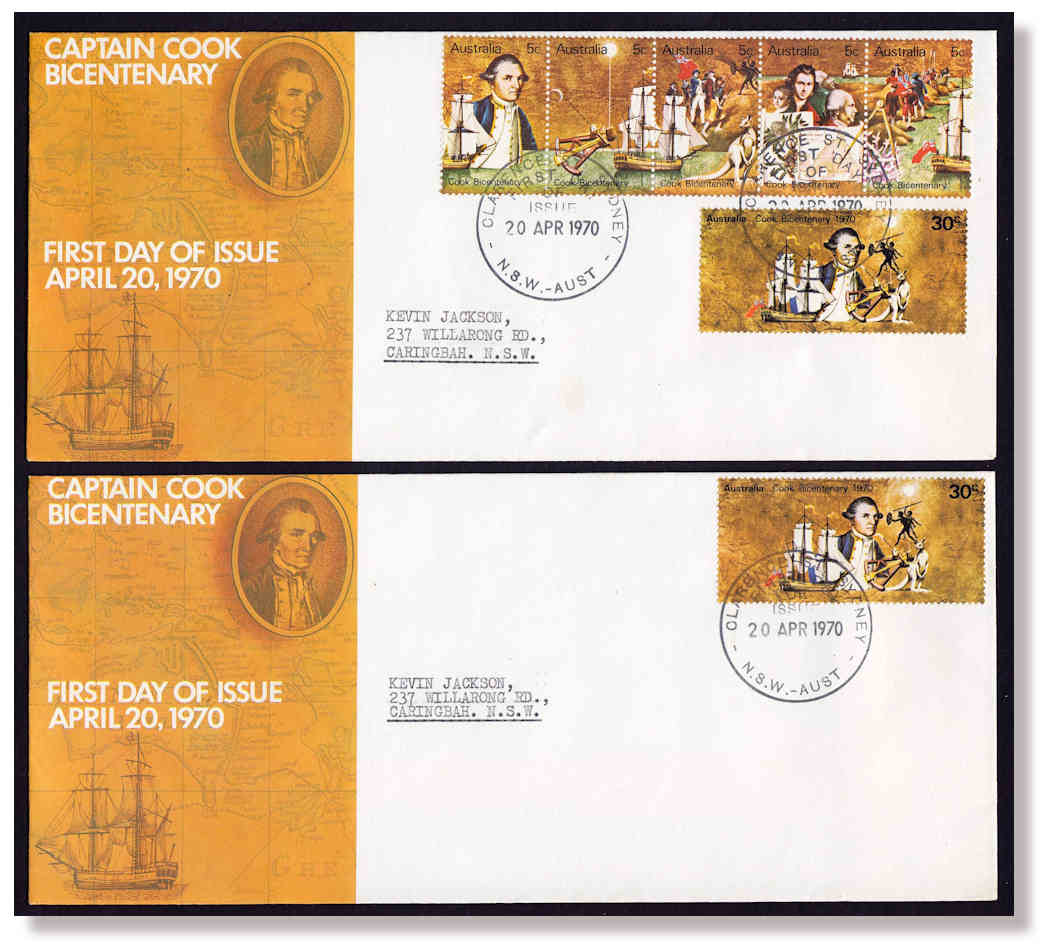 Solo 30¢ "LONG Cook" also very elusive.

The reason the 30¢ "Small Cook" is $100s, is because it was NOT intuitive for any collector to use a single stamp on one cover - they added the set 6. Also the single 30c was not an option that the PO offered. You had to specially arrange it yourself. The PO "default" was the 30¢ value and strip 5 x 5¢, on ONE long official PO FDC.

Kevin Jackson from Caringbah NSW, thankfully thought outside the square, and bought the standard issues, but ALSO asked specially for a 30¢ on a LONG cover. I've never seen another solo on a PO cover - has anyone? Both superb typed addressed, and both with the sought after "Clarence Street" Bureau cancels. A cool pair I sold this week, for not much money at all.
1919 Ross Smith "Vignette"
The Australian "Local" item most collectors think of first, is the pioneering and heroic 1919 Ross Smith First Flight, England to Australia stamp "Vignette". This is technically more a semi-official stamp issue, than a "Local" or "Cinderella" as some incorrectly regard it as.

It was ordered by the Prime Minister's Department (by no less than PM 'Billy' Hughes personally!) via the Treasury Department. Printed in great haste by T. S. Harrison, and the Commonwealth Note Printing Branch on watermarked paper - the identical CrownA paper we find on 1914 KGV heads, or the "Second" Watermark Kangaroos.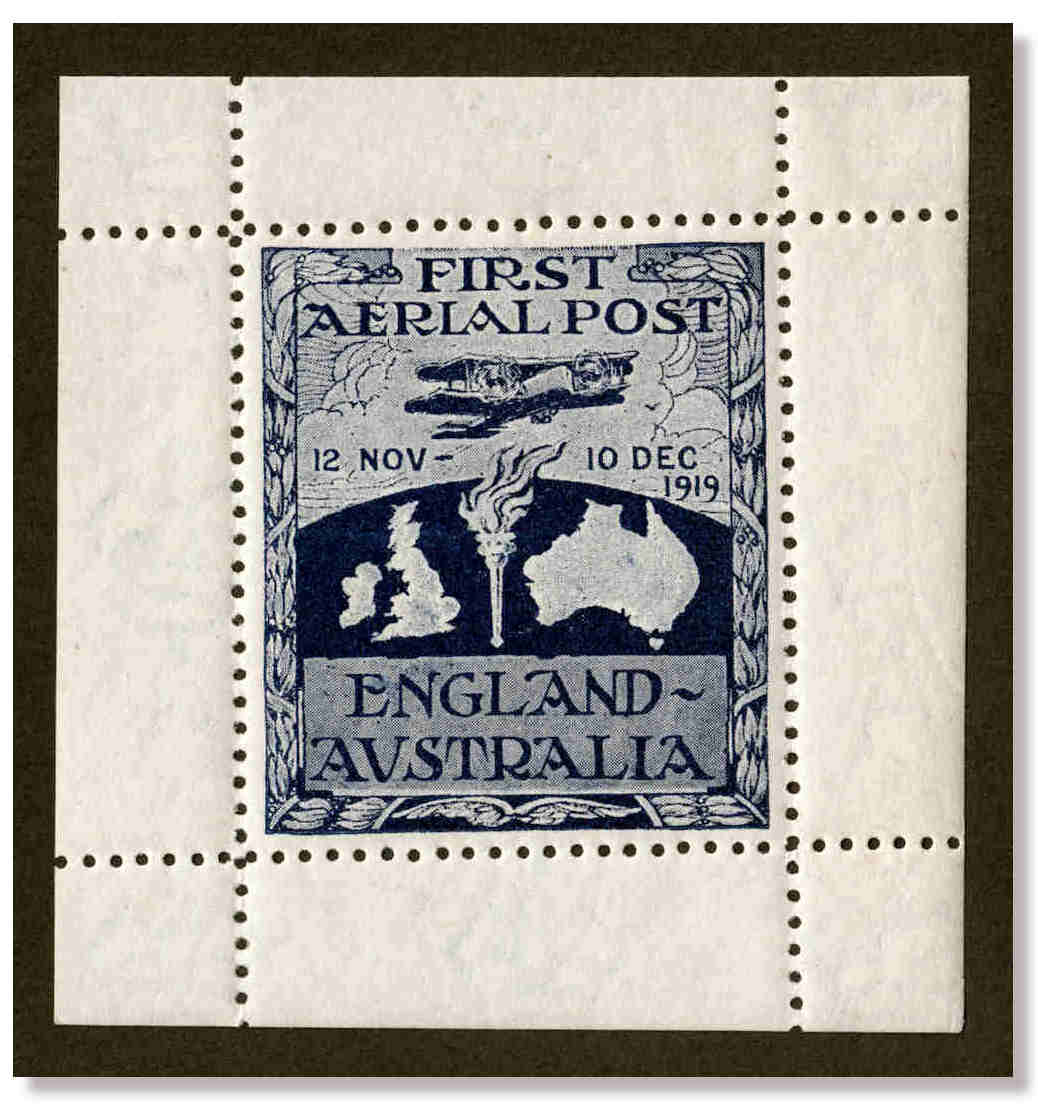 Pricier than most £2 Kangaroo stamps!

This crew were MEGA-SUPERSTARS in this era! Ross Smith enlisted in 1914 in the 3rd Light Horse Regiment, landing at Gallipoli 13 May 1915. In 1917, he volunteered for the Australian Flying Corps. He was later twice awarded the Military Cross and the Distinguished Flying Cross three times, becoming an Air Ace with 11 confirmed aerial victories.

Ross Smith (KBE, MC and Bar, DFC and Two Bars, AFC) was pilot for T. E. Lawrence (Lawrence of Arabia) and fought in aerial combat missions in the Middle East. He is mentioned several times in Lawrence's book, "Seven Pillars of Wisdom". The legendary Australian cricketer Keith Ross Miller was named after Smith and his flying brother Keith.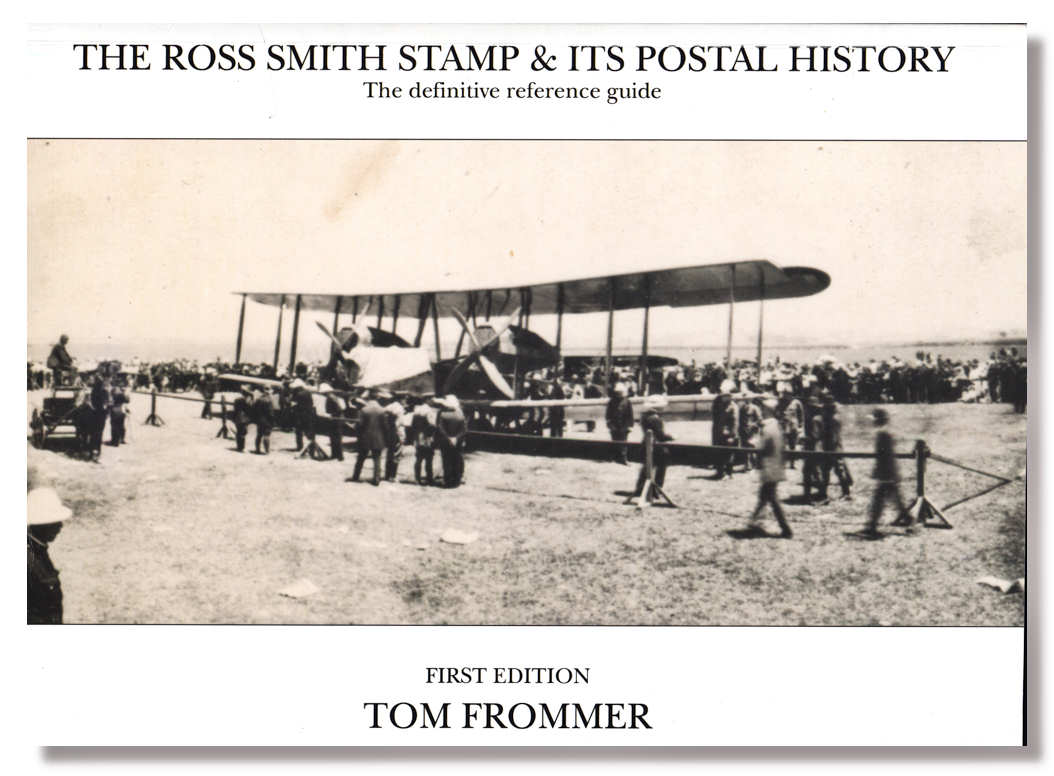 Very useful Frommer handbook.
| | | |
| --- | --- | --- |
| | A fine handbook on the Ross Smith Vignette stamp issue has been written by Tom Frommer - author of the last Eustis/AAMC catalogue "Bible". It is 144 pages, and has much previously unrecorded information in it. Every known cover, stamp, vignette, letter and forgery are illustrated and numbered. A fine job. | |
How to check for Ross Smith fakes.
For the dozen or so hopeful folks who phone or email me each year to ask if their "rare" Vignette they cleverly bought on eBay etc as a super "BAAAAHGIN" is really a super valuable gem, my very simple and accurate answer is - "just hold it up to the light".

If there is NO watermark, you clearly have one of the many types of fakes/reprints done over the years. Not that such minor detail bothers the 100s of dreamers who cheerfully list their fakes up on eBay each year as "Grandpappys treasjure gaurinteed genueen RAAR" !

Some of them are really crude, and some were far better productions. Endless 1000s seem to have been produced over the decades. Edgar Lewy, long term "Philatelic Exporter" columnist did some quite decent high grade reproductions via Philart in the UK in the 1970s. Edgar's were by FAR the best "fakes" done. He offered me a large carton of 10,000s of these 30 years ago.

Well after he died, I asked wife Lily if she still had them, and said she tossed them into the garbage bin in London - a shame, as they were nice efforts, and are seldom seen. Some reprints are so roughly printed virtually none of the perf holes are punched out. And in ALL cases, the colour is quite wrong, not being the deep steel blue of the genuine, as you can see in the photo of my copy above.

It is not a "Local" or a "Cinderella" strictly speaking, but in my view is an officially sanctioned and printed label, and should be more correctly termed a "semi-official stamp" production. Major catalogues like Yvert list and price it as an Australian postage stamp issue. Major album makers like Seven Seas Stamps have made spaces for it in printed albums.

Many still exist as genuine mint or used stamps, or used on original cover. A fine MUH sheetlet generally sells for about $A20,000 these days. The fresh MUH one illustrated nearby I sold for $15,000 recently. I do not charge that for most MUH £2 Roos!
Highest on cover price c$A50,000.
| | | |
| --- | --- | --- |
| | A really striking looking Ross Smith flight cover was auctioned and invoiced in the region of $A50,000. There are still quite a fair number of these Ross Smith Vignettes existing, either as mint sheetlets as illustrated nearby, or on covers with the outer margins removed, in all such cases. | |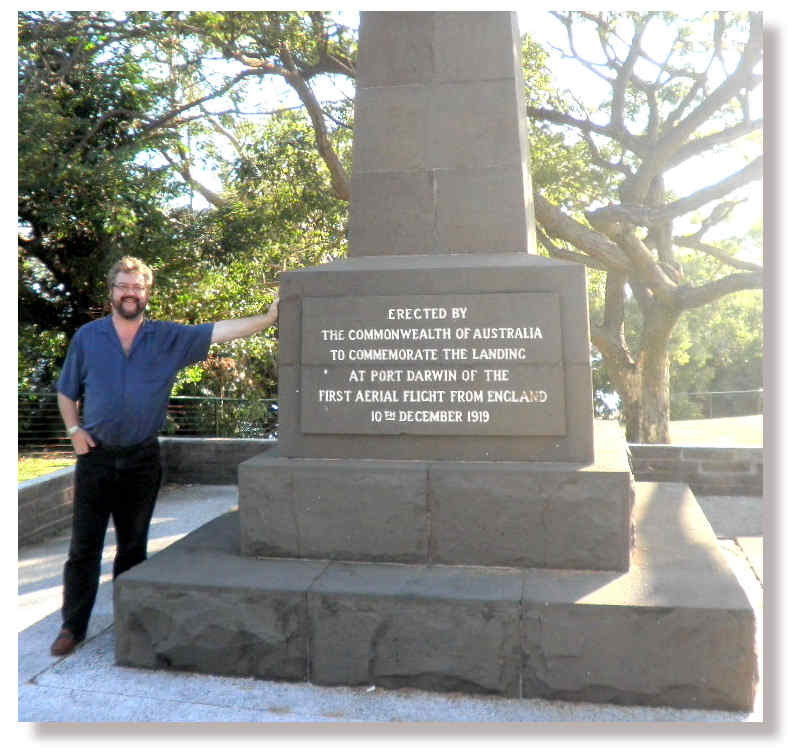 Sir Ross Smith still remembered in Darwin.
| | | |
| --- | --- | --- |
| | The last time I was up in Darwin, I drove down Ross Smith Avenue, and sought out the little known but impressive stone cairn marking his arrival in Australia in 1919! I later sold a rather interesting Ross Smith cover, that is so far removed from the usual 1919 Ross Smith covers, and has such history, I thought I'd share it here. | |
Detailed 27 page Army record.
Lance Corporal Rupert Sainsbury's AIF 27 page service report is here: tinyurl.com/SainAIF - amazing how much detail they contain! Well worth a look at that detailed site - ignore the Warning you might see - our clueless Federal Government has not renewed their own Web Security Certificate - appalling.

Rupert Henry Sainsbury enlisted in WW2 as an officer, aged 44, living in Kelvin Grove, Queensland at the time, on 5/7/40, and was discharged 8/12/44 as a Lieutenant Colonel, in the Australian Corps of Signals.

The records show that the "On Active Service" censored mail was written January 10 and 11, 1919 in the Middle East, and was collected from the AIF 1st Australian Wireless Squadron ex Baghdad. This "OAS" troop mail was then handed to their Brigadier - General MacEwen.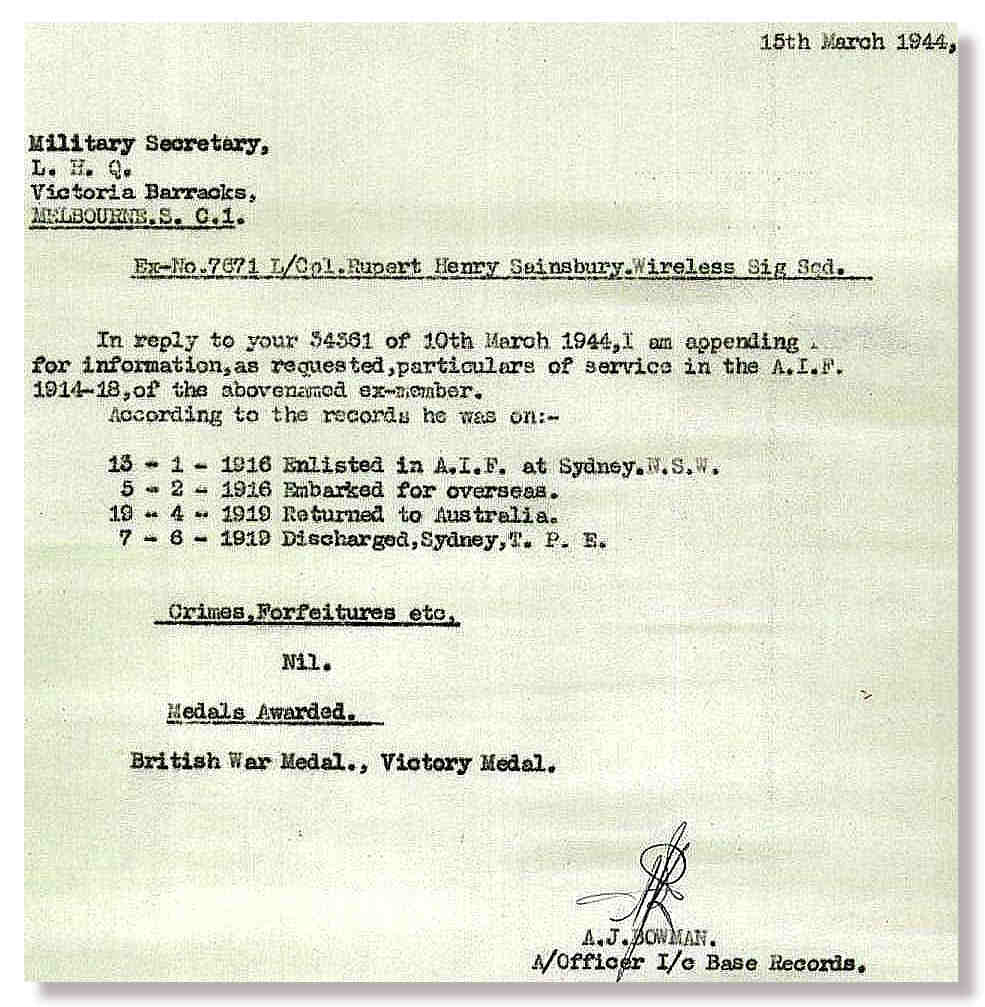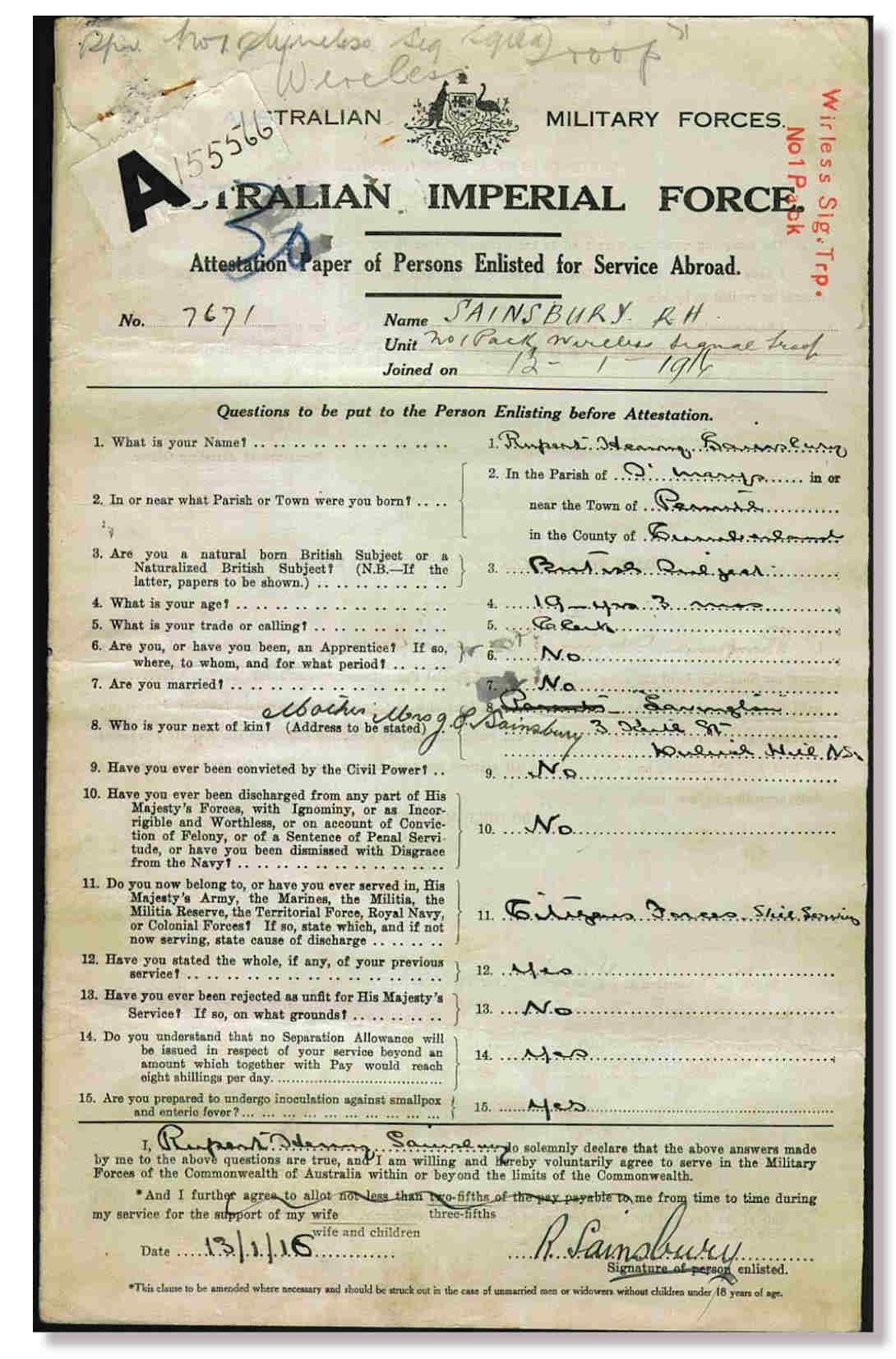 Trooper Sainsbury AIF Record.
MacEwen later handed this mail to Ross Smith in Simla, India, knowing he planned a pioneer flight to Australia. Smith duly carried it on the historic flight ex London in November 1919. Trooper Sainsbury was in fact de-mobbed from the Army, and was safely back in Australia for SIX MONTHS, before his cover arrived in Darwin in 1919!

t then took near 3 more months for his letter to arrive in Melbourne, where the "26 February, 1920" date-stamps were all applied to the hastily affixed Vignette "stamps", and all handed over personally to Prime Minister Hughes, and then delivered via normal mail, under separate Post Office outer cover.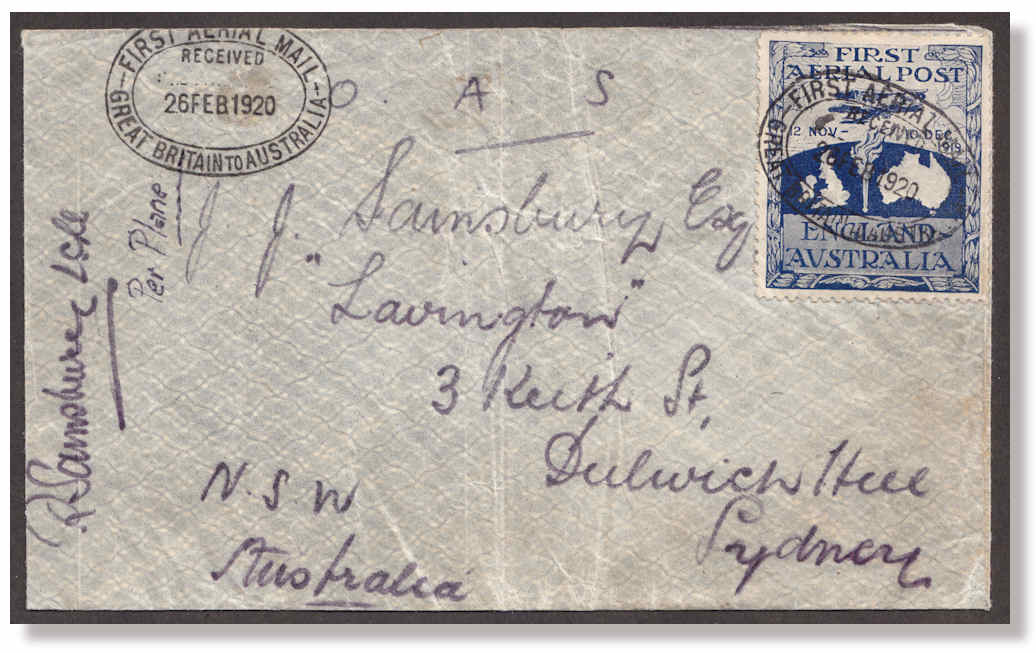 15 months to arrive from Persia!
So it was probably around March 1920 before it reached Dulwich Hill NSW, near 15 months after being written in the Persian Desert during WWI. This fascinating cover is shown nearby, and was signed and dated on back by the Engineer - "J. Bennett, Darwin 12/12/19". Not many were.

The Frommer Ross Smith flights handbook above says 29 covers are recorded in total signed by Sargeant Jim Bennett. He tragically died 2 years later. It is of course also an "O.A.S." (On Active Service) cover ex Baghdad, that AAMC says only 26 covers are recorded as originating from.

As can readily be seen from the detailed service records and movements I link to on War Memorial website above, Lance Corporal Rupert Sainsbury was in "Baghdad" from 18-9-18, then "Basrah" - returning to Bombay on 5/3/19, then was shipped home to Sydney.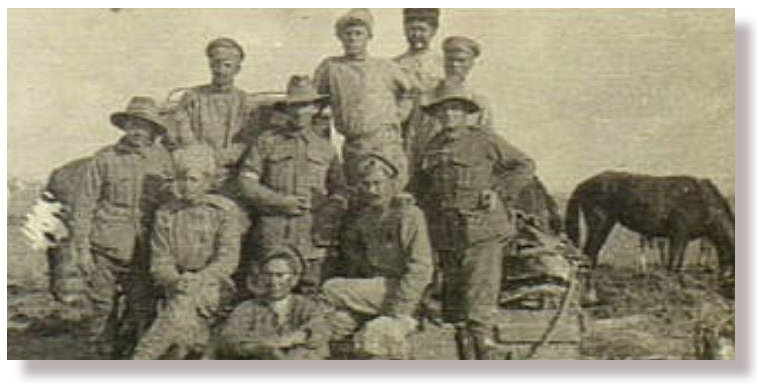 Sainsbury and Russians in Middle East.

Lance Corporal Rupert Sainsbury it is understood, is featured in this fuzzy photo nearby, that he donated to the Australian War Memorial. The grainy old sepia photo nearby, shows members of his Australian AIF 1st Wireless Signal Squadron, and a group of Russian Partisans, in Mesopotamia. War Memorial caption says -

"Persian Road, Persia. 1917-12. Informal group portrait of operators with the 1st Wireless Signal Squadron and Russian Partisans (Partizanski) on the Persian Highway. The Russian detachment consisted of volunteers from different regiments under the command of Bicherakov who had chosen to continue to assist the Mesopotamian Expeditionary Force after the Russian Revolution. They had with them a mobile wireless station. A party from No. 1 Wireless Signals Squadron was sent to handle traffic in English. (Donor R. Sainsbury)"

I love postal history - this First Flight cover takes on a totally new depth and life, when a few hours research are expended. Written on active service in the deserts of Persia in WWI, hand carried to India by Commanding Officer, then on to the UK via Ross Smith. Then 18 months later it arrived in NSW, via this most famous of all flights.
Canada Issues Stamps on Coins set.
It is an established fact that a rather high percentage of stamp collectors, also have an interest in coins and banknotes - often with large collections of both. And many collect Canada. So this interesting new issue might appeal to some of them!

Canada issued on August 13th, the first in a set of 3 stamp shape $20 coins, with a perforated edge, made from 99.99% pure silver, weighing 31.86 grams. The other 2 stamp/coins in this trio will be issued in October and December, 2018.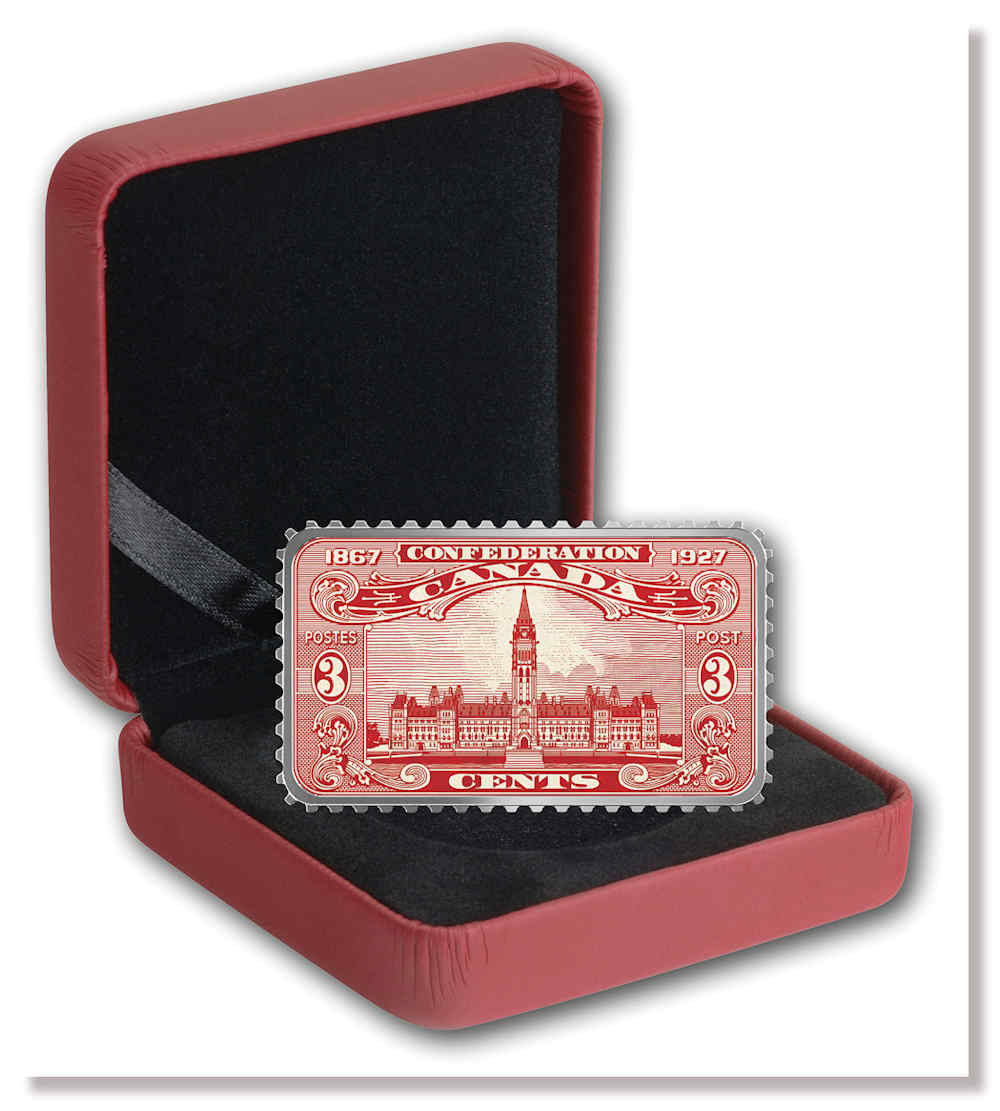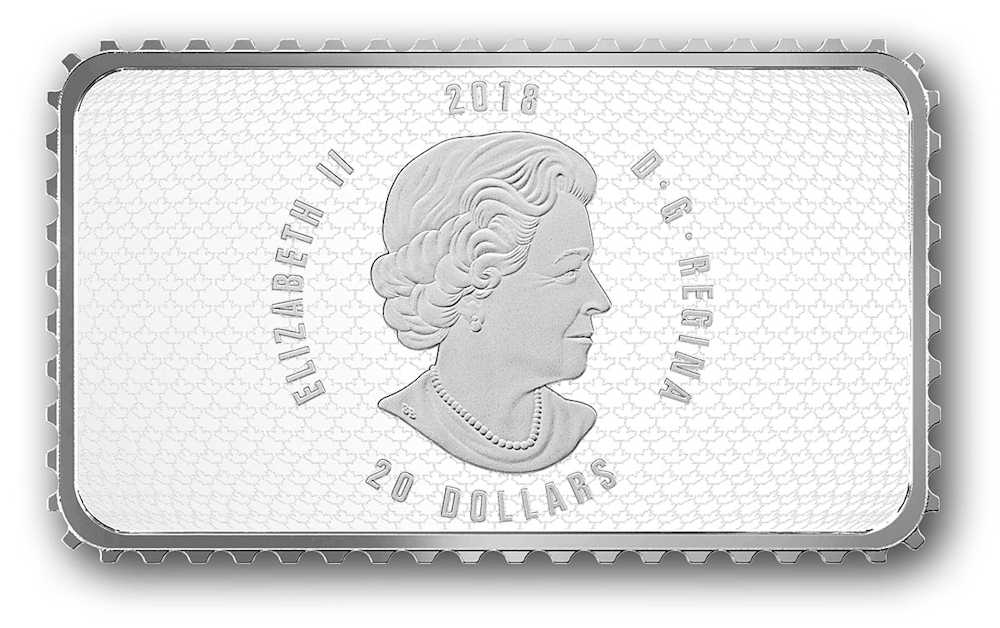 New Canada stamp replica set.
Canada's postal past is lined with philatelic gems, that are a pictorial journey through time. The Royal Canadian Mint's new "Canada's Historical Stamps" series is a numismatic tribute to some early 20th century stamp designs, with colourful reproductions, engraved within the "perforated" edges, that transform this rectangular coin into a stamp-shaped one.

This 3¢ brown/carmine "CONFEDERATION" coin is first in a Limited Edition series of 5000 sets of 3, and travels back in time to 1927 to reproduce a stamp initially issued for Canada's Diamond Jubilee. A very classy job it seemed to me, looking at their website. Sets 3 can be pre-ordered.

The engraved reproduction of the 1927 stamp is near as detailed as the original. Complete with horizontal lines that were the hallmark of intaglio printing, or line engraving - one of the oldest methods of stamp production. More detail here - tinyurl.com/StampsRCM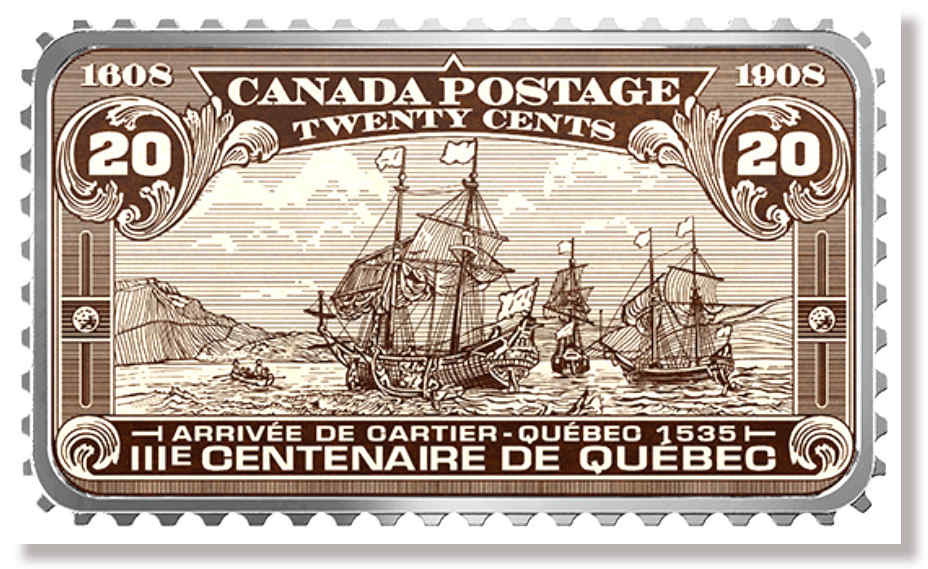 The next Canada issue in October 2018.
The addition of colour printed over the engraving completes this reproduction of the original brown/carmine coloured stamp into a $C20 Legal Tender "coin" - however as the issue price is $C139.95, I suspect that very few of these will be used up as legal tender!

The next in the series issued October, will be the 20c brown top value of the 1908 Quebec Tercentenary set, SG 195, depicting Jacques Cartier entering Quebec Harbour - a stamp design I have always really loved, and I show that coin/stamp design with simulated perfs nearby.








Get my regular market update emails FREE! Stamp gossip, price trends, record sale prices, and many one-time stamp specials, wholesale bargains, and exciting offers and breaking philatelic news. A mini stamp magazine in every email! "KNOWLEDGE IS POWER". The ONE stamp list you MUST be on, to keep in touch with the rapidly changing world market. One client made $65,000 profit in a few months after following my specific advice. Sign up securely and quickly by clicking HERE to access my automated data base. And wiser still ADD your home AND work email, if I only have one right now. Add a stamp friend's email address if you wish. One short click and you are subscribed to probably the most read email list in the stamp world!




If you would like to be notified of updates to this website,
Click HERE.
If have any questions,
or comments regarding my site, please email me at glen@glenstephens.com
| | |
| --- | --- |
| | Search all my 300+ web pages! Simply type in what you are looking for. "Penny Black", "Latvia", "Imprints", "Morocco", "Fungi" "Year Books", etc! Using quotes ( " ) is more accurf used with no quotes. Search is NOT case sensitive. Tip - keep the search word singular - "Machin" yields far more matches than "Machins" etc. |


Full Time Stamp Dealer in Australia for over 35 years.
Life Member - American Stamp Dealers' Association. (New York)
Also Member of; Philatelic Traders' Society (London) IFSDA (Switzerland) etc


GLEN $TEPHEN$

Full Time Stamp Dealer in Australia for 35+ years.

Life Member - American Stamp Dealers' Association. (ASDA - New York) Also Member - Philatelic Traders' Society

(PTS London) and many other philatelic bodies.

ALL Postage + Insurance is extra. Visa/BankCard/MasterCard/Amex all OK, at NO fee, even for "Lay-Bys"! All lots offered are subject to my usual

Conditions of Sale

, copy upon request .

Sydney's

BIGGEST STAMP BUYER

: Post me ANYTHING via Registered Mail for my same-day cheque. Avoid copping the Now normal 45% Auction "Commissions" (15% Buyer + 20% Seller + GST, etc) AND their five-month delays!

Read HERE for details.

"Lothlórien", 4 The Tor Walk, CASTLECRAG (Sydney), N.S.W. 2068

Australia





Phone 7 Days:

(02) 9958-1333

PO Box 4007, Castlecrag. NSW. 2068




E-Mail:

glen@glenstephens.com

The Number #1 Web Sites:

and www.stampboards.com