Jean de Sperati is universally regarded as the finest and most dangerous stamp forger ever to have lived. He was born Giovanni Sperati in Pistoia, Italy, and died in 1957, living most of his life in France, but always held an Italian passport, and identified as being Italian.
His mother and 2 brothers forged stamps (one was a stamp dealer in Italy!) so from an early age Jean Sperati was exposed to stamp fakery, and it later became his full time career.
Sperati's material was so dangerous the British Philatelic Association (BPA) decided to protect philately and purchased his "stock" and printing blocks etc in 1953, for a sum said to be $US40,000 - an absolute fortune half a century ago.
As a valid comparison of what $US40,000 would buy in that era, Harmers London sold the entire 'T.E Field' collection of Australian Commonwealth in 1948 for £7,500. It contained masses of proofs, essay, and mint £1 and £2 Kangaroos by the bucket load - block after block after block - pages of them, and dozens of used. The finest collection of the Commonwealth ever offered, it would readily sell for over TEN MILLION today if offered for the first time.

Sperati was so good, a mailing of 18 forgeries addressed to Lisbon Portugal was seized in 1943 by French Customs who had them assessed by local Exports as being all genuine. He was arrested on a charge of 'exporting capital' estimated at being worth 300,000 Francs without a permit, and was summonsed to appear in court. Exporting forgeries was at the time legal if sold and identified as such, and free of duty or taxes.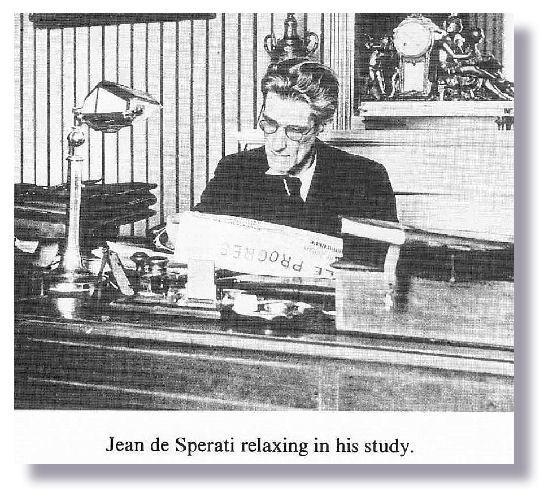 Sperati would "sign" each very lightly on the reverse "facsimile" with easily erasable pencil, thus complying with the law! Sperati made fools of the Authorities in the long court trial by forging three more identical sets of the same 18 stamps in question, and tendered them to the court! New Experts were called who agreed they were all fakes. The Judges were largely convinced, but he received a conviction, but due to his age, was only fined.
Sperati was a master craftsman, and produced very small numbers of meticulous masterpieces, rather than the masses of low quality JUNK quality material manufactured by Panelli, Spiro Brothers and Fournier etc. He had an intense interest in chemistry and associated areas, so he was able to make his fakes from GENUINE stamps. This was a very dangerous technique, as the paper, size, cancel, perforations and indeed some of the design were all then 100% genuine.
Sperati started a personal stamp collection - the "Livre D'Or" (Gold Book). These were his own forgeries that were "Guaranteed Genuine" by a wide range of highly respected dealers or experts.
Some stamps in his famous album contained as many as six different signatures or Guarantees of authenticity. The "Livre D'Or" would eventually contain 125 different expertised stamps. I understand the BNG Lakatoi shown above was among them.
Sperati is best known in Australia for his excellent 1913 £2 Kangaroo forgeries of which about two dozen are in collector hands. Despite the relatively large number available of this particular fake, they still sell for many $A1000s each and are highly sought whenever they are offered. They are catalogued in the latest ACSC at $7,500 "used" which is $A2,500 MORE than a genuine 1913 £2 Roo is catalogued at - and that is of course Australia's most valuable regular issued postage stamp. ('Mint' Sperati Roos are in ACSC at $17,500 - $7,500 MORE than a genuine mint £2 1913 First Watermark Kangaroo!)
Prestige Auctions in Melbourne realised over $4,000 for an ordinary used example in their 24 January 2004 Auction shown below. And prices have continued to rise ever since. Showing just how strong Sperati prices are right now. Along with ALL high end Kangaroo stamps. As you can see this copy has a machine cancel - a clear impossibility for a heavy parcel! This was originally a ½d Green Kangaroo which had the green colour bleached right out - but Sperati left the postmark intact.