Glen Stephens
"J-3" Price List
| | | |
| --- | --- | --- |
| | Search all my 250+ web pages! Simply type in what you are looking for. "Penny Black", "Latvia", "Imprints", "Morocco", "Fungi" "Year Books", etc! Using quotes (" ") is more accurate for multi word searches - i.e. "Australian FDC" gives FAR more specific matches than simply Australian FDC if used with no quotes. Search is NOT case sensitive. Tip: keep the search word singular - "Machin" yields far more matches than "Machins" &c. | |






Every credit card shown is accepted WITHOUT fee. Earn Frequent Flier points
while buying at bargain prices! ALL prices are in weak Ozzie Dollars.
I charge NO nasty, nasty "Buyer's Commission" on stamps
like nearly every "Auction" does.

Instant Currency Conversion


FREE! Just click here...
| | | |
| --- | --- | --- |
| | This is are a very small selection of the tens of thousands of stamps and "job lots" I have for sale. I am constantly buying new stock, so if what you need is not here, please ask! I stock basic Australia and most "Australasian Pacifics" 100% complete up to 1980, and the material in my lists is generally only the more unusual and interesting stock - let me quote on the "bread and butter" stuff. My prices on such material are the lowest you will find in Australia, whether mint, used, FDC, year albums, packs, etc. Refer to the want list page for details on how to ask me | |
| | |
| --- | --- |
| | And with the terribly low rate of the Australian dollar in recent times, the prices on these lists converts to CHICKEN FEED for those of you who earn other than "Pacific Pesos." Not ONLY the $US, but Sterling and the EURO are also incredibly strong against our pathetic little currency. I buy 99% of my stock locally - I am thought to be the largest stamp buyer in Australia's largest city, so I pay in Pacific Pesos and sell in Pesos, hence the incredible savings to ALL overseas buyers. If you buy via "Auction" (even if you are an Australian resident) you are always paying 15-20% "buyer premium", plus GST/VAT type taxes and other charges in many cases. That can add 30% to the hammer price of the stamps! There is NO sales tax or "premium" or GST/VAT of any kind added to orders from the list below, no matter WHERE I mail the goods. |
NO GST is added to prices to any items on this website.
All prices on EVERY list are weak Australian Dollars!!
All prices are "nett" ... what you see is what you pay. NO Nasty, nasty 15%-20% Auction house "Buyer's Commission" silly nonsense is later extorted from you!
Hit the "Print" button and print this list out in colour, and relax over a cup of coffee or a beer to pore over all the stamp BARGAINS!!!
IMPORTANT! Every price on my lists is NETT, in weak AUSTRALIAN dollars!!
Check the low cost in YOUR currency by clicking here.

Beginning of "J-3" Price List
1. Aust. New 'Seven Seas' Album 1913-81: Never used. Retail $135. Inc Dues/BCOF &c. Perfect for used coll: just keep to the Year Albums from 1981! $A70

2. 1000x 50c unused stamps: All clean off paper inc a few 49c which are OK $A275
3. Aust FDC 1980s all PO unadd in beige alb. Ret. $120 + alb $A40

FIXED LOW NETT PRICES
NO Nasty 15% "Buyer Commission"!
4. 1938 Cook Is and Niue KGVI Defin sets: Fresh MLH. SG 127/9, 75/77.(6) $A70
5. N.Z. Clean 'Davo' alb 1865-1998 in slipbox: (Ret $100s) Mostly U coll in hingeless mounts. QV to 1/-, 1898+1902 both to 2/-, Admiral 2/-, 1935 S/Jub. 1935+36+40+53 Defins sets. 1958 2d "Stars" (£160) + good later. Also "Officials" inc 1936+38+40 sets. + Dues, Lighthouses, Ross Dep. etc. Estate bargain at - $A450
6. Aust 1972 Apollo XVI flight cacheted cover Honeysuckle Creek Aust: Signed Judith A. Resnick also autograph card + colour photo of same US astronaut. She died in 1986 when the 'Challenger' tragically exploded seconds after launch $A50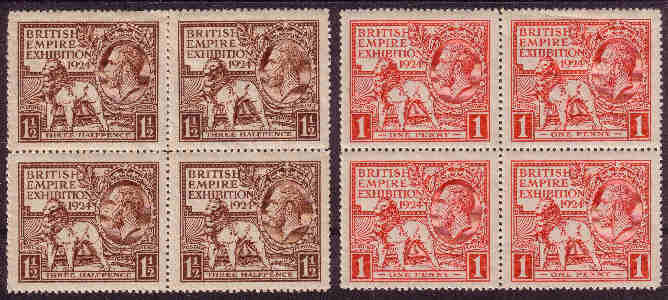 7. GB 1924 Wembley in well cent. mint blox 4: Lower pairs are fresh MUH. $A50
8. Early Christmas Island Hoard: 1958 Defins – 4+ sets Mint (inc MUH sets) 3 sets CTO inc pairs. 1963 Defins in MUH blox 4 + 3 sets on FDC! Great re-seller line $A70
9. 1945 'Regal' World Alb: Noted NZ 1898 2/- green 1906 3d Christchurch &c $A60
10. Superb QE2 1977 S/Jubilee FDC collections: 2 x huge silver Franklin Mint albums with special B/Cwth FDC's – A-Z, each with FULL sets 1977 CA issues. One full (52) other near full (44) Insane at around $1 a cover. Cat is £100s. $A110
11. 1927 2/- Canberra Booklet with one pane of 8 inside. SG #SB 22 £80. $A45
12. Aust/AAT/Cocos 1913-84 in 'Lighthouse' album in storage box (Ret $300 alone!) spaces for all wmks on earlies, Decimal Booklet panes, diff perfs etc. Mostly a used coll in here from 1913. (Many 100s).Estate bargain buy at: $A120
13. GB KGV on 2 x complete 1920 Parcel Bags to S.Aust: 6d+1/-+2/6d Seahorse. Other with 2 x 6d, 4 x 1/-. Very seldom seen complete. Average cond. for use. $A40
14. 'London 2000' Official Auction Catalogue: Huge(weighs 3lbs!) On archival gloss paper, hard cover, 328 pages, A4 size David Feldman catalogue. Nearly every page with superb colour rare stamps inc the "Frankenstein" Gold Medal NSW. Pristine unmarked & with prices realised list. An absolute library GEM!$A50
15. TEN Large Cartons: What a horrible mess. From many estates and office cleaning. Stamps, packs, FDC's, old albums, covers, catalogues, dead bodies, uncut diamonds and horse manure. It is all here. MUST repeat MUST be collected $A475
16. Aust. used dealer stock 1966-1988: In huge, heavy, 'SAFE" binder on 80 x Vario type sheets (Ret.$160!)Heavily duplic – noted 5 sets 1972 Beef etc. $A80
17. Aust+World in 2 x Lighthouse S/books: (Ret $65) Estate mess. Good Swiss/Austria. Lots Aust. inc 1971 Xmas B/7 fine MUH, $A125 face in "Specimens" MUH. AAT 1966 MUH (also 4 x 1957 2/3d) GB from Seahorses(5) KGV to £1. Lots MUH Israel, Pacific Defins MUH and all sorts of others weirdo oddments etc $A175
18. East Germany 1955 Schiller Mini Sheet Fresh FU: Michel Block 12 140€. $A70
19. PNG 1990 "Framas" FDC: 40 x PO official FDC each with set 3 x 1st Day cancels. Cost me $A88 from Bureau - 14 years back! Odd minor blemish. $A50
20. Aust. Roos + KGV to 1990: M+U in 3 volumes, incl. MUH. (100s) $A65
21. 'SPACE': Red s/book full of MUH sets, MS, imperfs etc. 1970s New Issues with Kennedy invoices from 28 years back for $100s. Some toning, but many V.F. $A75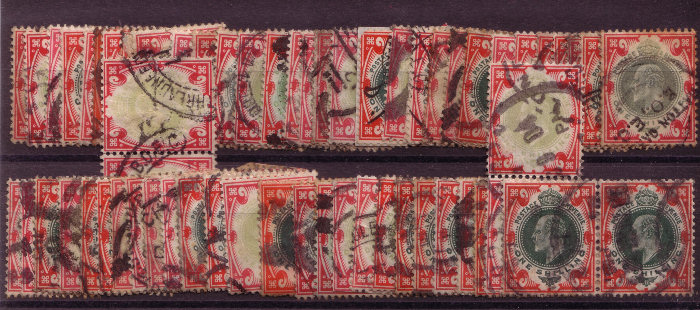 22. G.B. 1/- KEVII x SIXTY!: Typical to SUPERB U ex estate of Bank Mgr here. Every SG shade is here – huge range, totally unpicked, untouched decades. SG is £35-60 ea, or £2100-3600, so average is prob. around £2750. Under 5% SG! $A350
23. 1959 4d Postage Due full sheet 120: Type/Die 2 sheet 120 with central gutter, and all Cat. plate vars, all cds "Cremorne NSW 11 No:61". Possibly unique thus, couple with light gum bends. SG D135a £1,020. Only 15% Gibbons! $400
24. Huge USA 'Liberty' Album: As new 'Hingeless' (Ret $200) spaces 1847-1990s with good M+U coll from 1870. From 1930s largely complete:mostly U. $A200
25. Christmas Island fresh MUH coll to 1992: Lovely fresh MUH coll. on new set '7/Seas' Hingeless pages 1958-end 1992.(Ret $A140 alone). Stamps ret. $600. Missing only a few later sets. Lovely lot. Estate bargain at a crazy - $A450
26. Cocos Is. Fresh MUH Comp Country Coll: 1963 (SG#1) to end 1988. All fresh MUH on new set '7/Seas' hingeless pgs (ret $55)Missing only a few later sets $A175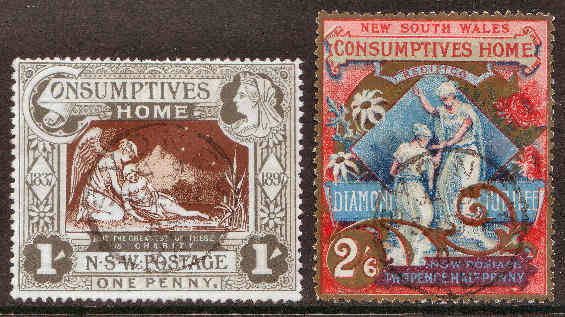 27. NSW 1897 Charity set: Superb used light Sydney circ..cds. Cat £190 $195
28. Aust. Stamp Sheetlet of 10 Coll: From1996 Olympics (No#1) to 2000 Millennium sheetlet in 7/Seas h/less alb + slipcase. (ret $65) Face is $93 alone! $150
29. Solomon Is 1940 Postage Dues: Superb Used correct cds SG £130. $100
30. Hong Kong 1880 10¢ on 24¢ QV: Attractive unused. Expertised twice on reverse. A rare stamp, even if un-overprinted! SG # 27 £1300. 15% Cat. $550
31. Aust. Decimal Coll to 1988: On '7 Seas' pages in Maroon springback $A45
32. 1970 Royal Visit x 10 PO Packs – 4 are "Japanese": All clean and sealed and Japanese language versions are quite rare–and retail $60 each. $A120
33. PNG Complete Country to 1987 Defins: Virtually all Mint. Lovely fresh lot in black page faced leaf SG 'Ring 22' album in dustcase. (Ret. $95) These PNG stamps look absolutely SUPERB on black pages I always feel. $225
34. SG 'Ring 22' Album: 60 x faced pages in slip-box. New. Retail $110 $A55
35. Falklands 1998 Birds Defins set 12 In Strips 3 to £5: Complete to £5 in strips of 3, fresh MUH. SG 804/818 £68. Lots upside from this low price! $A50
36. Guernsey Collection: 1941/44 2 sets MUH also 1d + 2½d (2) covers (also SG #1 x MUH Imprint blocks 4) 1915 KGV head postcard, 1969/70 set to £1 MLH and FU. Good 1960s+early1970s commems MUH and some weirdo "locals" $A85

37. Oldies: V.early German states, France, India Japan, GB, Switz and even Aust. Roos + KGV on Hagners and old pages from Estate. Strange + unchecked lot. $A85
38. S.G. CATS: World A-Z 1985 (2 huge vols) 1993 B/Cwth 'Part 1' (2 huge vols) 7/Seas ACSC 1996 colour+various other Aust+GB colour cats+ Scott &c all U $A75
39. Aust PO Packs mid 1970s to 1990s: Reflex carton full. Face $778. $A600
40. N.Z. M+U Q.Vic to 1970s: In large S/book. Heavily duplic ex dealer. M+U blocks etc. Noted 2 x 1930s 2/- Capt. Cook o/pd 'Official' etc. (Many 100's) $A60
41. 'Ausipex 84' MUH Coll in the special Maroon H/Less Album: (Cover fault) Good lot – inc scarce Aust. Numbered album sheet (Ret $75) and all the countries present - from A-Z. GB is in scarce gutter prs. All the Lesotho scarce MS &c. $A150
42. Australia MUH 1993-Xmas 2003 – 'The IMPOSSIBLE Era': New issue run – all diff. Strips, pairs, M/sheets etc. FACE is $464.60. Ret $1000. $A425
43. 'The Stamp Atlas' (Rossiter/Fowler 1989): 336 pages, plus 'Dictionary World Stamps' ( Logan – 1987) Both hard cover in colour. Both sought after. $A60
44. 1923 Large Yvert + Tellier Whole World Album: Contains orig. basic M+U coll. Nothing past late 30s. Aust+States, GB inc 2/6d+5/- Sea Horses &c $A85
45. New Zealand 'Seven Seas' H/Less albums– 2 Vol set in matching slipcases: 1953-1995 entire QE2 reign. Clean set – ret $A400 alone. (With pages for Ross Dep.) Fairly comp. coll, mostly MUH. Ret $100s. Range M/sheets from 1958 $A250
46. A.A.T. M+U coll 1957-2001 in blue stockbook: The key 1966 Defin set is Mint. Some duplication. The modern is MUH. An Estate bargain at only $A70
47. Netherlands 1867 50¢ Gold Willem top value clean FU: Light cancel and fresh. SG #16 £150. Seldom seen in decent shape! $A80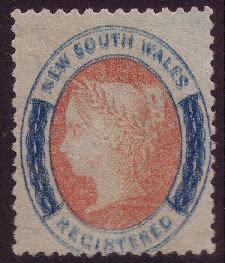 For a MASSIVE photo of this error click HERE!
48. NSW 1863 6d "Registered": Wonderfully attractive looking unused copy, strong colours, with error "Double Impression of Frame" (SG #127a, and cat used only). One of 2 unused copies I've seen offered in 30 years.

Gibbons until the 1990s used to list this as Cat 101a as £1,500 used only. But recently changed the numbering so this is now numbered #127. The last one I saw sold for $A2,000 in 1984. (A used copy, stained and with short perfs sold for $2,035 at Harmer's "Hamilton" sale!) Expertised, and clearly the finest copy existing. $A2,000
China Mao Tse Tung: Cultural Revolution set 81 under 1% Cat!
From April 20th 1967 to August 1970. Scott 938-1046 100% complete, (less the cheap #1019/37) 81 stamps. Full colour perforated Reprint/Forgeries in an 8 page colour folder/stockbook, all neatly arranged in hawid mounts. Includes all 4 of the se-tenant strips 5 and the rare 1968 8f "Entire Nation Is Red" stamp, Scott #999a. That one alone should surely sell for AT LEAST for what I sell the entire package for! Scott is c.$US6,686.65 for used stamps! My price is UNDER 1% Scott for the genuine stamps i.e. $US 66.86 per album of 81 stamps complete. I will only charge on credit card as $A100. EVERY collector of China with a printed album, pretty well has all the pages empty for this scarce era. Most will prefer spacefiller attractive forgeries, than contend with blank spaces for eternity in this era in their album. Even if you sell these at 2% of Scott catalogue you double your money. Profit margin considerably higher if you buy in bulk. You can make money selling at 1% Scott at recent exchange rates! Do the Maths on that! Would make VERY interesting auction lots! 5 albums for $450 10 albums for $800 25 album (cat Scott $US167,141) for $A1,750
49. NAURU – lovely clean MUH coll: 1935 S/Jub to end 1988. Missing only a few recent commem. sets. In a clean new "7/Seas' Hingeless album. (Retail $126) with all pages here from 1916. Stamps alone retail. $A500+$126 = $A626. $A300
50. N.Z. 'ARMS' Hi-Vals – £10, £20, £35, £50 and £100. VFU all single cds. $A100
51. Aust Used in 2 x Stockbooks: Noted 100s of Roos and KGV heads incl. "OS". Terribly mixed Estate cond – toning and faults etc. Will suit someone at $A85
52. GB Year Books Complete Collection 1985 (No1!) to 1999. 16 books. SG price miles over DOUBLE this! Save a ton off my normal ret – estate buy. $A900
53. G.B. FDC 1990-1995: Nice clean lot of this "Impossible Era". Inc 1993 £10, 1992-5 set 5 Castles to £5, Prestige bklt panes &c.(14) FACE £163 = $A400. $A350
Over Twenty Years Full Time in Stamps...

"Stevo" is THE name you can trust and rely on for a
friendly, honest, & mutually satisfactory deal
whether buying or selling...
WHY
go elsewhere?
54. Roo 1913 2½d FU on 1914 part of a censored cover front. $A40
55. N.Z. Health Comp. collection: Stamps 1929 to 1978 complete. Inc a few M/S like 1971. Nearly all M. Cond mostly clean + fine inc 1931 set fresh MLH. $175
56. 1969 1st Flight Sheet 100: Fresh MUH unfolded gutter. Plate vars &c $A65
57. Hong Kong KGV 1912 KGV to 1980: M+U coll. on leaves. QE M+U of most sets (mostly MUH) Some tone here & there, but cat £3,460=$A8,650. Inc 1912/37 set to $5 (£200) 1921/37 set 18 (£180) 1938/53 M incl. both $10 (£965) + used vals to $10 (£190) 1948 SW VFU (£80) + strong later with M+U of most sets. (100s) $A1,750
58. Hong Kong 1980-1994 M+U Coll: On Big stack leaves. MUH PAIRS of many good earlies, MUH+FU of many good sets. Inc 1982 set 16 MUH+FU (£140) good M/S inc 1987 Rabbit (£35) 1990 Auckland (£95) 91 Philaippon(£35) etc. 500 stamps, 27 M/sheets and 9 booklets. SG £2,152=$A5,380. Real gift at $A1,500
59. Hong Kong – Buy the entire original collection for $A3000 and save $A250!
60. New Zealand Decimal MUH Hoard: Sets, blocks, M/Sheets, Bklts, Packs etc. Face alone is $NZ258. Cheap postage for someone!?! $A160
61. Hong Kong KGV to late 1990s: In blue S/book. Some useful inc 1969 New Year FU (£14) 1987/88 HiVals $10 (4 -cat £17) $20 (3-£30) and $50 top val used + unused. Later Defins to $20 inc. blocks. P/Dues 1923/69 are Cat £60+ $A70
62. PITCAIRN IS. – Bill Hornadge's mint stock: In big stockbook. 1940s Defins to mid 70s, heavily duplic. With sets, plate blocks and imprints etc. Nearly all MUH. Defin sets + extras like 26 x 6d UPU (£130) etc. 22 sets 1970 Fish (£242) plus inverts as well. In fact 20-30 sets MUH of lots sets like this. Re-seller's dream! $A400
63. St. Helena 1998 Ships matched Imp strip 3 set to £5: £66. $A55
64. Aust. 1919 3d Postage Due: Attractive NW cnr block. MLH/MUH. SG D95. $A60
65. Aust. 1938 PostageDues: Beautifully centered MLH/MUH (mostly!) blocks of 4. Being ½d, 1d, 4d. SG D112/3/6 Cat £107 = $A285. Elusive series thus $A85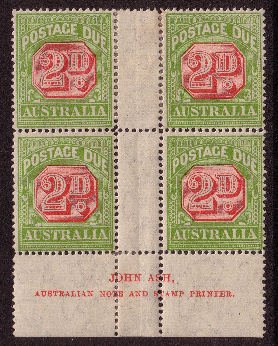 66. Aust. 1931 Postage Due Ash Imprint 2d Bi-Colour: Very attractive fresh well centered with Ash Imprint. (N over N) ACSC D116z, $180+ in 1999. $A150
67. Aust. ½d 1932 Postage Dues: 2 x very fresh MUH John Ash Imprint blocks 4. both v.fresh MUH. One nice centered with "large perf holes" other o/c with normal holes.( 8) ACSC $240 as hinged mint, and these are VERY cheap for 72 y.o! $A75
68. Aust. 1938 Postage Due 1/- Bi-Colour: Very attractive well centered fresh SW cnr block 4. 2 x MUH, 2x MVLH. Light gum bend. SG D118 £240. $A165
69. Dues Deal: Above 5 lots are priced at $535 – buy all for $A500
70. N.Z. Pre-Dec Coll: Q.Vic to 1967 in red German s/book + on old leaves with handy seen. (100s) Also tons of VFU Aust Decimals here too as a bonus! $A60
71. Singapore VFU coll 1953-1988: On FDC's and on Hagners CTO full gum. Noted 68 Defin (£45) 71 Satellite (£45) 73 Defin (£23) etc. i.e. a SUPERB used coll here. (400+) Cat as used £648½ (=$A1620) back in 2002, so even higher now!!!! $A450
72. Michel Catalogs 2002 set 5 vols East/West Europe/Germany: Huge books - the 'Bible'. Priced in Euro. Ret $A450 for current set. ½ price. $A225
73. A.A.T. Bundle covers from Mawson Base Staffer: Incl large env to brother in Darwin - $3 franking and many base cancelled FDC 1971-1990 era $A65
74. Decimal Used coll 1966 - Xmas 92: In blue L/House S/Bk.(Ret. $26) looks 99% compete: owner chose ONLY v.light postal U copies. Nice (100s) $A200
75. Large Netherlands Coll: In 'Davo' album+dust box for 1852-1995 (Ret $100s) From 1970s is hingeless. FACE value of the fresh MUH here alone is 601.43 guilders =$A432 + all the used pre 1975 is NOT counted. WHAT a buy at $A400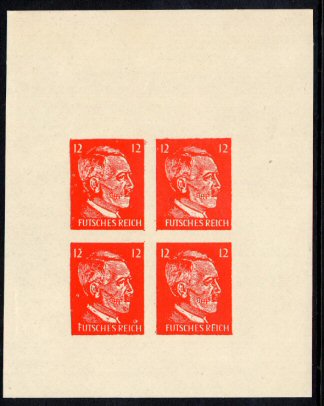 76. Adolf Hitler 'FUTSCHES REICH' (Ruined Empire)12pf red forgery M/Sht of 4: MUH and imperf. The Hitler German stamp design lampooned with smiling Hitler 'Death Mask'. Originals were part of the USA 1942/3 OSS "Operation Cornflake" propaganda campaign to undermine the German public. 1 M/S - $A30 per 5 $A90
77. Roos and KGV on Hagners ex Estate: All wmks here. Mostly used, but a few Mint to 2/-(x5) seen. Values to 5/- inc large + small 'OS'. Noted very scarce 2nd Wmk 2/- well centered, good used (SG # 29). Mixed cond estate hoard. $A125
78. Germany 'Lost Colonies' Mourning Stamps: 1921 Set 10 (Samoa, N.Guinea, Marshalls &c) + similar set 9 German states. Mint on old page, some tones(19) $A65
79. Queensland Railway Stamps: 5¢-$10(x4-2 diff types) inc 8x$5(2 types) 14 x $2 &c. Many station names, usual mixed cond from useage. Seldom seen $A45
80. Canada 1859-1990: In SG album + 2 S/bks. Mostly U, quite compete + lots extra sets to $1 in 30s-50s era. Q.Vic inc 1859 issues cat £180 (tops vals v.nice) 1893 pair (£66) 1897 inc 5c+10c M (£90) &c 100s. Usual mixed cond but many v.fine. $A150
81. GB 1880 5d Indigo x 6 on piece: 2 are VFU. (SG #169 £540+)and 1883 5d Green on piece (£175 with full unwashed colour) Cat £715+ = $A1175. (6) $A80
82. Estate Trove: On 62 Hagners (Ret $100) + stack pages. Lots used Roos inc 4d(2) + 5d and 1/- M. Lots M+U KGV to 1/4d (3) 1/- 'OS' Lyre, 2x 1/- Anzac, 2x 9d Mac, 8x 1/- Vic Cent, 3 x 10/- Robes. Heaps M+U Aust. Pre-dec in blocks, coils Imprints &c. Lots States (many Tas pmks) wacky world on piece. Worthwhile. $A265
83. P.N.G. Annual Packs 1980-1990 (10): ASC retail is $246. $A85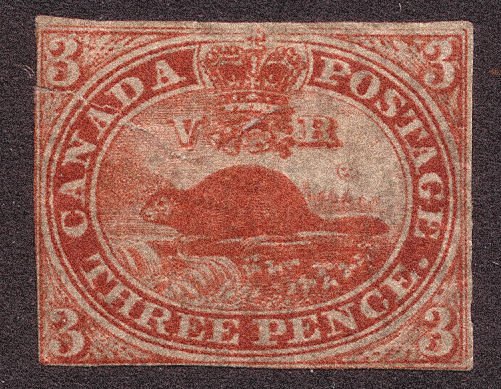 84. CANADA 1852 3d Beaver Imperf Brown Red: Mint with large part OG. Closed tear top left. Margins clear to just touching. S.G #8 £1200=$A3000. 5% Cat! $A150
85. USA Coll in clean 'Liberty' album to 1980 + 2 S/bks: Album has pages for U.N., Ducks, Airs, Dues, Officials. From 1935 onwards largely complete. Mostly Used. Would be a hardly start-up collection for someone I'm sure. $A115
86. SINGAPORE MUH COLL 1975-1995: 25 diff sets SG cat £112½ $A100
87. Australia-3 large blue 'Premier' Springback albums 1913-1975: M+U hoard with often high dup. inc.many MUH blocks. Some tone (1000s) $A115
88. Trinidad & Tobago 1938/44 KGVI set 14 Fresh MLH: SG #246/54 £80. $A65
89. Cook Is. FDC early 1980s: Clean unaddressed to $5.60 top val. Sets + MS – strong in Diana issues. Cat £115 = $A290 as USED stamps! FDC's scarce. $A75
90. Aust KGV Heads COMPLETE Coll. ALL Wmks!: 70 stamps, all dies, wmks + perfs per 7/Seas pages. All correctly ID'd. Inc all 7 x "OS" overprints and the 2 surcharges. GU/VFU – mostly circular cancels. Seldom offered complete. $A425
91. 'BIRDS OF THE WORLD': The quite superb and huge padded cover Franklin Mint album (11x15") with full set of 108 different painting colour cards (8x4½') with MUH applicable stamp adjacent. Algeria to Yugoslavia. Full details of applicable Bird on reverse of each card. Cost $A600 -$6 a cover. Fine cond. $A200
92. Aust "Replica Card" coll #1-30: In the special Seven Seas album. Superb and under rated actual PO Die proofs for a few $ each! Ret $200+ $A125
93. British Uvitec "Micro" Short Wave Lamp: Perfect for checking things like phosphors + varnish coatings &c. In box. Australia retail was $155 in 1997. $A75
94. Aust Pre-Dec on Hagners: Mostly Mint. Good pre-war commem sets here. Higher vals seen like £2 Arms, £1 Nav etc. Usual mixed condition ex Estate. $A100
95. G.R.I & NWPI o/ps M+U: German NG + some GRI o/ps, then Roos + KGV NWPI o/ps, inc pairs and ABC strip. 4d Blue FU on piece (£60) 1/- 1st Roo pair 'A+B' (£117½) 2/- Brown Roo pair 'B+C' &c. Average to quite superb cond, Estate $A150
96. Territory Of New Guinea M+U Coll 1925-1939: Estate lot on L/House s/book. Huts, Airs, BOP dated + undated, also OS and Airs on all. M+U blocks + multiples etc, some on piece. Correct SG Cat £1186=$A2950. Usual mixed cond ex old Estate. A good 'wash' would repay nicely I think. Only about 15% S.G. $A425
97. KGV 1914 1/4d Blue: VFU w/c fresh, "Thursday Island" cds. SG #66. $A45
98. France Coll 1853 Imperfs to 1949 Air set: On leaves. Mostly used. Cleanable perf tones on some. The obvious value is in the 1920-40s era. Correct SG Cat £872 = $A2200 (Taken always as the very cheapest types!) Under 15% $A300
99. 1930 Cap't Sturt Neat Reg'd FDC: Lovely clean Reg'd FDC to Ballarat. Each stamp crisp "Kaniva 2 JE:30" cds+ 1 strike alongside + 1 on back, also Ballarat b/s. Reg'd RARE on this. In fact 2 stamps on cover is rare. ASC $300 Unregd $A185
100. World Kiloware 1½ Kg on paper: Aust States, Aust KGV, KGVI, to 80s inc much world, lots £5 GB, even noted pair HK SG#269 (£22!) &c + stack covers to same family 1950s-70s+ range other stamp stuff ex estate. Large carton full $A135
101. Aust. 1999-2001 superb MUH – the 'Impossible' years!: In a new 64 page black LH s/bk (Ret $55) Inc lots "Australia 99" + Olympics, 2000 stuff. Gutter bocks etc. FACE alone is $230, and retail "Impossible" era would be $600+. $A275
102. Australia 'Davo' Album 1913-1995: In dust box.(Very expensive album) Decimal era all hingeless. M+U coll from 1913. The FACE value of the MUH alone is $A146 and that includes good early 1970s sets! Also pages of Aust. States. $A175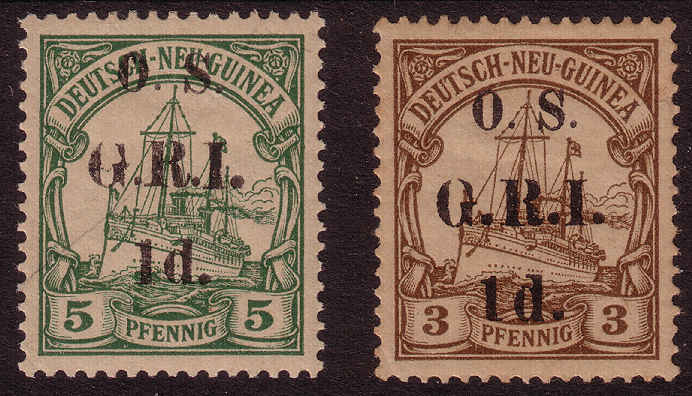 103. G.R.I. 1915 'OS" pair: Lovely perfect centred MLH. SG #01/02. Ret $275 $A200
104. "Instant Kangaroo Collection": I have had for years probably the largest stock of Roos under 10/- in OZ. From poor to superb. Many collectors find it really tough to sort these by watermark accurately. I've assembled full sets of 33 different Roos in EVERY Wmk. 1st and 2nd to 1/-, 3rd to BOTH 2/- colours, S/Multi to 2/-, CofA to 5/-. Melbourne ret. for these same 33 stamps in normal used condition is $A700+. Buy just the EXACT grade that suits your budget+collecting requirements as follows: Spacefillers - $A195 Average U - $A325 Nice Good U - $A475 Clean FU - $A575 Or for the perfectionist – hand selected Superb Used complete set of 33: $725 And I also have great stocks of higher values and the best stock in Aust of Perf "OS". Also Stanley Gibbons listed watermark errors, perfs, shades, Dies and constant vars.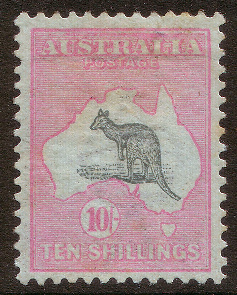 105. 1913 10/- Kangaroo 1st Wmk Mint: Almost unbeatable perfs, centering and colour. SG #14. Seldom seen so facially nice at anything under 4 figures. $A950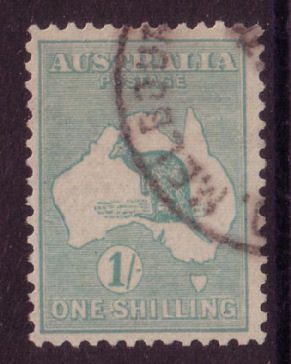 106. 1927 1/- Roo Sideways Wmk: Quite nicely centred used, with a probably contemporary Melbourne cds top right quadrant SG40ba ACSC$1000 postal U $250
107. Stanley Gibbons 'World' Catalogues A-Z: Huge 3 volume set 2001: The current set costs $500. All world (non B/Cwlth) stamps are listed here! $A200
108. Scott Catalogue 2001 Complete set SIX volumes: Whole world A-Z – EVERY stamp. Max Stern ret. $120 a book=$840. Now SG have largely lost the plot this is the ONLY usable set of world catalogs. 6 HUGE volumes low priced.$A250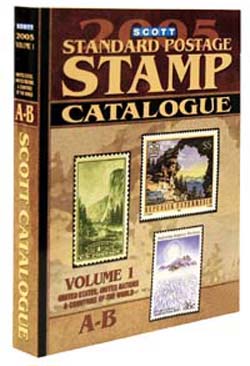 109. Scott Catalog 2005 Volume #1: The big seller as it has not only USA but Australia in here. Max Stern local ret. $A120 but he quickly sells out of stock. $A85
110. Michel 'East Europe' Cat: 2001 Edition.1982 pages! As new $45
111. 'SPACE' covers in quite massive carton: TEN x huge matched albs(+ loose) look to be 1950s-80s era + 2 albums 'Space' stamps. Mostly USA + some Russian. Cost $1000s from Bay Stamps. One album full of AUTOGRAPHED covers! $A325
112. 'SCOUTING': German S/bk with mostly full Mint/MUH sets pre 1980. Noted these +doubtless other goodies. Liech 1953 set 4 (€45) H.Kong 1971 (£24) Romania 1931 set 5 (£35) &c and lots of others I never bothered looking up! Some tone. $A80
113. Australia 1957 QE11 Lettercards Bulk Lot: 3 x Mint, 8 x CTO with Clarence St FDI. All fresh unaddressed(11) ASC L56 Cat $135. Only $6 each $A65
114. Aust. FDC Coll 1973-1990 in 5 large Cumberland albums: (Ret $200 alone!) OVER 500 clean unaddr. PO FDC. Inc scarce items like 1974 Paintings, 1977 $10, Framas inc rare 1984 set &c (These 3 ret $100) Duplicates of most. FACE val alone is $656+ albums, so ret would be near $2000. Estate steal- a CARTON full! $A375
115. NZ 1938 9d Maori RARE p13½x14 fresh MUH: SG #587B £55 $A45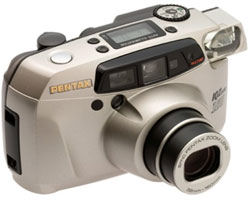 116. Compact Zoom Camera: Pentax Espio160 Huge Zoom. Red Eye, Date back option, case + battery. 'Panorama', auto everything, near new in Downtown Duty Free box with $499 price tag: bought for myself, and I've just upgraded $A150
117. Camera Stuff for above!: 7 x new 36exp 400 ASA films, 2 x new Lithium 123 batteries, 2 x lead lined film bags for airports, extra soft case. Cost $200+ $A55



118. Fuji 3.4 optical Zoom F440 Digital Camera:


The big seller. 4.1 mega pixels. Tiny size yet big 2" view screen area, and huge
3.4 zoom. (= 38-130mm) Mini ciggy packet size - 75 x 62 x 21 mm.. Weight (no batt) 150 g!
Slides easily into your short pocket. I bought 2 overseas - kept one, and will sell one.
Takes colour movies even. Super long life Lithium-Ion new-tech battery. Robust metal body. Latest type 'XD'
tiny, tiny size memory chip and all accessories - power cable, hand strap, USB Cable,
AV Cable, Picture Cradle, CD-ROM (Includes FinePixViewer, ImageMixer
for FinePix etc.) New in box with 2 year Warranty. Retail $A555. $A450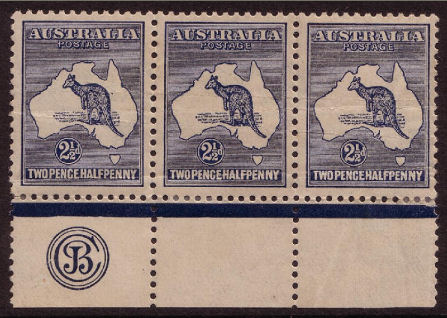 Lot 120: Kangaroo 1915 2½d Second Watermark Monogram strip of 3. Complete "JBC" monogram - many monograms in this era are cut off at base. Indeed, an off-centred single stamp with the monogram badly sliced off at base sold for near $A90,000 last year at Auction! Lot of info in here on the soaring popularity (and prices) of Kangaroo monograms.

https://www.glenstephens.com//linnsFeb23-04.html

Fresh mint, no rust, but creased. Quite UNBEATABLE colour, centering and freshness as you can see - absolutely exceptional appearance for these. (For some weird and inexplicable reason, the image has "strobed" when scanned on my new scanner - in the flesh it looks facially superb - trust me! 100% Money back guarantee you'll like it.) Only a few strips exist in this monogram from top plate of sheet.

ACSC 10zd $3,000, and going higher EVERY edition. 90 years old now, and still sensibly priced compared to the great scarcity. A used £1 Brown and Blue roo from this era costs more, and many 1000s exist. $A1,500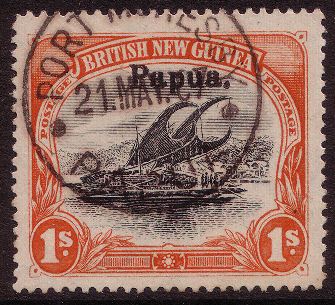 | | | |
| --- | --- | --- |
| | Lot 121: Papua Lakatoi. 1906/7 Vertical Watermark overprinted 'Papua' - superb used at Port Moresby. Clean and perfectly centred, and with deep vivid colour. Expertised. SG #27 £900 = $A2250. A nicer copy you'll never see. Especially at less than HALF Gibbons! $A1,000 | |
122
Papua New Guinea 1994
Rare "Emergency Overprints":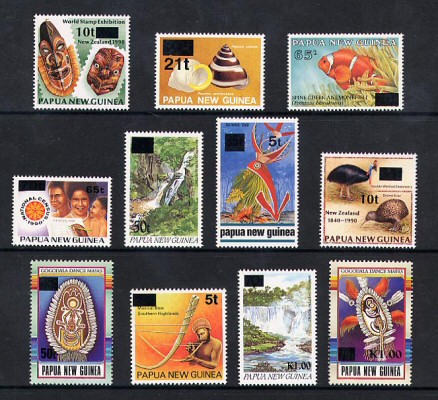 Papua New Guinea 1994 "Emergency Overprints": I do now have, and have always had, the largest stock of these overprints in the world. Buy DIRECT from the original "source"! Thousands of collectors NEED this set to complete their collections. Only 45,000 were ever printed, NONE were sold by the agents, Papua New Guinea Bureau, or even Australia Post. Nearly all were used up on genuine commercial mail. Not discovered by stamp world until months after all the key values all used up! I first reported their existence to the stamp world.
"Set of 11" - SG # 730/740. Michel # 714 -724.
Scott # 860/871. ASC Cat $A420.
Local Richard Juzwin retail price is $A330. The Seven Seas Stamps "Australian Stamp Catalogue" (ASC) price for the set 11 is $A420. MUH set of 11 - my VERY special DISCOUNT price offer for this month is: $A275. Or MUH blocks of 4 (very rare) $A1,250. I also have the earlier and later overprints also at terrific discount prices. For a complete set of TWENTY different overprints my discount price is $A335 or that full set 20 in MUH blocks 4 for $A1,500. These will never be cheaper.
Definitive sets like the 1967 Anguilla overprints are already cat at £9,000 in Stanley Gibbons ... and Anguilla has NOTHING like even 1% of the collector following of PNG I suspect. Think about it! £9,000. This PNG set has a LONG way to go yet - that seems very clear. This PNG set selling for DOUBLE my price would not surprise me to see in the next few years. For very detailed and comprehensive background on this issue with all numbers printed etc - see my special page on these issues: https://www.glenstephens.com//overprints.html
Finally - all the 1994 "Emergency" sets I sell are of course guaranteed 100% genuine. You may ask for a Photo Certificate Of Genuineness on my security watermarked colour letterhead for this set of 11 or 20, dated and signed, illustrating in full colour the exact set I mail you. If required, this CERTIFICATE costs you an extra $A45 on top of price of the stamps, largely to cover the considerable time and messing around of individually preparing each one, typing, and scanning &c. This is Substantially cheaper than sending it to the R.P.S. in London etc, which takes half a year to get back, and also incurs substantial Registered airmail cost to you - in both directions. And quite frankly, the RPS would not have a clue about these issues. 'Too Modern' they would sniff. Years down the track when the set sells for several times what it does now, such a certificate Guaranteeing these came from original PNG sources in 1994/5 will add FAR more than $A45 to the extra price you obtain when selling.

Special Offer #123
***** I bought Pallet loads from Germany! *****
LIGHTHOUSE STOCKBOOKS AT Under HALF THE COST OF HAGNER SHEETS !!!!!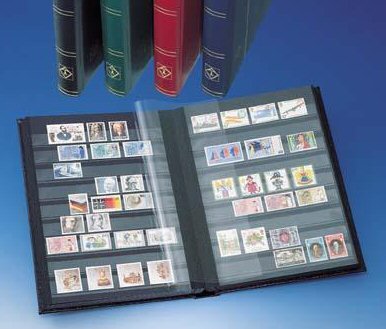 This is a wonderful lot. My BEST selling line all year. Another few pallets of stock just arrived. All BLACK pages as that is what all collectors prefer. Your stamps look SO much better on black pages than white. The universal best-seller 32 page size. This new Deluxe line has CLASSY looking covers front and back - like 'marbled' leather I suppose you'd call it. SO much classier than the solid colours they have used for the past 30 years! A lovely mix of cover colours per carton. Top quality West German made books. The BEST! Surely your stamps DESERVE the best .... and at HALF the usual storage costs .. why ever not?!

These have CRYSTAL CLEAR strips - 9 strips per page. This is much more expensive than glassine to manufacture of course - but with glassine your stamps are always half hidden behind murky/cloudy type glassine when you look at them. VERY few stockbooks (only a few %) sold in the past 20 years have CLEAR strips, as the cost to make them is high. Strong LINEN HINGED pages both sides for very long wear and DOUBLE interleaving to protect all your stamps - and stopping the cheaper single interleave pages from tangling and crumpling up - which they ALWAYS do!

I am selling these ONLY in

Factory cartons of TEN for $A240

Or TWO factory cartons of 10 - 20 stockbooks - for just $A450! (A70¢ a page!)

(And yes, I will quote even lower prices on larger buys - dealers, re-sellers or collectors with a LOT of re-housing to do please enquire!)

Postage and insurance is of course extra, but as always, I use carefully selected, light cancelled, philatelically VERY valuable stamps and se-tenant strips, small run modern mini sheets of 10 etc on every carton mailed, so "real" shipping cost is often basically zero to you. POSTAGE ON 2 BOXES is exactly the SAME as 1 box within Sydney! Indeed, ANYWHERE within Sydney Metro/Central Coast/Newcastle/Wollongong costs the SAME for 1 or 2 boxes i.e. $A10 Registered post and packing in total. To Melbourne or Brisbane 2 boxes costs only $A5 more in total for mailing cost. True! At Aust.70c a page getting 2 boxes is a deal you cannot not seriously consider. Your page cost is way less. And shipping costs nothing to only $5 extra on the entire order! In nearly all of Australia heavy parcels are delivered to your door by an Australia Post parcels contractor - i.e. no lifting for you!

That is 320 pages of quality low acid, black page storage for only Aust.75¢ a page. (Only Aust.70¢ a page for the 2 box buy!) A British made HAGNER sheet is R.R.P. $1.55 each these days - with no binder of course! So you are getting classy German made 'Lighthouse' stockbooks for in effect UNDER HALF the price per page of 32 Hagner sheets - which have no binder! (And which are nowhere near as classy or permanent a storage medium as a Lighthouse stockbook of course.)

Order fast before these are sold out. My next shipment will cost me more - sad but true, as wholesale price has increased. Yes, with the very strong Euro, and weakening $A, my replacement cost WILL be higher if I need to re-order. Band together with a friend and share them 5 each, or order via your stamp club etc. One client has ordered TEN cartons (100!) of these off me in the few months since I have ran this special. As I point out above, the postage cost for TWO cartons is often the same in $$s as ONE carton! A strange Australia Post quirk, but true. A huge carton delivered registered post right to your front door for $10 seems nuts.

REMEMBER: It is a great idea to now and again re-house ALL your stamps. At this price why not do that NOW? Stockbooks 10-15 years old WILL have mould growing on the pages if stored in Australia. NO doubt about it. In any coastal areas it will start in well under 10 years. And on black pages it is VERY hard - indeed almost impossible - to see with the naked eye. You WILL see it using a UV lamp - go check your books! For a measly $20 a new stockbook to put your $1,000s of stamps into a brand new clean book makes superb sense. A pizza costs more than this. Foxing on the STAMPS will lose you half their value. Once mould starts on the stockbook pages, that toning/foxing/rust spreads like a cancer to the other pages and to the stamps inside. Like fruit in your fruit bowl at home .... one piece of fruit gets mould and the entire bowl has it within 24 hours. Stamps are no different. It spreads fast. AND your old stockbooks are bound to have the VERY old fashioned cloudy GLASSINE strips, so you can't see your stamps clearly anyway! Another good reason to replace them all NOW at this great price!
In 25 years of stamp dealing I have learnt one truism. No collector can EVER have too many empty stockbooks! Just because you "think" you will not use 10 or 20 (or 30 or 40 or 50) you are WRONG
Trust me.








Click ANYWHERE on banner for more information on the Athens Olympics Sampanis Drug Cheat withdrawn stamp issue.




FIXED LOW NETT PRICES
NO Nasty 15% "Buyer's Commission" !
IMPORTANT NOTE ... all my stamps - on this page or other pages are charged in AUSTRALIAN DOLLARS at the $A prices shown. Where I have used a £Stg or $US price etc conversion in text on any offer at any time - that is to be treated as very APPROXIMATE as it may have been computed a while back. It was correct at that time, but $A exchange rates have been VERY volatile in recent times. Please use the spinning gold currency converter found on Home Page of my website to ascertain the current EXACT amount in your own currency according to today's mid-rate. Remember - I will always charge your credit card the $A sum shown for each lot, (plus shipping and insurance) and NOT the sum shown as rough approximation in a non-Australian currency.
There are NO nasty 15% "Buyer's Commissions" or other such outrageous fees added to the price YOU pay when you deal with Glen Stephens. A $1,000 Kangaroo stamp from me costs $1,000 plus shipping. You could bid "$1,000" for the same Kangaroo stamp from an "Auction" house (who in Sydney OFTEN owns the stamp themselves anyway!) and it might cost $1,000 plus 15% "Buyer Fee" plus 10% GST on that $1,150 = the "$1000" stamp is now invoiced at $1,265. All depends on whether possibly saving $265 is important to you I guess.
height="15">
To order, click here. To read ordering instructions, click here.
Instant Currency Conversion


FREE! Just click here...
GLEN $TEPHEN$
Life Member: ASDA, PTS, APS, ANDA. ALL Postage + Insurance is extra. Visa/BankCard/MasterCard/Diners/Amex all OK, even for "Lay-Bys"! All lots offered are subject to my usual Conditions of Sale, copy upon request or they are outlined in full on this Web site. Usually allow at least 14 days for order dispatch. If you want same day shipping please go elsewhere! I am Sydney's BIGGEST STAMP BUYER: Post me ANYTHING via Registered Mail for my same-day cheque. Avoid NASTY auction "commissions" of GENERALLY 35% (12½ + 15% + GST, etc.) AND their five-month delays! Read for details. I stock Australia & Pacifics nearly 100% complete 1913-1980. Ask for my LOW quote!
"Lothlórien," No. 4 The Tor Walk, CASTLECRAG (Sydney), N.S.W. 2068
Phone: (02) 9958-1333 Fax: (02) 9958-1444 (Both 25 Hours, 7 Days!)
E-Mail: glen@glenstephens.com
Web Sites: www.GlenStephens.com, www.GlenStephens.net, or www.AustralianStamps.net
Back to Lists of Stamp Lots for Sale

| | | | | | | |
| --- | --- | --- | --- | --- | --- | --- |
| | | | Time and Temp in Sunny Sydney! | | | |


Sign up AUTOMATICALLY to my world renowned bi-weekly stamp gossip mailing list! to read all my recent International stamp magazine articles.
Click here to get back to the main www.GlenStephens.com Homepage
Click here to ORDER on-line ANY items from ANY of my dozens of lists
Click for all info on Conditions Of Sale, Payments, Shipping, Returns &c
Click here for the complete library of my very unusual world travels!
How to PAY me. I accept EVERYTHING - even blankets and axes and beads!
Australia Post Annual YEAR BOOKS - massive stock - '27% off' discount offer today!
Visit my new page on RARITIES - Roos & other expensive photo items.

Instant Currency Conversion


FREE! Just click here...


E-mail me at glen@glenstephens.com -
Every credit card shown is accepted WITHOUT fee.
Earn Frequent Flier points while buying at bargain prices!
ALL prices are in weak Ozzie Dollars. I charge NO nasty, nasty
"Buyer's Commission" on stamps like nearly every "Auction" does.